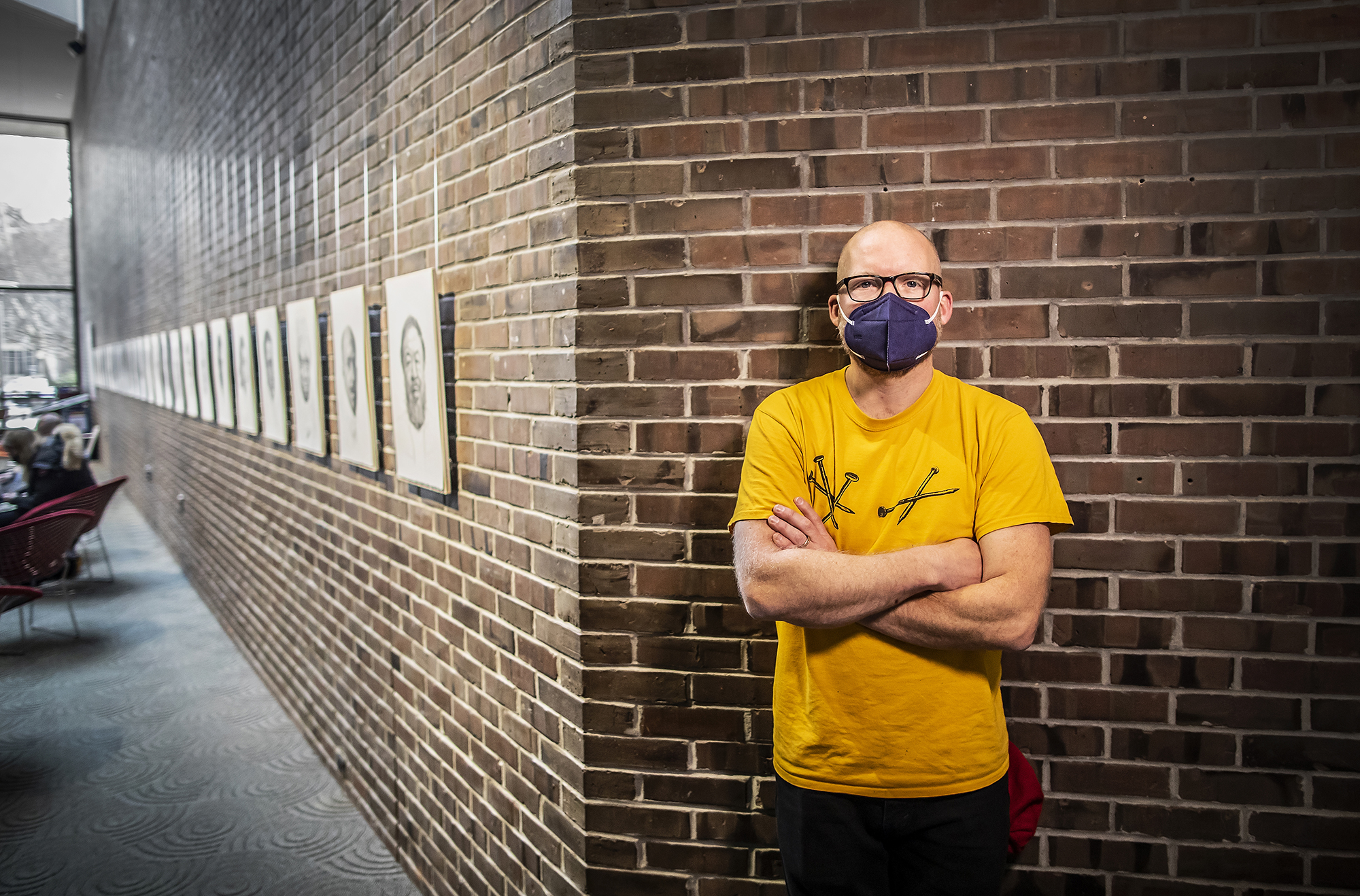 On display at the Annenberg Center for the Performing Arts is the Arts Lounge's spring exhibition, "Mark Stockton: 100 Portraits." The collection of pencil-drawn portraits, which Stockton views as a single artwork, captures the likenesses of 100 iconic figures selected by Stockton over a three-year period.
"I always talk to my students in metaphors of, 'Is this project a 5K or a marathon?' And here you see a marathon," Stockton, an associate professor at Drexel University, says of the exhibit, which is on display through May. "This is what three years of daily drawing looks like."
The pieces are mediated, meaning he's drawn the portraits from photographs that already existed online or elsewhere. Much of his interpretation in the pieces is in the finer details, such as concentric circles, or clothing pieces he's chosen only to outline.
From an early age, Stockton says he found something remarkable about the relationship between photography and re-creation. As a child, he would draw the covers of Time magazine, sketching Michael Jackson and athletes, among other cultural touchstones.
He carried this interest through school at Oregon State University, where he studied photography while also drawing and printmaking, before earning his MFA from Syracuse University in 2000. This later manifested in a career of drawings that, largely, focus on the underbelly of American celebrity.
This collection of portraits, though, is different.
Stockton, a board member and longtime member of the Philadelphia artist collective Vox Populi, explains that his intention with these portraits was to showcase figures he admires, while also making space for people who don't typically coexist in an exhibit together. He also says that, while selecting people—with recommendations from many friends and family members—he held in his mind the history of portraiture as a largely white-male-leaning art form.
The exhibit ultimately provokes a boundless list of questions about representation.
"What is it to admire somebody?" Stockton muses. "My parents lived in D.C. for a long time, so I went to the National Portrait Gallery at the Smithsonian [Institute] a lot. So, what is a hall of portraiture? Part of it's mixed with an idea of informatics, like a census. But also, what is the composition of our society, and who are the people made visible in it, and what does that visibility look like?"
For the exhibit, he also put a lot of thought into how the works were presented. Each drawing is created from an image where the figure is making eye contact, and the pieces are intentionally displayed at eye level.
"It's a connection that we find to be the most intimate," Stockton says.
They're also displayed on plywood—an intentionally "unprecious" format that he chose over glass framing.
"My joy of looking at drawings often is the ability to look up close and see the 1:1 nature of them being made," he says. "You can always see the ingredients. They're less illusory than a painting that's layered."
The portraits, which cover figures ranging from disability activist Alice Wong to actor Riz Ahmed, will live on the exposed brick wall of the Arts Lounge, as well as wrap around the lower and upper halls across from the Center's Zellerbach Theater. The exhibit is designed so that the portraits can be relocated throughout the show, so that the order is constantly changing. Some may be adjusted for programming in the Arts Lounge, should a speaker want to emphasize a particular group during, for example, a lecture.
The exhibit came about when Stockton explained his project to John McInerney, executive director of The Sachs Program for Arts Innovation, and mentioned that he needed a large space to display the works—well suited to the sprawling Arts Lounge and lobby space in the Annenberg Center.
"The premise of the show is really talking about the fraught history of portraiture, and whose portrait has been created and presented historically? Mostly white men, right? And so, there's a long, complicated history," says Chloe Reison, associate director of The Sachs Program. "Mark's really trying to turn that on its head and create a broad and diverse representation of people throughout history, and bringing them all together into one collection where they might not all exist together outside of this."
A handful of the 100 portraits are still works-in-progress, meaning Stockton will host drawing hours on Wednesdays and Fridays, from 11 a.m. to 2 p.m. During that time, guests are welcome to observe him at work and ask questions.
"We are particularly excited about Mark's exhibition because of its ambitious scale, the breadth of portraits that connect to so many communities, and the fact that Mark will be actively completing the final portraits in the Arts Lounge over the next few months," says McInerney. "It seemed a perfect combination of art, creativity—both Mark's work as well as the creative practice of his 100 subjects—and engagement, which is what we are trying to seed and support across Penn."
The Sachs Program will host an opening reception for the exhibit on Feb. 15 at 5 p.m. The reception will also commemorate the new permanent mural installation by Isaac Tin Wei Lin, "Primary Prism."