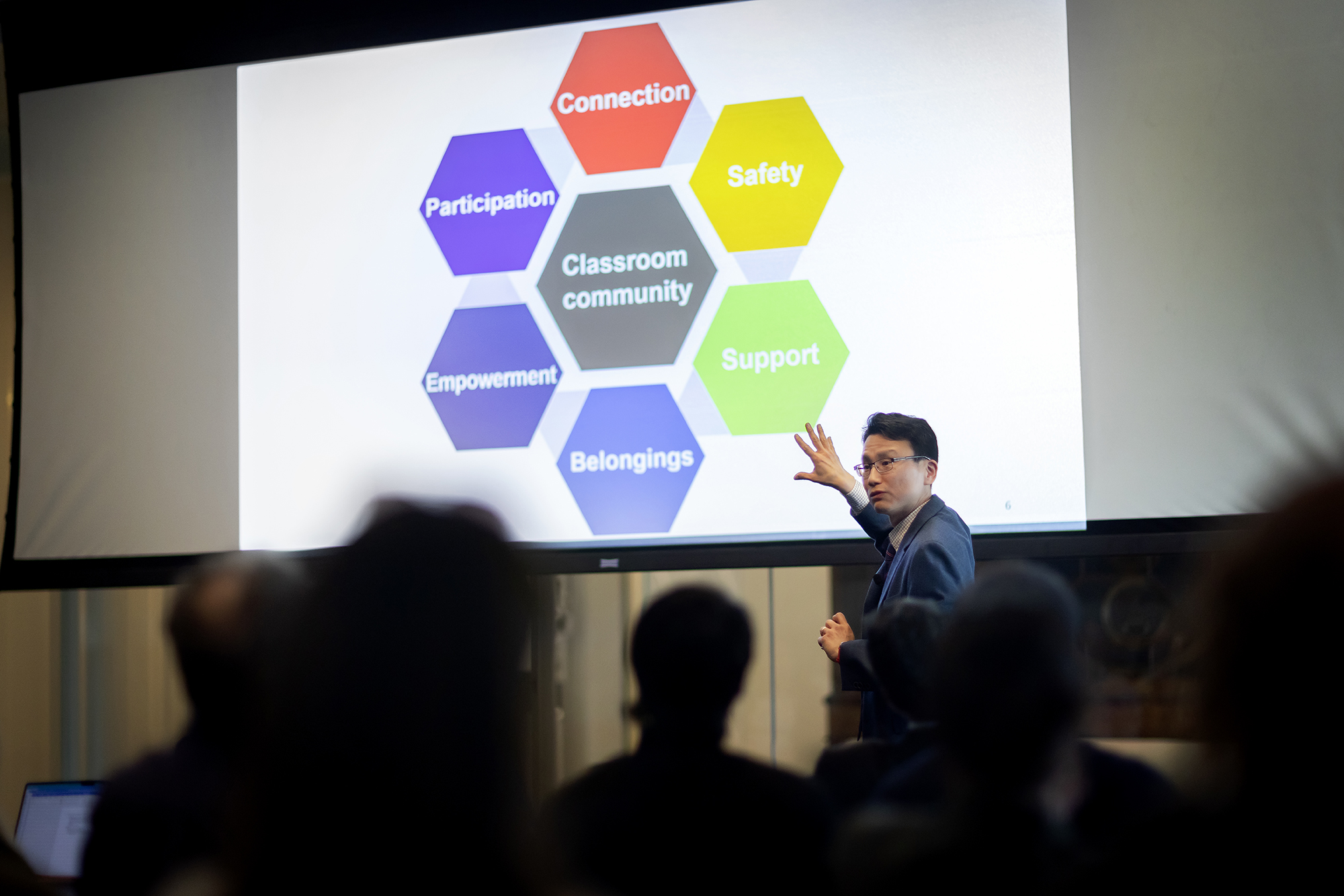 Surrounded by his supportive research team, fellow faculty, students, School of Engineering and Applied Science Dean Vijay Kumar, and Interim Provost Beth Winkelstein, Daeyeon Lee recently delivered the 2023 Evan C Thompson Chair Lecture about—fittingly enough—establishing a sense of community as we return from the isolating days of the pandemic.
"Students who feel connected with instructors and among peers will invest more time, work harder, and retain information better, because they feel comfortable and safe being in the classroom and making space," Lee said in his opening remarks. "So, there are clearly lots of positive benefits to having this connectedness among students in the classroom."
Lee's lecture, titled "(Re)connecting in the Classroom," was inspired by the "Great Disengagement" referenced in an article published in The Chronicle of Higher Education last year. It portrayed students as more disconnected and uncertain as they re-entered the campus environment.
The Evan C Thompson lecture was established in 2003 by Thompson, an alumnus of the Wharton School, and is themed around excellence in teaching. The term chair rotates every three years and is commemorated with a lecture; previous chairs have included Katy Milkman, the James G. Dinan Professor at Wharton; Peter Struck, a professor and chair of the Department of Classical Studies in the School of Arts & Sciences; and the chair is currently held by Lee, who has held the honor since July 2020. 
Lee's lecture continued with a reference to a 2006 journal article published in JSTOR, "The College Classroom as a Community: Impact on Student Attitudes and Learning, College Teaching," that theorized the classroom as a community, using six variables to define how connected students were in a classroom. The unsurprising finding, Lee said, is that when students reported positive feelings about these variables—which include themes like safety, empowerment, and belonging, to cite a few—they reported better learning outcomes. 
Lee used a combination of course evaluations and survey data from his students to talk about techniques he uses to keep them engaged, while still maintaining academic rigor—ending his presentation by pointing to a course evaluation from a student that mentioned the difficulty of Lee's course, while ultimately learning new ways to think. 
Among Lee's techniques for engagement:
·      Mandatory attendance. After anonymously surveying dozens of his students, they overwhelmingly agreed that attendance should be mandatory. 
·      Demonstrable excitement. If he's not excited about the material he's teaching, he said, he can't expect his students to be. 
·      Lower the barrier to interactions. During his lectures, he hands out notecards to students for them to ask questions and encourages them to ask anything they want. One student asked him how his Valentine's Day went. "I give them an opportunity to chat, essentially," he said. "To make noise."
·      Leave a cliffhanger. Referencing the hit Netflix drama "Squid Game," which he said is full of cliffhanger episodes, he noted the importance of giving students something to anticipate. He likes to end his class sessions with a lingering question, he said. 
·      Communicate your availability. Regardless of how available you are as a teacher, he said, it should be clear how available you are and by what means. He makes himself accessible via email and responds almost immediately, he said—while acknowledging that's his own preference. 
·      Make material relatable. Because so many students come to Penn wanting to make an impact, he said he tries to present material in ways that are relatable to what students are interested in addressing, like climate change. 
·      Show you care. Because his classes tend to start at 8:30 a.m., he said, he uses the early moments of the class to ask about his students' weekends and get to know them on a personal level. He tries to be empathetic in imagining that it could be his own daughter in class, he said, and perhaps feeling overwhelmed and needing care. He also tries to attend school- or department-sponsored events and gave a shout-out to the Mentor Meals Program. 
·      Offer personal details about material. Referencing the quirky gravestone of Ludvig Boltzmann, who has an equation written on his epitaph in Vienna, Austria, he noted the importance of adding some colorful context—information about "the human part," he said—about theorists and practitioners who helped shape the textbooks students are reading. 
Lee also highlighted the idea of "knowingness," first mentioned in a 2023 New York Times article by Jonathan Malesic, can be a roadblock to learning. 
"This concept of 'knowingness' is basically a posture of 'I'm already informed, I know this,' even though you're there because you don't know this particular topic and that's why you're taking the class," Lee said. "But we have this culture of rewarding people who answer questions correctly, even before they learn the topic. The author argues that in order to motivate students to learn and be successful we have to overcome this 'knowingness.'"
In a Q&A after the lecture, Lee also noted how he's learned to use QR codes more as a way to engage students, how he benefits from getting to know the cultures students are coming from, and discussed how "careerism" is a mindset among students he's observing more often. 
"They connect everything they're doing here in college with the career they're going to pursue," Lee said. "Sometimes, it's the intellectual fulfillment that will drive students to learn. And I think that's a big challenge right now—a lot of students come to Penn and other universities because they're really good at doing things … and I really think the intellectual fulfillment is something we have to think about and encourage."
Bruce Lenthall, executive director at the Center for Teaching and Learning (CTL), who helped organize the lecture in collaboration with Lee and Associate Director of CTL Jennifer Round, explains that Lee's speech came organically from observations about his own teaching practices. Considering the last lecture was given three years ago, just before the pandemic, it served as a bookend to an era and spoke to questions on a lot of students' and faculty's minds. 
"I think this was a fantastic one for this year, because this is where a lot of our students are, and frankly, faculty too," Lenthall says. "They're thinking about the online year, figuring out how to come back, and why it's so powerful and meaningful to be together in the classroom. It's been a question that lots of us have been engaged with and thinking about."