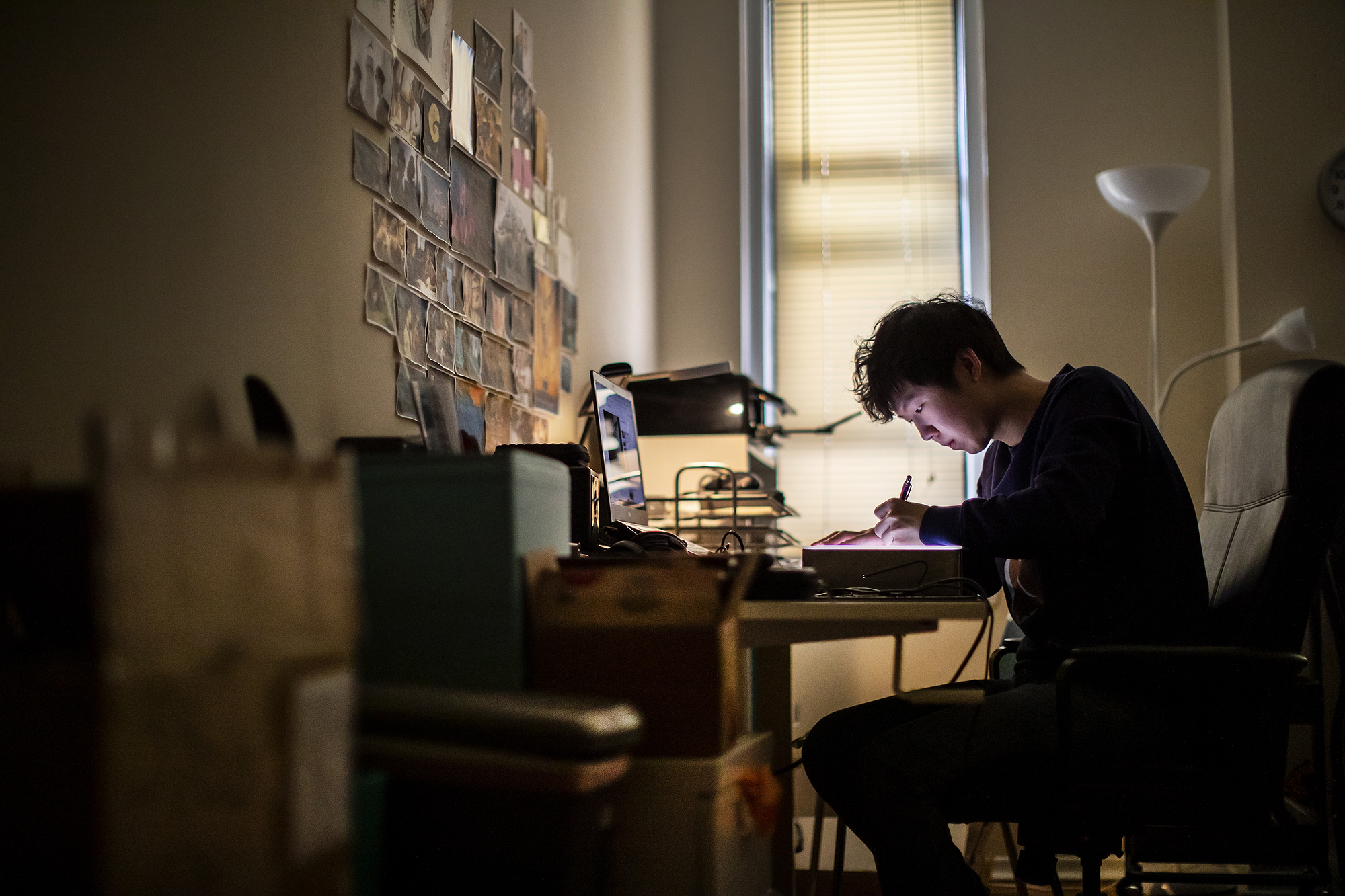 Using pencils, markers, and watercolors, Penn senior Dennis Sungmin Kim paints and draws by hand hundreds of pages of illustrations to create his award-winning animated short films.
Kim's latest completed creation, "The Beginning," his third film to win top honors in the Penn Student Film Festival, is now streaming on the commercial online platform Film Movement Plus.
"The one-line synopsis is 'a boy alone in his world is visited by a familiar and unexpected figure.' It's a relationship story, one specifically about family," says Kim, who is pursuing a double major in fine arts and cinema studies in the College of Arts and Sciences. "Like the other films that I have created, there is a very personal touch to this film."
"The Beginning" premiered at the National Film Festival for Talented Youth (NFFTY), where it played in the "Animation Sensations" screening block. The festival recently released a podcast featuring Kim speaking about the film and his creative process.
The nearly nine-minute film is a heartwarming fantasy, a similar genre as his other two films that won the Penn film festival, "ei: Emotional Intelligence," a love story between two artificial intelligence units, that received international accolades, and "Elliot," a coming-of-age romance about a young elephant.
"I am very grateful that Penn has these avenues to showcase the work of its students. Filmmaking itself is so difficult; just like other art forms, so much heart and soul goes into creating every film. It's that continued support that allows you to push through the long hours of drawing and animating and really helps and motivates you," he says.
Kim is working on his next film while living with his family in Seoul, where he has been since March because of the pandemic restrictions. He describes the Fine Arts Senior Seminar thesis project as a "fantastical animated short narrative" in the same sci-fi genre as his previous shorts.
"I've had the idea for a very long time," Kim says, keeping the details under wraps until its release. "It feels like the perfect time to work on animation. In a way the virus has put me in a position to work on an animated film rather than one in live-action."
During his junior year, Kim had completed a script for a live-action film in the spring which he intended to produce in the summer with friends in California, but the pandemic ended those plans. "Maybe I'll get back to it one day," he says. "If my reality has been adjusted or altered to really focus on an animated film, so be it. I'm happy to be working on it."
Penn connections
Kathy DeMarco Van Cleve, who teaches screenwriting at Penn, is a "spiritual and motivational" mentor who has been encouraging and supportive, he says. Van Cleve says Kim has "a gigantic imagination and an equally expansive intellect."
"Dennis is a creative wunderkind—adept at creating affecting, poignant stories that grab your heart and make you smile, even when sad things happen to the funny little blobbish characters he's created," Van Cleve says. "His writing is truly quirky—not pretend quirky like that word often implies—and he has a distinct, humane, and often surprisingly strong point of view that sustains all of his work in the best possible way."
Joshua Mosley, professor of fine arts in the Stuart Weitzman School of Design, is another mentor at Penn, Kim says, having taken his courses Mixed Media Animation, Computer Animation, and Functions for Form and Material.
"Dennis's concerns about his scripts and animation technique refinement were nuanced, and fun to discuss," Mosley says. "In the broad sense, his stories have been about the immaterial nature of characters relationships with each other and with their (human or nonhuman) questions of existence. His characters' personas have ranged from AI bots to animals, to humans, and have taken the form of geometric shapes, animated bipedal forms."
Music plays an important role in Kim's animated films, especially "The Beginning," which is designed to be like a silent film. His previous films also feature subtitles and music, but a voiceover as well.
Penn classmate Nicholas Escobar, who graduated in 2018, composed the original score for "e.i." and "The Beginning," and is currently composing the score for Kim's work-in-progress. "Nicholas's score adds such a great texture and a mesmerizing tone that would definitely be missing its emotional impact without its presence," Kim says.
He and Escobar met through Penn student filmmaking clubs and activities, including Bent Button Productions and the Kinoki Senior Society. "When I'm not studying, I'm watching films, or making films, or thinking about making films, or doing film-related things," Kim says.
Two countries
Kim was also living in South Korea after his freshman year at Penn, but for very different reasons than he is now. That summer he had to report for two years of mandatory military service in the Republic of Korea Army, required of all male citizens.
He had completed "ei: Emotional Intelligence" just two hours before reporting for basic training, posting it on the video hosting site Vimeo. Within a few days after enlisting he received a letter from his family.
"They let me know my film was accepted to the online festival Short of the Week and had gotten a Vimeo Staff Pick, so it was featured on the front page of Vimeo," says Kim. "They were telling me congratulations."
The Short of the Week festival described the film as a "gorgeously animated, experimental meditation on existential questions."
But the other soldiers bunked in around him weren't familiar with filmmaking. "If the letter could have come alive, it would have been jumping around," Kim says. "There I was, sitting on a military-issued mattress with my peers in boot camp, ecstatic by myself. It was totally unexpected."
Animated inspirations
Artistic talents run in the family. Kim's uncle, the author of more than 100 books, is well-known in South Korea for teaching children how to draw and paint in a television show that aired in the 1990s. Kim loved visiting his studio. "He would build things out of materials which would otherwise be trash that were so inspired," Kim says. "I remember receiving his drawings for my birthday, and seeing his works and studio spaces would inspire me to draw and create art myself."
Growing up, Kim made comic books, and created a weekly comic for his elementary school newspaper. He experimented with drawing flip-book animations in middle school, and creating stop-motion animations and films using a pocket-sized digital camera and Play-Doh figures.
"In the back of my mind I started thinking about a career in animation and film. It was just something I liked doing," Kim says. "I would sometimes not focus and just draw in class."
While at Blair Academy, a boarding high school in New Jersey, Kim joined an after-school video group and also started working with a friend who was making short films. On winter break with his family, he went to an exhibition on filmmaker Tim Burton, whose feature films he had watched with his grandmother, a poet and cinephile, when he first arrived in the United States.
"The drawings he made, his passion, and the work that goes into filmmaking in a way from a visual director standpoint," Kim says, calling Burton his childhood inspiration. "After visiting the exhibition that day, I felt really inspired to try and create my own animated films with greater ambition."
Hand-made animations
Kim turned to his high school teacher for advice about how to start making an animated film. "I was a little alarmed by her response; she told me to grab some sheets of paper and some markers and just do it," he says.
Over the course of two months, using a school lightbox, he created 200 drawings and a simple editing software to create the illusion of movement. It was his first animation purely drawn on paper. "At the time, I thought the process was so tedious and time-consuming that I thought would never do it again," he says.
But then it was shown in the school film showcase. "It was such an electrifying experience," he says. "Being able to show on a big screen, have an audience react to it, there is nothing like it. I immediately forgot about all the hours of struggles in creating the film. I felt ready to make another one."
The next year he drew 300 illustrations for an animated short, "Roach Raid," about the insects comedically taking over the world, patterned after WW II fascist North Korean soldiers marching in unison: it won his school's film festival, encouraging him to continue.
During his senior year in high school he created his first work with narration and original music, "Elliot," a nearly 13-minute film, with more than 1,200 pages of hand-drawn illustrations. A coming-of-age story about "a little elephant who falls in love, and learns to see the colors in life," the film won best picture in the school film festival. "That was the film where my interests in telling deeply personal stories began to grow," he says.
Choosing Penn
Kim knew he wanted to pursue a fine arts major in college, but he was searching for a broader experience. "I chose Penn because it has the interdisciplinary aspect," he says, and added cinema studies as a second major. "I also wanted an academic background which would serve as sources of inspiration for future works. While my overall creative process may be difficult to describe, I know that I take inspiration from whatever seems interesting to me intellectually or emotionally."
Freshman year he created "ei: Emotional Intelligence," devising his now-signature creation process, painting all the backgrounds with watercolors on animation paper, and then drawing the character illustrations separately using pencil and a lightbox. It took him nearly 10 months to craft the nearly 800 pages.
"The idea that fascinated me was the transference of emotions of one being to another, since human empathy is limited by our current means of communication," he says. "I thought, 'Would it be possible for artificial intelligence units to 'share' emotions?'"
The story is a counter to the fear surrounding artificial intelligence. "The possibility of robots going rogue is so ingrained and exploited in Hollywood," he says. "I wanted to try something different with that fantasy. I thought 'What if I create robots who are for service to humanity?'"
Kim's "ei" robot characters are given three reasons for existence: emotional support, care, and empathy for its human designated masters. "What would happen if these robots designed for emotion fall for each other? The story develops from that," he says.
But as his love story went out into the world, Kim went into the South Korean Army. He worked as an interpreter for a major general during his two years of military service. While in a computer room on a military base, he watched on Facebook live as "ei" won the audience award at the National Film Festival for Talented Youth. "It was great," Kim says. "I thought, 'I can't wait to go back.'"
Completing Penn
Kim returned to Penn in the fall of 2018 and continued his coursework and started to work on writing and drawing what culminated into "The Beginning."
"When he returned it was clear that his thinking had advanced in terms of how he conceived of and conceptually developed his projects," Mosley says. "They now included questions about the natural order of the world, perhaps spirituality, and his characters were now adults (even if they were represented as a triangle or circle)."
Although the live-action film he was writing his junior year is now on hold, he was able to continue an internship he had during the spring semester with Sight Unseen Pictures in New York City, reviewing scripts and writing short summaries. "It was a valuable experience, my first tangible experience in the live-action film industry in a way," he says.
Kim took four classes in the fall semester—typography, graphic design, television and new media, and his fine arts senior seminar—often in synchronous sessions in the middle of the night in Seoul. This semester, Kim is living in Seoul and again taking his fine arts senior seminar, as well as painting practices, contemporary fiction and film in Japan, and a course on gender and society. He is balancing work on the animated film, which he aims to complete before graduation in May.
"I'm planning on sending it to festivals and see where it goes," Kim says. "Whenever I complete a film it feels as though I am releasing a child into the world, and then I go back to work to create another one."
Homepage image: The animated films Kim creates are heartwarming sci-fi fantasies with imaginative characters.