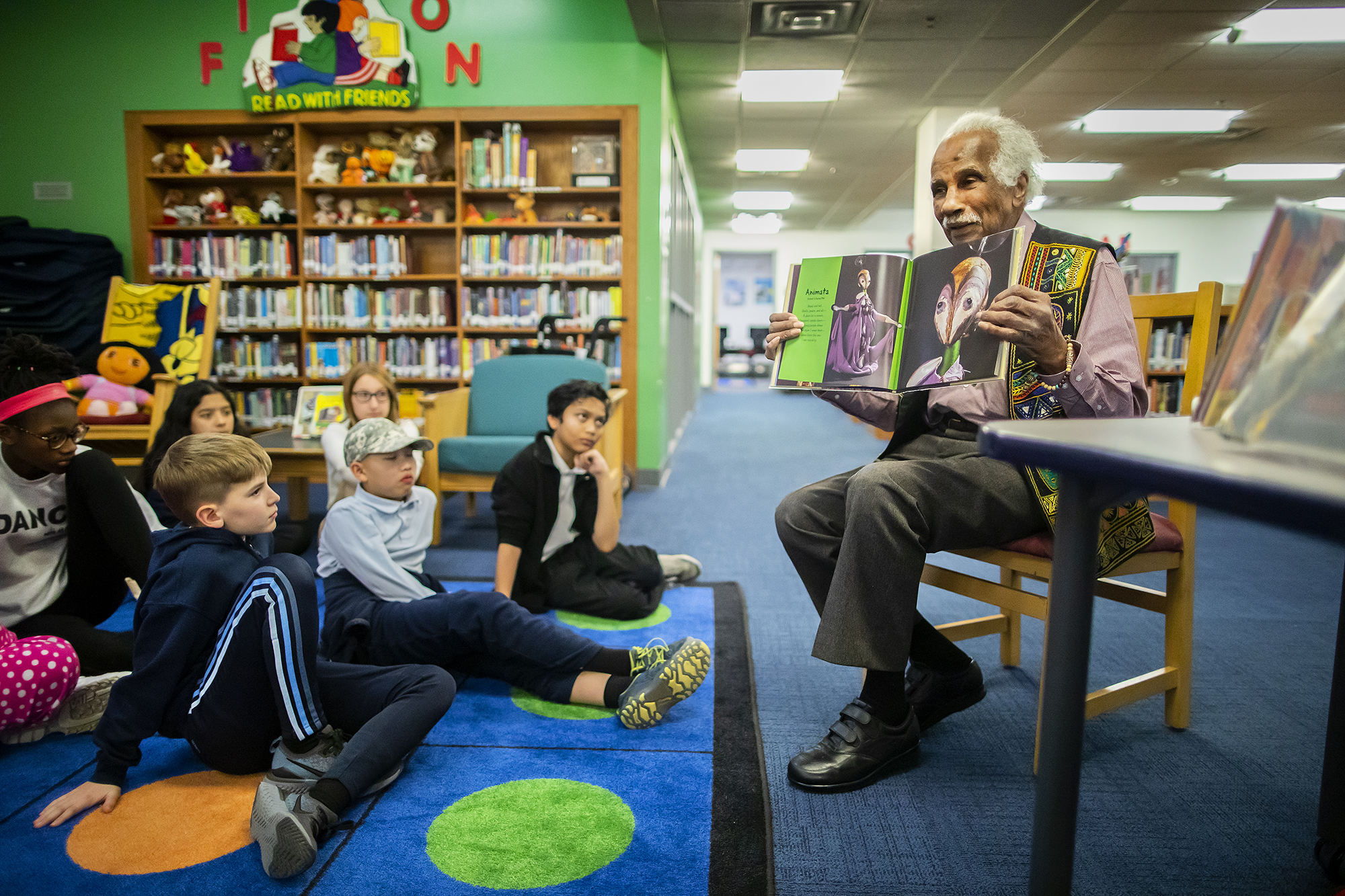 The 96-year-old author and artist Ashley Bryan begins every appearance by standing, his arms above his head, energetically leading a call and response of the poem "My People" by Langston Hughes. 
The night is beautiful, / So the faces of my people. / The stars are beautiful, / So the faces of my people. / Beautiful, also, is the sun. / Beautiful, also, are the souls of my people.
Audiences at both Penn and the nearby Penn Alexander School participated with enthusiasm during a recent visit by Bryan, a pioneer in bringing diversity to children's literature. 
"We so take for granted the words on a page. They're just printed," Bryan says. "But through poetry we learn that words on a page have a voice, and so I try to find the voice in those words to bring it alive." 
Bryan has been giving a voice to African American literature and poetry for decades through the more than 50 books he has written and illustrated.
And now he is sharing that legacy by donating his personal and professional archive to the Penn Libraries. Described as "a true treasure," that archive consists of thousands of items, including his original manuscripts, books, artwork, letters, and photos. 
"He kept everything," says Lynne Farrington, senior curator of Special Collections at the Kislak Center for Special Collections, Rare Books and Manuscripts. "This collection is extraordinary because it archives his life from his childhood to the present day." 
Especially precious to researchers are the original correspondence, hand drawings, photos, and stories that document his years as a Black man in the segregated U.S. Army during World War II. His experience is chronicled in his new memoir, "Infinite Hope," recently published by Simon and Schuster and the winner of a Coretta Scott King Honor Award for Illustration.
The original illustrations and manuscripts for his children's books broke the color barrier and became national award winners.
"I'm excited to have so much of Bryan's children's book art because now we can actually bring these works out and share them with students, researchers, and visitors. We hope to have lots of school children come in to see them," Farrington says. "The original art used to create a book can be really exciting for people to experience firsthand." 
A small exhibition of Bryan's collection, "Remarkable Figures, Women in the Art of Ashley Bryan" will be on display at the Van Pelt-Dietrich Library Center from Feb. 17 to April 17, in conjunction with the "Writing Across Genres" exhibition and symposium.
An archive of 'thousands' of pieces
Twice, Farrington visited Bryan at his home on Little Cranberry Island in Maine, both times taking the mail boat ferry, the only way to get to the island. The first trip, in May 2018, taken with John Pollack, Kislak Center curator of research services, was to meet Bryan and get a first glance at his house, "chock full" of his work and collections. Last July they were joined by David McKnight, director of the Rare Book & Manuscript Library, to sort through what would come to Penn in the first and largest shipment of the archive. 
Farrington estimates Bryan's archive contains "thousands and thousands," perhaps even tens of thousands, of individual pieces, in more than a hundred archival boxes and large bins. The Libraries will also acquire a representative sample of some three-dimensional artworks—stained glass windows, puppets, paintings—and the rest will be distributed to other institutions, primarily in Maine. 
"The important thing is that they have their interest in preserving my work for people who would like to know more about me," Bryan says. "It means so much to me to have the work of the stories, the artwork that went into the stories, and the poetry available and accessible." 
He says he is especially pleased to have his work preserved in the same library that holds the archives of famed contralto Marian Anderson. Bryan's archive bolsters Penn's collections relating to children's literature, joining that of Atha Tehon and William Steig. 
The Bryan material started arriving a couple of months ago and will continue to come for several more, the result of an agreement with the Ashley Bryan Center. The nonprofit, run by a committee of dedicated friends and family, set as its mission to find a place to "preserve, celebrate, and share broadly artist Ashley Bryan's work and his joy of discovery, invention, learning, and community."  
The leadership started the search by sending emails to universities, libraries and museums. Executive Director Nick Clark says he received an "enthusiastic response" from Farrington within 10 minutes. "That sent a very powerful message, and it was from there that it continued to confirm the deep commitment and enthusiasm that the Kislak Center had for Ashley's archives," Clark says. 
Bryan and Clark had a conversation during a public appearance at the Penn Libraries in December to celebrate the donation of the collection as well as the launch of his memoir, "Infinite Hope." Introducing them was Penn alum Dan Lief, chair of the Ashley Bryan Center's board of directors.
"The work done by the Kislak Center was just so special. They understood Ashley and they understood it so well and so quickly," Lief said. "You could tell they had things in mind, things that could be done with the archive."
Farrington says the Libraries will process the collection, which will take up to a year-and-a-half to organize and catalogue. Some items will be digitized. The Libraries plans to hold a major symposium and exhibition based on the collection in 2022. 
Understanding the life of the artist and author
Of special interest to researchers, Farrington says, will be the correspondence that describes his experiences.
Born in 1923, Bryan was one of six children raised in the Bronx. At 17, he entered the tuition-free Cooper Union School of Art and Engineering, denied a scholarship at other art schools because of his race. Drafted into the Army at age 19, he used pencils and paper stashed in his gas mask to draw what he observed while in Europe during World War II. 
Bryan also wrote regular letters to a friend he met in art school, Eva Brussel, and she responded. Toward the end of her life, she and her family sent him the letters he wrote to her, so their complete correspondence is part of the archive at Penn. 
"It's important to researchers who want to understand who Ashley was. What was the world like that he was living in? What was his reaction to that world?" Farrington says. "The archive contains the very materials that tell us something about the experiences of an African American living in this country during the 20th century."  
After he returned from the war, Bryan completed his degree at Cooper Union, and used the GI Bill to study philosophy and literature at Columbia, seeking to understand why humans engage in war. He went to France for three years, then to Germany on a Fulbright Scholarship. Returning to the U.S., he taught art at several schools and universities, retiring to Maine's Cranberry Isles as professor emeritus at Dartmouth College.
Throughout his life he wrote books, described by his publisher as the "first Black creator ever to both write and illustrate a book for children," bringing to life tales from African American spirituals, meant to be read and shared aloud. Among Bryan's many literary awards are the Coretta Scott King–Virginia Hamilton Lifetime Achievement Award. 
"Beautiful Blackbird" is one of the most popular, filled with his brightly colored illustrations of birds, characters that learn they all become more beautiful when they add black to their feathers. He read that book aloud to the 6th, 7th, and 8th graders at Penn Alexander who were part of an elective class about finding identity through art. 
Our colors sport a brand-new look, A touch of black was all it took, Oh beautiful black, uh-huh, uh-huh, Black is beautiful. UH-HUH! 
The children were especially interested in his puppets, and Bryan described how he creates the creatures from shells, sea glass, and other objects he finds on the beach near his home.  
"I hope my work will inspire something in you to do something of your own," he said to them. "Don't let a day go by without doing something yourself that's creative."  
Homepage photo: Bryan starts each public appearance with an energetic call and response of the poem "My People" by Langston Hughes.