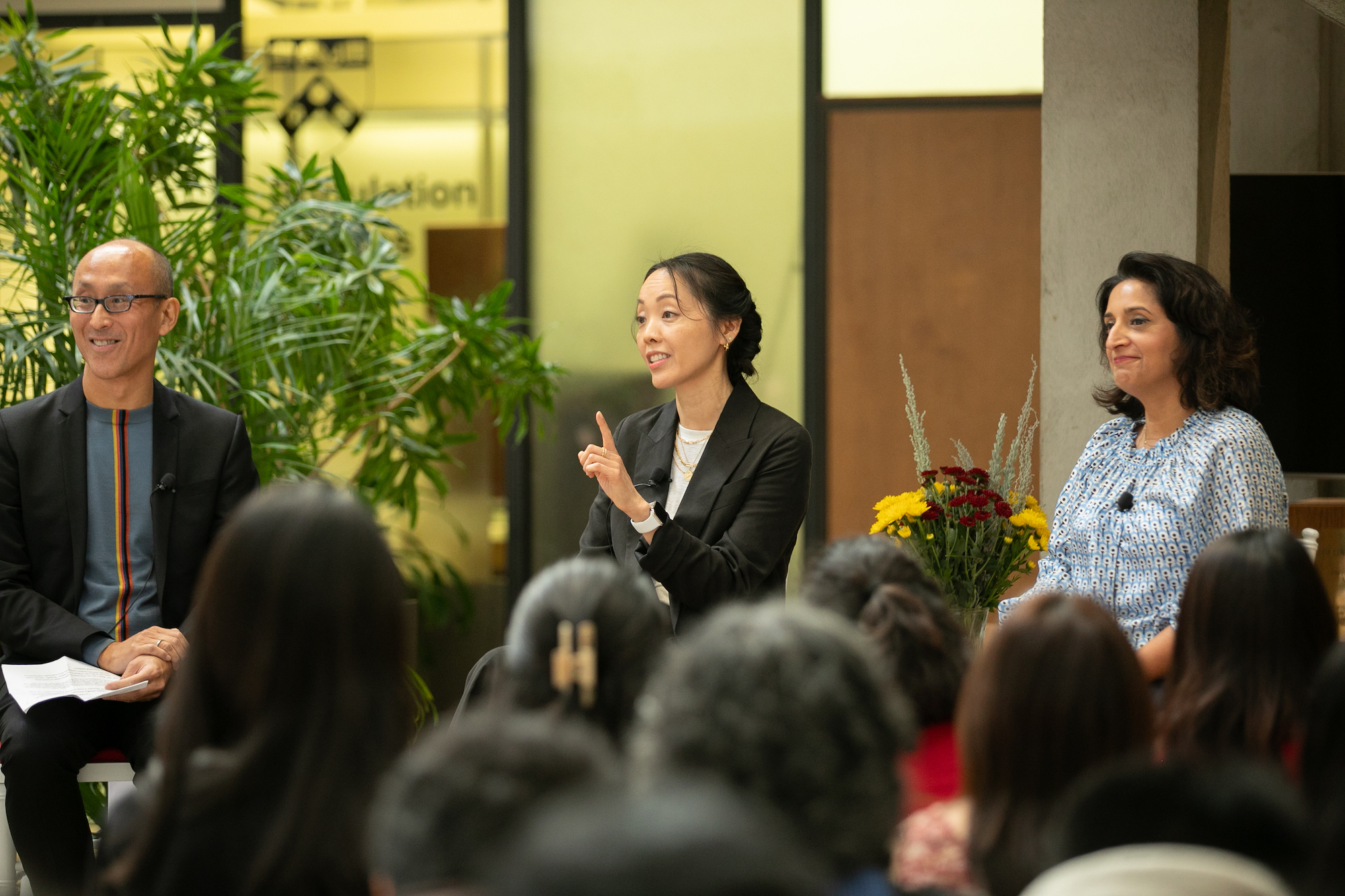 Andrea Cherng thinks in generations. That's what it means to be part of a family business, she says. In her case, the family business is Panda Restaurant Group, the American Chinese restaurant chain. Cherng, who earned a degree in sociology and Asian American studies from Penn in 1999, was part of the first generation to take classes in the Asian American Studies (ASAM) program and served as a student leader on its Undergraduate Advisory Board (UAB). 
Now, Cherng, as the chief brand officer of Panda Express, is continuing to give back to the program, playing a role in ASAM's growth. 
Launched in 1996, ASAM celebrated its 25th anniversary in 2022 and is currently expanding. That expansion includes a cluster hire of three professors and two affiliated faculty along with the addition of the Panda Express Postdoctoral Fellowship funded through the Panda CommUnity Fund, the corporate giving fund of Panda Express.
Asian American studies at Penn is "poised to be the most robust program on the East Coast," says Fariha Khan, who co-directs the program along with David L. Eng, the Richard L. Fisher Professor of English. The Panda Express Postdoctoral Fellowship will strengthen course offerings, enrich curriculum, and help to grow the field by building a pipeline from student to professor, she says.
New hires
Three core faculty members with expertise in history, English, and sociology have joined the program: Hardeep Dhillon, Bakirathi Mani, and Tahseen Shams. In addition, two affiliated professors, Emily Ng in anthropology and Linda Pheng in the Graduate School of Education, are part of the cluster hire.
Dhillon, an assistant professor of history, studies immigration from a historical and legal perspective. This fall, she is teaching two courses—The History of Family Separation and Immigration and the Making of U.S. Law. "I'm fundamentally interested in the way in which American law at the local, state and federal level shapes immigrant families," she says, "which includes their socioeconomic mobility, their access to various facets of American life, and, more generally, the ways in which they are included and excluded from American society and politics." 
Her current book project looks at the legal construction of the modern immigrant family. Her scholarship is intersectional, Dhillon says, touching on gender, race, class, labor, and disability.
"Asian American families and other immigrant communities are usually not really considered to be central to family history in the U.S.," she says, but "they've been integral to housing segregation policies, school segregation, access to citizenship. Every facet of American life touches immigrant families, and immigrant families touch pretty much every facet of American life."
Mani comes to ASAM as the Penn Presidential Compact Professor of English. She was founding co-director of the Tri-College Asian American Studies Program, which includes Haverford, Bryn Mawr, and Swarthmore colleges, where Mani taught for more than 20 years. Her first book, "Aspiring to Home: South Asians in America," looks at contemporary South Asian and South Asian American works, including those of writer Jhumpa Lahiri and filmmaker Mira Nair, alongside cultural events like the Miss India U.S.A. pageant through the lens of identity, community, and belonging. Her second, "Unseeing Empire: Photography, Representation, South Asian America," looks at visual culture, noting photography's history in South Asia as a form of surveillance and colonial documentation.
Mani looks forward to expanding access to the Asian American studies curriculum and building the field as an intellectual community for graduate students in the School of Arts & Sciences, she says. "How do we want to articulate our vision for the next 20, 50 years? It's a really opportune moment to think about how Penn can be a leading hub for Asian American studies on the East Coast amongst the Ivy League universities."
Like Dhillon, Shams also studies immigration; however, her work, she says, is "set as much in my curiosity as in my personal journey." Born in Bangladesh, Shams came to Hattiesburg, Mississippi, as a teenager, where she was "often the only non-white, non-Black person in any room I entered," she says.
As an undergraduate at the University of Mississippi, Shams says she learned about sociological imagination, the ability to connect personal histories and individual issues to larger systems. "I learned that I am as much a part of society as much as society is a part of me," she says. "I became interested to know, does my migration story, my immigrant experience, standout or is it part of a common pattern?"
At as an assistant professor of sociology, Shams now studies migration and how global inequities affect immigrants. She's published her first book, "Here, There, and Elsewhere: The Making of Immigrant Identities in a Globalized World," and is working on a second one about how global geopolitics informs interracial and interfaith relationships of South Asian Muslim immigrants. 
Weirong Guo, a cultural and political sociologist and recent Ph.D. graduate in sociology from Emory University, is the inaugural Panda Express Postdoctoral Fellow in ASAM. Guo studies China's global presence and the Asian diaspora in the U.S. In particular, her work explores how international migration—from authoritarian to democratic contexts—shapes transnational Chinese students' shifting politics, sense of self, racial identity, and mental health issues.
The next generation of Asian American studies
As of fall 2022, more than 27% of Penn's undergraduate students identify as Asian American; more than 48% of Penn's international students are from Asia. "How do we define ourselves?" Mani asks. "I personally have a commitment to creating a representational structure."
At the ASAM welcome-back lunch on Sept. 22, Cherng addressed the audience in conversation with Eng and Khan, along with students from the UAB. For many, she said, being Asian American is to have the experience of asking, "Where do I belong?"
"When I'm in the U.S., there are people that can yell at me across the street and tell me to go home. When I'm in China or in Asia, you distinctly feel American as you're walking around," she said.
"There is no amount of money that you can throw at racism to make it go away," Eng said, noting that much of ASAM's growth came in the wake of anti-Asian violence during the COVID-19 pandemic. "The only thing you can do is use education." 
Working towards that shared goal, Cherng said, "I got to contribute to helping to build Asian American Studies. And I passed the baton down to the next generation, and that next generation is going to pass the baton to the next generation because what we are after is creating a world that we actually can be proud of, where there's decency, respect, and understanding. And, by the way, it will be a long journey."