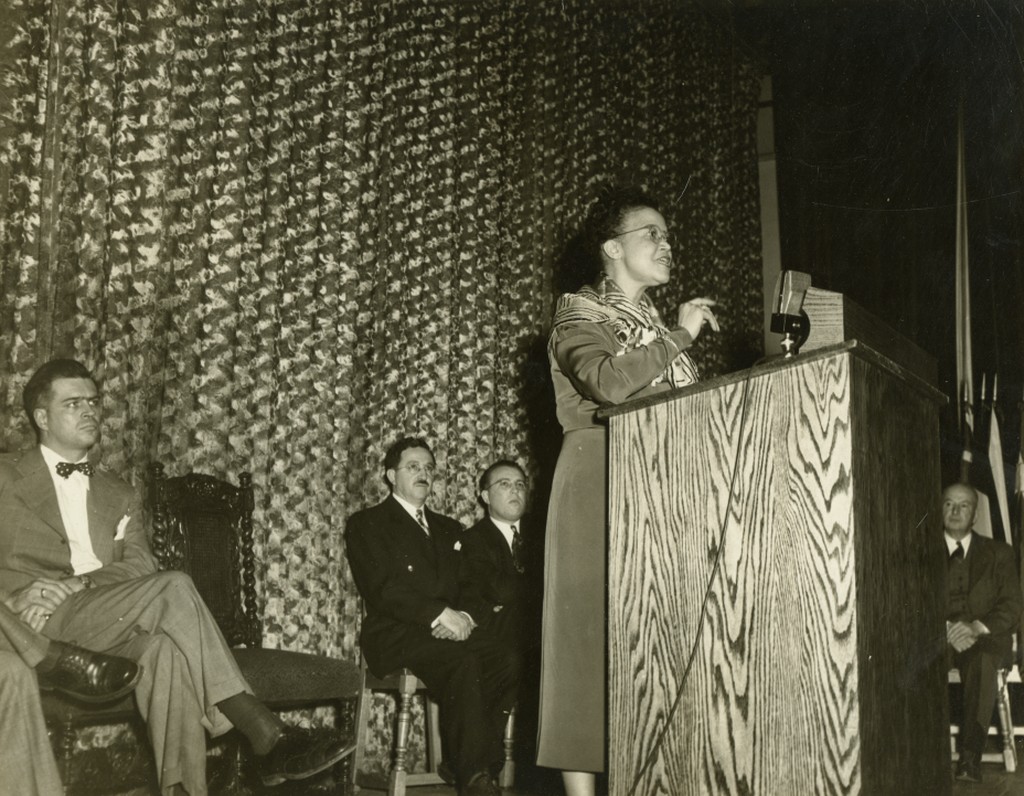 At a virtual gathering on June 15, scholars, economists, and family members of Sadie T.M. Alexander celebrated the launch of a new book by economist and Bucknell University Associate Professor Nina Banks, "Democracy, Race, & Justice." The book, published by Yale University Press, is a collection of speeches and writings composed by Alexander, who was the first African American at Penn, and in the United States, to receive her Ph.D. in economics. This year marks the 100th anniversary since the conferral of her degree. 
The event was hosted by Bucknell University in partnership with the Penn University Archives and Records Center, among others. Penn's University Archives is home to the collection of the Alexander family, including materials from Sadie Alexander, as well as from her husband Raymond Pace Alexander, the first African American graduate of the Wharton School. 
The book launch began with a short documentary video narrated by Nicole Lewis, the great-granddaughter of Sadie Alexander. The short explored her family history, legal career, activist work, and provided context for the time of racial and gender discrimination in which she lived. Wilene Johnson, an economist and former president of the National Economics Association, opened the webinar by introducing Radhika Balakrishnan, president of the International Association for Feminist Economics. Balakrishnan highlighted the importance of a project that not only brings light to Alexander's economics research, but "a project where feminist economics are writing feminist economic history," she said. 
"Because so much of our history is written by those not in our field," she added. 
Her remarks were followed by comments from Julianne Malveaux, who has previously written about Alexander as a "missed opportunity" for the world, because of the headwinds she faced as a Black woman in the field and "deliberate shunning."
"She still did a lot—an awful lot," Malveaux said, noting her work as a civic leader, a board member of the National Urban League, and much more. "But I often think of her frustration. Imagine an airline pilot being told the best he could do was check out groceries at a store," she added, with mention of Alexander's challenge finding a position in her field as a Black woman, and at one point becoming an actuary. 
Author Nina Banks then went on to discuss what inspired her to expand upon the research of Malveaux and spotlight the economic intellectual contributions of Alexander. 
"Early on, I set out to restore the economic thought of Sadie Alexander to the discipline of economics, but as I continued to work my way through this huge archival record of over 81 boxes of files and records, what I realized is Sadie Alexander was important not only to the economics profession, but African American history and therefore the history of our nation in general," Banks explained.
The Alexander family was then introduced, by Rhona Sharpe of the Women's Institute for Science, Equity and Race. The family members, which included Alexander's two daughters, two grandchildren, and a great-granddaughter, shared stories about their mother and expressed gratitude for Banks' efforts. 
"I looked through just some of the scrapbooks on both of my parents, and for me it was very overwhelming, it really was," said daughter Mary Cannaday, recalling going through the collection at the Penn University Archives. "My mother would be very proud of your diligence." 
Interim Acting University Archivist Jim Duffin spoke about the popularity of the Alexander family's materials in the archives and also described recent efforts to digitize the materials and make audiotape recordings accessible. 
"The donation of [the Alexander] family papers to the Penn University Archives is, dare I say, one of the most significant personal papers gifts to our archives," Duffin said. "One of the key roles archives serve in our society is the preservation of memory … [but] the challenge many archives have been coming to terms with in recent years is, 'Whose memory is saved?' Often, archives are a mirror of the dominant culture and its definitions of memory, which frequently left out marginalized groups.
"Fortunately," he said, "thanks to the family of Sadie Alexander and the work of Dr. Banks, we're able to broaden our public memory."
Following remarks from David Card, president of the Economics Association, and Lily Shorney, who assisted Banks with archival research, was Bernard Anderson, the Whitney Young, Jr. Professor Emeritus at Wharton and the seventh African American to earn a Ph.D. in economics from Penn, in 1969. 
Anderson spoke of how he knew Alexander as a highly respected lawyer, and did not learn until later that she had earned a Ph.D. in economics from Penn.
"Sadie Alexander's writings, to a great extent, set the baseline for the challenges that must be overcome," he said, describing the new book as a text that should be "required reading" for economics students, and that "perhaps that will hasten the day when the practice of the economics profession will match the promise of the economics profession."
The event closed with Johnson describing a level of detailed analysis from Alexander of the labor markets during her time period that she'd "never seen before," especially in the descriptions of the severe limitations Black women faced in the labor market. Banks followed by acknowledging that Alexander was as much focused on African American men as women, and closed with readings of three speeches by Alexander, covering topics like overwhelming contributions of Black people to the stable of supplies in American life compared to the population's relatively small size, and the 1942 mass arrests of Black people without probable cause. 
"Sadie Alexander was making that same point about policing, and that police had taken on the role of harassing and arresting African Americans as a form of political suppression," Banks explained. "And I think we can also think of that in recent policy contexts, such as broken windows and stop-and-frisk, as not just policies that criminalize African Americans, but we can think of this in the ongoing attempts to suppress African American attempts of political agency."
The full event is available for viewing on the Bucknell University website. Banks will next work on a biography of Sadie Alexander, with a release date to be determined.