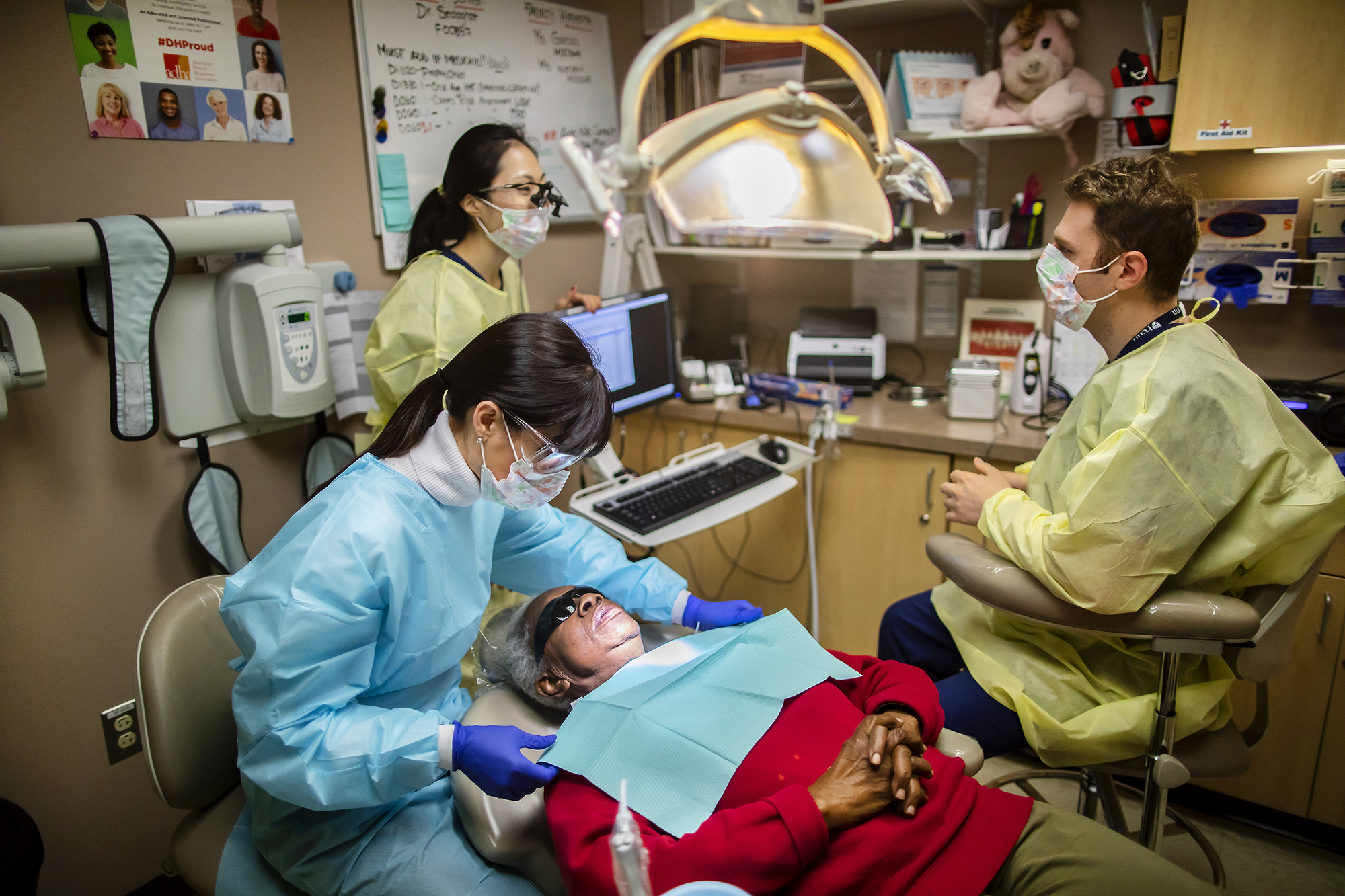 A lanky five feet, eight inches tall, Muhammad Means, an eighth grader at Hamilton School in West Philadelphia, has to slouch a bit to get his dental X-rays taken on the PennSmiles bus, a fully equipped mobile dental care center designed for pediatric patients.
But by the end of his appointment, he's glad he did: His bright smile features a newly repaired front tooth, one that had been chipped after a fall. After Niki Yerram and Nick Avianto, students from Penn's School of Dental Medicine, polish up his incisor, Means hops off the bus and heads back into school in time for his next class; the bus is parked right in front of Hamilton's front door on 57th Street.
Serving patients in the communities where they live, work, and attend school is an increasingly significant part of the mission of Penn Dental Medicine. Through its Division of Community Oral Health, the School focuses on offering high-quality oral health care to people who otherwise might struggle to access it. These efforts have a second crucial benefit: providing students invaluable culturally sensitive community educational opportunities.
"There's a convergence," says Mark Wolff, Morton Amsterdam Dean of Penn Dental Medicine. "What we want our dental students to learn turns out to be really good for the community. We want our students to care for the whole patient and understanding the community in which they live is part of achieving whole health."
Treating patients from infancy, with their first teeth, to the elderly, when they may require dentures, and everyone in between, dental students gain a tremendous amount of technical know-how. But just as important, they also learn how to approach each patient as an individual and how to use their skills to make a difference.
"The idea is, of course, you need to learn clinical skills in dentistry," explains Joan Gluch, who leads the Dental School's Division of Community Oral Health. "But to us, we want to help students understand their role in society—in improving health but particularly in reducing health disparities."
Addressing a gap
When it comes to oral health, such disparities are prevalent. People with low incomes, low levels of educational attainment, and who belong to certain racial and ethnic groups have outsize levels of untreated tooth decay, uncontrolled periodontal disease, and worse survival rates from oral cancer. This may have negative effects on not only their teeth, but on their general health, well-being, and self-esteem.
"Most dental diseases that people suffer from are totally preventable," says Wolff. "Whether it's gum disease or tooth decay or oral cancer, it's prevention and early detection that makes the difference in outcomes."
That's why Penn Dental Medicine has targeted its clinical outreach to those communities most in need. The School runs satellite clinics at Mercy LIFE, catering to aging individuals; Sayre Health Center, a comprehensive clinic for all ages; and via the roving PennSmiles facility, targeting primarily preschool-, elementary-, and middle-school aged children.
In addition, dental students and staff provide services to an even broader swath of the Philadelphia community through close partnerships with Philadelphia FIGHT, an organization that supports the needs of individuals with HIV/AIDS; Puentes de Salud, which promotes the health of Latino and Latina immigrants; Children's Hospital of Philadelphia's Homeless Health Initiative and the University City Hospitality Coalition, supporting the area's homeless and hungry; and the United Community Clinics, a collaborative effort of Penn's nursing, medical, social work, and dental schools.
Those services are poised to expand in the coming year. Plans are in the works to add a total of 11 dental chairs, expanding the number of patients that can be seen, and in some cases, the level of care that Penn students and staff can provide, adding equipment and space for emergency services and more elaborate restorative care.
"It's like a hub-and-spoke model where we can expand the oral health care we provide beyond the reach of Penn's main dental clinic at 40th Street," says Gluch.
A multifaceted education
When Gluch started working at Penn in the 1990s, it was during then-President Judy Rodin's efforts to connect the University to the neighboring communities. Guided by those principles, and more recently, the ideals of impact and inclusion from President Amy Gutmann's Penn Compact 2020, Gluch and colleagues oversaw the expansion in the School's engagement in the community. Where dental students once had to fulfill a 35-hour community service requirement to graduate, students today now devote at least 134 hours of academically based community service learning over their four years, ensuring a significant experience in providing oral health education and dental care in community settings, as required for accreditation.
Some students go above and beyond, pursuing honors programs in Community Health, for which they complete an additional 120 hours working at one of the partner sites.
With plans to pursue a pediatric dentistry residency, doing an honors project in the PennSmiles clinic made sense for fourth-year dental student Nick Avianto. Speaking on the bus as he prepares to greet a new patient, he explains that spending time in the mobile clinic has given him a wealth of experience and a strong foundation to begin his advanced education in pediatric dentistry in July. Whereas he might see one or two pediatric patients during a rotation in Penn's Pediatric Dentistry clinic, on the bus it's one child after another, a total of eight to 10 patients a day. "We definitely get to develop a good rapport with patients and get to work closer to the faculty as well." Meanwhile, he notes, "we're bringing state-of-the-art dental equipment to kids who don't always have the same access to care as other populations do."
For Han Na Cho, a fourth-year student beginning an honors rotation at the dental clinic at Sayre Health Center, the opportunity to provide comprehensive care in a community setting was a big appeal, personally and professionally. "We serve a lot of families, providing continuous care focused on prevention," she says. "That strongly resonated with me."
'In situ' care
Penn Dental Medicine's clinic at Sayre Health Center is literally embedded in the community, attached to Sayre High School, and also offers medical and social work services. Patients are seen regardless of their ability to pay. A small practice with just one chair, the staff, student, and patient communities are closely knit.
"Coming here is a wonderful introduction to community dentistry," says Shabnam Sedaghat, who first visited Sayre as a Penn dental student more than a decade ago, and now heads Penn's dental services there. "It's a huge asset for students to be able to engage with the medical staff or with the social work staff. They really see the interdisciplinary nature of this work. When you're here, it's easier to grasp and feel the weight and consequences of a disease like diabetes or hypertension. I think being in the community, you become a little more attuned to the struggles of patients, and that helps us serve them better."
Nancy Winder, a Sayre Health Center board member, used to travel with her late husband to a doctor in South Philadelphia before switching her medical and dental care to Sayre, located just two blocks from her home. "We weren't getting any younger and traveling to South Philly was getting hard," she says. Winder, who worked at Sayre High School as a lunch and classroom aide before retiring, now tells everyone she can about the benefits of getting her care at an intimate neighborhood clinic. "It's like a family," she says.
Having medical, dental, and social work services in one place benefits both Sayre's patients and the dental students who train there. Multiple times a month, Sedaghat says, dental students will catch a high blood pressure reading on one of their patients. Because the majority of people who receive dental care at Sayre also go there for medical needs, the students can report the reading to that same patient's doctor, conveniently located just across the hall. Similarly, Sayre's physicians frequently refer patients to the Penn Dental Medicine team for oral health care.
Later this year, the clinic at Sayre will be adding three chairs and augmenting other spaces and services. "That will go a long way to providing care for our patients," says Lorena Garcia, a public health dental hygienist who works there.
Wolff calls the approach to care that plays out at Sayre and clinics like those at Mercy LIFE and PennSmiles "in situ." "We look to deliver care in the community where people live, where they go to church or mosque or synagogue," he says. "People have a lot on their plates and if we can serve as a point of information and contact, we can make it easier for them to ensure they're getting the oral health care they need but may not have the time, money, or opportunity to access."
Gluch adds, "We're fortunate that Dean Wolff has embraced the idea that community engagement is such an important and integral part of dental education. You can't just educate dental students solely in the dental school; rather, they need to engage and understand the context of patients' lives in community settings."
An expanding mission
Building on a solid foundation, Wolff, Gluch, and colleagues are growing the School's commitment to community outreach, not only adding chairs in existing clinics but expanding the communities being served. The School is fielding calls from new sites, such as local libraries, nursing homes, and day care centers, to conduct oral health education and dental care programs. With a grant from the U.S. Health Resources and Services Administration, in 2018 the Community Oral Health division launched a "first five" program aimed at enriching dental students' training in pediatric dentistry. More than 60 percent of Pennsylvania counties lack a pediatric dentist, underscoring the need for general dentists to have the skills and comfort level to work effectively with children.
Also in the works is a plan to open a dental care center at Penn Dental Medicine focused specifically on providing care to patients with a wide range of disabilities. Students in an elective course are already getting such an experience at the Woods Services in Langhorne, Pennsylvania, which serves individuals with intellectual and physical disabilities.
Under the leadership of Wolff, who has long advocated for better dental care for the disabled, all of Penn's dental students will receive training in this area. "Nearly a third of our patient population will have a significant disability requiring assistance of one form or another," he says. "That's a massive number and to think that that's a special need—no, that's a basic need."
Indeed, routine dental care can be a life-saving intervention. During a recent visit to a local high school, the PennSmiles staff took X-rays of a 16-year-old girl whose family had recently immigrated to the U.S. The images revealed a lesion on her jaw, likely cancer, and she was referred to Penn Presbyterian Medical Center for further care with the oral surgery team. "Coming to receive care on the PennSmiles bus could have saved that girl's life," says Varsha Gogate-Bhuyan, a clinical assistant professor. "Cases like that make all of our outreach and clinical care programs worth it," adds public health dental hygienist Donna Anderson.
A personal goal of Wolff's is for students to eventually spend one full day a week working in community settings during their final year, ensuring that a sense of social responsibility becomes an inexorable part of earning a dental degree at Penn. "We're given a gift when we're given the opportunity to become a health professional like a dentist," says Wolff. "Part of what we need to do is figure out how to give back."
Donna Anderson is a public health dental hygienist in the Division of Community Oral Health at Penn Dental Medicine.
Nick Avianto is a fourth-year student at Penn Dental Medicine.
Han Na Cho is a fourth-year student at Penn Dental Medicine.
Joan Gluch is division chief and professor of clinical community oral health at Penn Dental Medicine.
Lorena Garcia is a public health dental hygienist in the Division of Community Oral Health at Penn Dental Medicine.
Varsha Gogate-Bhuyan is a clinical assistant professor in the Division of Community Oral Health at Penn Dental Medicine.
Shabnam Sedaghat is a clinical associate in the Division of Community Oral Health at Penn Dental Medicine.
Mark Wolff is the Morton Amsterdam Dean of the School of Dental Medicine.
Niki Yerran is a fourth-year student at Penn Dental Medicine.
Homepage photo: On the PennSmiles mobile clinic, Muhammed Means grins as he takes in his refreshed smile. Students and staff from Penn's School of Dental Medicine repaired a chipped front tooth for him during a quick visit to Hamilton.