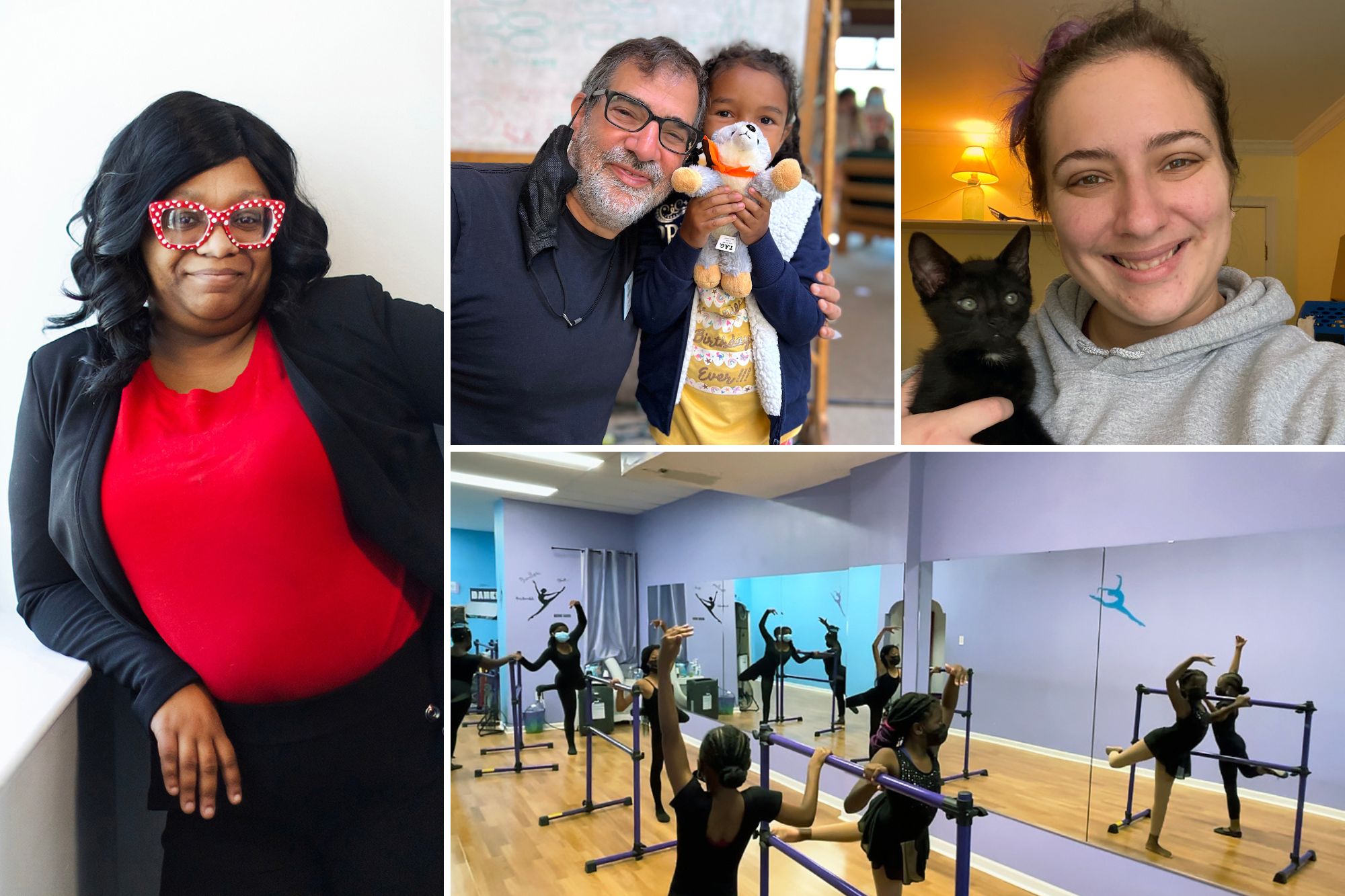 In 2019, we created our own holiday tradition of sorts at Penn Today. Our Side Gigs for Good series has profiled the work that faculty, staff, and students choose to do beyond their University commitments, organizations and causes they feel passionate about, volunteering they do, animals they bring into their homes.
This piece marks our 10th in the series (not all of them published just before the holidays). Here we showcase a Penn Medicine nurse who runs a low-cost dance studio she founded in West Philadelphia, a staff member at the Penn Center for Science, Sustainability, and the Media who fosters kittens, an HR specialist who teaches high schoolers life skills like how to file taxes, and an English professor who volunteers at the summer camp he attended as a child.
Preparation for the real world
During her day job as a human resources specialist with the Penn Employee Solution Center, Christina Blakely-Wise assists the University's employees with a plethora of subjects, from onboarding to payroll benefits. "They call us, and we help," says Blakely-Wise, who has been in her current role for three years.
She started to see firsthand that many college first-years—including her own oldest daughter—were unprepared for some aspects of adult life. "A lot of college students don't have the fundamentals to know how to read their pay slips. They don't know about taxes and why that's important," she says. "That made me want to address that with my own children."
Blakely-Wise has three: the 19-year-old college student, a 15-year-old 10th grader, and a 10-year-old 5th grader. In 2018, she started working with the Delaware County district where her children attend school, suggesting sessions she might offer given her background and expertise.
Her first one focused on the Free Application for Federal Student Aid (FAFSA). "That finally moved the needle," Blakely-Wise says, turning parents on to the benefits of this kind of programming. At the FAFSA meeting, parents told her they could use some help navigating social media with their high schoolers, so that became the next session. Then the pandemic hit, pressing pause on the entire endeavor.
In January 2021, Blakely-Wise picked it back up with a session for students about school readiness after two years of remote learning. Now the district is trying to make these a more permanent fixture, incorporating one per quarter aimed at parents, students, or both. In the spring, for example, there will be a talk geared toward summer employment, in the fall, one on FAFSA and college applications. Some will take place in person, others remotely.
Blakely-Wise feels strongly that this work continues. "It's important to me because these kids don't have a lot of resources. When I was a high school student, we had a lot of resources. We had home [economics], financial management, all of that in school. These kids have none of that, and it breaks my heart," she says. "But I'm not going to be one of those parents complaining on the sideline if I'm not going to step up and help. I don't want to be part of the problem. I want to be part of the solution."
Giving kids a summer to remember
Al Filreis's connection to Frost Valley camp in the Catskills began when he was seven or eight years old. "I discovered what people discover at summer camp in the mountains," he says. "There's no light pollution of any kind and you can see the stars and you see the moon and you can hear the owls at night. It was perfect."
That idyllic first summer spurred a lifelong passion for Filreis, the Kelly Family Professor of English, director of the Center for Programs in Contemporary Writing, and faculty director of Kelly Writers House. He attended camp throughout his childhood, then worked there, on the grounds, in the kitchen, and as a counselor. "Everything I bring to my work at Penn," he says, "my administrative skills, my management skills, my way of working with my team, keeping one's eye on mission and vision—all that I learned from Frost Valley."
From longtime Frost Valley Executive Director, the late Halbe Brown, he also learned how to fundraise. And that talent has served both him and Frost Valley well.
Each November and December, Filreis, a member of the Frost Valley board since 1999, throws himself into a fundraising campaign to send kids to camp whose families wouldn't otherwise be able to pay. Through personal appeals, he's raised nearly $1.2 million since 2016; this year, he's raised $142,000 since Thanksgiving from more than 300 individual gifts.
"Each unit of $2,500 sends one kid to camp for two weeks, which I think is a very appealing and concrete thing for people to understand," he says.
It helps that Filreis "lives and breathes" camp, spending each summer volunteering on site, renting a home in the nearby area. "I lead the children in programs, I arrange for staff and students from Penn to teach creative writing, I tell stories. Mostly I'm just around. I'm the guy everybody knows," he says.
The rewards are profound, he says.
"Because I've committed to this for the long term, I've seen kids grow up there," he says. "Some of the staff who are now 22, 23, 25 years old—I've known them since they were seven or eight. I keep up with them when they go to college, I write recommendation letters to jobs for them. These are my people. And some began as campers themselves whom we supported with financial aid."
To donate to support a child's attendance at Frost Valley, visit Filreis's fundraising page.
The power of dance
When Debra Mosley-McCray was young, she loved to dance. Yet despite her passion, her parents weren't able to pay for classes. "When I started my dance training as a young adult, I always said that whenever I was able, I would open a dance studio and avail the gift of dance to children or teens who could not afford it," she says. "That's exactly what we did."
In 2016, she started Feet of Faith Dance Company, and in the past six years, she and her 24-year-old daughter have taught more than 100 students jazz, ballet, contemporary, and many other types of dance. "Everything we offer is at an affordable rate," Mosley-McCray says. And even when students don't have the financial means to pay in full, they can still come take classes.
For most people, such an undertaking would constitute a full-time venture, but Mosley-McCray does this on the weekends. During the week, she is a registered nurse on a medical-surgical oncology unit at Penn Presbyterian Hospital, a job she's held for almost 20 years and one that she loves. She brings some of the same skills she employs as a charge nurse to her role as dance instructor.
"One of our mottos is we train from the inside out," Mosley-McCray says. "We teach the importance of character."
Her program, she adds, offers a creative outlet, one away from the serious personal and home-life struggles that many of her students face. "This is a safe haven. It gives them something to look forward to, knowing they are part of a team," she says. "Their membership matters. It's positive reinforcement." It's also something Mosley-McCray knows would make her younger self—the one who watched every music video to mimic the dance moves—proud.
Caring for kittens
Like many people, Heather Kostick, administrative coordinator for the Penn Center for Science, Sustainability, and the Media, dreamed of adding a pet to her family during the pandemic. But it was important that the new addition get along with her existing feline family members, Pickle, a Maine Coon mix rescued from a parking lot, and Nugget, a Siamese mix, adopted from the Bucks County SPCA.
"My husband and I decided to get into fostering so we could see how they would do with a third cat," Kostick says.
The journey to that "third cat," however, hooked Kostick on fostering. Since November 2021, she and her family have cared for a dozen cats for stretches ranging from one to three months at a time, working with Fishtails Animal Rescue, based in the Fishtown neighborhood of Philadelphia.
Though Kostick was always part of a cat-loving family—she grew up with cats in the house and her aunt has long volunteered with many local animal rescues—fostering has been "a completely different experience," she says, particularly when it comes to taking care of kittens.
The first group of cats placed with her was a mother, Iced Tea, and her three kittens, who were due to be euthanized. Kostick, her mother, and her husband helped treat their minor eye and respiratory infections, nursing them to health over the course of a couple of months, before they found adoptive families.
Kostick says the biggest challenge so far has been a group of three kittens, Lily, Laurel, and Luke, who were advertised as being 3 months old, but turned out to be far younger, around 3 weeks old, meaning they would have to be bottle fed. "After we had gotten home and realized, we were going to pass them off to someone with more experience, but Lily reached out her little paw and put it on my mom's face. She manipulated her way into my mom's heart."
The trio stayed, Kostick and her mom taking turns getting up through the night to feed them. Lily became their first "foster fail," joining the family on a permanent basis. The family recently picked up foster cat number 13, an older cat named Fredericka, for the holidays.
While Kostick recognizes not everyone is cut out for midnight kitten feedings, she says there are many ways to get involved in alleviating the pressure that animal rescue organizations face in placing animals in homes. "You can donate, spread awareness on social media, and get your darn pets neutered and spayed."
(Homepage image) Since attending Frost Valley as a child, faculty member Al Filreis has stayed closely connected to the camp. Since 2016, he's raised nearly $1.2 million to send children to camp whose families could otherwise not afford to pay. (Image: Courtesy of Al Filreis)