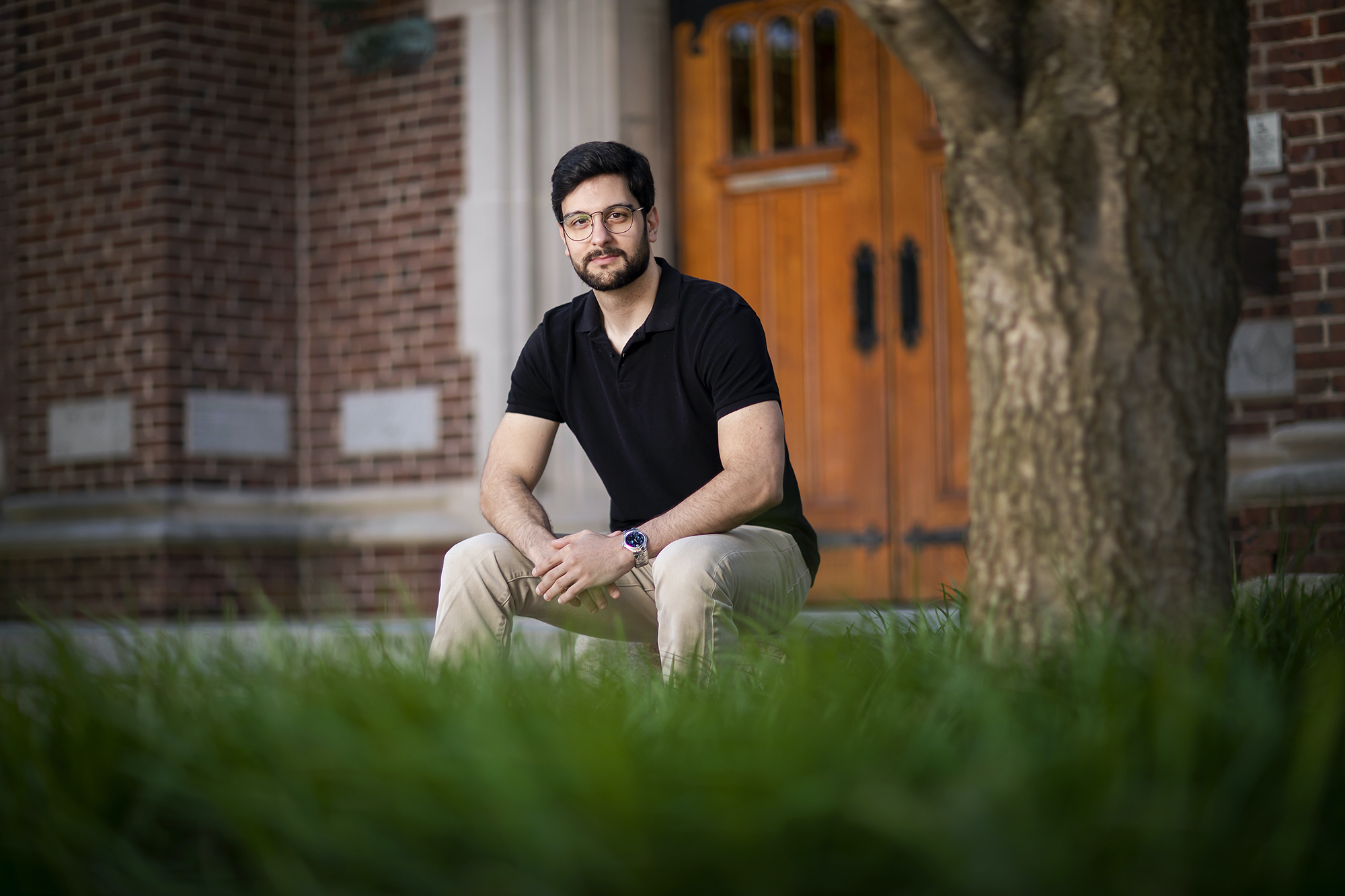 Growing up as the son of Syrian immigrants in South Philly, Ibrahim Bakri was focused on acting as a bridge between his Middle Eastern heritage and the place he called home. His work at the Middle East Center has helped him do just that.
"It's always been a motivating factor for me, especially because Syria isn't a country that I can visit because of the political situation," Bakri says. "Working for the Middle East Center has helped me feel connected to that side of my heritage."
Now, a side gig at a think tank in the United Arab Emirates is helping Bakri build more bridges, this time across the globe.
He started working at the Middle East Center as an undergraduate studying philosophy, politics, and economics, and after graduating in 2018 he was hired as the center's assistant director. He's currently studying part-time for his master of science in social policy at the School of Social Policy & Practice.
One of his main focuses at the Center is community outreach, including organizing all the K-12 work the Center does, like matching scholars to speak at schools around the region and help teachers with curriculum planning.
He also works with nonprofits and other centers and organizations, in the United States and abroad that share a similar vision, as well as universities and think tanks, and he writes detailed reports about the Center's work.
"I've always been interested in making this kind of scholarship in academia accessible to Philadelphia communities," he says. "It feels good to be able to take the resources that are available at Penn that are connected to this region that I'm passionate about—in my personal life, my academic life, and my professional life—and share them with people in a way that can make sense, demystify the region, and shatter stereotypes."
An internship with the Foreign Policy Research Institute after his second year at Penn sparked an interest in policy work and introduced him to the world of think tanks. That led to his involvement with the Think Tanks and Civil Societies Program under the late James McGann, where his interest in think tanks exploded, he says.
"Think tanks are some of the most important political tools that exist in the U.S. and many other countries, but, if you ask your average person what a think tank is, they don't actually know,"says Bakri. For academics interested in policy but not necessarily wanting to become a politician, think tank work can be ideal, he says.
Think tanks have always been engrained in the political landscape of the U.S., but in places like the Middle East they are a very recent addition to public policy, and Bakri has found himself on the ground floor of the burgeoning think tank movement in the region.
"In places like the Middle East, there's no such thing as an issue that is locked in one country. A Syrian issue is oftentimes an issue in Turkey and Jordan and Lebanon and Iraq. Every single issue that exists in the Middle East crosses borders, but there is often the urge to get a handle on these problems internally and without communicating with their neighbors," he says. "Think tanks allow countries to communicate with one another and give them a chance to engage in open diplomacy. This encouragement of dialogue is crucial for all stages of the political process."
McGann's belief in think tanks and their potential to act as vehicles of change inspired Bakri. "I owe it all to him," Bakri says.
McGann gave Bakri the chance as an undergraduate to sit on a think tank panel in Tunisia discussing youth engagement. After his speech, he was approached by TRENDS, a think tank based in the United Arab Emirates, and was asked to speak the next week at a conference on youth voices in the UAE. Now, he's a non-resident fellow at TRENDS and has organized summits on the Middle East and North Africa. He's published a book chapter with TRENDS and several research articles.
"It's been a super exciting, fantastic opportunity," he says.
"At think tanks, you have an opportunity to engage in meaningful dialogue with people who are deeply interested in what you are and people who ultimately want the same thing as you, which is peaceful civil society," he says. "You get to be exposed to all kinds of perspectives. I think all those perspectives are necessary if you're trying to put forward policy recommendations that are in their best interests and in the best interest of the international community."
He finds it particularly rewarding to see cases in some countries without a huge diplomatic platform they are working to engage the voices that aren't ordinarily heard, like young people.
Working alongside think tanks and the Middle East Center has been very satisfying, he says, and, although they can seem worlds apart, his work in both spheres has overlapping lessons.
"Sometimes it can feel like a bit of a double life because I can go from working with Philadelphia school teachers one week to engaging with Middle Eastern policymakers and public officials the next," he says. "But in a good way it all blends together, and you feel like you're aiming in one direction: to make your voice worth something."