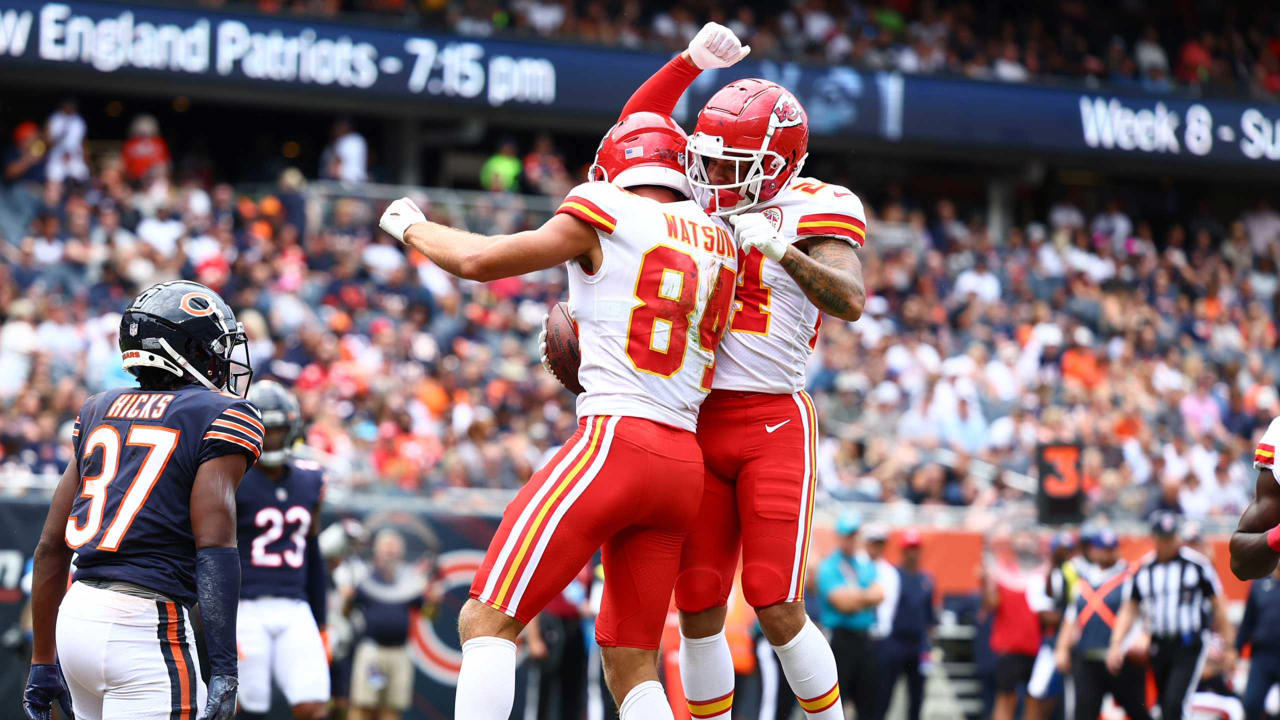 Justin Watson, a 2018 alumnus and one of the greatest players in the 146-year history of Penn football, just might be the luckiest wide receiver on the face of the Earth. After spending his past two seasons with future Hall-of-Famer Tom Brady and the Tampa Bay Buccaneers, where he won a Super Bowl, his is currently in training camp with future Hall-of-Famer Patrick Mahomes and the Kansas City Chiefs, recurrent Super Bowl contenders.
Watson, who is entering his fifth NFL season, is vying for one of the Chiefs' 53 roster spots, which will be finalized on Tuesday, Aug. 30, at 4 p.m.
In the first preseason game against the Chicago Bears on Aug. 13, Watson caught a game-high five passes (on six targets) for 45 yards and a touchdown.
"You see it all training camp and I saw it all OTAs," Mahomes told the media after Watson's standout performance against the Bears. "He can fly, but he's a bigger guy that can make all those tough catches."
Versus the Washington Commanders in the second preseason game on Aug. 20, Watson caught two passes (on three targets) for 53 yards. Kansas City's final preseason game is on Thursday at 8 p.m. against the Green Bay Packers on the NFL Network.
Penn Today caught up with Watson at the end of practice to discuss learning a new offense, playing with Patrick Mahomes, similarities between Mahomes and Tom Brady, and why he is excited for the Penn football season.
How is training camp going so far? Training camp has been great. We're definitely working hard. You just trust what Coach [Andy] Reid and this staff puts in front of us because he's won so many games here and in Philly. It's been a great camp for us as a team. I'm just trying to keep working to get better and earn a spot and playing time on this team.
The Chiefs are holding camp at Missouri Western State University in St. Joseph, Missouri. How's the weather? It's been pretty hot up here. It's up and down. It's not as hot as Tampa, where I was the last four years. It reminds me of Philly. Today we got a little misty rain that reminded me of my college days.
Does training camp get any easier over the years? That's the beautiful thing about training camp, it's always going to challenge you. It's always going to push you to your limits and find out who is here to stay in this game and who loves the game, and who doesn't have that dog in them. I think they've done a great job of pushing us here and finding out where everyone's limits are.
What type of training did you do in the offseason? I was still in Tampa, Florida. I was working with a few other guys. One of our receivers, Skyy Moore, who's a rookie, we were training at the same place in Tampa, it's called House of Athlete, with Yo Murphy. He does a great job and we really just trusted his plan. It was a whole lot of running—that's all we do at receiver is run, run, run—and I felt great coming into training camp. And I've been healthy so far, thankfully.
How's your knee feeling? [Watson missed four months last season due to a knee injury.] It's the best it's felt since college. I feel like I got a whole new knee, a whole new leg, and I feel like that's one of the main reasons why I'm running faster and cutting better this year.
Is it difficult learning a new offense? Some people say it's like learning a new language. If it's like learning a new language, they always say the more languages you learn, the easier it is to learn the next one. If you know one language, two is hard; if you know three languages, the fourth one comes a little easier. So just like anything else, there's some new things but there's a lot of carryover. And playing against the Chiefs, you kind of get a feel for what they do. I think they've done a really good job of installing the offense and I haven't had any issues with it yet.
How is it playing with Patrick Mahomes? Man, it's a dream. I've been so blessed my whole football career from high school to Penn, playing with Alek Torgersen, and in my time in the NFL, just playing with great, great quarterbacks, and Pat is certainly a great quarterback. He makes throws that no one else on the planet can make so I just feel like I'm so lucky to be running routes for him, talking to him every day, and catching passes.
Am I correct that you two worked together in the offseason? Yes, we got together in Texas a few times, where he's from.
Do you think that has helped with chemistry? Definitely. We have a lot of new receivers, me being one of them, in the receiver room this year. The first time we ever worked out wasn't in the Chiefs' building, it was on a field in Texas with just us players. When you get on the field, that's who's out there, it's just players, so building that bond, building that chemistry, was huge from the first day.
Have you noticed any similarities between Mahomes and Brady? Yes, it's no surprise that two great quarterbacks have a lot of things in common. I think [Mahomes'] work ethic, his attention to detail, and just the way they see the game. He does such a great job of changing plays at the line, recognizing defenses, and putting receivers in great position to make a play.
Have you and Coach Reid bonded at all on your Philly connection? Yes, Coach Reid definitely looks out for the Philly guys. We shared some food spots we like in Philly, our favorite cheesesteaks spots, things like that. He's a great guy; you can tell he definitely enjoyed his time in Philly, just as I did.
Do you still keep up with Penn football? Of course. I'm excited for them this year. I think they're going to have a really nice year. I'm excited to see what Coach [Dan] Swanstrom does with the offense. I'm excited to see what plays out with the quarterbacks. I know they had a young quarterback last year so I'm looking forward to seeing how he develops. And then Rory Starkey and Josh Casilli are two guys in the receiver room that stood out to me last year, and I know they're working this offseason and are looking to improve and put their best season yet on film.