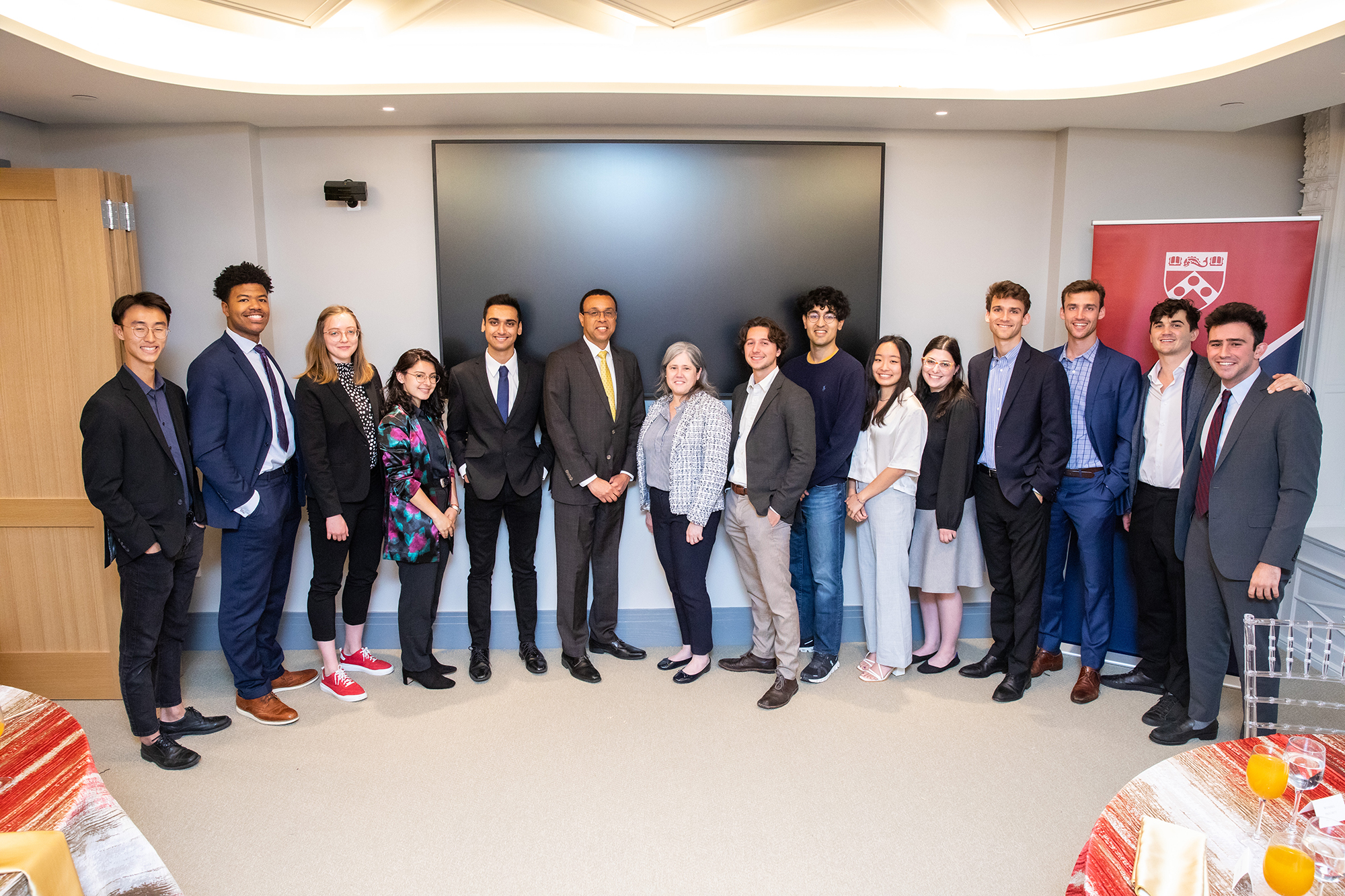 Last week, on a sunny spring day, the 2022 President's Engagement, Innovation, and Sustainability Prize winners were recognized at a special luncheon, a momentous occasion that hasn't taken place in-person since 2019. The 12 Prize recipients and their advisers, as well as past Prize winners and Penn leadership, joined together at the University Meeting and Guest House for a meal, good conversation, and celebration.
To the group, as well as family members tuning in through Zoom, Interim President Wendell Pritchett described this year's winners as exemplifying creativity and leadership. "They epitomize why these prizes are central to the vision we share for Penn," he said, before distributing handcrafted certificates to each of the six teams.
Eli Moraru, who earned one of the inaugural President's Sustainability Prizes for his nonprofit The Community Grocer, said the event was uplifting for two main reasons: The first being that he got to network with his fellow PEP/PIP/PSP cohort, and the second being his connection with past Prize winners.
"It's a real community," Moraru said, sharing, as an example, how Christina Miranda from Be Body Positive Philly—a winner in the 2021 cohort—approached him expressing her interest in serving as a resource to his team in any way possible.
"It's just one more reason showcasing how we aren't alone in this," Moraru said.
Chosen from an applicant pool of 71 people, the two other President's Sustainability Prize-winning teams include Saif Khawaja for Shinkei Systems and Sarah Beth Gleeson, Shoshana Weintraub, and Julia Yan for EcoSPIN. Earning a President's Innovation Prize, which was founded in 2016, is William Kohler Danon and Lukas Achilles Yancopoulos for Grapevine. In 2015, the very first President's Engagement Prizes were announced. This year, Penn awarded this honor to two teams: Seungkwon Son, Max Strickberger, and Sam Strickberger for College Green Ventures and Manoj Simha and Rowana Miller from Cosmic Writers. Each team receives $100,000 to help get their projects off the ground, plus a $50,000 living stipend post-graduation per person. (In the coming weeks, stay tuned as Penn Today will unveil in-depth stories on each team and their unique missions.)
"This year's Prize-winning plans emerged as the strongest and most promising, which is really saying something because the competition is so fierce, the caliber of ideas so high," said Pritchett, who also added how the 2022 Prize cohort is the biggest thus far—a testament to "the incredible strength of our applicant pool."
Talking after the lunch, Miller of Cosmic Writers detailed the moment she got the call from Pritchett, telling her about the Prize.
"He asked me how I was doing on that lovely day, then he told me he was about to make my day a whole lot better," she said, with a laugh. "It was really sweet."
Winning a President's Engagement Prize is just another key to Cosmic Writers' growing success. The initiative, which provides high-quality, accessible creative writing education to kids, and officially launched as a nonprofit in January, already received a Sachs Program for Arts Innovation grant. "It has been so good to have support from multiple entities within the University," Miller said, talking on behalf of herself as well as her project partner Simha.
Moraru, talking after the event, too, said he has largely felt boosted by Penn for his initiative The Community Grocer, which is reimagining nutritional assistance and reinventing the corner store.
"At Penn, we have all the resources, the education, and the support to make the changes we want to see in the world," Moraru said. "We come to Penn not to do the safe thing but to change how we see the world. These President's Prizes encourage students to take those risks and do something big."
Moraru's parents, Eldad and Jodi Moraru, who both attended the luncheon virtually, said "proud is an understatement" when describing how they feel about their son.
"It's been a long journey, and it will continue to be a long journey, but Eli is committed," Jodi Moraru said. "To see that people are recognizing his efforts is a huge reward."
Most of all, Eldad Moraru said he is delighted to see his son "following his heart."
"Eli has become so entrenched in the community he is serving," Eldad Moraru said. "This is very personal for him. He is really going down a path that is true to himself."
Noting how he would have pursued The Community Grocer even without the President's Sustainability Prize, Eli Moraru said he knows it will help catapult him and his team to the next level.
"Without the award, I would be doing TCG regardless," he said, "but now we have legitimacy and the push to make it a reality. That is really exciting."
Homepage image: Pritchett addresses this year's Prize winners in-person, as well as their family members who tuned in via Zoom.