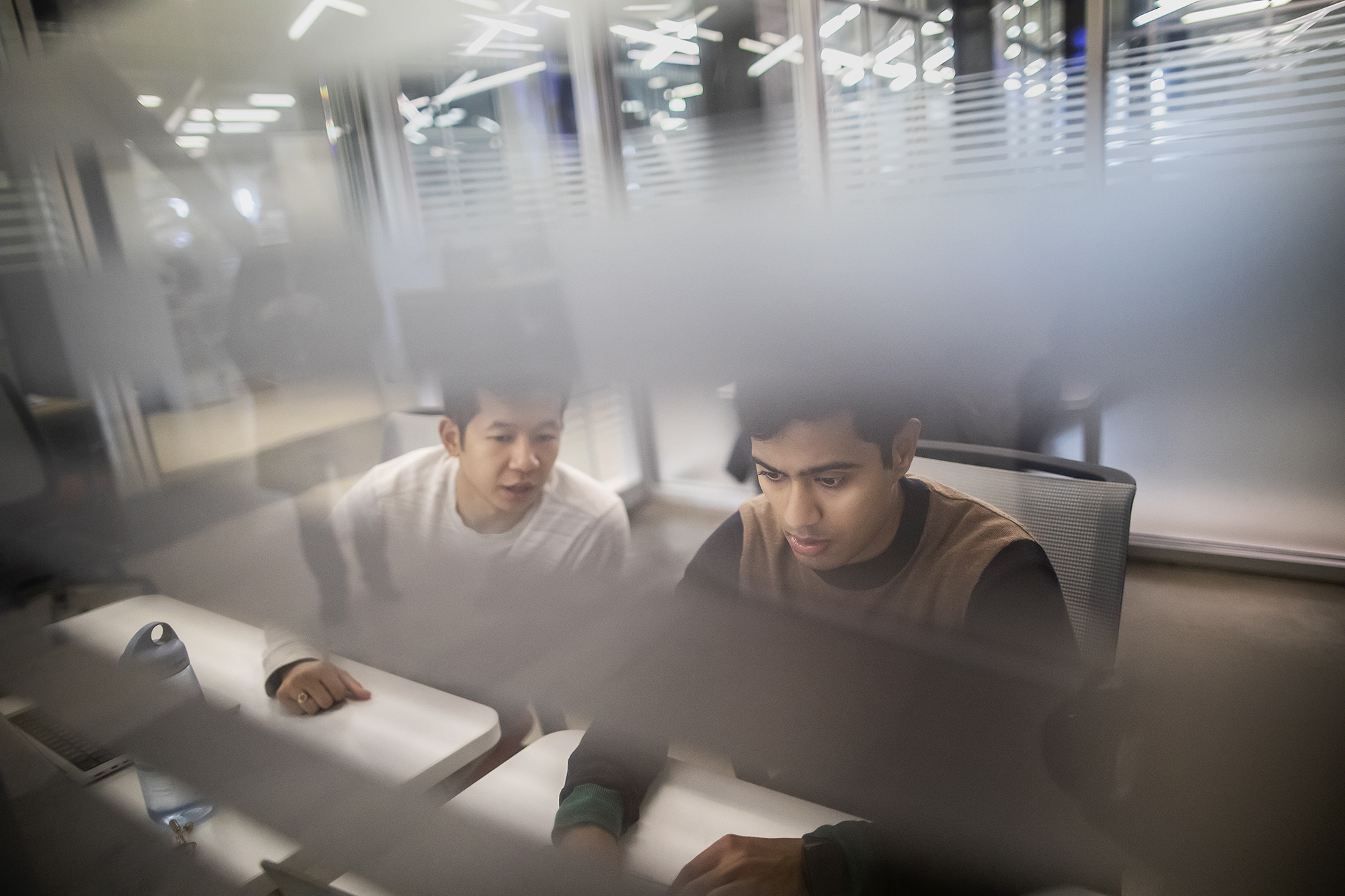 Aris Saxena and Yiwen Li's Mobility Health app aims to make health care more convenient and accessible.
"We started Mobility with the goal of providing people an easy way to see a health care provider without compromising on the human interaction needed to make care meaningful," says Saxena. Mobility combines the affordability and convenience of telemedicine with the human connection of home visits to provide a customized health care experience for patients.
Their proposal was selected for the 2021 President's Innovation Prize, which includes an award of $100,000, and an additional $50,000 living stipend per team member. Since 2016, this award helps graduating seniors envision and implement an innovative, commercial venture that makes a positive difference in the world.
"Aris and Yiwen saw a need to make health care more convenient and accessible, and with a boost from the President's Innovation Prize, created a user-friendly technology solution that's as impactful as it is impressive," says Interim President Wendell Pritchett. "The best part? This duo—with a strategic plan to scale up their offerings—is only getting started."
Understanding barriers to care
"Convenience equals access in health care," says Saxena, originally from Santa Rosa, California, who graduated from the Wharton School with a concentration in health care management and statistics. "People struggle to find the time to fit all of their responsibilities into 24 hours. If health care is not easily accessible, most people simply do not have the bandwidth to find time to visit their doctor. That's why it's no surprise that most people who do not absolutely need health care choose to avoid it at all costs. Often, the pain of obtaining health care appears larger than any physiological pain that a person may be feeling at the time."
The current process of both scheduling a visit with a provider and traveling to the clinic is both tedious and time-consuming, explains Li.
"We believe that health care shouldn't be complicated," says Li. Originally from Montreal, Li majored in biology in the College of Arts and Sciences and finance at Wharton and was also enrolled in the Roy and Diana Vagelos Program in Life Sciences and Management. "Too often, people, including us, have been discouraged from obtaining care due to the long wait times, and the difficulty in finding the perfect provider that understands your needs, and the overall lack of transparent communication."
Li and Saxena hope Mobility Health can help patients forego the time it takes to obtain health care and keep the value of seeing a health care provider.
Telemedicine has proven to be immensely impactful in restoring the patient-provider interaction thwarted by social distancing during the coronavirus pandemic. Though Saxena says that some elements of an in-person interaction could not be replaced by virtual care, "notably forming personal connections with your provider, creating care continuity, and accurately diagnosing and treating certain conditions that require physical interactions and tests."
The solution, Li and Saxena found, are at-home visits, which provide convenience to patients while supplementing the gaps of telemedicine.
"By seeing a provider through a home visit, patients can skip the commute and the long lines and get trusted medical advice in their pajamas," Saxena says. "The shift to this form of care has slowly been coming for years but has dramatically been accelerated by COVID-19, which has forced providers and patients to experience care beyond the clinic."
"We want to eliminate the days of skipping work or missing family dinners to go see the doctor," Li says. "Americans will eventually be able to obtain any non-acute care that they need in the comfort of their homes within hours of requesting it on the internet."
Implementing the idea
Since winning the Innovation Prize in 2021, Saxena and Li have been busy implementing their idea. They launched a new website at Mobility Health. The team also took full advantage of the free space and guidance at the Pennovation Center for Innovation offered to Prize winners. Saxena and Li worked at the Pennovation Works campus through December 2021 and are now based in New York City.
Associate professor of management at Wharton Tyler Wry has mentored the duo. "Aris and Yiwen have put together a tech solution to make it easier for health care providers and nurses to connect with patients in a manner that is easy for them," he says. "They have tied that with a back-end that reminds people to come back and get their prescriptions and schedule follow-ups all in the service of promoting better health care."
For now, Saxena and Li are focused on connecting patients with physical therapists.
"We are beginning our journey in physical therapy because of the need in the industry for PTs to physically evaluate their patients and perform manual adjustments along with the duration and frequency of treatment required for patients," says Li.
"Eventually, we want to extend this solution across health care, allowing patients to pick their desired form of care and their provider across a range of specialties," Saxena notes. "We want to give people the ability to customize and control their health care experience."
The Mobility platform allows patients to find any providers they want with a few clicks of a button and receive care within hours without leaving their homes.
"Technology is at the forefront of this change, and we hope to use it to better connect patients to their health care providers," Li says. "By allowing patients to easily access health care professionals with any questions they have, we help build a true connection between patients and providers while facilitating comprehensive care."
Mobility aims to preserve the sacred relationship between patient and provider. Li and Saxena are taking a patient-centered approach by allowing patients to choose their providers and meet each other during an initial consultation.
"Oftentimes, patients make themselves vulnerable to their provider only to eventually lose touch with them due to poor patient matching and a lack of consistent touch points at clinics and hospitals," says Saxena.
Li and Saxena believe this personalized approach can benefit both patients and providers, and they hope it will set the standard for how health care will eventually be provided across the country.