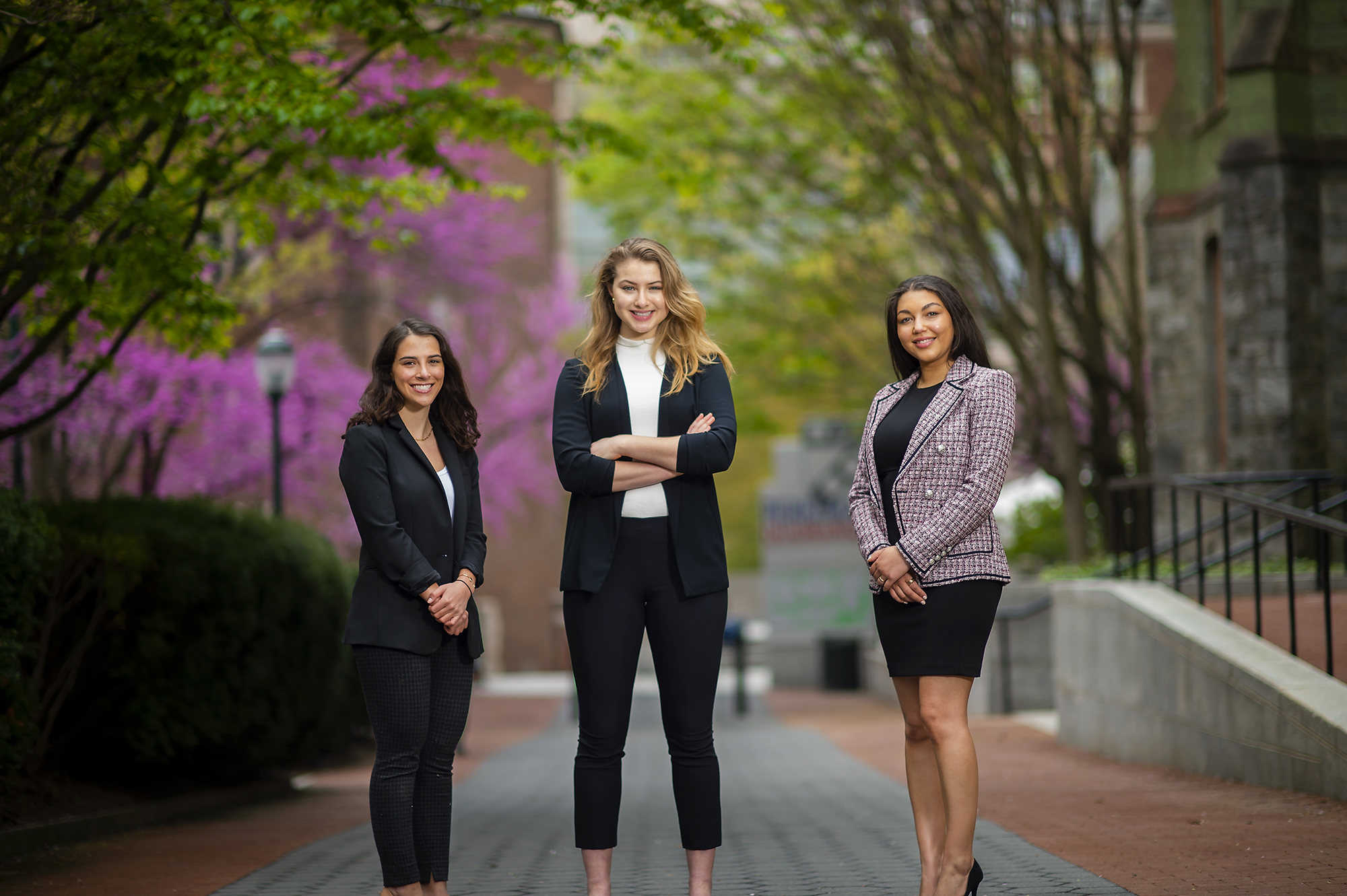 When Penn 2021 graduates Carson Eckhard, Natalia Rommen, and Sarah Simon set up a program called Project HOPE, they wanted to tackle wrongful convictions and help inmates prepare to reenter society upon release.
In the year since it got underway, and backed by support from the 2021 President's Engagement Prize, the project has helped free Jehmar Gladden, who spent more than 20 years in prison for a crime he didn't commit, and graduated the first cohort of inmates from an innovative reentry program piloted at a state correctional institution.
"It's been an amazing year and a pretty resounding success," says Simon.
Gladden says even that is an understatement. "These Penn students have changed my life. Everyone forgets the people who are the cogs in the machine who actually make things work. That's what these students did. They did so much of that background work. They stepped up to the plate and they hit a home run."
Project HOPE was one of three ventures chosen for the 2021 President's Engagement Prize. Awarded annually, the Prizes empower Penn students to design and undertake post-graduation projects that make a positive and lasting difference in the world. Each project receives $100,000, as well as a $50,000 living stipend for each team member. 
Project HOPE's goal was to address the lack of legal and reentry support to incarcerated Pennsylvanians by serving as the core of an expansive advocacy network.
"Project HOPE is as inspirational as it is transformative," says Interim President Wendell Pritchett. "The work Carson, Natalia, and Sarah are doing alongside numerous other advocates in the state is crucial to the reform of our justice system. I am proud that the President's Engagement Prize could support such a life-changing initiative, and I am certain that the dedication that these students are bringing to this work will ensure its success far into the future."
The students had been working on Gladden's case even before they won the Engagement Prize, through their volunteer work with The Liberation Foundation, established by wrongfully convicted exoneree Terrance Lewis.
Eckhard was interning in 2019 at Philadelphia District Attorney Larry Krasner's office when she met Lewis after his exoneration case wrapped up. He spent 21 years in prison, sentenced at age 17, for a murder he didn't commit.
After winning a $6.5 million settlement and an apology from the City of Philadelphia in 2020, Lewis committed himself to helping other wrongfully convicted people. Eckhard, Rommen, and Simon quickly signed on to help.
Gladden was Lewis's childhood best friend and his co-defendant.
"His case was top-of-mind for us, because after Terrance came home, so much of the evidence in Terrance's case aligned with Jehmar's," says Eckhard. "It was always going to be the first case we took on."
Lewis lined up attorney Troy Crichton for Gladden, and the Project HOPE team worked with him to secure all the trial transcripts, inventory, and documents that helped lead to his release.
"For Terrance to survive all those years inside and finally gain his freedom, and then come out and still want to establish an organization that brings these things to light, it's no small thing," says Gladden, who now works with the Foundation as a consultant and case manager. "When Terrance pitched his vision to Carson, Sarah, and Natalia, they built off of each other's energy, and they built off each other's resources. They did the leg work, the arm work, the whole body work. Not just one person can make this happen."
Project HOPE is now working on about five other wrongful cases and organizing efforts to recruit outside attorneys.
An innovative approach to reentry 
Separately, they created and piloted a reentry program at the State Correctional Institution at Coal Township in central Pennsylvania, and the first cohort of about 50 participants graduated earlier this month. Current inmate Evan Wiles worked with the team to devise the curriculum.
The 18-week-long program featured talks every other week from experts on a certain reentry topic—for example, on how to secure housing, manage money, or entrepreneurship—and the alternating weeks involved small group mentoring sessions discussing the previous week's topic and how that information might be incorporated into their lives upon release.
At the end of the program, each participant was handed a resource guide summarizing what had been presented, addressing the questions that had been asked, and offering a host of contact information for when they're released.
The reception from the inmates and from the staff at the prison has been positive.
"One participant who was released midway through our reentry program came home and was able to find employment," Rommen says. "Another told me that during his 34 years of incarceration this was the most novel and influential reentry program he's been in. Seeing the way that this could actually change people's lives is something we're really looking forward to."
Anthony Luscavage, deputy superintendent for centralized services at SCI Coal Township, says after 29 years working in correctional facilities, he appreciates Project Hope's fresh and innovative approach to reentry.
"This program has the potential to impact the entire state of Pennsylvania, the Federal Department of Corrections, and nationwide," he says. "I think this could be a model to use across the country for reentry programs."
He says the program's strengths are its partnership with the community, bringing in formerly incarcerated speakers to share their experiences, and the fact that it was devised by Lewis, who brings an insider's view on what's most needed when inmates are released back into society. Having prison administration involved in the classes also resonated both for him and for the participants.
The first cohort was for participants who had been sentenced in the Philadelphia area. Luscavage says he's heard overwhelmingly positive feedback, and has had numerous requests from other inmates in the facility asking to expand the enrollment to participants from other cities around the state.
"It was an absolute breath of fresh air, and Carson, Natalia, and Sarah's enthusiasm and energy made me enthusiastic and energetic about the program and about getting something new up and running. That enthusiasm definitely matters to the participants," he says.
Looking to the future
As for what's next with Project HOPE, Eckhard, Rommen, and Simon are working on recruiting and training current and former Penn students to bolster their volunteer network as the three transition out of their full-time roles.
They've offered intensive training sessions for how to process wrongful conviction cases, bringing in experts from the Law Library at Penn and current law students who've worked in that capacity.
"It's been such a learning experience working to build something that all three of us hope will go beyond this year and beyond just us working on it," Rommen says. "But what I have been most pleasantly surprised by is just how many people there are in Philadelphia and in surrounding communities—whether it's activists, formerly incarcerated individuals, or students—who are really dedicated to making this happen."
As the three begin their transitions into their next phase—all of them are looking toward law school in the near future—they are laying the groundwork for Project HOPE's work to continue.
"In some sense, the work that we're trying to do is reparative. There's such an important and renewed focus on criminal justice reforms and on abolition, which is forward-looking and our work fits into it," Eckhard says. "But a key goal of Project HOPE's and the Liberation Foundation's mission is to make sure that as we look towards a future with a more compassionate justice system, we're helping to bring home and to bring justice to people who have already been impacted by a very cruel justice system. We're making sure that as we are looking forward, people who've already been impacted are still being supported."