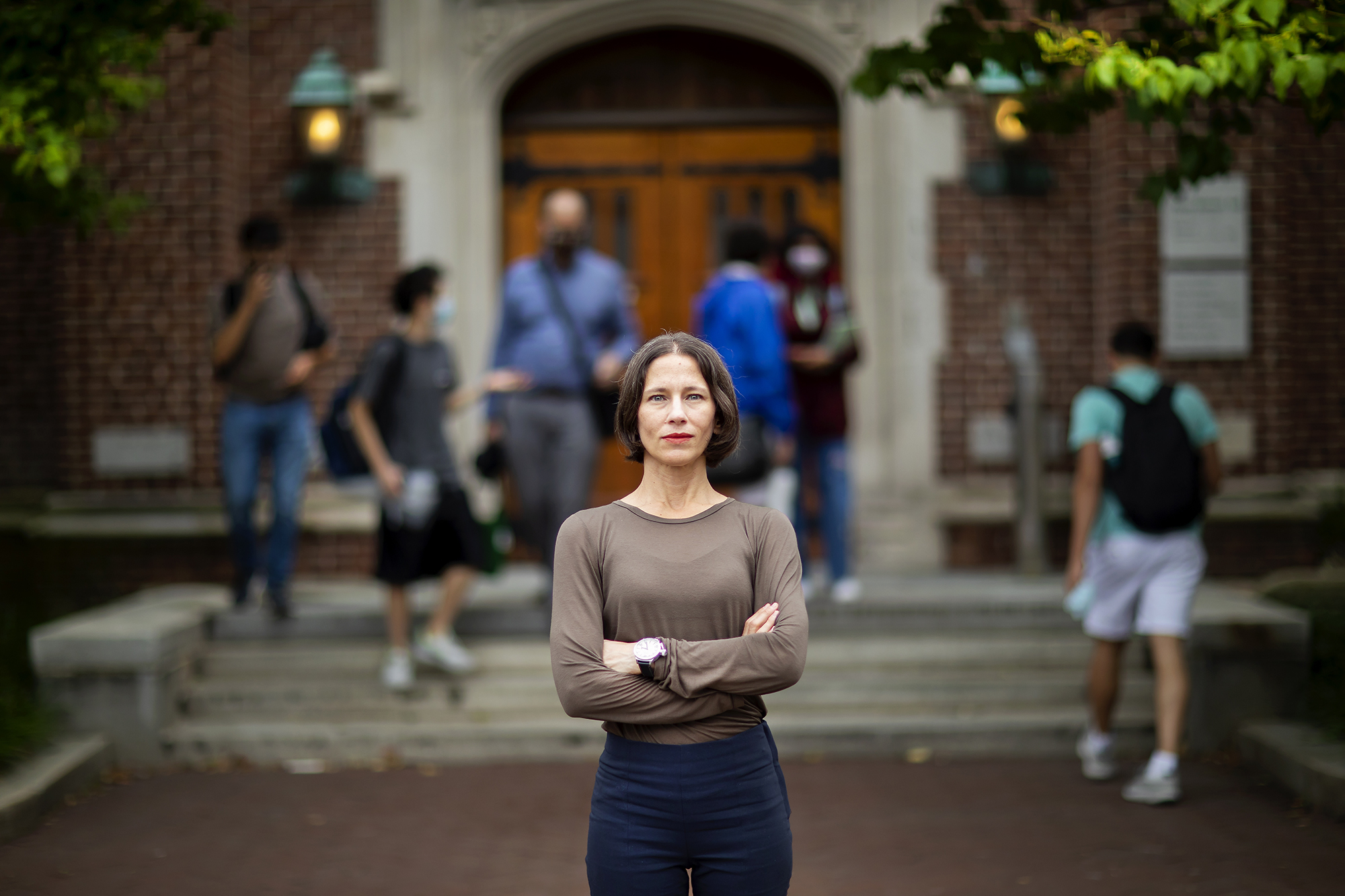 As of July 2021, what was formerly known as the Alice Paul Center has a new name and a new director. The Center for Research in Feminist, Queer, and Transgender Studies (known by the initials FQTC) is now headed by Melissa Sanchez, the Donald T. Regan Professor of English and Comparative Literature. The name change came about after long discussion, "because we wanted to signal our commitment to these intellectual and political movements," Sanchez says. The Center will continue to cultivate scholarly community through events that welcome scholars, activists, and artists, she says.
Originally established in 1982 to support what was then called the Women's Studies Program, the center and department focused on gender as a single axis of identity that privileged white, middle-class, heterosexual cisgender women, Sanchez says. "The choice to name [the Center] Alice Paul after the U.S. suffragette leader fit with that limited vision of what women's studies was." The program's name has changed twice as it continued to address a more complex and encompassing understanding of identity, arriving at its current title of Gender, Sexuality, and Women's Studies (GSWS). It was time that the Center followed suit in adopting a name that recognized the diversity of its community, says Sanchez.
Upon the centennial anniversary of women's suffrage in the United States in 2020, GSWS faculty and students reflected on Alice Paul's "problematic past, including her role in the exclusion of Black women from the suffrage movement in order to keep southern white women on board," and whether or not she was the right namesake for the Center, Sanchez says. The group ultimately decided against having a figurehead in order to foreground the collective nature of both academic work and social justice movements.
This academic year, the Center's programming will be focused on the theme "Care for the Future," featuring a series of speakers and events on the various aspects of care, from environmental care to domestic care work, and including a speaker series celebrating the 40th anniversary of two seminal queer feminist volumes: "This Bridge Called My Back" and "But Some of Us Are Brave."
Fall events will also feature a conversation with two-spirited composer, performer, and anthropologist Jeremy Dutcher; a production of "Opus Siniestrus," a play by feminist surrealist Leonora Carrington directed by FQTC/GSWS Sachs Artist-in-Residence Ricardo Bracho; an interdisciplinary graduate research colloquium; and a conversation between Jennifer Nash and Jasbir Puar reflecting on the history and future of queer BIPOC feminism.
"Our hope is that [students] will come to our events and engage with our speakers," says Sanchez. "We strive to make all events, all conversations, open to everyone who is interested," she says. "We want all attendees—participants as well as speakers—to presume that they have something to say. And something to learn."
Sanchez first came to queer and feminist theory through college at the University of California (UC) Irvine. She began as a philosophy major but says she soon "discovered that the English department was reading more philosophy than the philosophy department, which was focused on analytic methods derived from mathematics." While taking the required coursework, she fell in love with "Paradise Lost," John Milton's late 17th-century Christian epic.
"Once you start reading these foundational lyric poems, epic poems, and plays … you see that in this very traditional literature we can appreciate what my colleague Carla Freccero of UC Santa Cruz has described as 'the queerness at the heart of heteronormative culture,'" Sanchez says. She cites the homo-devotion in John Donne's poetry, when he asks God to "ravish him" and Shakespeare's sonnets, most of whom are written to a young man and the remainder to a "dark lady" who is having sexual relations with both the male speaker and his youthful male beloved.
In "Paradise Lost," "the archangel Raphael tells Adam stories about how the angels in heaven change gender in order to make sex more pleasurable," Sanchez says, which "changes our view" of histories of sexual desire and gendered identity. "There's a long tie between scholars of early historical periods and gender and sexuality studies," she says.
In addition to her research and administrative duties, Sanchez teaches, each role informing the other. Students "always push me to think about what I do," she says. "I find myself answering questions that force me to break down the logic of principles and arguments I'd taken for granted." Once on her first day of teaching an introductory class on feminism, queer, and trans studies, a student asked her, "If feminism is about all of us having the individual choice to do what we want, why do feminists think women shouldn't change their name when they get married?"
Sanchez ultimately answered that feminism is not only about individual choice or comfort, but also, and more urgently, about collective social justice. "Thinking about our choices, and thinking about which systems we normalize, perpetuate, and contest is what feminism actually is," she says. Examining the norms and hierarchies our personal decisions legitimate is essential to "learning to think of ourselves as part of a larger structure, rather than thinking in the neoliberal terms of the private self. We can ask "How can I make the world more just?" rather than 'How can I be happier?'" she says.
This leads into her commitment as director to solidarity. The renaming of the Center for Research in Feminist, Queer, and Transgender Studies is both a pragmatic description of the work and an affirmation of collective social movements. "Any proper name," Sanchez says, "would inevitably prioritize some identities and struggles over others."
Upcoming events at the Center for Research in Feminist, Queer, and Transgender Studies
Virtual event with Jeremy Dutcher
Thursday, Sept. 30, 7:30 p.m. to 9 p.m.
Jeremy Dutcher is a member of the Tobique First Nation, and a two-spirited composer, performer, and anthropologist whose work on Wolastoq culture & language preservation, water & land politics, and anti-pipeline activism is at the forefront of his musical practice. Also sponsored by GSWS, the Department of Music, and Native American & Indigenous studies at Penn
Opus Siniestrus
Friday, Oct. 29, 7 p.m. to 8 p.m. (open dress rehearsal)Saturday, Oct. 31, 7 p.m. to 8 p.m. (performance)
Penn's Institute of Contemporary Art, Outdoor terrace
Written by the feminist surrealist Leonora Carrington, Opus Siniestrus is a play that concerns the outbreak of a virus that kills only women. Its protagonist, an old woman, who carries an ostrich egg with her at all times, battles the patriarchy in the form of a doctor, the Pope, Hitler, and Superman. Funded by a Collaborative Provost Interdisciplinary Grant from the Sachs Program for Arts Innovation, the play will be performed and designed by Penn students, staff, and faculty. Co-sponsored by the Department of Music and the Institute of Contemporary Art.

40 Years of Queer BIPOC Feminism with Jennifer Nash and Jasbir Puar
Thursday, Dec. 9, 3:30 p.m. to 5 p.m.
Speakers will consider the influence of two landmark publications: "This Bridge Called My Back" (1981) and "But Some of Us Are Brave" (1982) on their own work regarding racialized gender and sexuality.