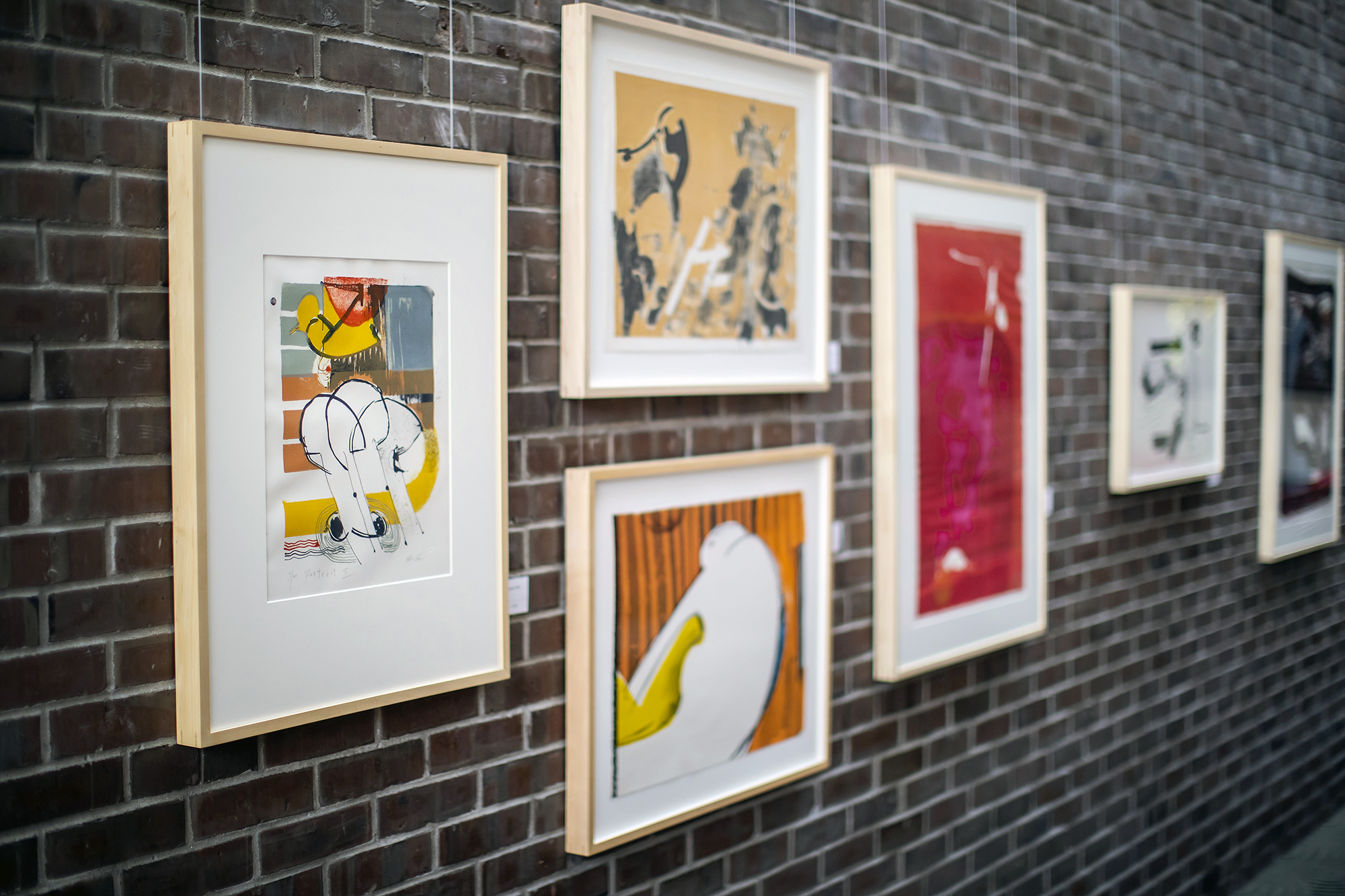 Said Spanish painter Pablo Picasso: "My work is my diary. For those who know how to read, I have painted my autobiography."
Romana Lee-Akiyama, who curated an exhibition honoring her father, the late Chen Lok Lee, sat with this quote while selecting her father's artworks for display. Before her was 50 years of active artmaking, and the task was to boil that down to 18 paintings that told an honest account of an artist who was also an immigrant, a refugee, a father, and so much more. It was a personal process, she realized, of understanding elements of his story that he was less comfortable talking about while he was alive. 
"I think a lot of the closedness around his personal story had to do with his trauma of being a refugee, essentially, and fleeing China to go to Hong Kong and eventually come to the U.S.," Lee-Akiyama says. "There was a lot of migration trauma of having left behind his parents, his family, and starting fresh. There's a lot he didn't talk about."
Some of that unspoken story is on view in "Excluded/Inclusion: The Work of Chen Lok Lee," an exhibition at the Annenberg Center for the Performing Arts' Arts Lounge. The project was funded by The Sachs Program for Arts Innovation through a series of responsive AAPI grants awarded in June 2021; the exhibition debuted first in Chinatown before coming to the Annenberg Center, where it will remain through May 2023. 
Lee, a professor at the Moore College of Art & Design for 20 years who taught printmaking, silkscreen, and lithography, passed away in December 2020. Lee-Akiyama, whose husband Cliff Akiyama is a Penn alumnus and former lecturer at the School of Nursing and also worked on the project, applied for the grant as a tribute to her father. 
Lee left China in 1951 for Hong Kong, and then left Hong Kong for the U.S. in 1959. Lee-Akiyama says the abstract expressionist movement he encountered upon arrival in New York influenced his work for the rest of his career. 
"He was very much a part of that movement, and the timing of that gave a different perspective and skillset to his practice," Lee-Akiyama says. 
She says she got to know the breadth of her father's practice better as she curated the show, ranging from his work in printmaking to an untitled etching on display. He also explored photography, recalls Lee-Akiyama, explaining that he'd collect "all kinds of fancy cameras"; the first image on display in the exhibit is a self-portrait that she suspects was taken with a camera he purchased in New York City in 1960.
"I call it the original selfie," she says, smiling.
Among the most iconic of his works, Lee-Akiyama notes, is Portrait II, along with "Tao."
"Those two, to me, express his strength and perspective," she says.
"Tao," with its oranges and yellows contrasted with browns and blacks, is an example of how Lok Lee would balance light and dark, movement and stillness. That partly comes from his interest in a traditional Chinese philosophical perspective.
"He always identified as a Daoist, someone who had a sense of balance in everything he did, so I feel like that ["Tao"] is one that speaks to what he symbolized and valued," she explains.
There are six pieces that are new to this exhibition and did not appear in the original showing in Chinatown. One is "Indian Summer," which was created after Lee was invited in 1982 by Queen Elizabeth II's service to participate in an international art exhibit in Hong Kong. He refused the invitation but sent the artwork in his stead. 
"When he left Hong Kong in 1959, he never went back—not even to travel. And that was intentional," Lee-Akiyama says. "He sent that lithograph as his delegate. And I think when you look at that piece, you see some pretty iconic Asian images … I think it's the best example of the blend of East and West that he'd talk about and puts into action his artist statement."
The show's title, she says, is meant to represent the sense of belonging Lee created for himself and the people around him. 
"I'm proud of the way that [my father] was able to use his strength and resilience to do everything he could do in his lifetime," she says. "And now I look at it as if he's passed the torch to me, to continue as a second-generation Asian American in this country, to take everything that he's given to us and to me and others who are like me to use that strength, to continue to make a difference."
This is only the third exhibition to be shown in the Arts Lounge, following the whimsical art of Martha Rich last fall and the portraiture of Mark Stockton in the spring. John McInerney, executive director of The Sachs Program, says he and Associate Director Chloe Reison were thrilled to continue to support a grantee—and proud to see it and other Sachs-funded projects continue to develop.
"It's a powerful show and such an important story, and I think it really touches on a lot of things we were trying to support in terms of a diverse arts community at Penn, and the works themselves are so beautiful," says McInerney. "It's been fulfilling to have so many of these projects evolve and see new opportunities develop out of initial grants. The exhibition was really successful in Chinatown, and I am so glad we could bring it to Penn for more people to experience his work."
Access to the exhibit is free and open to the public Monday through Friday from 11 a.m. to 4 p.m. and during performances.