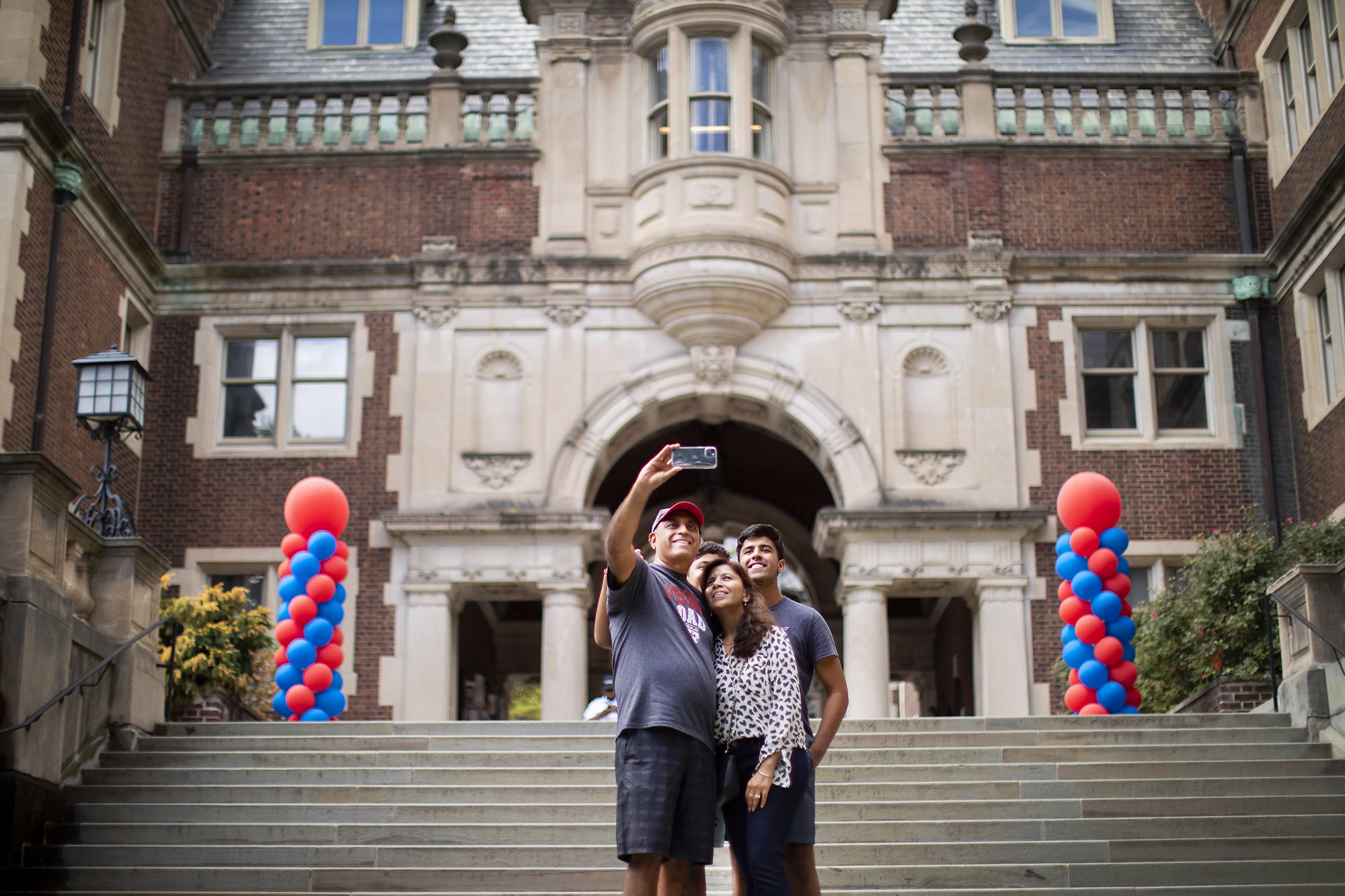 Katherine Kim and her family unloaded their car, unpacked her new room, and have made the first, big Target run officially history. "It's cozy, it's cute," said Kim of her space at Riepe College House. "I'm really excited about it."
Kim, chatting with her mom, dad, and sister nearby, moved in at Penn on Tuesday—along with about 1,000 other first-year students. Feeling nervous but enthusiastic, Kim, from Old Tappan, New Jersey, said she is "really looking forward to meeting new people and getting acclimated to a new environment."
Across campus, Samantha Smith, from Long Island, New York, posed for a photo with her parents under a towering Class of 2026 balloon arch, just outside of her new home at Hill College House. Her dad Brian, donning a Penn Track and Field hat, beamed. 
"I couldn't be happier for her," he said.
Smith, a pole vaulter, noted how smooth Move-In day has gone, with a nod to the University's College House staff, who have worked for months to prepare for the new arrivals. "Everyone has been super nice and super helpful," Smith said.
Behind the Smith family, the Penn Band boomed as students gathered on Woodland Walk for water ice, soft pretzels, and popcorn. The Quaker mascot danced and snapped selfies with the Philadelphia Eagles mascot Swoop. 
On her first Move-In Day as Penn's president, Liz Magill, wearing a Penn hat, joined in on the fun, fully immersing herself into the action. She met students and their family members—some understandably anxious about saying goodbye. 
"After meeting President Magill, I feel better as a mom leaving my child here at Penn, where I know there are so many people watching out for her," said Jane Pirtle, mom of Ellie Pirtle, who had just moved from Minneapolis, Minnesota, into Ware College House. 
Ellie Pirtle added: "It was so nice to meet the president. She is so friendly, so genuine." 
Carrying a notebook and pen, Magill, also new to the area, took notes on what students and staff recommend doing on and around campus. Answers spanned from tossing toast at a Penn Football game and having lunch at the BioPond to purchasing goods at the Clark Park Farmer's Market and checking out the Liberty Bell. By the end of her visits, many of Magill's pages were full.
For Ellie Pirtle, she said she is most eager to visit the Philadelphia Museum of Art this Saturday, for an event hosted by New Student Orientation & Academic Initiatives. 
The Philadelphia Museum of Art is at the top of the must-visit list for Richard Ou, too. A graduate resident adviser at Lauder College House, Ou donned a Lauder-branded T-shirt while helping students navigate Move-In. 
"This marks the beginning of an extraordinary journey that a lot of these students will be embarking on," said Ou, a graduate student at Penn Engineering, originally from London, England. "Being able to contribute to that journey and add as much value as possible is really a privilege."
Ou, talking alongside fellow Lauder resident adviser Sasha Mills and Joselyn Calderón, Lauder's house coordinator, said they spent much of the morning greeting new students.
"We want to be happy, smiling faces for all the new students," said Mills, a fourth-year biology major from Bethesda, Maryland. "We're a family here at Lauder, and Move-In is a whole family event." (Even the "Lauder dog" Hank, a basset hound, took part in the day's events.)
Aside from snacks and swag at the various College House areas, students and their family members and friends stopped by maintenance request tents across campus, and other tents with mini photo booths to commemorate the moment.
Ijeoma Eziri, a first-year student living at Fisher Hassenfeld College House, from Charlotte, North Carolina, posed for a photo booth shot with her mom, dad, brother, and sister. The image was easily shared to their cell phones, and also printed with a Penn logo on the bottom. Before heading to the post office to pick up some boxes, Eziri said they would make their way over to Houston Hall to check out the Campus Express Center, which is, through Wednesday, featuring useful information stands on PennCards, Amazon@Penn, SEPTA, and more.
Having just left Campus Express, Eshaan Chichula and his parents—all wearing Penn shirts and carrying bags full of goodies—were heading back to Riepe to meet his roommate for the first time. From Dallas, Texas, the family flew into the area on Saturday, exploring Philadelphia, and getting ready for Move-In, since.
"He's the baby of the family," said Chichula's mom, Renuka. "It's not like I can drive by and see him whenever I want now, but it'll be fine. I'm very excited for him and this new chapter." She adds, happily: "It's a very friendly campus as well, everybody has been so kind."
Admitting he was overwhelmed at first, Chichula said for future students—including the additional 1,000 first-years moving in on Wednesday—to not worry. "Don't be nervous because there are so many people here to help you," he said. "Everyone is willing to help out."
View more photos from Move-In 2022 on Flickr.