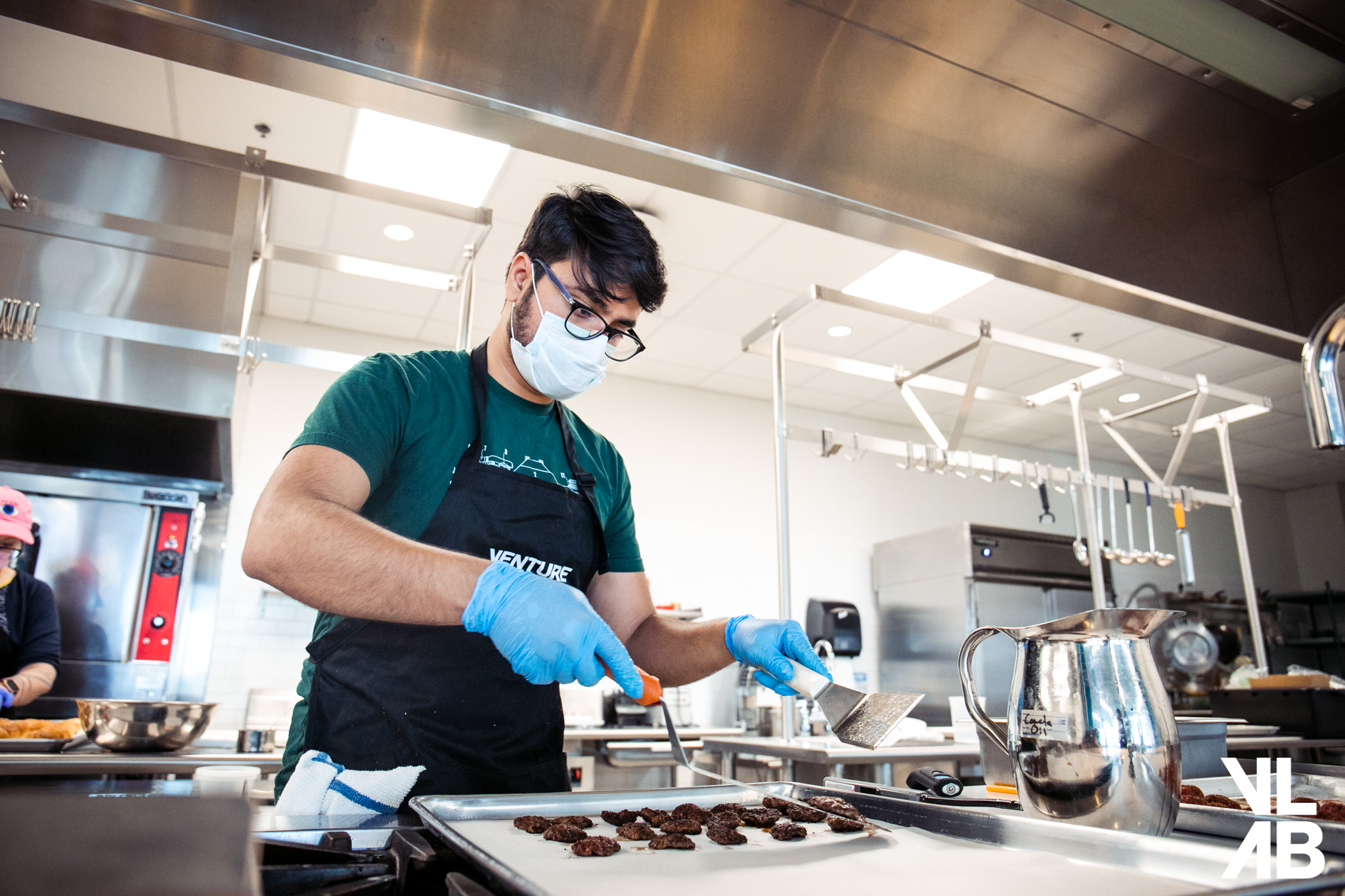 Student entrepreneurs at Penn can follow a wide range of options to explore their passions. Some, like Sai Yeleru, are drawn to the kitchen.
"I love cooking and hosting dinner parties with friends," says Yeleru, a master's student in both the School of Arts & Sciences and the Wharton School. "But I don't always have time to curate recipes, go grocery shopping, and do all the preparation necessary for a great experience."
Inspired to help others enjoy the pleasures of sharing meals with family and friends, and to ease the burden of kitchen labor, Yeleru created DinnerParty. "Our aim is to provide all the ingredients fully prepped, so you can go from box to table in under an hour," says Yeleru. "The idea is for busy people to host more and enjoy spending time doing things they love without any of the stress."
Yeleru developed his concept and is working toward making it into a larger, scalable business at the Food Innovation Lab in Tangen Hall, the epicenter for student entrepreneurship at Penn.
"The Food Innovation Lab exists to support student entrepreneurs in the food and beverage space," explains Lauren Hooks, kitchen manager for the Food Innovation Lab. "Students can work on creating restaurant concepts or food products and host tasting events to gain consumer insight and outline the path to market."
Building bonds in the kitchen
The Lab is available to all students, undergraduate and graduate across every school, but spots in each cohort are limited based on an application process. Once approved, members receive a subsidized budget for ingredients and can reserve kitchen time.
Besides kitchen space, the Lab provides safety training and certification, equipment that can test shelf stability, and advising time with Penn alumni and industry experts. Students are also encouraged to utilize additional Venture Lab resources such as the Venture Initiation Program and the Digital Design Studio. The Food Innovation Lab also offers a speaker series, which includes tips for launching ventures to issues of social responsibility and sustainability.
Whether working alongside fellow foodies or hosting tasting parties for friends and faculty, the Lab is a place where breaking bread and building bonds go hand in hand. "One of the best things is working alongside other people who are also launching enterprises," says Mark Wasuwanich, a fourth-year in the College of Arts and Sciences, who has developed a recipe for vegan ice cream at the Lab. "Everyone is really constructive and knowledgeable about food and entrepreneurship in their own ways."
With the food and beverage industry worth $281 billion in 2021—and projected to expand to more than $500 billion over the coming decade—the Food Innovation Lab provides a launchpad for students inclined to creativity in the culinary arts.
"For Penn to have a resource like this, where students looking to experiment can get all these hours in a kitchen, it is an unparalleled experience," says Yeleru.
"I love having a community where we can explore these interests," adds Wasuwanich. "Everyone needs food, and the Food Innovation Lab gives us the spark to innovate in this space."