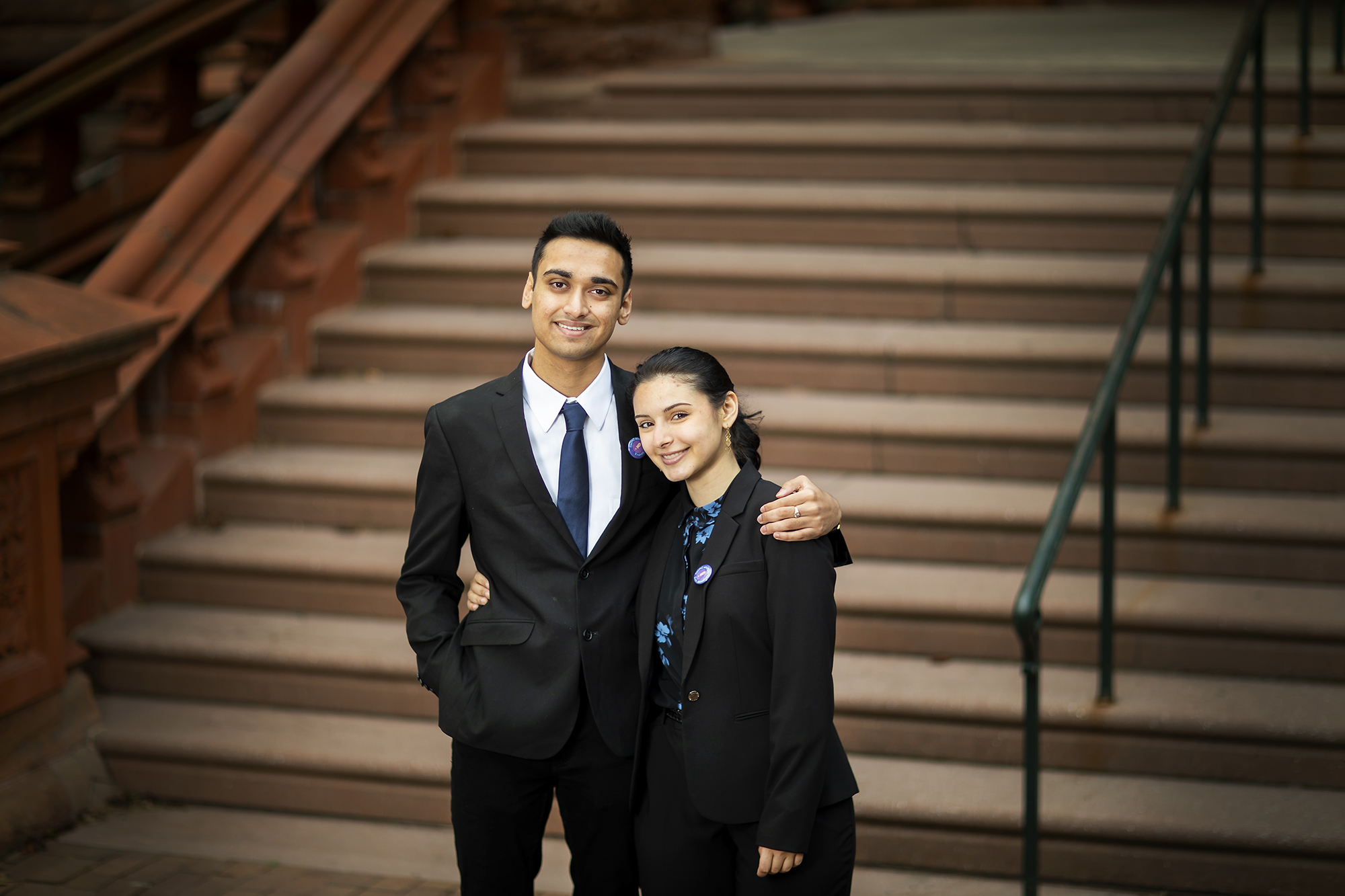 The rooms in Kings Court English College House at Penn didn't have air conditioning four years ago when Rowana Miller and Manoj Simha lived there, so residents would get together in the cooled common areas. Even though her room was on the first floor and his on the third, the two became friends during those gatherings.
Their paths diverged after freshman year. Miller, a sociology major with minors in creative writing and urban education in the College of Arts and Sciences, focused on her work at Kelly Writers House and as a writing fellow and tutor at the Marks Family Center for Excellence in Writing. Simha found his way to nonprofits while working on his concentration in finance and legal studies at the Wharton School.
Last summer they reconnected. Miller was looking for a partner to expand a virtual summer experience she had created during the pandemic, Word Camp, to provide free creative writing workshops to children, taught by paid Penn students. Delighted that he applied, Miller chose Simha as the finance director of her new project.
Along with two other Penn undergraduates, they created Cosmic Writers, now a full-fledged nonprofit that continues Word Camp online for K-12 students around the world, expanding this year to provide free in-person creative writing workshops in several cities in the United States.
"We want to create cultures of joy around creative writing. We want it to be fun," says Miller, who is from New York City. "We want kids to leave our programs self-motivated to become strong writers and strong communicators."
Simha, who was born in India and immigrated with his family to Seattle when he was 8, says reading and writing stories with his elementary school librarian helped him assimilate to life in America. "When I heard about Word Camp and the kid's stories, it didn't feel foreign to me because I know what it's like to be that kid," Simha says.
Cosmic Writers is one of the six projects chosen for the 2022 President's Engagement, Innovation, or Sustainability Prizes. Each project will receive $100,000, as well as a $50,000 living stipend per team member. Awarded annually to seniors, the Prizes empower Penn students to design and undertake post-graduation projects that make a positive, lasting difference in the world.
"With Cosmic Writers, Rowana and Manoj are building on the concept that Word Camp has already proven can be a success, bringing free creative writing opportunities to children, with college students as instructors," says Interim President Wendell Pritchett. "It is such a natural idea, to share and foster their passion for words, and love of reading and writing."
Writing connection
Cosmic Writers is mentored by Al Filreis, faculty director of Kelly Writers House and the Kelly Family Professor of English in the School of Arts & Sciences. Filreis is one of five members of the Cosmic Writers board of directors.
"Penn students like Rowana have seen what great novelists and playwrights and poets do; they've had lots of access to them at the Writers House," says Filreis, who was Miller's academic advisor and professor. "And they've been tutors, where they've learned the skills of supporting someone's writing, not by writing things for them but by being good readers."
Valerie Ross, as senior director of the Marks Center, also has worked closely with Miller. Ross was the thesis advisor for Miller's senior project, research on how collaboration works to advance students' writing knowledge and practice.
"Rowana has developed a great model in Cosmic Writers. It's well-functioning, it's very adaptable, and it's a tremendous team," says Ross. "The idea of taking this nationally and internationally couldn't be smarter because the kind of literacy that they are teaching—learning how to write creatively with pleasure and excitement and delight—is invaluable."
Miller has been writing since she was a young girl; one of her first jobs was as a writing tutor at 14 years old. Writers House recruiter Jamie-Lee Josselyn visited the Beacon School, a public high school in Manhattan, when Miller was the editor of the literary magazine there, and they made a connection.
"There was no other university that came close to Penn in my mind because there was nothing like the Writers House," Miller says. She was a work-study staff member at the Writers House all four years at Penn and worked as an outreach coordinator helping to connect with the Philadelphia community, including schools.
Miller was "an absolutely outstanding writing fellow," at the Marks Center, Ross says, and was a "star as a tutor," becoming a writing coach for a high school class Ross teaches in West Philadelphia. "She is continually thinking about how to teach children better, how to teach young adults better. Everything she learns she puts to use enriching the organization that she's created," Ross says. "She's a scholar-entrepreneur, which is very unusual."
Creating Word Camp
When the pandemic hit, Miller was thinking about how summer camps for school-aged children were being canceled at the same time that summer internships she and many other college students had lined up were also being canceled.
"I thought that writing was something that really made sense to do as a virtual program and something that would be genuinely fun and engaging for kids to do online, and would give parents some time to themselves," Miller says. "And it would provide well-paying opportunities for Penn students to have jobs that summer."
Kelly Writers House offers many grants to support student-directed creative projects, and Miller was chosen for the Kerry Sherin Wright Prize to support Word Camp.
Miller recruited students to participate in the workshops through librarians, teachers, principals, and community organizations, and on the first registration day 90 in grades 3-8 signed up. She then recruited six Penn students as instructors, who created their workshops, from nature writing to dystopian fiction. The classes met one hour a day for a week, half of the workshops one week and half the following week.
"That summer I learned that there is a huge need for accessible, high-quality creative writing programming," Miller says, especially for middle schoolers but also for K-12 overall.
The Writers House extended the grant for last summer, allowing Word Camp to hire eight Penn student instructors and an assistant director and to enroll 120 students.
"The goal is to get a lot of socioeconomic and geographic diversity in the camp. This is a rare opportunity for kids to be in the same classroom as people who are totally different from them and in an environment that's fundamentally positive," Miller says. "They're united by one really important thing, which is their shared love for writing, and that, I think, has an incredible power to bridge other differences."
At the end of each workshop is a sharing day when students read their writing out loud. The instructors compile the works into digital anthologies. "We think that when kids know that their work is being validated and celebrated, it makes them want to pursue it more," Simha says.
Creating Cosmic Writers
Last summer Miller decided to build on the Word Camp idea, and she took to social media, asking others to join her in creating a nonprofit. Simha responded right away, even though it was a busy day during his summer internship for Wells Fargo investment banking in the nonprofit and higher education group.
"I had just gone through all this training on how to set up nonprofits," Simha says. "And I thought this could not be more perfect."
As part of his first Wharton class, paired with the Netter Center for Community Partnerships, he was a volunteer consultant for a nonprofit, Rebel Ventures, that offers educational workshops for children in Philadelphia. "Having that experience freshman year was completely formative," he says, and set him on a path for nonprofit work with an eye toward entrepreneurship.
He says that creative writing was critical to him for as a child. "I came here knowing very little English, and my biggest insecurity when I first moved to this country was my ability to self-express and communicate. It was a huge roadblock and I committed myself obsessively to specifically reading and writing."
Simha's elementary school librarian would spend time with him after school and told him about a contest on his favorite television show, PBS's "Reading Rainbow," and they talked about the possibilities.
"I wrote this short story about an elephant and a deer and these two unlikely friends coming together, and I illustrated the whole thing and submitted it," he says, noting that his mother was very encouraging and supportive. "Two months later I found out I was one of the winners."
He met the host, LeVar Burton. "He shook my hand and said, 'You are a good reader, and you are a good writer. I loved your story,'" Simha says. "I felt like I had found my voice."
'Possibilities are endless'
Other members of the Cosmic Writers leadership team are rising junior Devorah Bass, director of operations, and rising senior Rebekah Donnell, director of programs. Bass, from Haddonfield, New Jersey, is a political science major with a concentration in American politics and with minors in urban education, theatre arts, and psychology. Donnell, from Norman, Oklahoma, is an English major with a theater arts minor.
In the fall the team worked with Penn Law's Entrepreneurship Legal Clinic on the application to make Cosmic Writers a nonprofit. They set up a board of directors and built a website.
Coursework at Penn supported their goals. In an education course Miller created a professional development curriculum for English teachers to incorporate creative writing into their classes. Simha created a financial model for a nonprofit as part of his senior capstone project on service-based learning.
The team held a virtual launch party in January as a fundraiser, just as Miller and Simha were completing the application for the Prize. Nonprofit status was secured in February. And partnerships were formed with other Philadelphia nonprofits, including literacy organizations Read by 4th, Reading Promise, and Reading Recycled.
Miller and Simha learned they won the President's Engagement Prize in April. And in May they learned Cosmic Writers had been chosen for a grant from the Sachs Program for Arts Innovation.
"The Prize is life-changing. I can fully commit myself, both of us can, for a year, knowing that we're secure," Simha says.
"The Prize also is a revelation because of how much more quickly we can grow, how many more people we can hire, how many more students we can reach," Miller says.
Word Camp, under the Cosmic Writers nonprofit umbrella, is offering 13 sessions over two weeks in July for students going into grades 3-12, expanding to include high school students. Selections include fairy tale writing for elementary schoolers, fantasy world-building for middle schoolers, and satire and humor writing for high schoolers.
The roster of college-age instructors is expanding along with the programming and now numbers more than a dozen, from Penn and other universities. And for the first time, high schoolers will be paid junior instructors.
"Our goal is to get to a place where we can have kids entering our programs in early childhood, becoming strong and passionate writers, then becoming junior instructors in high school, then becoming instructors and designing their own workshops as college students," Miller says. "And throughout all of this, joining a community of people who see real value in words and in arts education."
This summer Cosmic Writers is expanding to offer free in-person workshops at schools and community organizations in Philadelphia, building on those first offered in the spring, including at the Free Library of Philadelphia's West Walnut Street branch on Penn's campus. And the expansion is going national, targeting New York City, Boston, and Washington, D.C.
Also, this summer, both Miller and Simha are planning to move to New York City to set up their headquarters. Miller says it is "a little bit surreal" that a concept she came up with two years ago is now "a well-funded, functioning organization that can meaningfully affect people."
And the name, Cosmic Writers? "Our ethos is shoot for the stars. Believe in yourself. Possibilities are endless," Simha says. "And also, because I feel like we do a lot of just cool, interesting things that seem out of this world. And because the point is to have fun. It's about joy."