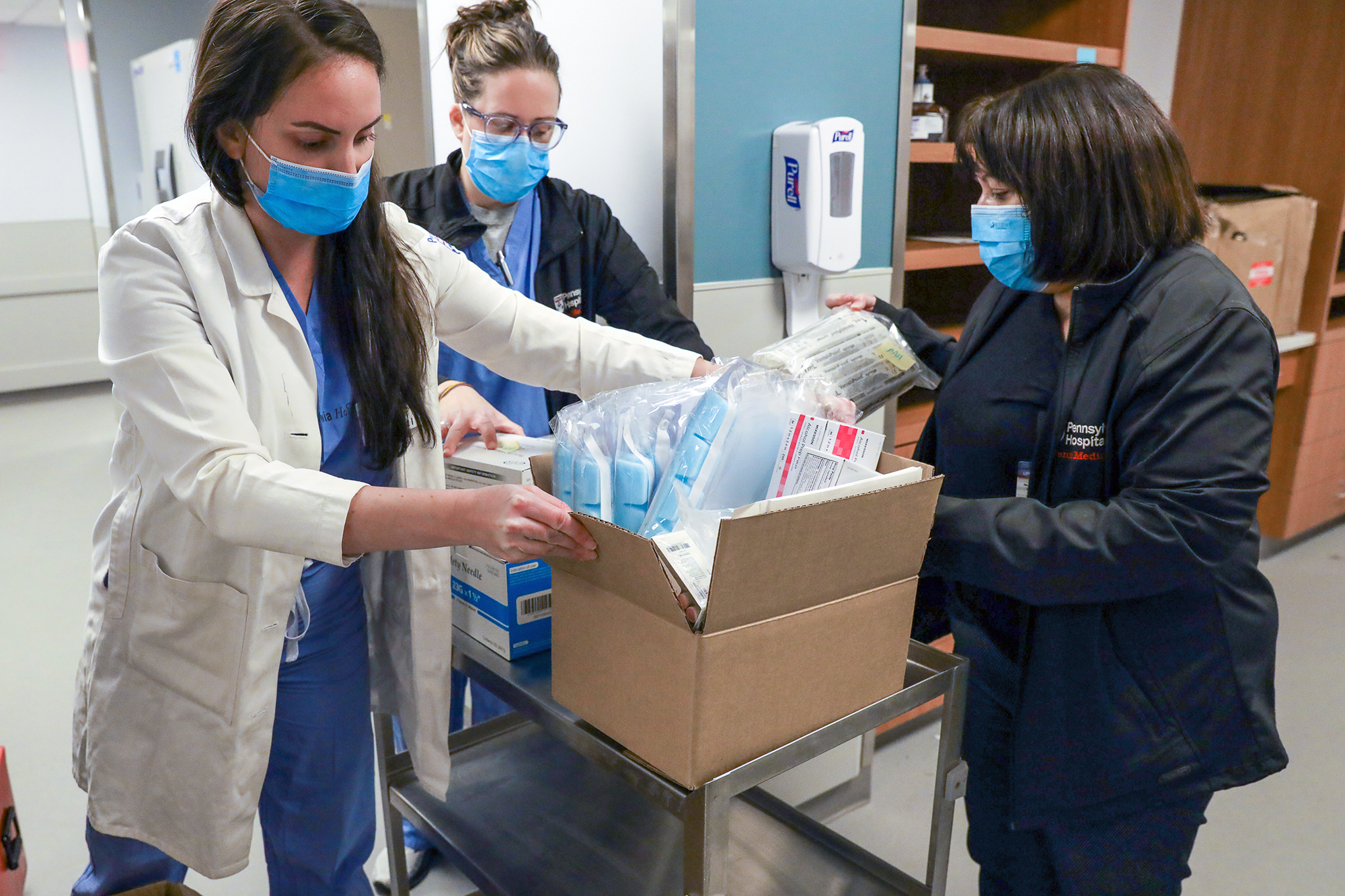 Since the beginning of the pandemic, nearly 400,000 more women left the U.S. workforce than men, and all December 2020 job losses the Bureau of Labor Statistics reported were held by women. According to the National Women's Law Center, by the end of 2020, the labor force included 2.1 million fewer women than it did in February of last year, just before the pandemic took hold in the United States.
Like many aspects of COVID-19, employment loss has affected certain groups disproportionately: The Institute for Women's Policy Research found that between February and December 2020, the number of employed white women dropped by 5.2%, compared to a 9.5% decline for Black women and an 8.3% decline for Latinas.
"We're now understanding as a society that, while women are a marginalized group, when we begin to disaggregate and look between the categories, for women of color, the situation is different," says Wharton management professor Stephanie Creary, a diversity and identity scholar. "In many organizations, they're starting to conceptualize initiatives, not just for women as a whole but to understand racial differences."
There's still much to learn about the effect of a pandemic-related workforce absence on women. Unfortunately, the consequences could endure, says Penn sociologist Pilar Gonalons-Pons, who studies the intersection of gender, work, families, and public policy. "It's harder to find a job when you've been out of the labor market for a while," she says. "It could also mean missing a career-advancing promotion that may have led to improved economic standing."
During Women's History Month, Penn Today asked Creary, Gonalons-Pons, and other women across the University to weigh in on what we know today about how COVID-19 has affected women in the workforce, with a specific focus on their areas of expertise.
We're starting from a point that's not ideal. A National Academies report from February of 2020 put forward a number of evidence-based interventions to advance the careers of women. It noted the paucity of women in STEMM fields, particularly in the hard sciences, and emphasized the fact that women of color have a different experience altogether. If you layer that with a pandemic, the impact of centuries of structural racism, fires on the West Coast, tornadoes in the Midwest—all of these are disruptors that interfere with the progress that's been made for women in academia.
The pandemic has presented significant challenges like few other social stressors we've had in our lifetimes. We recently published another National Academies report, which highlights five major concerns: academic productivity, work-life balance, missed opportunities for collaborating, mental health, and the need for equity-minded academic leadership and decision-making.
What do I mean by that last point? You could also call it inclusive leadership. How were decisions made? Did institutions with a more inclusive process for incorporating diverse perspectives translate into policies that more effectively supported the careers of women? It's important because women of color are even more vulnerable.
We, as women of color, are often judged in a more amplified light. Our contributions to academia aren't always viewed as valuable to the academic portfolio. We are also​ expected to take on more responsibilities related to mentoring or sponsorship—some call it the culture tax or minority tax—and it's real. These are activities not traditionally valued in one's dossier for promotion. If you include the LGBTQ community within the framework of intersectionality, that community is also going feel a significant impact.
We all have intersections of identity that need to be addressed and acknowledged. Importantly, we're trying to shift the onus of the solutions from the individual to institutions. That's the other piece here: We need institutional responsiveness. It hasn't worked to put the onus on women, so we need institutions to step up.
The research is finding very clearly that for those women who have young kids at home and who are partnered, there are very strong negative impacts on employment levels, fewer work hours, and less earnings. That's pretty well established. It's also very clear that women have been shouldering the increased need for family care that has resulted from children being at home.This heightened tension between work and family demands has pushed many women to exit the labor market or to reduce work hours.
There is less research on the impacts of the pandemic on employed women without caregiving responsibilities—if they have older children, for example, or if they don't have aging parents to care for. There's some indication that the economic recession resulting from the pandemic has disproportionately affected women, broadly, given the businesses and industries that have closed.
In general, the pandemic has exacerbated gender inequalities, in employment and unpaid work like housework and caregiving. In some countries further along in this process, countries that have returned to some normality, women's employment is rebounding, but we don't see any of that in the U.S. because, of course, we're not there yet.
One more point that's important to note: Much of the research on the gender impacts of the pandemic has focused on heterosexual couples with children at home. That's important, but it also leaves out the realities of many other family forms that are very common in our society, in particular single-parent families. It's necessary to make sure we're not writing this whole story thinking only about heterosexual couples with children.
I think it's important to recognize that women as a whole have suffered greatly during the COVID-19 crisis. One, women hold the jobs that have been either downsized or lost in some significant way. Think about retail, think about service sectors—those jobs are disproportionately held by women. But at the same time, they're also disproportionately held by women of color. So, women of color have taken a substantial hit in the era of COVID with respect to unemployment.
The second example relates to those who are employed. We do know as many of us have been working at home, that women are still consistently bearing the lion's share of caregiving responsibility. We're seeing increased levels of exhaustion and burnout among women broadly.
If we begin to look more deeply into the category of women and look at women of color's experiences, we know that the impact on women of color is even more profound. Women of color consistently tend to be the heads of single parent households. They are also more likely to be taking care of people who are not their children, such as parents, grandparents, neighbors, cousins, and other family members. So, the added caregiving burden for women of color is immense.
We're seeing not only the issue of burnout, but we're also starting to see that women and women of color are finding it difficult to take on some more of the challenging assignments that are needed to advance in their careers in light of their home responsibilities.
I think for women of color, the hope is in the fact that many of their organizations are now more attuned to the challenges they are facing. What is hopeful is that companies are talking about the challenges facing women of color. They're starting to develop initiatives focused on not just women but understanding that women of color are being even more negatively affected, and they're trying to figure out how to be supportive.
It is very difficult to juggle being a parent while working from home in the same space as your child, who is stressed out or frustrated with online learning, in addition to the social emotional piece with not being able to have playdates with friends.
Parents have also had to figure out childcare to support their children in their own home. Many people don't think about how hard it is to work a full-time job and parenting through a pandemic. You have children with computer and Zoom connection issues—while in the middle of an important meeting. What if you are a parent who is a frontline worker or a single parent with no childcare? Thanks to GSWS [Gender, Sexuality, and Women's Studies] and Penn, many parent employees were offered a grant to subsidize these costs, but unfortunately, many other women have dropped out of the workforce or become unemployed. Women's jobs are more vulnerable and women are leaving the job market with increased childcare burdens.
I have spoken to many parents who find it hard to grab a bite to eat, who many, many times skip lunch and don't eat until the end of the day because of their own back-to-back Zoom meetings and childcare responsibilities. Graduate students have to shoulder writing dissertations without having a change of scenery when they hit writers' block; other folks are also struggling to produce research in order to earn tenure.
There is also the health component. Reproductive health service appointments were canceled or delayed because of the pandemic. Women are also at greater risk of domestic violence.
Giving grace to other people and having grace for yourself is the most important tool through this pandemic.
Marsha Richardson, senior lecturer, Graduate School of Education
My private practice has afforded me the opportunity to listen to many women who are educators and mothers describe how they've had to pivot, navigate, and manage this past year. In my work, I focus on trauma-informed pedagogy: recognizing the inherent vulnerability of people within an organization to the effects of trauma, and identifying interventions to mitigate the negative effects of adversity and stress to foster a more conducive learning environment.
In the last year we've experienced a heightened level of parallel trauma: teachers who have gone through significant changes and abrupt beginnings and endings in the many roles that they play, alongside what their students, their children, and the world are experiencing. The biggest shift for educators has been pivoting their practice to virtual teaching and then managing it all—the multiple roles, the collision of both professional and personal worlds in the same space. It's been really painful for some educators to navigate the tech issues and the disengagement from the kids. It taps into thoughts of "Am I a good enough parent?", "Am I a good enough teacher?"
The adjustments, both personal and professional, have also tapped into reservoirs of resilience—being able to work and thrive in the face of and in spite of adversity—and that's what I've helped many women reveal about themselves. There's an experience called post-traumatic growth: a positive personality change following traumatic life events; if you didn't experience a trauma you might not have reached a new understanding or a new revelation about yourself or about your perspective on the world. I try to help them reframe the situation, to be compassionate for themselves as well as for whatever their students are doing, or not doing. And they're like, "Yeah, I could see it that way,'"and, well, that's beautiful.
Since the COVID-19 crisis began, young women in and aged out of foster care have been more likely to report that the pandemic was having a major impact on their financial stability than their male counterparts. The Field Center for Children's Policy, Practice & Research conducted a study in April 2020 that included 32 states and 191 cities across the country, surveying the experiences of nearly 300 people ages 18 to 23, who were either in foster care or had aged out of the system. In this sample, women were more likely to report applying for public benefits as new applicants and more likely to report having a financial situation that would be stable for only a month or less.
These results are consistent with the feminization of poverty, the idea of gender-related financial vulnerability for women. Young women in and aged out of foster care carry the double burden of marginalization due to their foster care status as well as their gender identity. The data from our study point to this phenomenon.
Let's remember that what's good for gender equality is good for the economy as well as society. The same can be said for policies that would improve outcomes for young people who age out of foster care. For example, direct cash transfers without any conditions attached to young people who age out would help alleviate their marginalization and also benefit the economy and society.
More work is needed to further understand what happens to vulnerable young people, like those in and aged out of foster care, during and in the aftermath of disasters. Our study is an important first step in building and leveraging this knowledge to inform policy and practice changes.
Stephanie Creary is assistant professor of management in the Wharton School. She is also a founding faculty member of the Wharton IDEAS lab (Identity, Diversity, Engagement, Affect, and Social Relationships), an affiliated faculty member of Wharton People Analytics, a senior fellow of the Leonard Davis Institute of Health Economics, and affiliated faculty member of the Penn Center for Africana Studies.
Pilar Gonalons-Pons is assistant professor of sociology in the Department of Sociology in the School of Arts & Sciences. Her research examines how gender, work, families, and public policies structure economic inequalities, with a particular focus on how inequalities change over time and over the life course.
Johanna K.P. Greeson is associate professor in the School of Social Policy & Practice, managing faculty director of The Field Center for Children's Policy, Practice & Research, and the Child Well-Being & Child Welfare Specialization (CW2) director.
Eve J. Higginbotham is vice dean for inclusion, diversity, and equity and professor of ophthalmology at the Perelman School of Medicine, and senior fellow at the Leonard Davis Institute for Health Economics
Sherisse Laud-Hammond is director of the Penn Women's Center. A graduate of Penn's School of Social Policy & Research, and a social worker by training, her experience includes work as an educator, therapist, and parenting education facilitator.
Marsha Richardson is senior lecturer in the Human Development and Quantitative Methods Division and a co-academic director in the Penn Chief Learning Officer program in the Graduate School of Education. Richardson is a clinical psychologist by training who maintains a small private practice and provides consultative services in personal development, effective communication, and program development to independent providers.