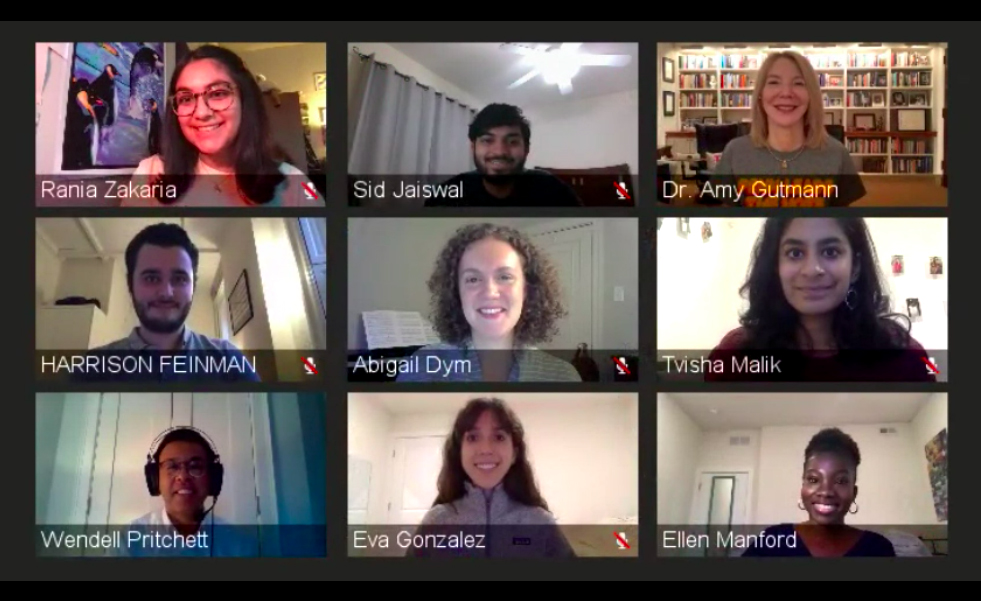 With just a few sleeps to go before Election Day, the dedicated student team at Penn Leads the Vote (PLTV) has been operating in overdrive, ensuring—even now, as we're down to the wire—that they're doing all they can to get out the vote.
It has only been about two years since PLTV was reestablished, invigorating the undergraduate and graduate student-run, nonpartisan program that is bustling today. Led by co-directors Eva Gonzalez and Harrison Feinman, both junior political science majors, and an ever-growing student board of directors, PLTV has spent the fall semester so far pivoting their outreach efforts to meet COVID-19 standards, working to ensure all Penn students—on or off campus—know how to register to vote, or check their registration; to be informed on the candidates and other issues; and to make a plan to vote early or get to the polls safely on Election Day.
In a virtual chat with a group of PLTV leaders Tuesday afternoon, which was the last day to apply for a mail-in or absentee ballot in Pennsylvania, President Amy Gutmann and Provost Wendell Pritchett—who both studied political science—shared their pride in the students' commitment.
"You have been incredibly resilient," said Gutmann. "You've had to pivot immediately to figure out how you were going to do this in an online environment and you've also been just incredibly resourceful in figuring out how to bring more and more students into the orbit of Penn Leads the Vote. I am so, so proud of you."
Pritchett added: "All of you are working to make real the vision of active citizenry of everybody in our community. I'm just deeply grateful to you for everything you are doing."
Just this semester, PLTV has managed to expand its website significantly, including helpful information, such as a custom, user-friendly voter registration form that has helped streamline the process for new voters. Much of their information is offered in various languages, too. The organization has also partnered with colleges within the University to offer a crash course on voting on Canvas, a learning platform used across Penn. They've also "gamified voting," as Harrison has explained, using Motivote. More than a thousand people in the Penn community have gotten involved with the tool, which encourages fun competitions to see, for instance, which school, college house, or athletic team can get the most people to vote.
PLTV has also partnered with numerous organizations across Penn, through Quaker Vote Project and Voter Engagement Council, for what the students call "reverse door knocking," encouraging leaders of campus groups to reach out to their peers through their affiliations.
PLTV's list of engagement goes on, with more than 300 students, and some faculty and staff, signing up recently to volunteer with the group, and PLTV making it a significant mission to promote off-campus partnerships as well.
"I am really proud to see how far Penn Leads the Vote has come," said Harrison, noting how they will undoubtedly be building on this momentum in the spring.
"There's an election every semester in college, whether it's a primary, local, or general election and they all really matter," added Gonzalez. "This is part of a larger movement to be civically engaged and to continue to vote not just this November but forever."
Feinman admits a lot of students can take "the privilege of being able to vote" for granted. That's why PLTV hopes to change the narrative: "We are super passionate about revitalizing the expectation and social norm of voting among young folks and building a generation that participates in the democracy."
In the final stretch until Election Day, PLTV is now focusing all its efforts on making sure students are prepared and have a plan to vote if they haven't already.
"When you actually write down your plan to vote physically or type it out, it's been shown to increase the likelihood you'll actually do it," said Gonzalez. "Make a plan to go socially distanced with a friend or family member. Figure out the time, schedule it out of your day."
On campus, polls have been consolidated to the ARCH and Houston Hall, and it's important that, before arriving, students know their location as well as division number (both of which can be found under "Polling Places" on pennvotes.org). It's also necessary that students bring a form of identification such as their PennCard and their completed PennOpen Pass for the day. And, of course, masks should be worn at all times throughout the process.
"Students should also know to plan for extra time to vote," said Feinman. "Not only because it's a presidential election but also because of COVID-19 measures, I expect there will be longer lines than usual."
During the call Tuesday, which also included student leaders from the new High School Voter Project, Gutmann noted how she wished she could be with everyone in person to congratulate them on a job well done.
"It is truly uplifting to know that you are using every possible, every productive, every important means to really make our democracy work for everybody," Gutmann said. "It is really important it works for young people and it will only work for young people if you succeed in getting out the vote."
PLTV is a program of the Netter Center for Community Partnerships and operates in collaboration with the Office of Government and Community Affairs.