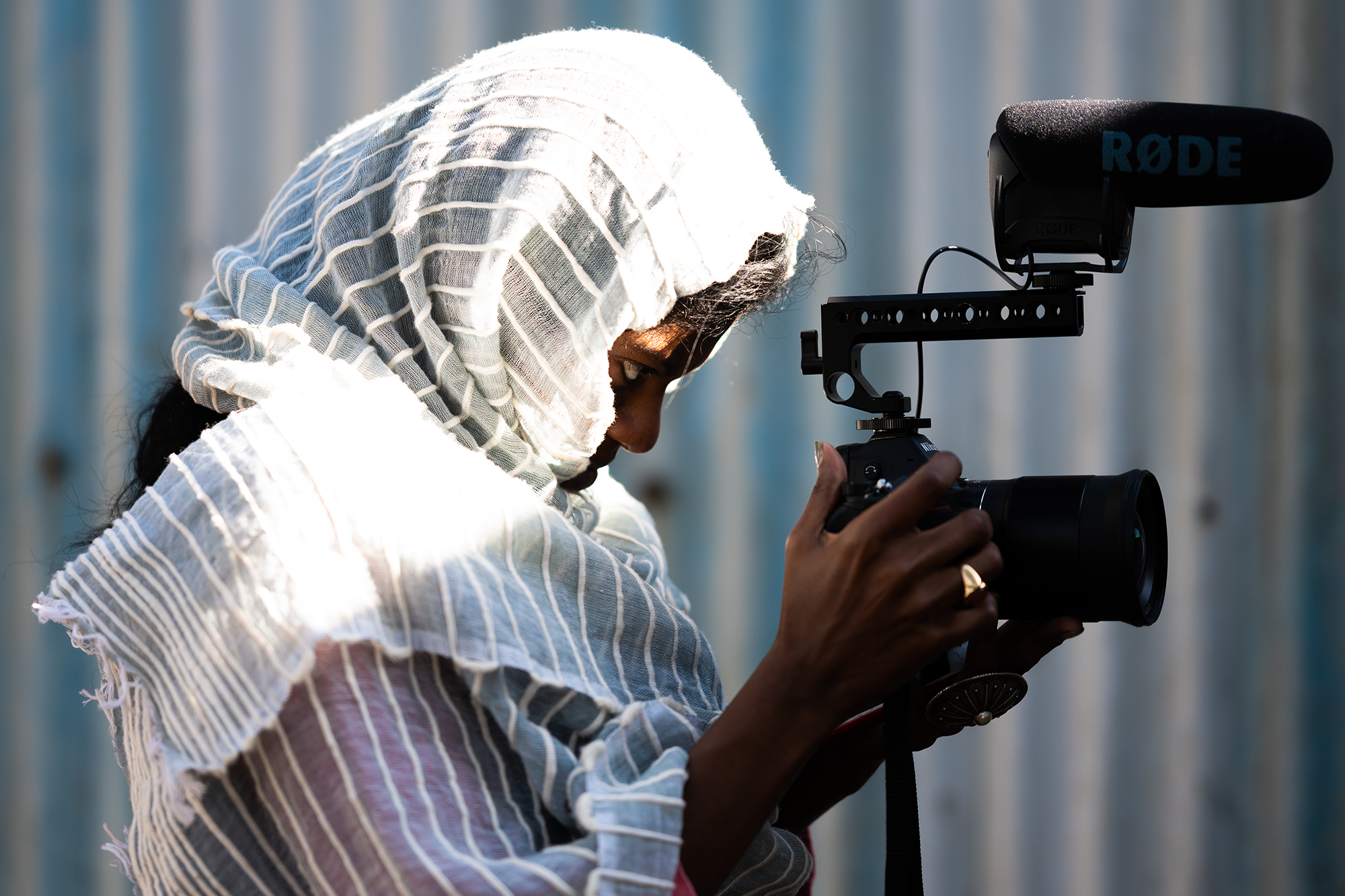 The Jewish community in Ethiopia, dating back more than 2,000 years, has largely emigrated to Israel, except for one ostracized group. Even though they currently practice the Jewish religion and customs, because their families were once converted to Christianity by missionaries more than a century ago, they are in limbo today, waiting to move to what they consider their homeland.
This community is the subject of a new documentary made by Peter Decherney, a professor of English and Cinema & Media Studies in the School of Arts & Sciences, and Sosena Solomon, a lecturer in the Stuart Weitzman School of Design. "Dreaming of Jerusalem," a 25-minute short about the Jewish community in Gondar, Ethiopia, started streaming on Discovery+ this spring.
"I hope the film will change the conversation," says Decherney. "It's not just an abstract political or religious debate about immigration. I hope the film does what films do well: add emotion and a sense of everyday life to a political issue."
Refugee and marginalized populations have for years been the subject of Decherney's documentary projects, in Myanmar, Kenya, and Puerto Rico, all made in collaboration with Penn students, alumni, or faculty.
Most of the funding for this project is from Penn Global, but they also received support from Penn Alumni and private donors.
Entertainment executive and Penn alum Rich Ross is the film's executive producer. "Peter and Sosena I think did a really terrific job in telling and humanizing the story, but also making the story very relatable," says Ross, who also was involved in the film's post-production.
"I think the story is resonant for the times we are living in," Ross says. "These are people who want to connect, who are being held in a purgatory not of their making, but who have the fortitude to believe there is a better life."
The civil war in Ethiopia's Tigray region that has been making headlines around the world is making the community's situation even more precarious. The film was shot in the city of Gondar, which neighbors Tigray. "The movie now has great urgency," Ross says.
The film has been shown at a number of film festivals globally, and was featured in the Penn Alumni "Ben Shorts" film festival earlier this month. Discovery+ is expected to stream the film through 2024.
Working to 'amplify the stories of the lives of individuals'
Over the past 40 years, more than 100,000 Ethiopian Jews have emigrated to Israel. When Decherney and Solomon were filming in January 2020, it was estimated that 14,000 members of the Jewish community were living in Addis Ababa and Gondar, waiting for the chance to move. Since then, after the appointment of the first Ethiopian-born immigration minister, Pnina Tamano-Shata, Israel passed legislation to allow 2,000 Ethiopian Jews to emigrate. Sitotaw Alene, who is featured in the film, was on the first plane transporting this group to Israel.
The community has been of interest to Decherney since his freshman year in college, when he worked on a program in Israel alongside Ethiopian Jews who had recently emigrated. News from Ethiopia about civil war, political upheaval, and religious clashes, he says, often leaves out the voices of the people whose lives revolve around the synagogue communities there.
"We often talk about refugee populations abstractly or demographically or as part of political debates. It's not always easy to see and connect with the people," he says. "We're trying to amplify the stories of the lives of individuals, adding emotion and context and detail."
Solomon's parents are Ethiopian. She was born in Kenya and her family immigrated to the United States when she was 7 years old and lived in Maryland. Her first trip to Ethiopia, when she was 18, was formative.
"I came as a young adult, and that completely shaped everything for me, how I see the world, how I connect with my family; it helped me identify culturally," she says. "It opened up my eyes to the types of film I wanted to make. I knew I wanted to come back and document our histories."
Solomon chooses to focus on marginalized communities and those on the verge of transition. "To document and tell the stories of my people, it's part of my life's work," she says. "This project is very dear to me."
Building trust to tell unexpected stories
Decherney and Solomon traveled to Ethiopia twice, in 2019 to meet people and discover the stories they wanted to tell, and in January 2020 to film, just before the pandemic restrictions.
"We were lucky," Decherney says. "We had already shot the footage and were able to edit and work remotely to put the film together."
It was important to go twice, Solomon says, to first form relationships with the people they interviewed. "A lot of trust-building has to be done," she says. "I think the more personal, the more intimate, the more observational, then the more impactful the work is. We knew that we wanted to do very personal stories to represent a larger community, caught in the middle between two worlds."
The stories they chose to tell in the film are unexpected, Decherney says. A soccer team that was left out and bullied but became champions, only to forfeit the last game because it was played on the Sabbath; a teenaged girl devoted to performing in a circus club who dreams of a tour in Israel; and a rabbi who emigrated to Israel more than 20 years ago but divides his time between his family there and the community in Ethiopia.
"These were stories of perseverance in the face of the adversity, and also hopeful stories," he says.
Decherney felt a personal connection to the community as they were filming. "They are practicing the same religion and talking about the same stories. They recite prayers in the same language, as most of them know or are learning Hebrew. They're singing the same prayers with the same tunes that I know," he says. "There is this amazing feeling of connection as well as trying to understand the differences."
Solomon also felt a connection, through the Ethiopian customs. "That's how we bonded and how we were able to make such a strong piece of work: Peter would point out the nuances of the ceremonies and I would point out the nuances of the culture," she says.
Decherney is planning to use the film in his Penn classes, and hopes other teachers and professors and religious leaders will as well. Once possible, given the civil war, he will return to the country to pursue a new project, "Ethiopia's Last Jews," through a grant from The Sachs Program for Arts Innovation to create a book of photography and tell the broader history of the community. He hopes to screen the film when he is there.
"The only person there who has seen it is our local producer," Decherney says. "Very few members of the community have phones, and they have very little internet access so it's not easy to share. I hope we can return soon and show the film with a projector in the Gondar synagogue once it reopens after being closed during the pandemic."
Solomon, who is planning to use some of the footage for video installations, shares the dream of showing the film in Ethiopia. "People give you their life story," she says. "When they see it on the screen they get a sense of this magnitude, that their stories are so important."