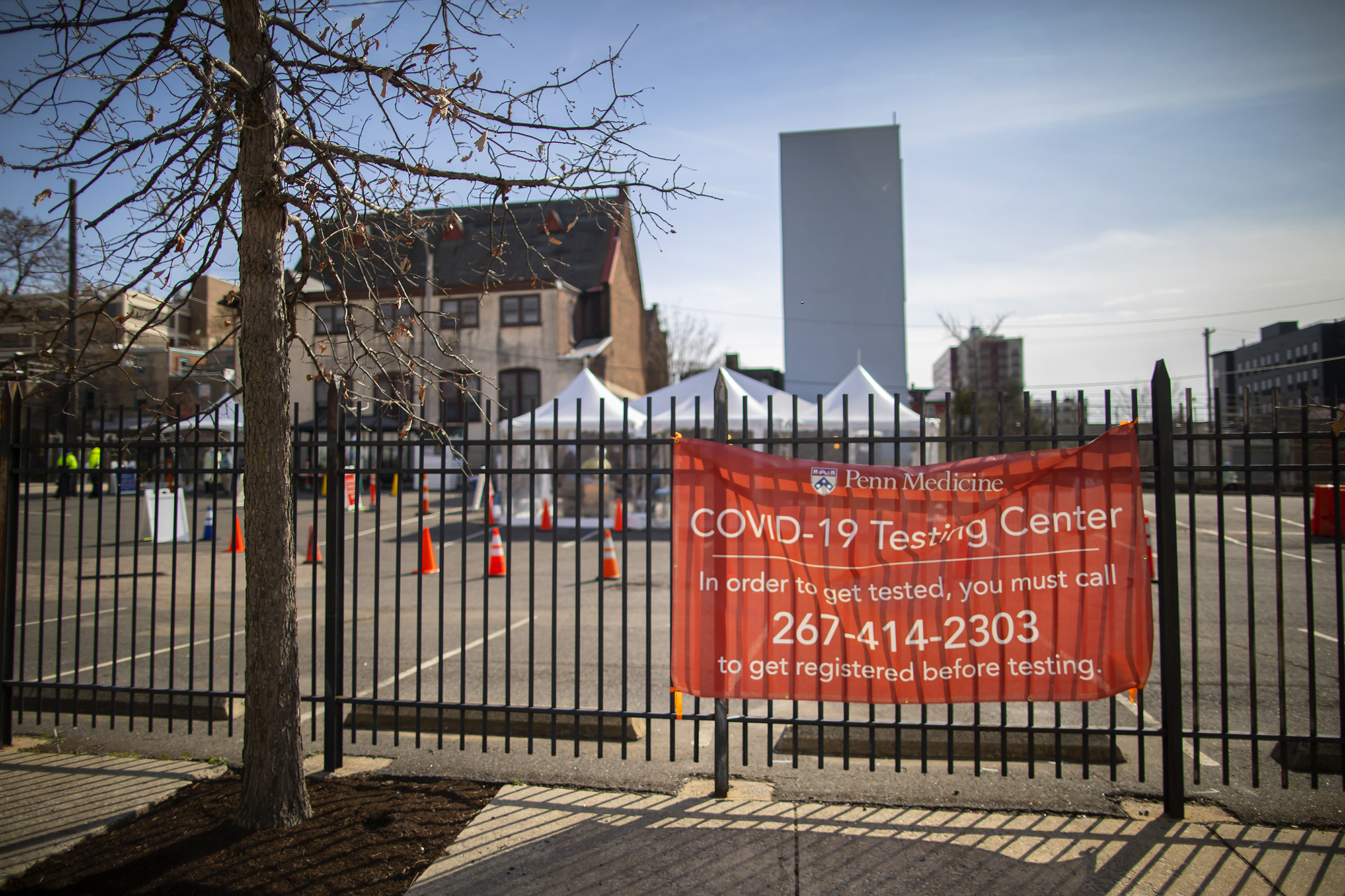 Despite—or perhaps in response to—the uncertain and unprecedented circumstances that brought them there, morale is high among Penn Medicine health workers at the West Philadelphia parking lot that has transformed into a COVID-19 screening site. 
The open-space clinic, located in a parking lot at the corner of 41st and Market Streets, is one of two Penn Medicine drive- and walk-through sites—the second is in Radnor Township—where physicians, nurses, advanced practice providers, and other staff have rapidly mobilized to test for and help prevent the spread of the novel coronavirus. A week ago, the team members did not know one another. Now, they are working together on the front lines of a global pandemic. 
"When I got the call, I was nervous about how this would all work, but it's been amazing so far," says Lauren Denney, a Penn Medicine nurse. "It's such a great group of nurses—we're all very experienced. We are eager and happy to be here." 
As the coronavirus quickly spreads, experts say that testing is critical. However, tests are still not widely available, and many primary care offices lack the necessary protective gear or infrastructure to perform them. In response, Penn Medicine is joining health systems throughout the region and the U.S. in following the South Korean model and setting up drive-through testing sites. 
The initiative—spearheaded by Chief Medical Officer Patrick J. Brennan, and Chief Quality Officer Patricia Sullivan—is one of many aggressive measures that the health system is taking to safeguard patients, staff, and the community against the COVID-19 outbreak. Other policies include social distancing measures for employees, deferring elective surgeries and outpatient appointments, enhanced employee screening procedures, as well as restricted visitation policies. 
As Penn Medicine devised a strategy for outpatient testing in early March, Nida Al-Ramahi, a Penn Medicine administrative fellow, and Kathleen Lee, an assistant professor of emergency medicine and director of clinical implementation for the Center for Health Care Innovation, were assigned as co-leads for the West Philadelphia site. Tracey Commack, Penn Medicine Radnor's associate executive director, took the lead at the second testing site. 
Two days later, two once-empty parking lots were transformed into well-orchestrated, testing-on-demand clinics, with white tents lining the perimeter, police directing lines of vehicles through orange cones, and walk-in patients appropriately distanced in single-file lines.  
"This has been one of the most rewarding weeks of my life," Al-Ramahi says. "The nature of the work is hard, and everyone who came out to that site are heroes. I've been consistently inspired to see everyone come together to help their community. This is what health care is all about." 
The testing site is intended for symptomatic Penn Medicine patients who have called and received a referral from their physician or through Penn Medicine OnDemand, the health system's virtual telemedicine practice. After receiving the referral, patients are instructed to call the Penn Medicine COVID-19 testing hotline (267-414-2303) to set an appointment time and go to one of the two testing sites. The referrals are sent electronically through Penn's electronic medical records platform, so no paperwork is exchanged on-site. 
Once at the testing site, patients who have a referral can enter via the drive-through or walk-through lines. They then speak with a physician—each of whom is fully clothed in CDC-recommended protective gear, including face shields—and asked about their symptoms. If patients match the CDC testing criteria, they are swabbed and their samples are sent to a lab for testing. 
Non-Penn patients without a doctor's referral can be screened on a case-by-case basis, but they will need to go to the testing site, speak with a staff member, and get slotted for a testing time. 
Depending on risk factors of a specific patient, the sample is sent either to a commercial laboratory for COVID-19 testing or to a lab at the University of Pennsylvania, where the results will be fast-tracked. Patients are given a phone number to text in order to receive instructions about learning results of the test. Results should be received within eight to 10 days. Patients who test positive for COVID-19 will be provided guidelines for self-quarantine. 
As of Friday, March 20, 725 patients had been tested at the West Philadelphia testing site and 563 at the Radnor site. 
Radnor's Commack acknowledged the anxiety and frustration many Americans are feeling as some are turned away from receiving COVID-19 tests. 
"It is a challenging situation, given the limited resources and our evolving understanding of COVID-19. It's the new reality for everyone in the country," Commack says. "But patients should know that we are doing everything in our power to respond to this virus and to calm some of those anxieties."
For Lee, the past week has shined a light on the commitment and capability of Penn Medicine employees during an unimaginable crisis. 
"We are in awe of our team, their dedication and the efforts we are witnessing every day to keep our community safe and healthy," Lee says.
If you are a Penn Medicine patient experiencing COVID-19 symptoms, please call your doctor. If you have any questions about the novel coronavirus and COVID-19 disease, please call our hotline at 267-785-8585. 
Find out more about COVID-19 at pennmedicine.org/coronavirus.
This story, by Lauren Ingeno, was originally published on the Penn Medicine News blog. 
The University of Pennsylvania's coronavirus web page includes links for Penn students, faculty, and staff regarding campus operations and other helpful links.