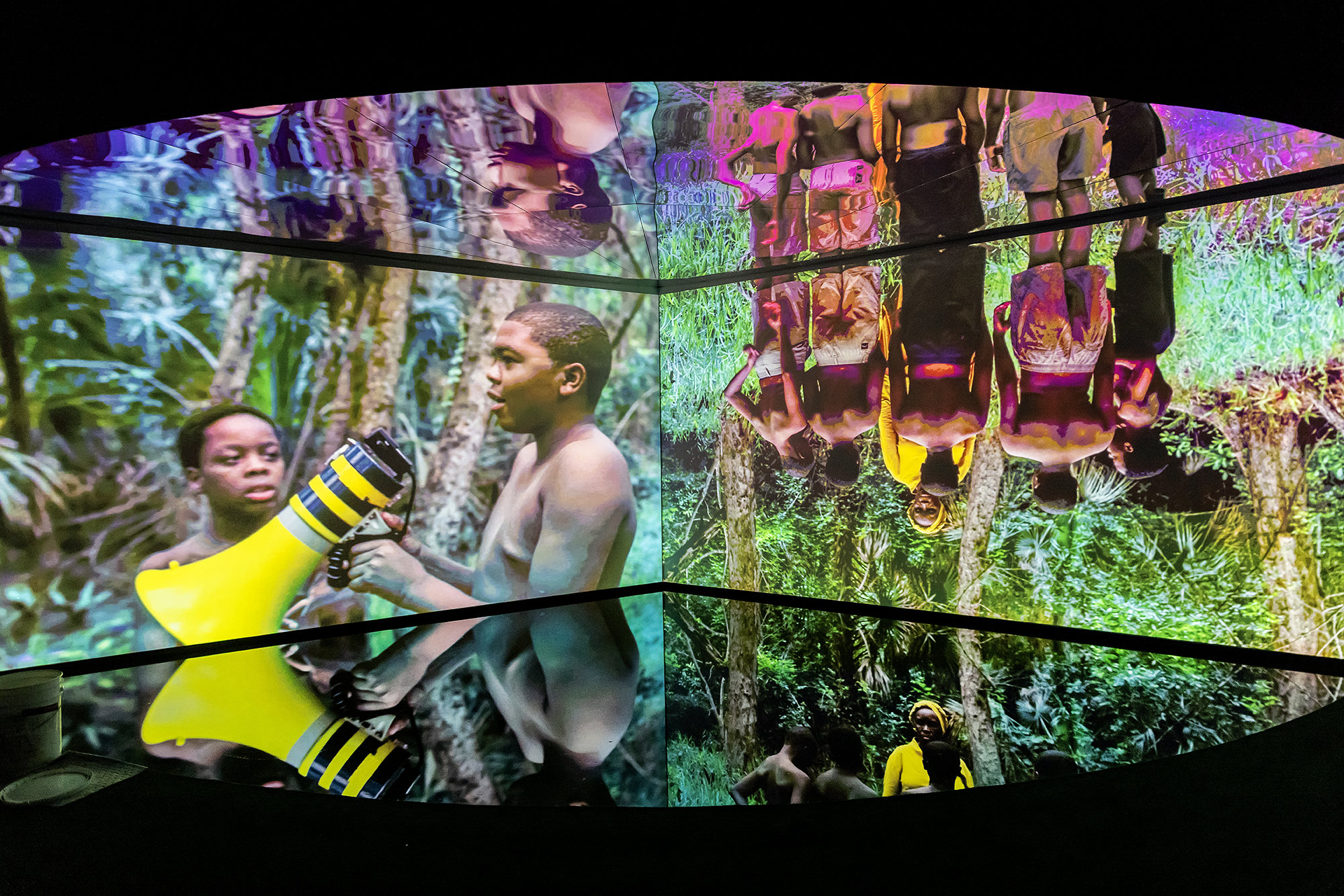 The Institute of Contemporary Art's 2023 spring exhibition welcomes two new gallery experiences: "Swarm," the first solo exhibition by Baltimore-based filmmaker Terence Nance, and the first solo exhibition by Carolyn Lazard, a 2019 MFA alumnus of the Stuart Weitzman School of Design.
"Swarm" is, in some ways, a retrospective of Nance's still-burgeoning career that also features new work. Nance, whose films will be showcased at Penn Live Arts on March 15, has found success with experimental short films, commercials, and has gained widespread notoriety through HBO's "Random Acts of Flyness." His ICA exhibition is curated by Maori Karmel Holmes, CEO of BlackStar Projects, curator for film at Penn Live Arts, a mediamaker-in-residence at the Annenberg School for Communication, and a longtime collaborator and friend of Nance.
"Long Take" eschews typical aesthetics by shifting attention to audio, captions, and text-based descriptions in the focal-point work of the exhibition, "Leans, Reverses." That piece, created in collaboration with dancer and writer Jerron Herman, along with poet and artist Joselia Rebekah Hughes, invites guests to experience dance choreography through sound. At its core, it questions sight as a primary means of aesthetic experience. It is, broadly, in line with other works by Lazard, who has brought conversations around accessibility to the forefront. "Long Take" is curated by Meg Onli, who has curated other ICA exhibitions—including the Ulysses Jenkins retrospective in fall 2021. 
"It was an easy decision for the ICA to schedule these two exhibitions, because both curators have a long history with the ICA and have helped shape the place it currently is," says Hallie Ringle, the Daniel and Brett Sundheim Chief Curator at the ICA. "Carolyn's work is absolutely stellar and they're going to have a long and very important career—and is already important. And Terence has received success in the film industry, so being in the venue and working with BlackStar, with Maori [Holmes], to curate this exhibition, deepens his practice and provides a kind of introduction to Terence for our audiences."
Holmes says she has, in the past, worked on group shows with other filmmakers to recontextualize their work for installation. She'd been thinking for a long time about working with a solo artist on such a project, and Terence was at the top of her list—as someone who incorporates a variety of styles into his work, she says, but also as someone who is "unapologetic about his love for Black people and Black culture" and investigates themes of the physical and spiritual but grounded in love.
"I couldn't believe it hadn't already happened, just due to his influence," Holmes says of presenting his first solo show. 
The show has four immersive installations that complement their associated film or footage. In one example, for the drama-short film "Swimming in Your Skin Again," a Southern Florida landscape was recreated to invite the feeling of where Nance was when filming—a sort of aid to understanding the artist's mindset through context. Another installation, the two-channel projection for 2016 France-based short "Univitellin," experiments with how viewers experience the film by having them stand on a slowly rotating platform to reflect on twin perspectives of a star-crossed romantic tragedy. 
There are also two all-new pieces in the exhibit, she says: "Swarm Part Zero," about Black cinema and revolution, and "From the Void," which is a constant stream of Nance's work presented in a way that marries them with the aesthetics of the exhibit. There are also two sculptural elements, one of which is in reference to the artwork for his new feature album, "VORTEX." Outside the gallery will be a listening room where visitors can listen to the full album; a concert will be hosted May 25-26 as part of public programming for the exhibition. 
"I'm really happy we've been able to do this project on this scale," Holmes says of collaborating with Nance.
As for why the ICA was chosen for the exhibition: "It was the only space I thought of in Philadelphia for this show, because my perspective on ICA is that they are a space for daringness and experimentation, and often they present singular shows for artists who become part of the canon," she says, noting the early appearance of Andy Warhol at the ICA, but also more recent artists like filmmaker Cauleen Smith. "When I thought about how I saw Terence's trajectory and getting funding from Pew [Center for Arts & Heritage], this was the only institution in my mind for the show from the beginning."
Meanwhile, Lazard's "Long Take" exhibition, located on the second floor, exists in one large room and is anchored by the dance piece that calls back to the legacy of "dance for camera," a 1960s tradition that investigated how audiences experience art. Ringle notes that "Long Take," in general, emphasizes accessibility. 
There are also, Ringle describes, transformed gallery benches that are both functional—guests are encouraged to sit on them—and serve as art that calls attention to how uncomfortable it can be to sit on a hard bench in a museum or art gallery. They're outfitted with soft cushions and added backs and, Ringle says, allows for a more comfortable experience that also allows for a "deeper connection with their work, because you're able to spend more time in it."
"I'm so excited to be able to share this exhibition in my hometown," adds Lazard. "This work is invested in what accessibility does to aesthetics. It hopefully encourages us to think about how we experience an artwork, and whether an artwork is a stable form or if it can expand across time, space, and medium."
The exhibits debut with an opening reception on March 10, from 6-9 p.m. Programming in support of the exhibitions will continue in the weeks ahead, including a conversation between Lazard and Onli on March 11 and an artist talk with Nance and Holmes on April 28.