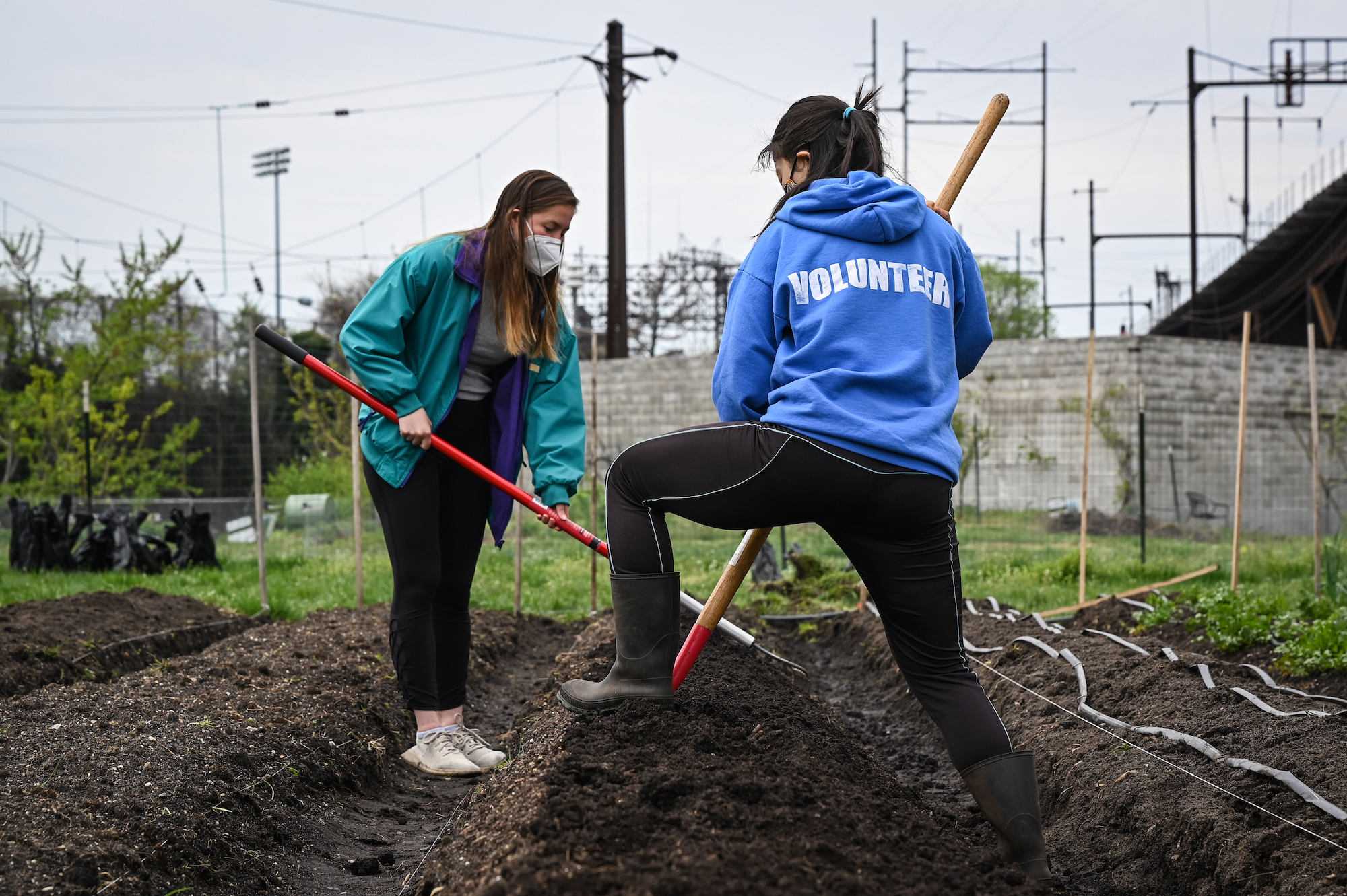 Spring has arrived on campus, with early crops ready for harvest at the Penn Park Farm, cherry trees abloom, and warmer temperatures drawing members of the community out to enjoy nature.
At the same time, daily headlines—like those about the latest IPCC report or the need to design with rising sea levels in mind—remind us that the planet needs some help to stay healthy.
Those who appreciate what Earth has to offer may find themselves with twin impulses: to soak up nature but also to take action to protect it. Good news: At Penn, there's a week for that.
"Earth Week is about connecting to the environment, being engaged, and accomplishing that through an understanding of the environment you're in," says Nina Morris, Penn's sustainability director. "That's why so many events are about nature-based solutions and getting out and experiencing something in your own local ecology."
Building off the success of Climate Week, held in the fall, the Sustainability Office wanted to serve as a central convener for campus partners eager to mark Earth Day. Now, with nearly 50 events—on campus and off, virtual and in-person—there are opportunities for "everyone to connect to what's happening," says sustainability manager Natalie Walker.
Walker headed up an Earth Week organizing committee that included representatives from the Student Sustainability Association, Climate Leaders at Penn, Bon Appetit, Facilities and Real Estate Services, the Environmental Innovations Initiative, Kings Court English College House, and the Office of Student Affairs. Those centralized planning efforts were complemented by initiatives across schools, centers, and divisions at Penn, from Morris Arboretum to the Libraries to Campus Recreation and more, all taking responsibility for planning their own offerings.
"It's great to see collaborations across different groups that may not necessarily work together normally," says Walker. "They were able to come together upon seeing the intersections of wellness, sustainability, food, and time in nature."
With an eye toward pandemic safety as well as immersion in nature, many events are being held outdoors, including a teach-in on College Green, tours of campus green infrastructure and the Cobbs Creek Environmental Center, and cleanup and tree planting events at locations in the West Philadelphia community.
Among the events on tap for Earth Week:
In addition to the events, Earth Week is offering a chance for schools working "behind the scenes" on environmental action to make a mark. The School of Veterinary Medicine, for example, will be releasing a school climate commitment on April 18.
"I think the pandemic has given us all an opportunity to reevaluate what matters to us. For the Penn community, environmental justice and climate action are two themes that have really come to the forefront," says Morris. "That's why you're seeing those threads come through in Energy Week, Climate Week, Wellness Week, and now Earth Week. There's a desire to engage in the work that will put us on a path to a better future."
A full schedule for Earth Week, encompassing events from Sunday, April 17, through Sunday, April 24, is available on the Sustainability Office website.
A video series related to the Climate and Sustainability Action Plan is also available on the Penn Sustainability website.
Nina Morris is sustainability director in Penn's Sustainability Office.
Natalie Walker is sustainability manager in Penn's Sustainability Office