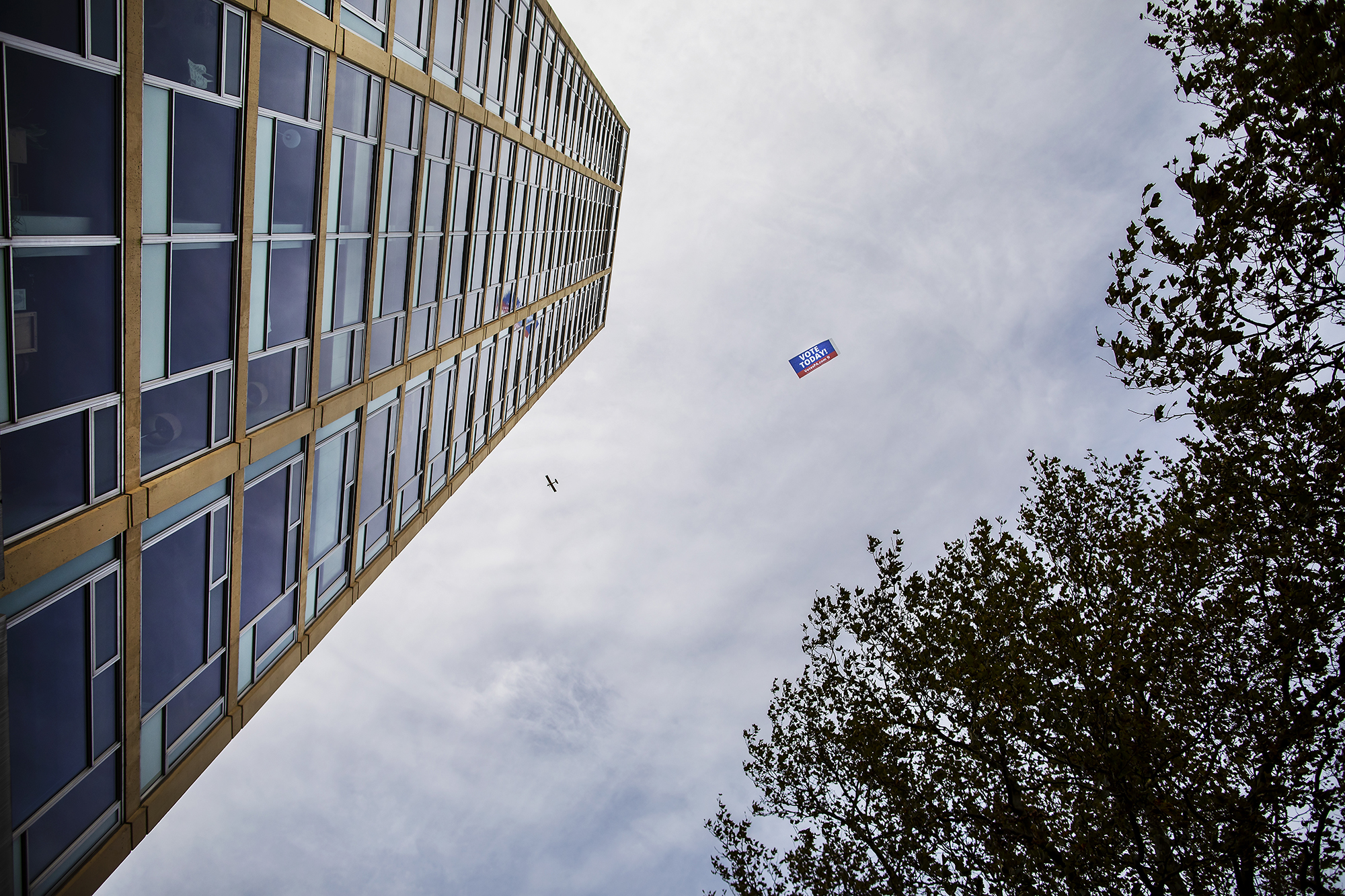 Up early on a chilly, sunny Election Day, Penn President Amy Gutmann and her husband Michael Doyle headed to Houston Hall to cast their votes. Recognizing the significant impact young people have on elections, and especially how they can affect this historic presidential election, Gutmann has repeatedly encouraged Penn students this semester to get out the vote.
"You possess real power to step up through the essential democratic right and responsibility to vote," Gutmann said during this year's Convocation in August. She quoted the late Congressman John Lewis: "The vote is the most powerful nonviolent change agent you have in a democratic society. You must use it because it is not guaranteed."
On campus, Penn's usual seven polling locations were consolidated this year to Houston Hall and the ARCH. All folks voting were encouraged to come prepared: know their division number, bring identification, complete their PennOpen Pass for the day, plan for a possible wait, and wear a mask. 
Because Pennsylvania regulations mandate the necessary length of the semester, Penn was unable to declare a holiday for Nov. 3. In an announcement from mid-October, though, Gutmann, Provost Wendell Pritchett, Executive Vice President Craig Carnaroli, and Vice Provost for University Life Mamta Accapadi encouraged flexibility by supervisors to allow time for staff to vote and supported the Faculty Senate resolution calling on all faculty and instructors to accommodate students who wished to engage in election-related activities on Election Day. 
"We encourage faculty to avoid tests on that day and to make as many accommodations as possible to ensure that there is no penalty to any student who may miss class to participate in the election process," the announcement said. It concluded: "Democracies survive only if they are not taken for granted. They depend on the support of citizens. Elections determine their fate. Please take the opportunity to make your voices heard."
The COVID-19 pandemic has undoubtedly presented challenges for voters at the University, in Philadelphia, and across the U.S. For instance, any given semester at Penn, the students of Penn Leads the Vote (PLTV), who have a goal of 100% campus voter registration by 2028, are extremely active on campus—posted out often on College Green or Locust Walk, encouraging their fellow classmates to register to vote, learn about the candidates and issues, and find their polling places.
Instead, this year, PLTV has had to pivot their traditional practices, getting creative in reaching students with "reverse door knocking" and expanding the information they needed to provide, as many students are now voting from different states with different guidelines. Many people have also been navigating the processes of voting early in-person, by mail ballot, or absentee. 
During a video call last week with PLTV and the High School Voter Project, both housed in the Netter Center for Community Partnerships, Gutmann, along with Pritchett, praised the students for their resiliency during this ever-evolving time.  
"You've had to pivot immediately to figure out how you were going to do this in an online environment and you've also been just incredibly resourceful," Gutmann said. "I am so, so proud of you."
Polls in Pennsylvania are open from 7 a.m. to 8 p.m.