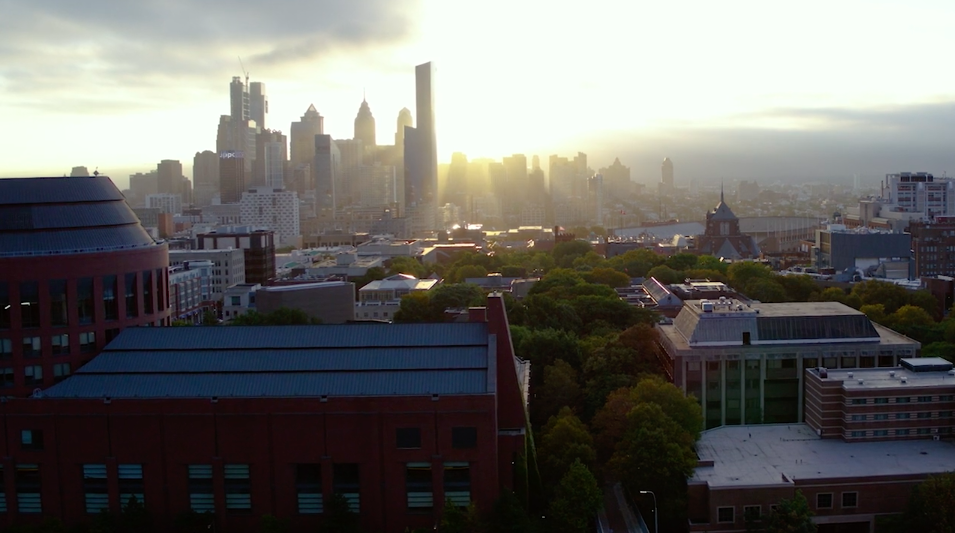 On Monday evening, Penn's first-year and transfer students were officially welcomed to the University family. Opening Convocation—a celebration typically held in all its red and blue glory on College Green—was moved online this year as the University enters the school year virtually due to COVID-19. 
"Your time at Penn comes at the most pivotal moment in your lifetime—and ours. We won't downplay the challenges of this pandemic, but we are extremely optimistic for the future," said Penn President Amy Gutmann, assuring students, "I can't wait to welcome you to campus."
New freshman Alexa Sherr, enrolled at Penn Nursing, watched Convocation alongside her parents and younger sister. The family of four from Oaklyn, New Jersey, made the most of the experience, taking in each inspiring remark, singing along to "The Red and Blue," and enjoying ice cream for dessert after. 
"Sure, I want to go to school very bad, but I can see the light at the end of the tunnel," said Sherr. "It will be hard, but all of us freshmen are going to go through this, and it kind of brings us together."
Sherr said she has already made connections with classmates virtually through pre-orientation programs like PENNacle, as well as during New Student Orientation and through messaging platforms including GroupMe and Facebook. 
"We're a generation of technology," Sherr insisted. "We can make it work."
Talking candidly, Gutmann noted during the program how the incoming class—2,325 students strong—is embarking on something never before attempted.
"There will be setbacks, yes. More remarkably, there will be great opportunities to do things differently, more creatively," Gutmann said. "This moment cries out for mission-driven grit and a united community. Yours will be the class defined by both."
Reflecting especially on the past few months, Penn Provost Wendell Pritchett, the University's chief academic officer, described a tumultuous and upsetting—as well as inspiring—period for the U.S. Facing a worldwide pandemic and with the nation's inequalities laid bare, even at times on video, Pritchett encouraged the University's newest students to help "lift us and lead us forward," especially through ongoing programs like the Campaign for Community and this year's theme of civic engagement.
"You've worked incredibly hard to get here, and are now among the fortunate few attending one of the world's greatest universities, regardless of where you are sitting," Pritchett said. "It's up to you, and young people like you, no matter what they look like or where they come from, to push our nation forward, and to support one another on that journey."
University Chaplain and Penn's Vice President for Social Equity and Community Charles Howard noted in his invocation a transitional time—not only for students but also for the world.
"Life presents us these liminal moments, where we find ourselves standing in the threshold on the cusp of something new," said Howard, adding later, "I give thanks for the Class of 2024 who are in one of these liminal, in-between moments in their academic careers and in their lives. … May these students help all of us cross over into the new as well. To envision what a post-COVID society could and should look like. May they help us turn the page on racism and all the forms of hate."
According to figures from Penn's Office of Institutional Research & Analysis, 50% of the University's incoming students identify as minorities, 14% are the first in their families to attend college, 19% are Pell grant recipients, and 54% are female. The new students also represent all 50 states and 67 countries. And, as Dean of Admissions Eric Furda shared during Convocation, 83% of students in the admitted class engaged in civic engagement and outreach while in secondary school—"the highest single form of co- or extracurricular participation and leadership by far."
"The desire and ability to find one's voice and to purposely reach beyond yourself to help others are great qualities to possess. But that is only the start," Furda said, adding that students must now learn from each other, confront personal assumptions, hear other points of view, and find understanding out of disagreement. "I challenge all of you to think critically and to strengthen the experience of the entire Penn, Philadelphia, and the other communities which you will touch now, and in the future."
Gutmann explained how things can certainly seem dim right now. Relating to the unsettling moment, she was a freshman in college when Dr. Martin Luther King Jr. was assassinated, and the Vietnam War tore at the U.S. social fabric. 
"Times felt dire then, too," Gutmann said. "But, as John Lewis would say, this is not the time to dwell on setbacks. This is the time to step up. This is the time to unite, together."
With a nod again to the late, beloved civil rights leader and congressman, grit and community, explained Gutmann—who also noted in her remarks the precious right to vote, which Lewis fought for—can alter history.  
"If you come together with a mission," Gutmann quoted Lewis, "grounded with love and a sense of community, you can make the impossible possible."
Penn's Convocation stayed true to its roots, albeit virtual, incorporating a remote presentation of the Class of 2024 flag; online performances by students from the Penn Band, Glee Club, The Inspiration, Penn Sirens, and The Shabbatones; and shared words of advice from upperclassmen hailing from across the country.
Chatting before Convocation aired live, Wharton student and Sophomore Class President Derek Nhieu, who is also part of the inaugural cohort of SNF Paideia Fellows, said he has been telling everyone he meets from Penn, especially freshmen, to "stay proactive and be intentional" this year.
"Even though we are taking our classes online doesn't mean people aren't still looking to connect," said Nhieu, from The Villages, Florida. "Don't be shy. Be outgoing. Take a chance. Reach out and talk to someone. Right now we just have to make the most of what's going on given the circumstances."
Sherr says she plans to do exactly that. "It will be OK and we are all going to get through it together," she said.
"Marching forward together, with mission-driven grit, a community united, your Penn family can and will make the impossible possible," said Gutmann. "You now march with us. With Penn purpose and pride. We couldn't be happier or more excited that you're here."