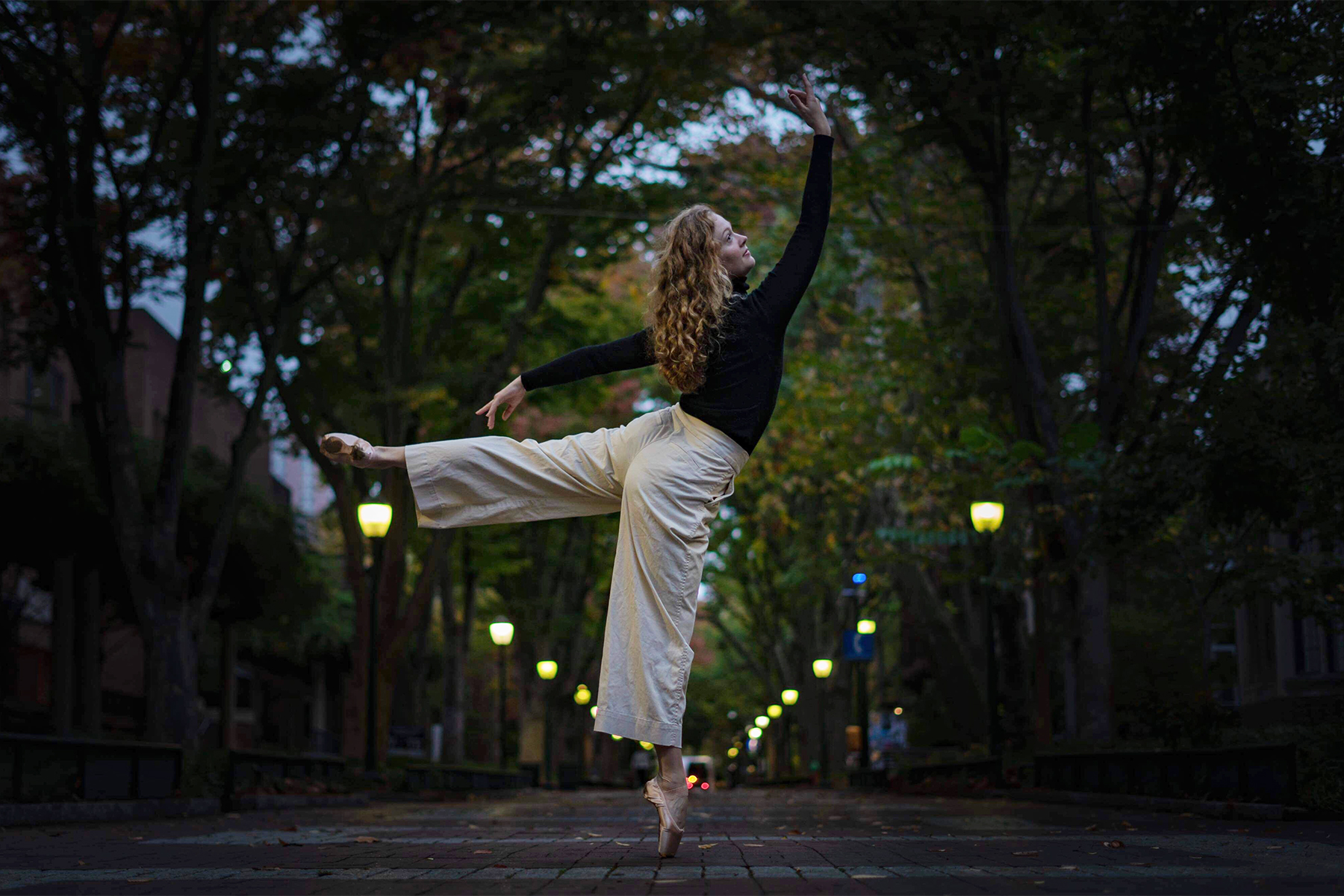 The path to becoming a ballerina in the Pennsylvania Ballet started in earnest for Emily Davis when she was in middle school, stepping onto the stage as Clara in "The Nutcracker" scene on tour with the Radio City Music Hall Rockettes. That path also led her to become an undergraduate student at the University of Pennsylvania.
It has taken her six years, working full time as a ballerina during the day and taking Penn classes at night and during the summer while also conducting research at the Children's Hospital of Philadelphia (CHOP). But she made it, graduating summa cum laude in May, with honors, earning a bachelor's degree in biology with distinction from the College of Liberal and Professional Studies (LPS)
"After six years of slowly chipping away at my degree credit by credit, it was hard to believe my journey at Penn was over. It felt so special to be able to celebrate Commencement in person, especially with the challenges and uncertainty resulting from COVID-19," says Davis, who was one of the 10 seniors named a Dean's Scholar for exceptional academic performance and intellectual promise. 
"I find it amazing, her stamina. She has accomplished an extraordinary thing, to do these two full-time jobs at once," says Sarah Cooper, Pennsylvania Ballet director of community engagement, noting that the dancers in the company average six hours a day of rehearsal, plus performances. "We've had dancers do both, but Emily's level is spectacular, to manage such an impressive school and the dancing and all her community service as well."
In addition to dancing and studying and researching, Davis created and taught dance and movement classes at Philadelphia community service nonprofits, including Art-Reach and Puentes de Salud, as well as serving as producing director of the Shut Up and Dance fundraiser for the Metropolitan Area Neighborhood Nutrition Alliance. 
"She is a beautiful dancer, beautifully trained, and has had a fabulous dancing career, but it is her community service that sets her apart," Cooper says. "She has been a great ambassador for us, and she took an interest in the disability community."
Now Davis is preparing to go to Scotland to pursue a Ph.D. in the emerging field of dance health, funded by a Thouron Scholarship, forging a unique partnership among two universities and the Scottish Ballet. She is planning to work in the field of alternative therapies for patients with multiple sclerosis.
"I want to combine my biology background with my dance background and work to legitimize this field of dance health," says Davis, 24, from Gainesville, Florida. "I want to step in and expand the evidence base, by integrating my experiences in neurorehabilitation, plus professional dance and dance health programming." 
Her creative career path evolved while she was a volunteer researcher on the CHOP team led by Laura Prosser of the Perelman School of Medicine. "She is going in a new direction: there is no one who already does what she wants to do" says Prosser. "She is forging a new path with her graduate work."
First steps
Davis's mother signed her up for ballet when she was 3 years old, more as a day care solution than a career choice. She also took lessons in various dance forms, like jazz and tap, and became nationally ranked in Irish dance. "That is my fun fact whenever anyone asks: I simultaneously trained in ballet and Irish dance, completely different fields and schools," she says.
At about age 11 she decided to focus on ballet; she liked the discipline. The turning point came with her casting as Clara in the Radio City Christmas Spectacular, she says. "That is when I thought I could make this into a career," she says. "My family realized it, too, when they saw me out there dancing onstage with the Rockettes."
She completed two national tours, the first year in Nashville at the Grand Ole Opry, and the second year in Florida and Texas, traveling with her mother from September through December. 
Her dream to dance in the role of Clara almost did not come true. The first time she tried out she "messed up a step" and was cut. So, she took an intensive summer course in Miami, tried out again, and made it. 
That discipline and determination and perseverance has been critical to her success. She joined a pre-professional program at the Boston Ballet School her junior and senior years in high school, attending classes during the day at the Newman School in Boston and dancing at night, earning an International Baccalaureate degree in 2015. 
"It was a balancing act all through high school and through college," she says.

Balancing ballet
Penn was her first choice of universities, she says, because of the academic opportunities and the proximity to the Pennsylvania Ballet. "For me it was the ideal balance of having the flexibility at Penn, such a prestigious university, and being able to focus on my career in ballet," she says. "I really saw LPS as an open door to Penn and all of its resources." 
At the ballet she started as a "second company" member, performing primarily for community engagement and with the main company for large productions. After a year she was promoted to "apprentice," and a year later promoted to the corps de ballet, officially full-time in the company. "Essentially I've never stopped dancing," she says.
Even during the pandemic, she was in a pod of dancers rehearsing and performing for film. The ballet's final production of the season "Strength. Resilience. Beauty." was released during the Memorial Day weekend. In that performance, Davis danced in a world premiere ballet by Meredith Rainey, a Philadelphia choreographer and former Pennsylvania Ballet soloist, set to music by composer Jennifer Higdon. 
Throughout her career with the ballet, Davis performed regularly in the productions at the Academy of Music and Merriam Theater in Philadelphia and also went on the tours to Chicago and Cleveland. 
But a nearly 150-year-old ballet by Tchaikovsky is the most memorable ballet of all, she says. "'Swan Lake' is my favorite to perform and to watch," she says, noting that she had several featured parts. "You put on your swan headpiece and tutu and are constantly dancing. It's so powerful, all the women being together. It's just really special."
Balancing academics
She started with one class at Penn, a writing seminar, and then added more each semester. "It was certainly hard balancing both my professional life and academic life, but I very strategically chose courses and developed a strong sense of time management," she says. 
Early on she took two physics courses with Professor William Berner, earning an A+. "Grades are just part of Emily's story," Berner wrote in a recommendation letter he shared, noting that she would speak with him after class about the physics of dance. "Her eye contact and facial expression during 'ah-ha moments' revealed a person who could fit the enjoyment of learning into a demanding life. She has a rare combination of skills and motivation to change things for the better."
She took several courses during the summers when ballet is typically on hiatus, including studying abroad with Penn in London and Penn in Cannes with Peter Decherney, professor of English and cinema & media studies, taking a course on Jane Austen and attending plays and films. 
"In London she was one of most dedicated students: she went to every play and on every excursion. She wanted to take advantage of everything the program had to offer," Decherney says. "Plus, she danced every single day she was there."

Dance and health and community
Davis reached out to Puentes de Salud, a nonprofit that serves the Latinx immigrant community a couple blocks from where she lives in Center City Philadelphia and discovered its arts and culture program didn't have dance or movement, so she created and taught an eight-week program attended mostly by young girls. "They love when I put on my pointe shoes and tutu," she says. Before the pandemic she would arrange for them to attend her performances and bring them backstage to meet the other dancers. 
For three summers Davis taught adaptive dance and creative movement classes at Art-Reach, to adults and children with intellectual disabilities, and that program merged into another at Magee Rehabilitation hospital for those with brain injuries. 
"I saw how the arts and health can be intertwined," Davis says. "I was starting to grapple with how to combine dance and health to create a career." 
She also volunteered to conduct research with Prosser's team at the CHOP Research Institute, studying pediatric movement science and rehabilitation for children with cerebral palsy and other neuromotor issues. Davis' work primarily involved behavioral video coding of movement and evolved into two independent research studies that became the basis of her honors thesis. 
"It is wonderful as a researcher to watch a student become more interested in the work they are doing in your lab," Prosser says. "Emily was engaged in the work. She understood the implications of the research and understood how it fits into the larger body of the literature."
On to Scotland
Now Davis is looking forward to her next chapter, heading to Scotland to pursue a Ph.D. in dance health, a field just now emerging from arts in health and dance science, she says. The Thouron Scholarship will cover her expenses for two years. 
The plan in the works is for her to go to Glasgow to work with the head of research with the Scottish Ballet's Dance Health research team. She will have advisors in two institutions: the Royal Conservatoire of Scotland, in partnership with the University of St. Andrews, and the other at Glasgow Caledonian University. She hopes to take classes and perform as a guest with the Scottish Ballet. 
"Even as I take this next step, I do not see it as the end to my dance career. My work will be very intertwined with a ballet company," Davis says. "I see myself in both the arts and in health."