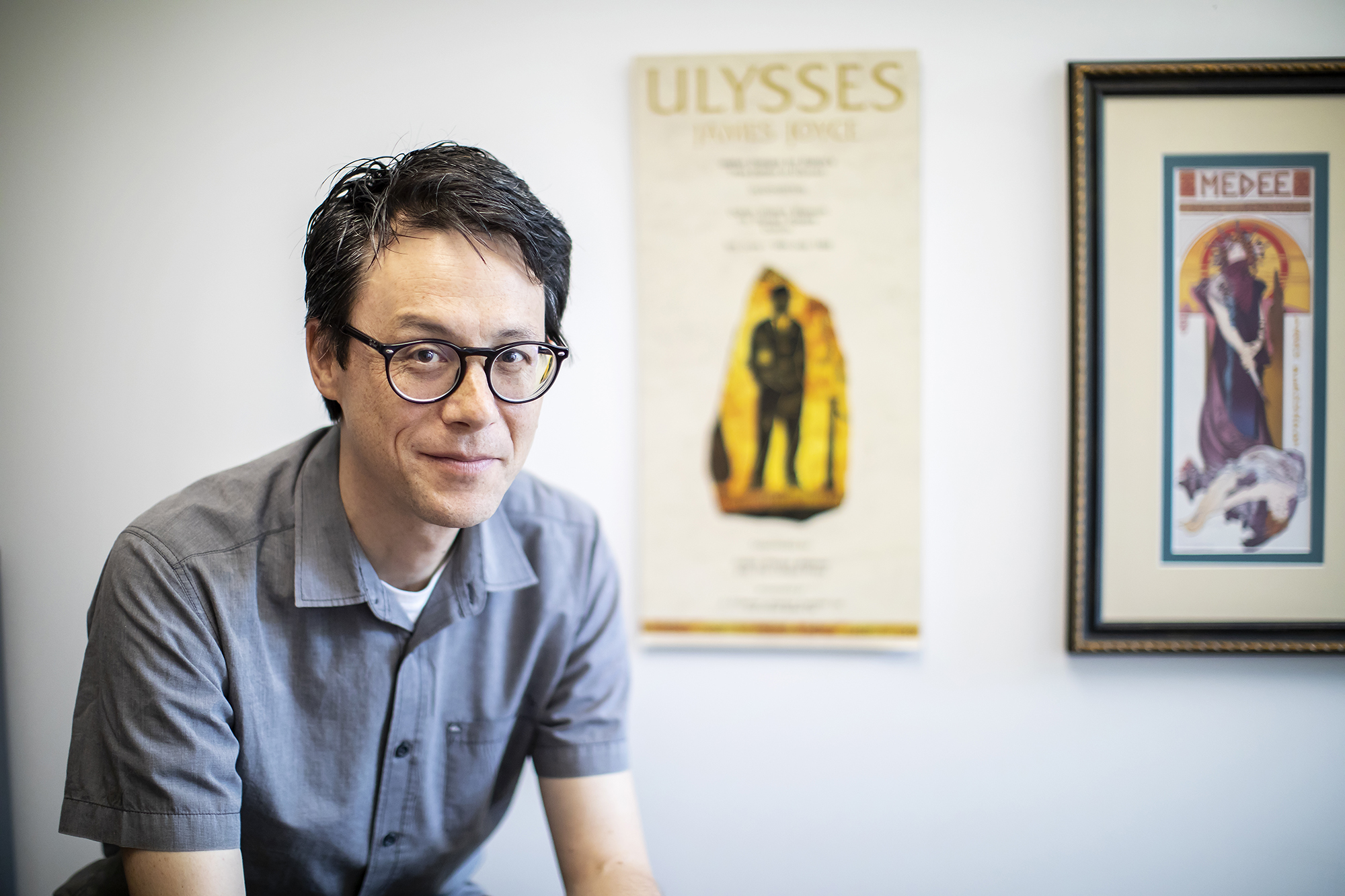 James Joyce set his epic novel "Ulysses" on June 16, 1904, to commemorate the date of his first outing with Nora Barnacle, the woman with whom he would spend his adult life. 
The first time Penn English professor Paul Saint-Amour read "Ulysses" was in an undergraduate literature class at Yale University. Each day in class he sat next to fellow sophomore Alison Buttenheim, who is now an associate professor in Penn's School of Nursing. The three of them—Saint-Amour, Buttenheim, and "Ulysses"—have been together ever since.
June 16 is known throughout the literary world as Bloomsday, after Leopold Bloom, the protagonist of "Ulysses." This year, Saint-Amour will join several dozen others in reading passages from the novel as part of a day-long Bloomsday celebration at Philadelphia's Rosenbach Museum and Library. 
A complete manuscript of "Ulysses" lives at the Rosenbach historic home and library, making it a center of interest for Joyceans. On Bloomsday, the roped-off 2000 block of Delancey Street takes on a carnival atmosphere. Select portions of the novel are read in turn by literati, artists, public figures, and familiar personalities from 11 a.m. to 8 p.m. Live music, a beer garden, and food trucks are featured. 
Last year the Rosenbach asked Saint-Amour and two other local scholars to start a Bloomsday essay contest for undergraduate and graduate students. The contest will continue this year with another Penn Joycean, English professor Jean-Michel Rabaté, as a judge.
Saint-Amour still teaches using his undergraduate copy of "Ulysses," now on one of the four shelves devoted to Joyce in his office in Fisher-Bennett Hall. An earlier edition that belonged to his mother, a retired middle-school English teacher, lives at his home in Philadelphia's Fairmount neighborhood. Saint-Amour and Buttenheim's eldest daughter, a rising college sophomore, is marking up her own copy of the novel this summer as part of an online reading group she started with several friends. 
"That's the way this book works in the world," Saint-Amour says. "It's a book that runs in families and creates new families of readers. A novel so capacious, so full of life and history and dissidence, just cries out to be read in the company of other people. It's the social life of 'Ulysses,' above all, that keeps me coming back to it year after year."
Joyce's novel is a retelling of Homer's "Odyssey," following a day in the life of everyman Leopold Bloom through a series of encounters and adventures in his city of Dublin. When it was published in Paris in 1922, the book was already a literary sensation, its serialized version having been found obscene a year earlier by a United States court and effectively banned. Known for its difficulty, beauty, and stylistic variety, the novel has been lauded as one of the world's greatest literary works.
Saint-Amour has taught Joyce regularly during his 11 years at Penn. His most recent offering, an innovative course he plans to teach again this fall, is "Joyce's 'Ulysses': Making Readings." After reading the work, students collaborate in small groups on projects that engage creatively and critically with the novel. Past projects have taken the form of Bloomsday newspapers, fabricated ephemera from the novel, apocryphal chapters, and original musical compositions based on the novel. The course is co-taught with Robert Berry, the comic artist who created "Ulysses 'Seen'", an adaptation in the form of a digital graphic novel. 
Penn Today spoke with Saint-Amour about "Ulysses" and its importance in his life.