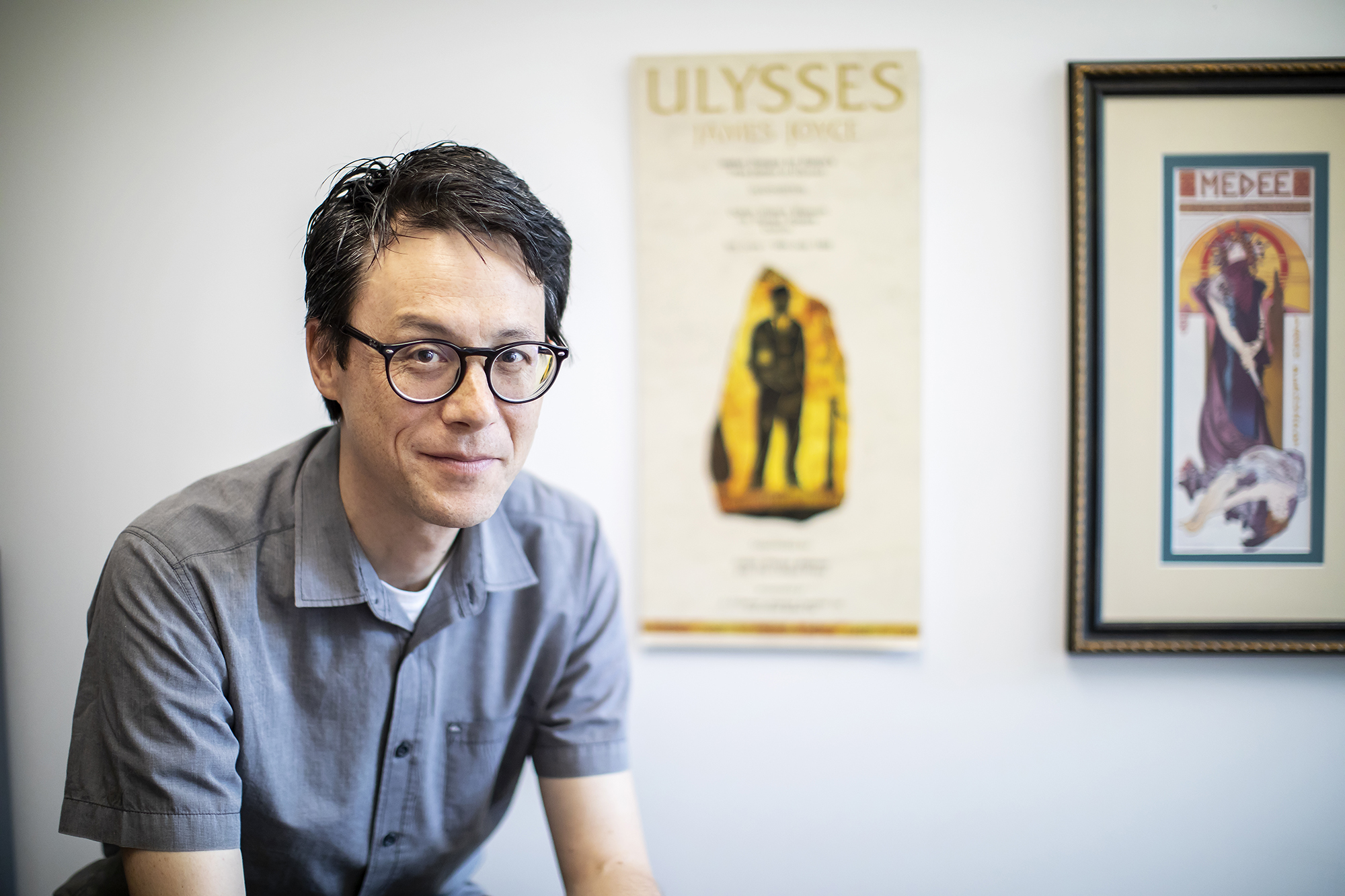 James Joyce set his epic novel "Ulysses" on June 16, 1904, to commemorate the date of his first outing with Nora Barnacle, the woman with whom he would spend his adult life. 
The first time Penn English professor Paul Saint-Amour read "Ulysses" was in an undergraduate literature class at Yale University. Each day in class he sat next to fellow sophomore Alison Buttenheim, who is now an associate professor in Penn's School of Nursing. The three of them—Saint-Amour, Buttenheim, and "Ulysses"—have been together ever since.
June 16 is known throughout the literary world as Bloomsday, after Leopold Bloom, the protagonist of "Ulysses." This year, Saint-Amour will join several dozen others in reading passages from the novel as part of a day-long Bloomsday celebration at Philadelphia's Rosenbach Museum and Library. 
A complete manuscript of "Ulysses" lives at the Rosenbach historic home and library, making it a center of interest for Joyceans. On Bloomsday, the roped-off 2000 block of Delancey Street takes on a carnival atmosphere. Select portions of the novel are read in turn by literati, artists, public figures, and familiar personalities from 11 a.m. to 8 p.m. Live music, a beer garden, and food trucks are featured. 
Last year the Rosenbach asked Saint-Amour and two other local scholars to start a Bloomsday essay contest for undergraduate and graduate students. The contest will continue this year with another Penn Joycean, English professor Jean-Michel Rabaté, as a judge.
Saint-Amour still teaches using his undergraduate copy of "Ulysses," now on one of the four shelves devoted to Joyce in his office in Fisher-Bennett Hall. An earlier edition that belonged to his mother, a retired middle-school English teacher, lives at his home in Philadelphia's Fairmount neighborhood. Saint-Amour and Buttenheim's eldest daughter, a rising college sophomore, is marking up her own copy of the novel this summer as part of an online reading group she started with several friends. 
"That's the way this book works in the world," Saint-Amour says. "It's a book that runs in families and creates new families of readers. A novel so capacious, so full of life and history and dissidence, just cries out to be read in the company of other people. It's the social life of 'Ulysses,' above all, that keeps me coming back to it year after year."
Joyce's novel is a retelling of Homer's "Odyssey," following a day in the life of everyman Leopold Bloom through a series of encounters and adventures in his city of Dublin. When it was published in Paris in 1922, the book was already a literary sensation, its serialized version having been found obscene a year earlier by a United States court and effectively banned. Known for its difficulty, beauty, and stylistic variety, the novel has been lauded as one of the world's greatest literary works.
Saint-Amour has taught Joyce regularly during his 11 years at Penn. His most recent offering, an innovative course he plans to teach again this fall, is "Joyce's 'Ulysses': Making Readings." After reading the work, students collaborate in small groups on projects that engage creatively and critically with the novel. Past projects have taken the form of Bloomsday newspapers, fabricated ephemera from the novel, apocryphal chapters, and original musical compositions based on the novel. The course is co-taught with Robert Berry, the comic artist who created "Ulysses 'Seen'", an adaptation in the form of a digital graphic novel. 
Penn Today spoke with Saint-Amour about "Ulysses" and its importance in his life. 
When did you first encounter "Ulysses," and how did it capture your imagination?
Niels Herold, who taught 10th-grade English in my high school in the 1980s, planted the seed. We were reading the "Odyssey" for class. One day he broke off early from Homer to read us a passage from Joyce's "Nausicaa" episode. The language was funny and perverse, mimicking advertisements and romance novels one minute and imitating the way small children talk in another. I was intrigued that someone had brought this ancient Greek epic down to earth by hauling it into the 20th century. I went home, found my mom's copy of "Ulysses," and said to myself, "I'm going to read this book if it kills me." Five pages later I'd given up. None of it made any sense. I think a lot of people bounce off "Ulysses" when they read it alone. 
It wasn't until I was a sophomore in college that I read it all the way through, in a course on the modern British novel. The professor, Mark Wollaeger, was a witty and engaging lecturer. All of the books we read that semester caught my imagination but "Ulysses" above all. Until then I'd been planning to apply to medical school after college. But as the class was coming to an end I thought, "Nobody told me there were books like these." And just like that, the world was deprived of a mediocre podiatrist.
I think I fell especially hard for "Ulysses" because I was falling for a classmate at the same time. She'd read the book the year before in another class and helped guide my first reading in turn. The copy I still use when I teach is full of our marginal whispers to each other. "Ulysses" was the note we passed during class back in 1989. 
Why do you think the book is so fascinating?
Because it's not just one book. "Ulysses" is so multilayered and many-sided that it turns different facets of itself toward you depending on your preoccupations, your life-stage, your historical moment. There's the side of it you see when you're a thwarted 20-something with daddy issues. There's the version of it you read when you're grieving for a parent, or for a child. There are whole regions of "Ulysses" that open up when you become aware of the present's haunting by history. There are voices in the book that respond to your thinking about sexuality and gender fluidity and about what it means to entangle your life intimately with another person. And there are many layers that speak to the experience of people living in various states of unfreedom.  
There's always a new door opening itself in Joyce's novel. Every time I try to turn my back on it and walk away, I hear that click of invitation and find myself returning.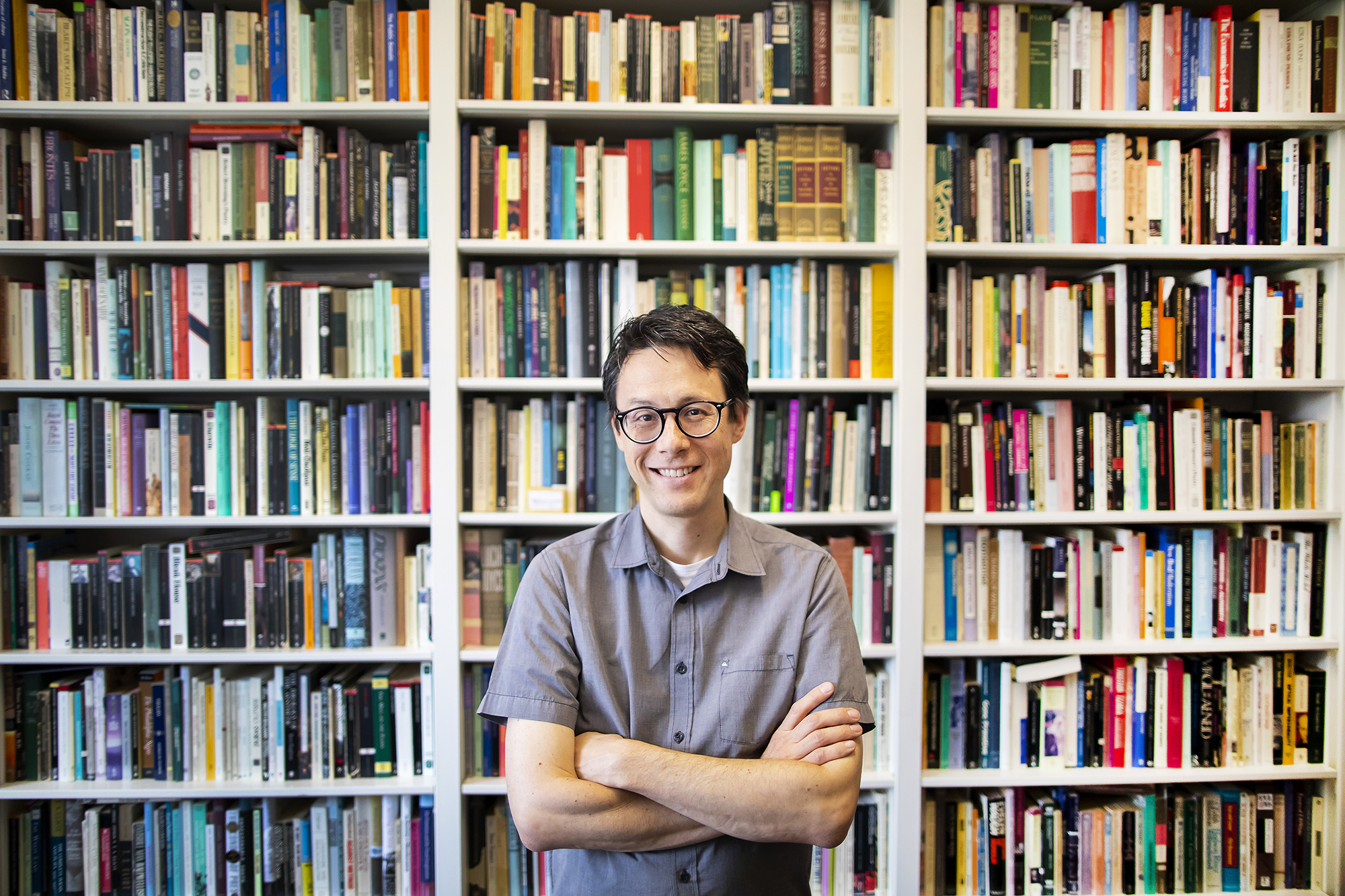 Have you worked with the original manuscript at the Rosenbach?
Not being a genetic critic—that is, someone who studies the compositional process using pre-publication notes and drafts—I haven't worked on it as a scholar. But when I teach the monthly "Ulysses" class at the Rosenbach we always spend part of a session looking at the manuscript. Most of the Rosenbach manuscript is pretty clean; Joyce had done the messy first drafting and early revising on other pieces of paper and collated that work in the notebooks Dr. Rosenbach later purchased at auction. But here and there you can see him making changes, and even the small ones can be breathtaking.
To give you an example, one of the book's most celebrated phrases occurs in "Ithaca," the penultimate episode, where Leopold Bloom and Stephen Dedalus go out into Bloom's backyard in the wee hours of the morning to urinate. It's famous because most of the episode is written in cold, technical language but with occasional bursts of lyricism, of which this is the crowning example. Looking up at the night sky, here's what the two men behold: 
The heaventree of stars hung with humid nightblue fruit.
Gorgeous, right? The way it reimagines the empty space between the stars as fruit with moisture, fullness, weight, and hue. But in the Rosenbach manuscript, Joyce has written: 
The heaventree of the stars hung with humid nightblue fruit. 
And then he decides to cross out that second "the." It's a difference of a weak three-letter word, a single definite article. Yet the elimination of that one word totally changes the pulse and sonics of the phrase. It also makes absolutely clear that "heaventree" is not a possession of "the stars" but the metaphoric vehicle to which "stars" is the tenor, as in "ship of state." 
To see this famous phrase getting tinkered with and finally snapping into the shape we recognize is inspiring, for two reasons, I think. First, it reminds you that literary monuments don't just drop to earth fully formed; they're actually the result of labor over time and of a million decisions revoked or confirmed. Second, because every work of literature is a snowball of little contingencies, it could have been different, in part or in whole. If the works of art we celebrate could have been different, the world could be different as well. So when you see the world being changed, even incrementally, by a decision to make a mark on paper, you're invited to intervene in your own world. It makes you think that you can do this, too.
What passage do you read during Bloomsday?
For several years running I've read a passage from an episode called "Circe," a kind of witches' Sabbath and one of the book's climaxes. It's set in a brothel in Dublin's red-light district. As you'd expect of an episode named after a sorceress, it's full of magic and hallucination; lots of the characters, objects, and language we encounter in earlier chapters in the book reappear in a crazily amplified, carnivalesque way. It's written in the form of a play, complete with unrealizable stage directions like "The midnight sun is darkened. The earth trembles. The dead of Dublin... arise and appear to many." If you have a flare for the dramatic, "Circe" is irresistible. It lets you go big.