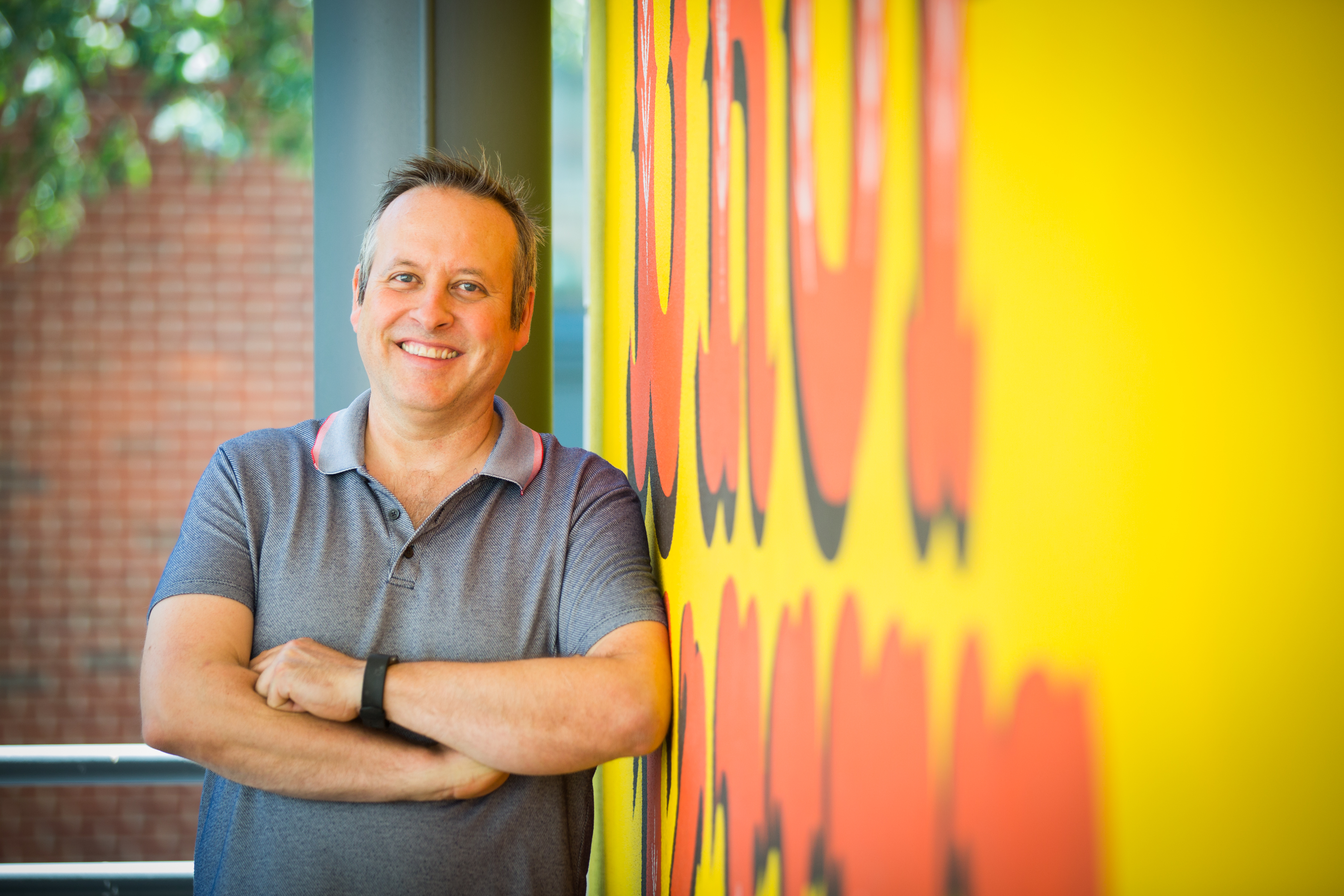 Through a new art book, art enthusiasts can soon gaze into the fantastical minds of Joy Feasley and Paul Swenbeck—the makers of "Out, Out, Phosphene Candle," a mesmerizing exhibit set up at the Kohler Arts Center in Wisconsin, on which the book is based. 
The catalog, one of 23 projects funded by The Sachs Program for Arts Innovation in April, is conceived by Swenbeck, who began working with the Institute of Contemporary Art in 1995 as an installer of exhibits. Today, he's the ICA's building manager and, when he's not installing exhibits or keeping up with the building, spends his time creating ceramics or building out his own exhibits—often in partnership with his wife, painter Joy Feasley. 
The "Phosphene" exhibit opened this spring as a sprawling, multi-room, 4,000-square-foot representation of fantasy and science-fiction, and results from Swenbeck's long-running fascination with the occult.
"I was a bit of a warlock back in the day, growing up in Salem, Massachusetts," Swenbeck says. "I was influenced by the occult, but also by living life on the ocean. There are these sea creatures and seaweed-looking animals that are part of the exhibition, and another [aquatic] piece that's interactive."
Speaking to the latter, he cites a tripot, borrowed from the Independence Seaport Museum, plucked from a whale ship—a cauldron-like object that would, at one time, be used to boil blubber. To make it interactive, Feasley and Swenbeck tilted the cauldron on its side and tucked handmade bells inside, to be played by visitors.
Broadening the theme to nature, and adding to a stew of themes explored in the fantasyland-like exhibit, there is also a greenhouse with "alien plants" in it, he says. 
"I'm interested in the relationship between plants and animals, and animals that look like plants," he says. "It's kind of a science-fiction trope, but I'm using it just to explore people's preconceptions of what animals should be."
Swenbeck and Feasley crafted their own artworks and objects for the installation-heavy exhibit—ceramics and sculptures by Swenbeck, paintings by Feasley—and designed the space as if guests are exploring a ship. To defy expectations, they incorporate navigational quirks like crawling through a fireplace to get to the next room. 
Concepts of light, meanwhile, are incorporated to riff off the exhibit's title, derived from the concept of phosphenes—or, the light that can be seen even when a person closes their eyes—and "Out Out," a poem by Robert Frost that describes a moment of nearing death and seeing those phosphenes as the last experience of life. 
Rounding out those pieces, the duo sought objects from collections at the Independence Seaport Museum and The Philosophical Society, among others. Those pieces add themes ranging from ancient technology to folklore.
One such object, from the archives of The Philosophical Society, is a dodecahedron that Swenbeck calls "the mystery object."
"It's an object of unknown providence found in the banks of the Ohio River in 1790," he explains. "It's a black stone that they don't know where it came from; it looks like it could have fallen from outer space. But also, at the same time, it could be a native artifact, or maybe a shaman's calendar. But there's no object similar to it in any other collection, and in our exhibit, you crawl underneath that and can be charged with its energy."
The exhibit is, in fact, very much about energy.
Those who experience it are encouraged to reflect atop a handmade carpet in one room, experience a healing energy in another, and soak up nature in others. It's an intentionally varied exhibit—like a buffet. 
"I want people to have their expectations turned around, but also, like when they're sitting down to a big meal, there's a lot to take in, making you want to come back," Swenbeck says. "Hopefully, there's a spiritual lightness to it. Something not exactly comforting, but energy."
He hopes to capture some of this energy in the book he's putting together, while also adding to it. The publication, he says, will feature an essay by Karen Patterson, a curator at Kohler Arts, and an essay from a Penn professor with a more scientific bent. He also plans to incorporate "ghost drawings," what he describes as a Victorian parlor trick in which penned signatures are folded to make a new image that's inset like a ghost. Signatures used will be from people involved with the exhibit. 
"Out, Out, Phosphene Candle," he says, will hopefully travel to the East Coast once he's able to find a big enough venue for it. In the meantime, he's working on the book with an intention of releasing it next spring. 
"I'm working on the book to document the exhibit, so that it will live on," he says. "So that it will come here and have a different life."