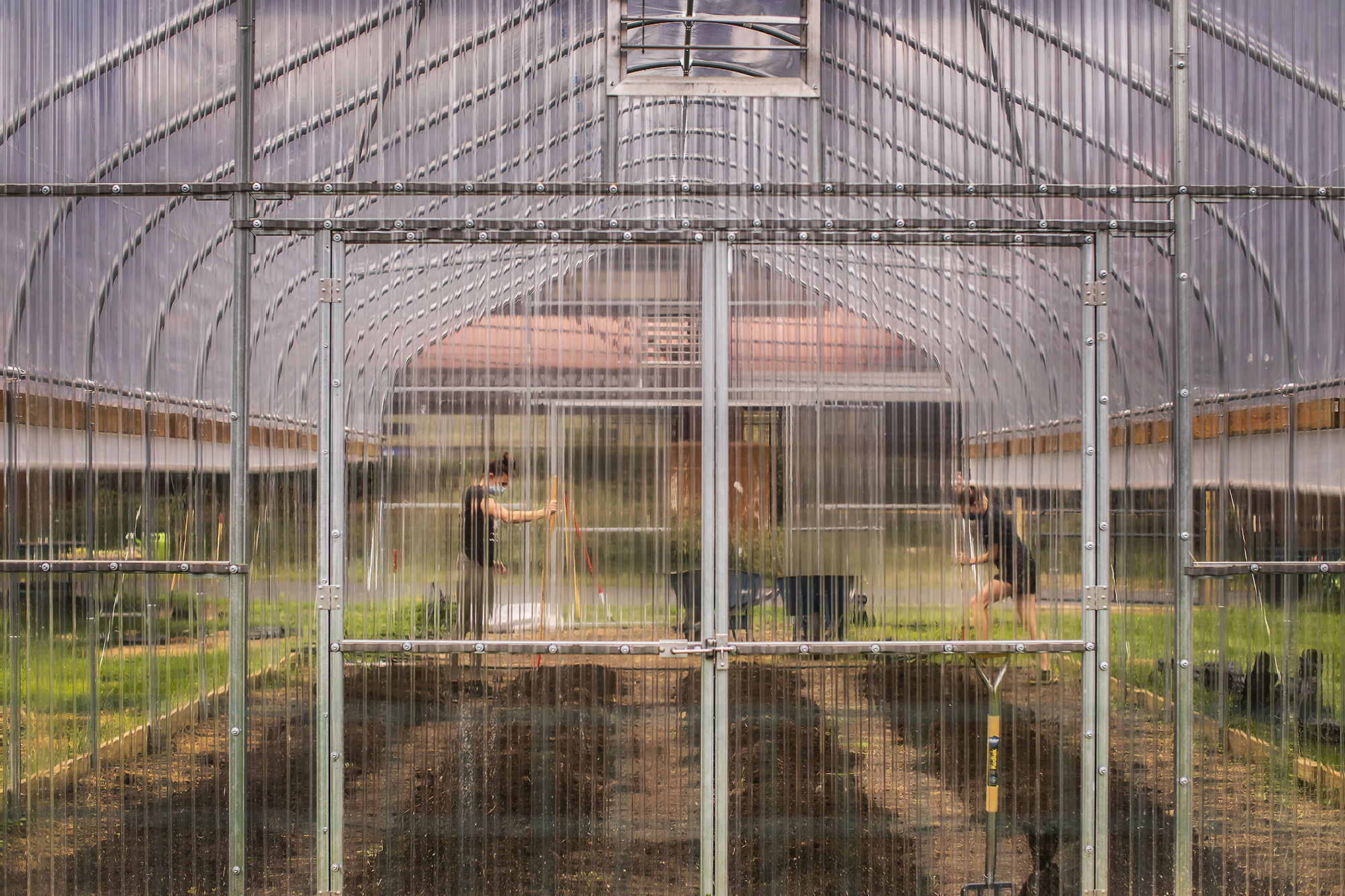 Over the past several months, a triangle of land in Penn Park just south of the South Street Bridge, has taken on a decidedly agricultural look.
Already home to the Penn Park Orchard, the former stretch of turf now hosts rows of fall vegetables, newly tilled beds, and a spacious hoop house to protect crops from late autumn and early spring chills.
This foray into urban agriculture, the Penn Park Farm, is a central component of the Penn Food and Wellness Collaborative (PFWC), an initiative that emerged from the "Your Big Idea" competition held in 2019. The competition—the brainchild of Jennifer Pinto-Martin, executive director of the Center for Public Health Initiatives (CPHI), and Benoit Dubé, chief wellness officer, and funded by Provost Wendell Pritchett—was designed as a way to engage the broader Penn community to think creatively about wellness on campus. Reaching across numerous campus groups, including CPHI, Facilities and Real Estate Services (FRES), Wellness at Penn, Penn Sustainability, and Student Intervention Services, PFWC has spent the last year building partnerships, and the last few months breaking ground.
The goal is to provide a figurative home for various educational and wellness-oriented programs around the University, and to also provide a literal home for those efforts, at the farm and orchard at Penn Park. PFWC welcomes faculty, students, and staff to support and benefit from its efforts.
"Wellness is very central to us," says Lila Bhide, coordinator of the Penn Park Farm. "Food access and food justice is part of that, as is sustainability. The farm offers a great way to integrate innovation and academics and learning."
A vision comes to life
Though the PFWC only came to fruition in an official capacity in the last year, it's the culmination of a vision many years in the making. Back in 2014, when the Penn Park Orchard first started taking shape, with assistance from the Philadelphia Orchard Project, "that was when we first dreamed about turning the adjacent field into a productive growing space," says Chloe Cerwinka, landscape planner in FRES. The orchard was tucked unobtrusively along the Amtrak railroad tracks, leaving the neighboring turf available for other planned uses.
Over the years, the orchard expanded, with new beds of blueberry bushes, herbs, and pollinator-attracting flowers edging into the field. At the same time, the dream of an adjoining farming space began to look more like a real possibility. In 2018, Bhide joined FRES as an intern, managing what was then known as the Penn Student Garden, a set of raised beds first located along Locust Walk and later moved along Spruce Street. Around that time another intern drew up rough sketches of what a larger farm space could look like, while Bhide began researching farming efforts at other universities, from agricultural schools in rural settings to more urban campuses like Penn's.
When the call out came for the "Your Big Idea" challenge early in 2019, Cerwinka, Bhide, and others had already accomplished part of the work to nail down an entry—which was announced as one of three winners that April.
"That was the changing point," Cerwinka says. "Having the Provost choose our project gave us momentum and resources to make this a reality."
With additional funding from the Penn Green Fund and the go-ahead from FRES Vice President Anne Papageorge, the field was offered to PFWC use for a trial period to explore the farm.
During the fall and winter of 2019 and early 2020, Bhide, Cerwinka, and others reached out to other University entities as well as local organizations. They worked with FRES and an outside landscape architecture firm to design what the space would look like, inspired by visits to local farms and conversations with other universities.
Among other key partner is the Pennsylvania Horticultural Society; the farm is now a participant in its City Harvest initiative, receiving seeds, seedlings, and cover crops for the off-season several times a year. "They're also great people to talk to," Bhide says. "They've shared a lot of resources about COVID safety and urban farming over the last few months. We're really happy to be a part of their program."
Just before the pandemic closed much of campus, PFWC erected a hoop house, a low-cost greenhouse that will extend the growing season into the time when most students are on campus: spring and fall.
Getting growing
COVID-19 closures "turned a lot on its head," Bhide says, but it also allowed the PFWC team to devote time to thinking big about precisely how they wanted to link the activities of their program with existing needs in the community. Initially the plan was to use the produce harvested at the farm to supplement the "Good Food Bags" distributed by the Netter Center for Community Partnership's Agatston Urban Nutrition Initiative to food-insecure students on campus. When it became clear that students would not be on campus in the fall, PFWC adjusted, reaching out to organizations with a presence in West Philadelphia, including Food Not Bombs and Bunny Hop, working with the Philadelphia Orchard Project to distribute the harvest to community members in need.
"What the pandemic has allowed us to do is give back not only to our immediate Penn community but also to the surrounding Philadelphia community," says Pinto-Martin, who is also a professor in the School of Nursing. "At a time when we want to be helpful and supportive, I am grateful that we were able to get the farm up and running and to donate the harvest to those who need it."
The pandemic also meant it took a little longer to reap that first harvest, because restrictions prevented on-campus work for much of the spring and summer. But by August, fall crops—lettuce, collards, kale, radishes, cabbage, and more—were in and ready for picking by late September. At a recent workday, co-led by the Philadelphia Orchard Project, the PFWC team and volunteers tidied beds, dug new ones, and picked more than 50 pounds of fruit and vegetables from the farm and orchard.
Engagement online and off
In addition to the labor on the ground, August and September were busy months of programming for PFWC. In late August, 55 first-year students attended an online session led by Bhide about the farm, PFWC, and food justice during the all-virtual New Students Orientation.
"To me that really showed how big the student interest is in the farm," she says. "People are motivated and want this and need this. We're hoping to pick motivation up when students return to campus to engage them."
In September, PFWC hosted virtual workshops on pickling vegetables, gardening with food scraps, and applying for Supplemental Nutrition Assistance Program (SNAP) benefits. PFWC was also a co-sponsor of an activist hour held as part of Penn's Climate Week on food justice and sustainable agriculture. A few volunteer workdays, open to the Penn community, are planned for October, to help with garden tidying and later-season harvests.
The PFWC team has additional plans for the future, including a program in the works that would link food insecure patients at Penn Medicine hospitals to food from the farm.
"We're trying to figure out ways that we can support food insecure COVID patients," says Stacy Pundock, who is a student in the Master of Public Health program at the Perelman School of Medicine, in addition to being a PFWC intern. "We're hoping to deliver food bags to folks who have screened positive for food insecurity to help them while they're quarantining." Pundock is planning to implement the food delivery program as part of her capstone project this year.
When campus operations have regained more of a sense of normalcy, PFWC also plans to expand integration with academic courses, hosting class visits and supporting research projects. "We want to be a living laboratory where people can come experiment, with different growing practices, soil amendments, just learning in a hands-on way," Bhide says.
PFWC is also connecting with student groups, including the Greenfield Intercultural Center, other student cultural centers, and environmental clubs, to increase outreach and possibilities for exploring the intersections of food, culture, environmental stewardship, environmental justice, and sustainability.
"This was intended as a pilot project and was meant to start small to make sure it was manageable," says Cerwinka. "We are hoping in the future that we can expand upon the people we engage and serve."
The Collaborative's efforts, PFWC staff note, provide fertile ground for building community around something that unites us all: a need for healthy food.
"We hope the farm and the initiative as a whole continue to become great ways for the Penn community to interact with the larger Philadelphia community," Bhide adds. "Land and food are really great ways for people from all walks of life to interact and come together."
Learn more about the Penn Food and Wellness Collaborative on the Center for Public Health Initiative website, Facebook, Twitter (@FoodPenn), and Instagram (@PennFoodandWellness). Sign up to volunteer for a work shift (practicing social distancing and sanitizing practices) here.
Lila Bhide is coordinator of the Penn Food and Wellness Collaborative through Wellness at Penn.
Chloe Cerwinka is landscape planner in the Office of the University Architect in the Division of Facilities and Real Estate Services.
Jennifer Pinto-Martin is executive director of the Center for Public Health Initiatives, the Viola MacInnes/Independence Professor in the School of Nursing, Professor of Epidemiology in the Perelman School of Medicine, and director of the Pennsylvania Center for Autism and Developmental Disabilities Research and Epidemiology.
Stacy Pundock is an intern with the Penn Food and Wellness Collaborative and a student in the Master of Public Health program.
Homepage image: Keeping COVID safety measures in mind, the Penn Park Farm and Orchard welcomes volunteers to take part in workdays through the fall.