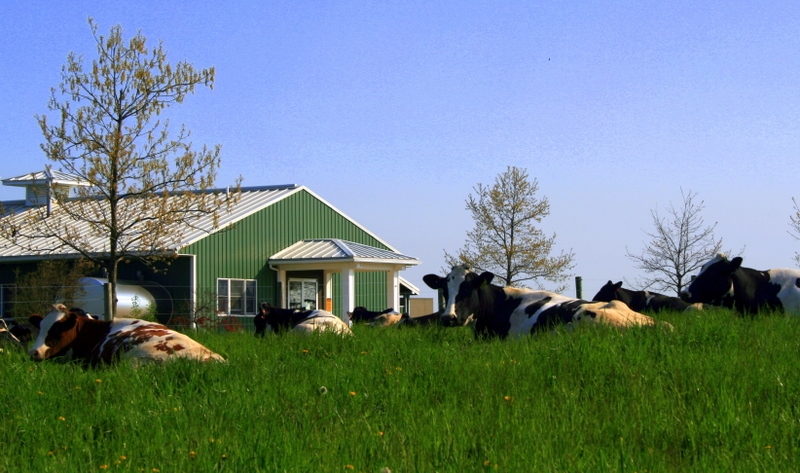 Caring for a cow with uterine prolapse is not a task that a veterinarian can accomplish alone. The physicality and teamwork it demands—one person to position the animal, another to supply tools and equipment, sometimes a third to assist—makes it nearly impossible to sustain the social distancing prescribed to reduce the risk of transmitting COVID-19. Yet for Billy Smith and his fellow veterinarians that make up the School of Veterinary Medicine's Field Service team, these kinds of encounters must continue, even amid a pandemic.
"I would say that right from the get-go we knew that, on the food animal side, we would have to continue to interact daily with our clients," says Smith. "It's our role not just to promote health and prevent disease, but also for the overall normal output of producing food, they rely heavily on our input and our work. We knew right away that we would have to continue to be a part of their business."
As human health care workers put their well-being at risk to care for people affected by COVID-19, veterinarians, too, have continued their efforts to ensure the animals they care for remain in good health. For large animal veterinarians at Penn Vet, in particular those who look after food animals like cattle and pigs, that work is an essential part of sustaining the food supply chain. Their caregiving is supported by other scientists at the School who perform vital diagnostics and monitoring to identify diseases and other disruptive impacts on animals around the state of Pennsylvania. And to put it all in context, others at Penn Vet are exploring how perceptions of the food supply are shifting in the new environment.
"This disease, COVID-19, which emerged from animals, underscores the importance of veterinary health in protecting not only animal health, but also human health and well-being," says Gary Althouse, Penn Vet associate dean of sustainable agricultural and veterinary practices. "We are part of a system that is essential to supporting the food supply chain. Even as we focus on human health care, we cannot disregard the importance of continuing activities and its supportive infrastructure that maintain a safe and secure food supply."
Food in a pandemic
As the coronavirus pandemic descended, consumers began noticing barren shelves at the grocery store. Anecdotally, animal products like eggs and meat are often among those staples hardest to find. More recently, outbreaks of COVID-19 at meat processing plants have introduced another element to stir up concern about how food availability may be influenced by the disease sweeping the globe.
As the real effects of the pandemic began to make themselves felt in the Philadelphia area in mid-March, Zhengxia Dou, a professor of agricultural systems at Penn Vet who has studied not only farm productivity but also food waste, began noticing people around her speaking about food differently as they prepared for the potential disruptions of the disease.
"I began thinking, how does this pandemic affect people's perceptions about food availability and food security in general?" she says. "In America we produce a lot of food and export a lot of food, and I would assume that most people never worried about whether there would be a food shortage. Would this situation affect that perception, I wondered?"
After getting positive feedback from colleagues, she contacted Margy Linden, the School's librarian, who suggested expanding this idea into an interdisciplinary project.
Now Dou's initial interest has been formalized into an open online survey, launched earlier this month, compiled in collaboration with Penn Vet colleagues Dave Galligan and Darko Stefanovski as well as Paul Rozin from the School of Arts & Sciences' Psychology Department, and Ariana Chao from the School of Nursing. The 10-minute survey inquires after participants' grocery shopping habits and experiences, food security, food use—whether they feel the pandemic has changed their consumption or wastage of food—as well as family dynamics around meals, such as whether the pandemic has led to more dining together. The survey also asks questions about the link between the pandemic and weight loss and gain.
Dou is eager to begin analyzing the data as it comes in, looking in particular at information about food use and perceived weak spots in the food supply chain.
"This is a stress test in real life for the food system," she says.
Early detection and prevention
Ensuring that farmers can continue their operations to provide food to the nation is a key part of maintaining the food supply chain. And while COVID-19 is the disease on everyone's minds, there are a plethora of other disease threats that scientists at Penn Vet and partnering institutions are keeping tabs on to ensure farm animals remain healthy.
The work of New Bolton Center's Pennsylvania Animal Diagnostic Laboratory System (PADLS), a three-part laboratory that also has locations at Penn State University and the Pennsylvania Department of Agriculture in Harrisburg, is continuing apace through the pandemic to ensure animal diseases are identified and handled in a timely fashion.
Even as other labs around the University ceased in-person operations, Lisa Murphy, who serves as director of PADLS-New Bolton Center, worked with colleagues to establish a rotating work schedule so that the 30 PADLS staff could continue their vital diagnostic and surveillance tests while adhering to PPE use and social distancing practices to their best ability.
"We have more than 30 full-time employees here in PADLS and every single one of them has been coming in every week," says Murphy. "They understand that what we do is so critical to our clients, critical to our animals and to the food system."
While the caseload of tests stemming from Penn Vet's two hospitals, Ryan and New Bolton Center, has slowed somewhat with services reduced, external test submissions have remained steady, looking at everything from the fall-out from a recent outbreak of highly pathogenic avian influenzas that affected turkeys in South Carolina, to surveillance testing for salmonella in eggs.
Murphy says that while many of the diagnostic tests rely on the same products used in COVID-19 diagnostics, so far there hasn't been a shortage of supplies.
"There's been all this talk about the economy and jobs in agriculture being under threat," Murphy says. "I really feel that the best thing is for us to keep doing what we do best. It's what we're trained to do and what we're here for."
To communicate some of the diagnoses that PADLS produces, as well as to share self-reported disease outbreaks, Penn Vet's New Bolton Center employs another tool to promote early detection and control. Under the direction of Meghann Pierdon, the Pennsylvania Regional Control Program for Swine Disease is one of the largest initiatives in the country intended to track and manage costly diseases that can severely impact pig farms. Developed to focus on porcine respiratory and reproductive syndrome (PRRS), the program now also tracked an outbreak of porcine epidemic diarrhea virus (PED) from 2013 to 2015. Using geographic information systems technology, Pierdon corresponds with swine as well as poultry farmers and veterinarians across the state to pinpoint where these diseases occur and help them understand when to take measures to prevent the spread of these infections. 
Pierdon, now working from home, has continued updating the system as the incidence of PRRS and PED enter a typical, seasonal period of decline. But she's also found herself assisting federal and state officials as well as farm operators in thinking about the possible ramifications of COVID-19.
"Most of the meetings I'm on, people are just worried about the continuity of being able to process animals through the food supply chain," she says, noting that farmers in her state are concerned that their workforce could suffer from the disease, or are concerned that an oversupply of animals could go to waste with schools and restaurants shut down and not receiving their normal supplies of meat. "I think a lot of things that our [regional control program] does in serving as a conduit for communication, is helping bring together the appropriate people to talk about how to keep things moving in the right direction and what things we should be thinking about doing next."
Healthy herds
While the main New Bolton Center hospital is closed to all but emergency and provider-to-provider telehealth consultations, the work of Penn Vet's Field Service pertaining to livestock hasn't been altered significantly by the restrictions on work due to the novel coronavirus. The biggest challenge was on the personnel side, trying to stagger schedules to adhere to social distancing to the extent possible.
"On the food animal side, we're continuing to work as normal," says Mike Kristula, section chief of the Field Service.
When it became clear that proactive measures needed to be implemented to protect the health of Penn Vet's own staff, Kristula worked with New Bolton Center Medical Director Barbara Dallap-Schaer to establish a staggered schedule for the Field Service staff. But soon the Field Service veterinarians themselves became de facto public health workers, advising farmers on how to reduce the risk that their own employees would become sick.
"Informally, we've been talking with farm workers about the obvious things like social distancing and washing your hands, but also about not going anywhere other than the grocery store, and not having friends over," says Kristula. "At one of our larger dairy client's facilities, I'm also going to be giving a talk about these guidelines in Spanish, since that's the first language for some of the employees, outside so everyone can be far apart."
The Field Service team has also made use of telehealth, led by Olivia Lorello, in ways that make it easy for referring veterinarians, clients, or herd managers to care for animals as best as they can, even conducting ultrasounds or obtaining radiographs to pass back to specialists at New Bolton Center.
"We're trained to go the animal and do as much as we can hands-on," says Lorello, "but there is a lot that you can do virtually, especially with the imaging. If you're getting the same, very high-quality images and still have the specialist on the other end giving expert guidance, that's a great way to provide care without exposing so many people to one another."
For food animals, the Field Service and Swine Outreach teams, among other specialists at Penn Vet, have utilized telehealth to intervene in problems of lameness, umbilical cord hernia or infections, respiratory disease, biosecurity and herd health assessments. "This is filling an important gap not only in getting the correct diagnoses for the animals to provide treatment going forward," says Smith, "but also, as an academic institution where we train students, for giving our residents the clinical caseload they need to gain experience and get credentialed."
Promoting resiliency
This focus on maintaining healthy, skilled practitioners as well as healthy herds traces all the way back to New Bolton Center itself. There, hospital operations are continuing for emergency cases. In addition, Althouse, whose own clinical work in Swine Outreach focuses on the reproductive side of swine production to ensure consistent breeding herd results from the start, has used his oversight at New Bolton Center to reallocate staff time to continue the operations of the campus's Marshak Dairy, the Swine Teaching and Research Center, and New Bolton Center's farm operations, with staff scheduling and other COVID-19 preventive practices to mitigate the risk of disrupting livestock operations in the event that someone gets sick.
"Our efforts start from the very beginning of the food supply chain, ensuring inputs are consistent and high quality, and go all the way to the farm, ensuring animals are being raised in a manner that promotes good welfare for them, and for those people who raise them," he says. "We're fortunate to have a very efficient and productive animal industry in the United States, and we're proud to play a part in helping it weather this challenge."
Gary Althouse is associate dean of sustainable agricultural and veterinary practices, professor of reproduction and swine health, and the Marion Dilley and David George Jones Endowed Chair in Animal Reproduction at the University of Pennsylvania School of Veterinary Medicine.
Zhengxia Dou is a professor of agricultural systems at the University of Pennsylvania School of Veterinary Medicine.
Mike Kristula is section chief and an associate professor in field service at the University of Pennsylvania School of Veterinary Medicine.
Olivia Lorello is an assistant professor of clinical equine field service at the University of Pennsylvania School of Veterinary Medicine.
Lisa Murphy is director of the Pennsylvania Animal Diagnostics Laboratory System at New Bolton Center and an associate professor of toxicology at the University of Pennsylvania School of Veterinary Medicine.
Meghann Pierdon is an assistant professor of clinical production medicine at the University of Pennsylvania School of Veterinary Medicine.
Billy Smith is an associate professor of Field Medicine at the University of Pennsylvania School of Veterinary Medicine.
Homepage image: Pandemic or no pandemic, livestock still require care--and sometimes medical attention. Clinicians and scientists at Penn Vet's New Bolton Center are continuing their essential work to provide scientific insight and veterinary care so the food supply chain remains intact.