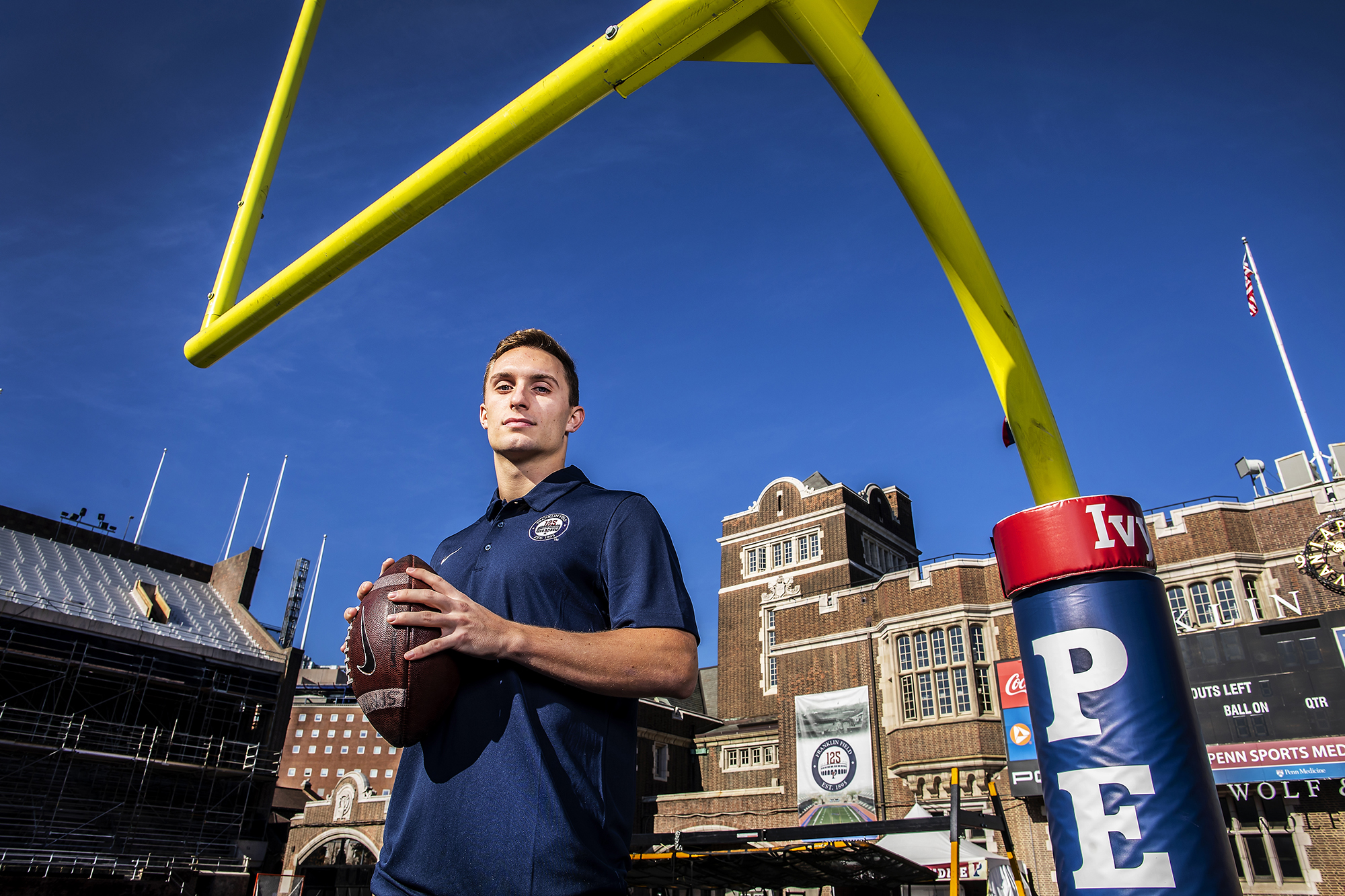 Pittsburgh's own Eddie Jenkins, a senior quarterback and team captain on the 3-2 sprint football team, has been a proficient and productive thrower and runner this season. He leads the Collegiate Sprint Football League in passing efficiency (159.8), total offense (224.4 yards per game), and touchdowns (11), and is third in passing yards (153.2 per game) and fifth in rushing (71.2 yards per game).
In the season opener against Army, he threw for 176 yards and ran for 126, with three rushing touchdowns. The following week against Cornell, he was nearly perfect under center, completing 11 of his 12 attempts for 221 yards and four touchdowns, and carrying the ball five times for 34 yards and three scores. Week 3 against Post, he was 8-11 for 136 yards and one touchdown, and rushed seven times for 72 yards and three TDs.
Jenkins, a Philosophy, Politics, and Economics major, modestly gives praise to his coaches and teammates for his impressive stats.
"Our offensive coordinator, Jerry McConnell, is a great quarterbacks coach," he says. "He really helps work the progressions and he draws up some great offensive plays for us. Really, at the end the of day, my job's not too hard when he's drawing up great plays and the receivers are able to make plays and get open, and make great catches for me."
Seated in the stands at Franklin Field, Penn Today spoke with Jenkins about his football origins, what he loves about the sport, maintaining weight, interning for the Steelers, and lessons learned from Coach Bill Wagner.
When did you start playing football? I started playing football in fifth grade.
Have you always been a quarterback? My first couple of weeks of practice, I was a running back, and then my good friend who was the quarterback got injured, and I stepped in and played quarterback in our first game. And I've been a quarterback ever since.
Just like Tom Brady. [Laughs] I guess so, yeah.
What do you enjoy about the sport? I just love the comradery, working with the team. I think everyone plays a different role to be successful. I think there are great chances for leadership, and teamwork, and working together. That's something that I think really makes football special from a lot of different sports.
Who's your favorite player? Right now, my favorite player is James Conner for the Steelers because I'm a huge Pitt football fan. It's really easy to root for a guy like James Conner who's overcome so much, and him being from Western Pennsylvania and playing at Pitt, now playing for the Steelers. It's really easy to get behind a guy like that. [Editor's note: Conner was diagnosed with Hodgkin's lymphoma while in college. He is now cancer-free.] 
It's tough losing Le'Veon Bell and Antonio Brown in the same offseason. Really tough. I actually worked for the Steelers during the summer after my sophomore year, in their communications department. I actually babysat Antonio Brown's kids one day at practice, which was crazy, to say the least. I was just helping out at Steelers minicamp and they needed a guy to be able to watch Antonio Brown's kids, who were running around the field during practice, so I followed them around and just hung out with them for the day.
Sprint football players must be under 178 pounds. How often do you get weighed? If we play a Friday game, we get weighed on Monday and we get weighed on Wednesday, and we have to weigh under 178 pounds or else you can't play.
Is it difficult to maintain weight? For me, it's not difficult. I've never really had to lose weight to be able to play. There are some guys on the team who hover around that 178 mark. Sometimes they're a little heavy so they'll have to do some extra running at practice or maybe eat a little less during the day in order to make weight.
What is your practice schedule? During the season, if it's a Friday game, we practice from 6:15 to 8:45 p.m., Monday through Thursday, and then we'll lift on Tuesdays. We'll lift Saturday mornings and we'll watch film Saturday mornings after the game as well. Then during the offseason, Monday, Wednesday, Friday, we'll lift for an hour each, and then we'll have one week of spring ball at some point throughout the spring.
I saw an interview you did with the Pittsburgh Post-Gazette where you said one of the biggest differences between sprint football and regular football is that in sprint football, anyone on the field can chase you down. Growing up, I was always one of the fastest players on the field. As a quarterback, I could scramble and get away from the line pretty easily, but now, playing sprint football, the defensive line is the same size as me so it's a little easier for them when they have that start off the line. They can chase me down, which was something I was never used to growing up.
What have you learned from playing under Coach Wagner? Coach Wagner is one of the best leaders I've ever been under, and one of the best men, in general, I've ever come in contact with. He cares so much about every player, every alum. He has dedicated so much time to this program. I've so grateful for him giving me the opportunity to come play here at Penn. It's really a testament to see all the alums who come back and support the program. Obviously, he's touched so many lives in incredible ways and I'm just fortunate to be one of those many lives he's touched.
Do you know what you are going to do when you graduate? I just got a job offer from Accenture to do consulting for them and I'm fairly certain I'm going to accept that, so it looks like that's what I'll be doing.