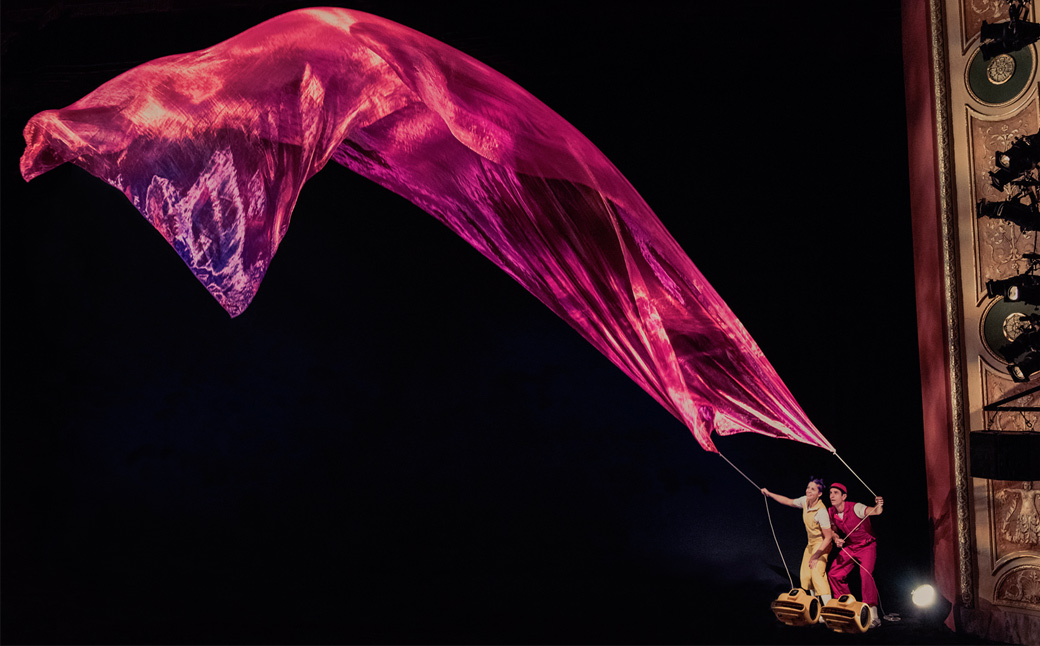 The semester might be winding down as May springs into high gear, but not without first seeing a burst of events around campus for art lovers, families, science geeks, and film buffs alike.
The Sachs Program for Arts Innovation launches its second year of grants with an announcement party at Penn's LGBT Center on May 2, rolling out the winning proposals and celebrating with food, drink, and performance. That's quickly followed up by the annual Philadelphia Children's Festival at the Annenberg Center for the Performing Arts, along with a series of snappy science-themed lectures at the Penn Museum. Mid-month sees a fitness course designed to educate participants about the urban ecosystem of the Schuylkill River, while the month rounds out with a fascinating history of 1930s B-movies at Lightbox Film Center.
Here, learn more about these May events around Penn and University City.
The Sachs Program for Arts Innovation, launched last spring with $123,000 of grants doled out to 23 winners, announces its second-ever round of grants—awarded this year to 26 innovative art projects proposed by students, faculty, and staff. 
While last year saw the awards announced in tandem with a performance from comedian and author John Waters, this year's event is intentionally more intimate. The grants will be announced at a party at the Penn LGBT Center's Carriage House. 
"[The Penn LGBT Center] is an amazing place; we did the first awards [at Annenberg] last year and we thought it would be nice to do it somewhere else and work with a different part of the community," says John McInerney, executive director of The Sachs Program. "This year, we wanted an environment where people could hang out and meet each other, so we think the Carriage House will be a really fun place."
At the party will be a performance by the West Philadelphia Orchestra, plus music by Air Devi and Chris + Ethan, curated by Penn Records. Food and drink will be enjoyed, and T-shirts and bags made by the Fine Arts Department will be distributed. 
It is, McInerney says, a celebration of not just the grants, but "the arts writ-large and, hopefully, a nice mashup of many communities."
Philadelphia Children's Festival (May 2-4)
The longest-running children's festival in the country returns for its 34th year at the Annenberg Center for the Performing Arts, presenting family-friendly theater with food trucks and activities in the theater's plaza. This year, the festival expands on Saturday, for the first time in many years, to 37th Street, where there will be additional food trucks across from Iron Gate Theater. 
The festival, Annenberg Executive Director Chris Gruits says, is "open to everybody—all families, kids, and people young at heart." 
The lineup of performances, of which there are 29 with six unique productions, kicks off with "Prince Charming," by Pennsylvania Ballet II, and "Shadow Play," a shadow-puppets performance by Trusty Sidekick Theater Company that follows the new move of a character named Flash, who discovers his shadow is also moving. 
There's also a workshop with Pilobolus entitled "Giraffes Can Dance," based off the children's book "Giraffes Can't Dance" by Giles Andreae, which teaches kids to dance in their own way, and "Moona Luna," who fuses retro American pop and Mexican folk. The duo Smirk, meanwhile, team up for juggling and unicycles.
The marquee attraction this year, though, is "Air Play," a dazzling and spectacular use of air to give motion to kites and giant balloons.
Dig science? Dig this: The Penn Museum has, timed with the Philadelphia Science Festival, organized a series of science-themed 15-minute "Daily Dig" lectures in its galleries. 
One such lecture is an analysis of a glazed ceramic coffin excavated by the Museum in the 1890s from Parthian-period Iraq. Marie Claude Boileau, an adjunct professor of classical studies and a laboratory coordinator at the Center for the Analysis of Archaeological Materials, led an examination and reconstruction of the coffin with a team of graduate and undergraduate students that informed them of the craftsmanship behind making the large ceramic artifact. The lecture is a reverse-engineering discussion of how the coffin was made. 
Other topics include the making of faience earthenware ceramics, the science of baking, and, in the Greece Gallery, the zooarchaeology of the mythic Nemean lion. 
Get ready for a riverside fitness course—for science. 
The Penn Program for Environmental Humanities (PPEH) and the Environmental Performance Agency host the Embodied Scientist Parkour, a physical and learning exercise that allows participants to develop a deeper relationship with the landscapes of the Schuylkill River and better understand urban plants. This is a course that encourages "interspecies communication," with participants racing through a series of station "scores" placed alongside the Grays Ferry Crescent Trail, with partakers finding themselves entangled with wild plants along the way. 
The Embodied Scientist Parkour was developed in 2018 as part of the Ecotopian Toolkit, a design competition put together by PPEH that challenged artists and scientists to develop tools for engaging contemporary ecological challenges.
The course is free and suitable for all ages. Organizers encourage participants to bring rain gear and walking shoes. 
At Lightbox Film Center, Will Schmenner of Cinema Studies explores "Poverty Row B-movies" from the 1930s, followed by a screening of "Damaged Lives," a 1933 film known for containing one of film's earliest nude scenes, a murder, and discussion of venereal disease.
The event is part of Lightbox's "Down and Dirty in Gower Gulch" series, a reference to independent filmmakers housed along Gower Street in Los Angeles, commonly known as "Gower Gulch." These filmmakers produced B-movies that ran in rural cinemas and third- and fourth-run movie houses in certain cities; these films were often low-budget compared to major Hollywood studios, but notable for their willingness to tackle controversial subjects and be creative with limited resources. 
In the talk, Schmenner will discuss what B-movies could do and the backstory of films shown as part of the "Gower Gulch" series. He'll also discuss the UCLA Film & Television Archive's restoration efforts.
Want to know more about what's happening around campus? Find out more through Penn Today's curated events calendar. Have an event you'd like to suggest for the calendar? Email Staff Writer Brandon Baker at bkbaker@upenn.edu.