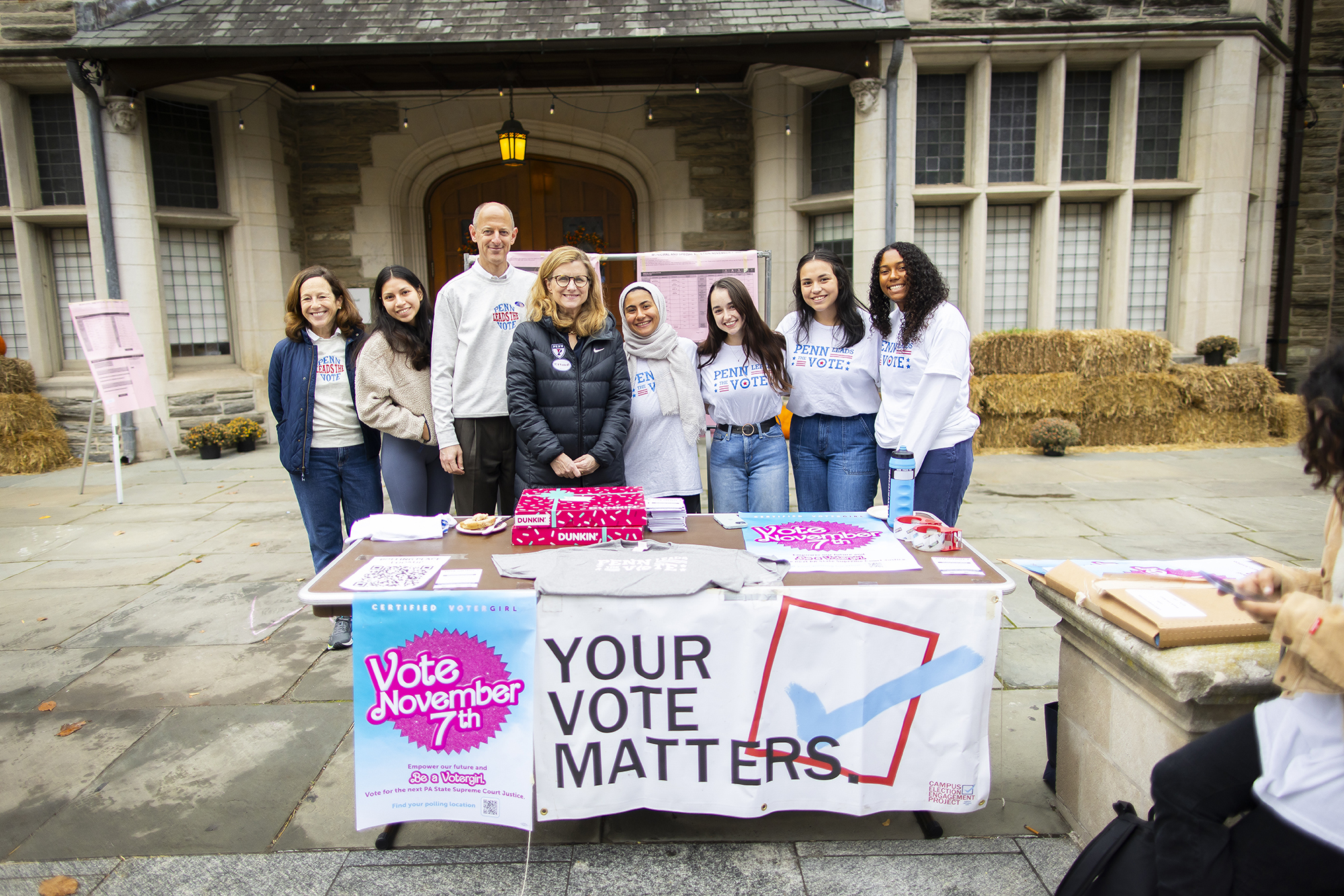 Coffee, donuts, free T-shirts, and a whole lot of ballots set the scene at Houston Hall for the 2023 municipal general election on Tuesday, Nov. 7.
 
The most high-profile item on the ballot this year is the election for Philadelphia's 100th mayor; current Mayor Jim Kenney is term-limited and will leave office in January. The election also includes all 17 City Council seats, city commissioners, sheriff, register of wills, and city controller. There is also a state Supreme Court race and a ballot question that poses to voters whether the Philadelphia Home Rule Charter should be amended to create an Office for People with Disabilities.
 
Penn Leads the Vote (PLTV) kept a presence at Houston Hall for the duration of voting hours to greet voters, including Penn President Liz Magill, and hand out T-shirts and refreshments. Alyssa Antonian, a third-year cognitive science and computer science major in the College of Arts & Sciences, and director of PLTV, says that while off-year elections can be tough for turnout, she's been surprised to see that, as of mid-afternoon, it nearly matched last year's midterm turnout.
 "People sometimes think their vote doesn't count, but even this year with races not publicized as much, they're super important," Antonian says. "This year, specifically, there's a Supreme Court seat open that last time was decided by less than 1 percent. It's important to emphasize things like that, especially to students who think that in certain places or with certain races their vote doesn't matter."
 
Antonian became interested in get-out-the-vote efforts while attending high school in Mississippi, where she says voting pushes are less common. This year, the team, which is overseen by the Netter Center for Community Partnerships and also collaborates with the Office of Government and Community Affairs, worked with various cultural groups and College Houses to get students thinking about voting earlier and in their own spaces. Antonian says the group is already thinking about next year, with plans to work with athletics groups and collaborate more with individual schools.