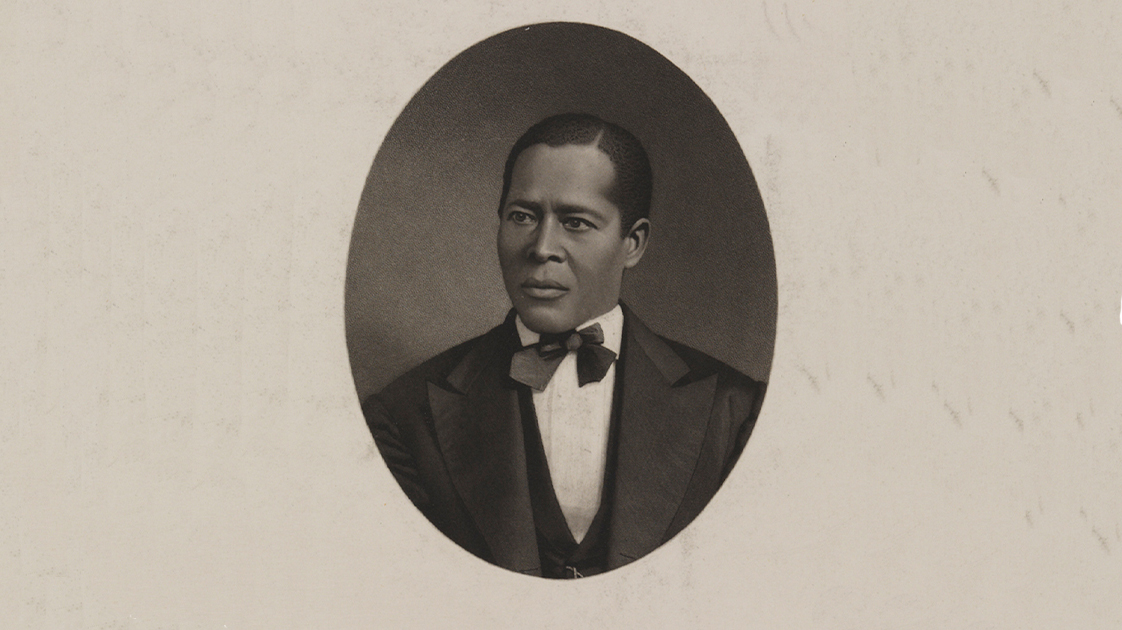 Oct. 7 marks the 200th birthday of William Still, the Black Philadelphia abolitionist who is documented as helping nearly 1,000 enslaved people liberate themselves. His obituary in The New York Times described him as "known throughout the country as the Father of the Underground Railroad," and his 1872 book by the same name is a meticulous and rare firsthand documentation of the stories of those he helped free.
So why isn't Still a household name like Harriet Tubman or Frederick Douglass?
"He is a really important figure, both nationally and for Philadelphia, and he's just completely forgotten in Philadelphia. There are no buildings named after him, no schools named after him, no streets, no statues," says J.M. Duffin, acting University archivist and self-described "Still fan." Duffin's diligent research led to his 2017 discovery of Still's home that was a station on the Underground Railroad while he worked for the Pennsylvania Anti-Slavery Society, saving it just before it was to be demolished.
"If you consider how many descendants are alive today in the United States or Canada because of William Still, it's amazing. He should be commemorated," Duffin says.
Duffin and English professor Zachary Lesser, a fellow Still fan, took it upon themselves to make sure the Father of the Underground Railroad was remembered on and around his birthday, and hope the push will bring greater recognition to Still's courageous life.
"My role has been mainly organizational and, well, being a noodge," says Lesser, the Edward W. Kane Professor of English and an expert on Shakespeare. "My own areas of research and teaching are far from this topic, but I got interested in Still because I happen to live around the corner from the house Still and his wife Letitia lived in when Harriet Tubman escaped to Philadelphia."
Their efforts will culminate on Oct. 7-8 with a virtual conference at the McNeil Center for Early American Studies titled "Black Lives and Freedom Journeys: The Legacies of the Still Family of Philadelphia." It's co-sponsored by the Kislak Center for Special Collections and the Workshop in the History of Material Texts, and features scholars from around the region, including Penn historians Mia Bay and Kathleen Brown. A highlight will be comments from Still descendent Winifred Still, who'll speak about the Still family reunion that's been happening for more than 120 years, says Emma Hart, director of the McNeil Center. Other descendants will also be in attendance.
Bay's research focuses on African American intellectual, cultural, and social history, among other topics, and she says her keynote will highlight Still's involvement with protests against segregation on Philadelphia's streetcars during the Civil War. The topic dovetails with her newest book, "Traveling Black: A Story of Race and Resistance," which was published in March.
"I want to get at why the whole fight over streetcars underscores something that is true when you study black abolition more generally: that civil rights and anti-slavery go hand-in-hand," she says. "Even while Still is working on the Underground Railroad he's concerned about making sure that Blacks can sit on the streetcars, and he's concerned about protecting civil rights."
Bay says as she became more familiar with Still's biography, she was struck by how recently removed he was from slavery: His father bought his own freedom, his mother escaped, and his brother remained enslaved, with Still only discovering him late in life.
"But both his parents had to free themselves from slavery, and he had many relatives who were still in bondage. As a member of the first generation of free born blacks, he was deeply committed to securing freedom for those in slavery and to family reunification," she says. "I was struck by how very personal this work was for him, and also by how much of it he did, facilitating the rescue of almost 1,000 people."
But honoring Still doesn't stop or start at the conference. Lesser got the ball rolling earlier this year with the creation of a website that functions as a clearinghouse of events occurring around the city during Still's 200th year, and which also worked as "a little prompt to other institutions around town to celebrate Still," Lesser says.
The site also hosts a "story map" which highlights locations around Philadelphia associated with Still, along with expert commentary by history Ph.D. student VanJessica Gladney.
Gladney's work with the Penn & Slavery Project, where she was on the original undergraduate research team, helped develop her expertise at putting together digital exhibits, she says. When the opportunity to work on the map arose, she'd been working on a research paper about Jane Johnson, who Still assisted when she sought freedom while in Philadelphia in a case that gained national notoriety, so the project fit nicely within her own research.
Her role has been to identify key spots in Philadelphia and weave them together in stories that each tell one aspect of Still's life, like his early focus on literacy and self-improvement.
Gladney says it's "high time" Still got more recognition.
"This has been a crazy couple of years for the fight against white supremacy and for justice," she says. "It's important to remind people that before there were what we think of as civil rights activists, there were people even further back also fighting for rights."
One thing that has jumped out at Gladney as she worked on the project is that Still took his work home with him.
"His activism didn't stop at 5 p.m., because his house was a spot on the Underground Railroad," she says. "It really speaks to how some people made their whole lives about fighting injustice. It's very hard to do that; not everyone can be asked to do that, and the people who did should definitely be honored."
Plus, it's great to have someone of Still's stature represent Philadelphia.
"I'm not from Philadelphia but I'm the first to say that Philadelphia's history is the coolest and William Still makes Philly even cooler," she says.
Conference organizers Emma Hart and Laura Spero say they started planning the two-day event at the end of last summer, when the murder of George Floyd and the summer of racial justice protests were still fresh in everyone's mind.
"It's a good time to be highlighting the depth and the longevity of activism amongst African Americans against the enslaved status and against efforts to discriminate against people of color in the in the United States," Hart says.
They envisioned it not only as a conference that could focus on William Still and his wife Letitia, but also one that was relevant to the present day, Spero says.
"You'll see connections to refugees and freedom journeys in the present day as well," she says.
Still's birth year got off to a quick start on Feb. 3, when Duffin discussed his research that led to the discovery of Still's home during the Spring Workshop in the History of Material Texts.
Other upcoming events around the city include a panel discussion about Still on his birthday at the Library Company of Philadelphia.
A related event will be the Rosenbach Lectures, the country's premier bibliographical lecture series, which will be given on Oct. 25, 26, and 28 by Michael Suarez, who runs Virginia's Rare Book School, on the topic of "Printing Abolition." The Rosenbach Lectures are arranged by the Kislak Center.
It's not just academics looking to honor Still. Mural Arts Philadelphia has been in discussions about installing a mural to highlight the importance of Still.
Still's 200th birthday is the perfect time to revive his memory, Duffin says.
"Looking at figures like Still inspire us today because he shows us how when things seem bad, there are ways to fight against the system and work towards a better and common good," he says. "It's about the idea of doing what is right in the face of what may be seen as insurmountable odds, even at great personal risk. He's an inspiring example of that."