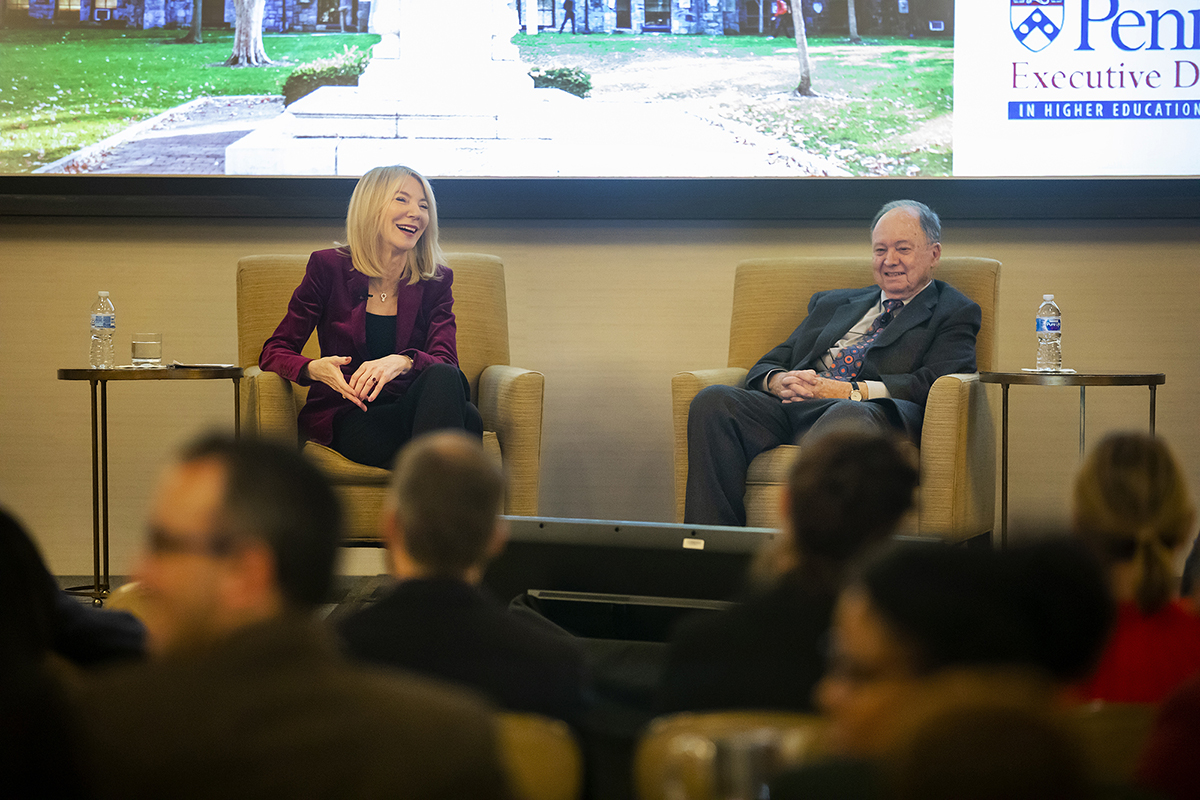 Gazing out at a crowd of Graduate School of Education alumni at the Inn at Penn Thursday afternoon, Robert Zemsky could recognize just about every person in the room. In fact, he had taught the majority of them—all part of the Executive Doctorate in Higher Education Management program.
Zemsky, a renowned educational researcher and author, and a professor at the University for more than five decades, helped envision the fast-paced, intensive two-year doctorate program, catered specifically for senior working professionals. Today, after nearly 20 years, the program's alumni have game-changing careers, including deanships at universities to policy advisees for the U.S. Congress. More than 45 alumni of the program have gone on to become college presidents.
"I know all of you, I really do," said Zemsky to his former students, while participating in a "fireside chat" with Penn's own President Amy Gutmann. "A lot of you are at institutions that are looking at uncertain futures. Not grim futures, but uncertain."
Gutmann, who has served as Penn's leader since 2004, has been published widely on the value of education and deliberation in democracy, relating closely to the conversation she had with Zemsky on breaking boundaries to ensure a stronger future for higher education. Their talk—introduced by Penn GSE Dean Pam Grossman—was part of the 15th annual Higher Education Leadership Conference, which each year boasts a mixture of executive Ed.D. alumni-run panels, keynote speakers, and faculty presentations.
Zemsky began the conversation by asking Gutmann a pretty broad question about her work, and her role: "Are you having a good time?"
"The fact is, I love my job," said Gutmann. "It's not a job, it's a calling, and it's a calling that gets me up every morning. If I didn't love it, frankly I couldn't do it."
Zemsky pressed, still, asking if it's a more stressful time in higher education than before.
"Higher education is under assault, there's no doubt about it," Gutmann said. "However higher education … has never been more diverse in the history of the world. We're educating women and minorities who before never had an opportunity to do that. And we need to appreciate that. It is worth the stress. Stress has to be calibrated against what our mission is."
One topic both Gutmann and Zemsky kept coming back to was that of meaningful conversation. If higher education administrators, faculty and staff, and students aren't making the time for discussions together to work on solving tough issues—to innovate for change—there is little chance at success.
"People have a right to exist, institutions don't," said Gutmann. "So, if institutions cannot conduct conversations … then we shouldn't cry if they start going downhill. Institutions that do have conversations, we have to get to the point of having inspiring priorities."
Gutmann touched on her Penn Compact of inclusion, innovation, and impact, noting how important it is for programs and initiatives to have a focus—something that is "really, really easy not to do." It means making, sometimes, hard decisions, Gutmann said, perhaps even cutting certain ideas out.
Zemsky noted an example of a college in the Midwest that he was helping advise. It had gone from having 1,500 students to about 950, but was offering a strikingly high number of 65-plus separate majors for students—with the majority of students only enrolled in four of the programs offered. 
In unpacking the problem, Zemsky realized the college administrators believed if they added more majors, more students would come. 
"They added and added and never subtracted," he said. "That would require change. We have to understand who we are and who we want to become." 
"[Universities] are really good at adding and terrible at subtracting," added Gutmann. "When you're terrible at subtracting and you have limited resources … you run out of money."
Gutmann and Zemsky joked, admitting they were chatting in "heated agreement," at times throughout their conversation, as well as in "heated disagreement" at others—completely expected from two leaders so passionate about and experienced in their field. In just one hour, they touched on college affordability and "free" community college, how to prepare for higher education leadership roles, the importance of having dialogues across divide, and much, much more.
Matthew Antonio Bosch, dean of student inclusive excellence at Elon University, where he also serves as an assistant professor of higher education, said he was appreciative of the open conversation between Gutmann and Zemsky. 
"It was a great example of how higher education is a marketplace of ideas," he said. "They modeled how to have those difficult conversations in a way that's respectful."
While in the Penn GSE executive Ed.D. program, which he completed this past year, Bosch commuted from North Carolina to Philadelphia 22 times, never missing a beat of his Thursday, Friday, and Saturday classes. At the time, he was serving as director of Elon's Gender & LGBTQIA Center.
"My style is I tend to work better in concentrated bursts," he said, with a laugh. "When I heard this was more of an accelerated program for two years, how intense it would be, I kept reminding myself that it'd be 'short-term pain for long-term gain.' The idea of being able to do it at the University of Pennsylvania and Penn GSE was incredible—it is one of the top schools for education. And then there was the cohort model which kept us on track with our dissertation. It all just sounded so attractive to me."
A genuine example of how the executive doctorate thrives, Bosch agreed how his classes—and everything he takes from the annual conference—has been able to immediately be applied to his work.
Following the daytime events, executive Ed.D. alumni, undoubtedly attached to the folks from their respective cohorts, gathered at the 2020 Zemsky Medal Gala and Awards Dinner at the Annenberg Center for the Performing Arts. The room was full of people catching up, reminiscing about their professors, courses, and time in the program. Members of the executive doctorate's third cohort, for instance, recalled their weekend classes at the Inn at Penn, lasting hours upon hours. Certainly challenging, they also remembered enjoying dinner and drinks together after a hard day, forming strong friendships that have lasted more than a decade. They'd finish each other's sentences and erupt in laughter—their joy to reunite at the conference was palpable. 
This year, the Zemsky medal—earned by the "who's who of outstanding and innovative leaders in higher education," said Grossman—was awarded to Penn's own Gutmann. "Under her leadership, Penn has moved from excellence to eminence," Grossman said. The Distinguished Alumni Award recipient was Jenny Rickard, who graduated from the executive doctorate program in 2007 and now leads The Common Application, an inspiring nonprofit committed to the pursuit of access, equity, and integrity in the college admission process.
In accepting the Zemsky Medal, Gutmann told the attendees: "Unorthodox ideas often inspire people to look at us and say, 'That's impossible.'" But, indeed, everything that is innovative was once thought to be impossible. Gutmann noted how it was thought "impossible" for her and her team to recruit and appoint faculty across more than one school, or go all-grant in financial aid with a comparatively small endowment per student. From tripling the first-generation students and doubling the low-income students at Penn, to increasing underrepresented faculty members at five times the rate of expanding the size of faculty, there's always been doubt.
"The next time you embark on an unorthodox educational endeavor that folks call worthy but 'impossible,' take it as high praise," Gutmann said. "Find a way to collaborate with a diverse team to make it happen. 
"Chances are that you'll be on to something big, something innovative, something that may well be the next big thing to happen in higher education," Gutmann continued. "To open the doors of knowledge even wider for more people. That's our mutual calling."