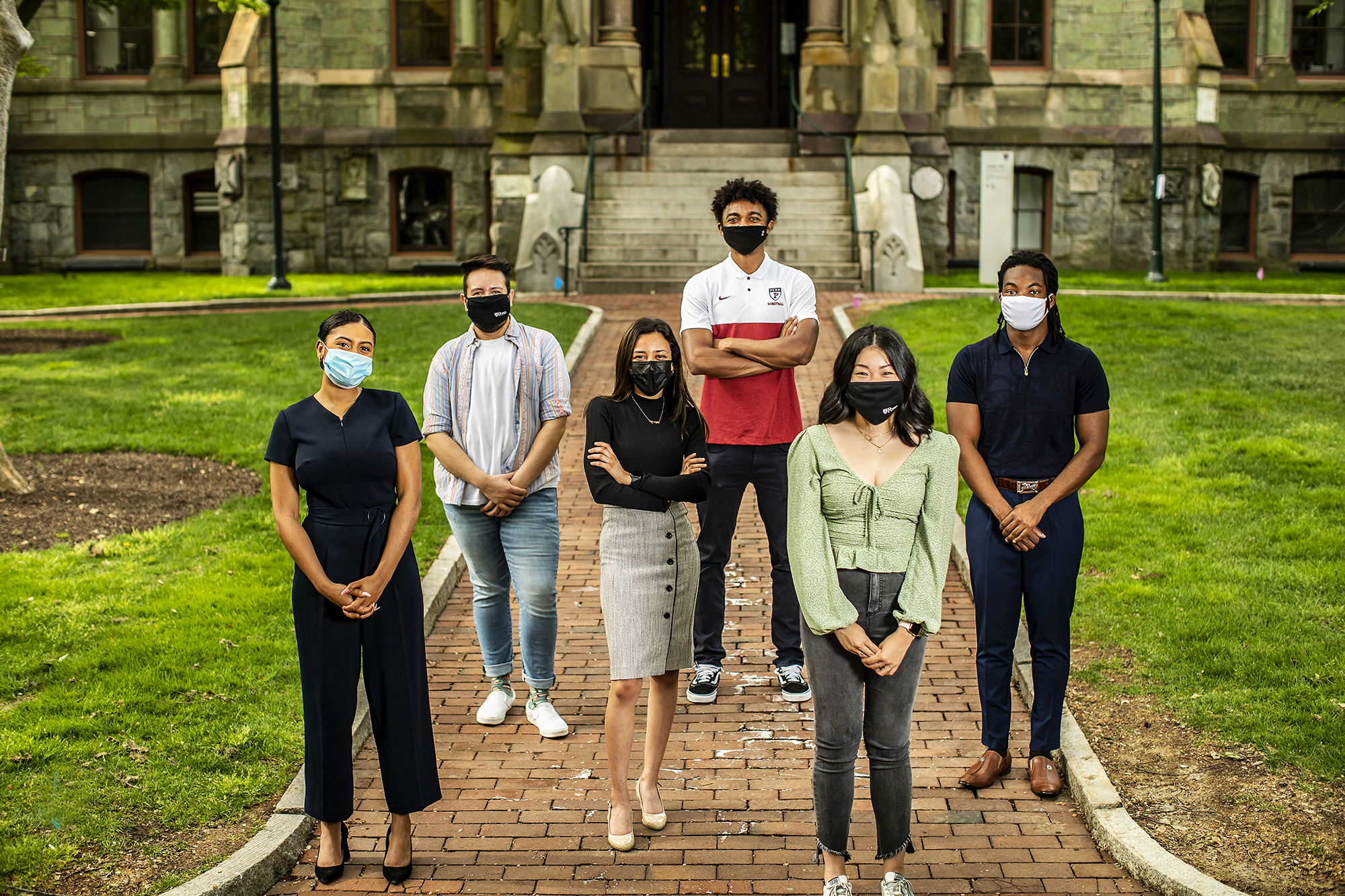 The inaugural class of eight undergraduate fellows in Penn's Office of Social Equity & Community are already making progress, working with those who are homeless and food insecure and using their leadership and research to address inequities in Philadelphia neighborhoods. 
"We want to create a space for students to explore how their passions intersect with needs in the community," says Scott Filkin, co-director of the office with Nicole Maloy.
In an hour-long videoconference discussion with the fellows earlier this semester, President Amy Gutmann told the students that Penn is dedicated to understanding problems not for their own sake but for the sake of solving them. 
"The historic Black Lives Matter protests and the pandemic with its disproportionate toll that has been taken on Black and brown communities converged in a clarion call: Even greater Penn action is required in pursuit of inclusion, equity, and justice," Gutmann said. "This is the moment for creating your positions." 
Gutmann named University Chaplain Charles "Chaz" Howard vice president of the new Office of Social Equity & Community in June with several goals, including the creation of the undergraduate fellows program, as well as the Projects for Progress prize to provide as much as $100,000 for projects by students, faculty, and staff to promote equity and inclusion in Philadelphia. 
Initially looking for four to six undergraduate fellows, Howard reached out to faculty throughout the University asking them to suggest students apply. In the end, the team hired eight students for the paid positions, says Filkin, who started in his role in September and leads the fellows program. 
"I'm particularly passionate about helping students come up with real, meaningful work, to think about how their academic interests can impact the larger community," he says. 
Filkin advised the students to first conduct an "internal audit" in the Penn community to find common threads in their work among the schools and centers, including efforts to address homelessness, food insecurity, criminal justice, social justice, health disparities, and Penn's historical impact on surrounding neighborhoods. "Our office wants to bring collaborative efforts to the projects," he says. 
Michael Hagan, a junior from Carroll, Ohio, is studying neuroscience in the College of Arts and Sciences with the hope of pursuing a medical degree. He had already been serving those who experience homelessness at three locations in West Philadelphia through the Penn student club, Shelter Health Outreach Program (SHOP), when he applied for the fellowship.
"He's found specific ways to align his passion and interest with the needs of the homeless community to effect real change," Filkin says. 
Hagan serves as the SHOP outreach coordinator, responsible for communicating with the shelters, finding ways to match Penn student volunteers with the most pressing needs. The fellowship, he says, is an opportunity for him to expand that work. 
"I wanted to make the greatest impact possible, within the limitations of being an undergraduate," Hagan says. "I hope one day helping the homeless community will be a University-wide agenda."
It was through Filkin that Hagan discovered that Sayre Health Center was seeking partners for its mobile COVID-19 vaccine clinic, and he made the connection with the shelters. As a result of Hagan's efforts, 70 people have been vaccinated at two homeless shelters, and he is working to schedule regular visits by the mobile clinic. 
"The biggest thing with this type of work is there really is no guarantee that what you are doing will result in something," he says. "I'm thankful that something important came from this."
Now Hagan is combining efforts with another undergraduate fellow, Lynn Larabi, a freshman studying international relations and urban students in the College. A Philadelphia native and a first-generation college student, she is working to create a partnership with a West Philadelphia nonprofit to install a Penn-hosted refrigerator at 40th and Market streets. She is planning to recruit students to maintain the fridge, track inventory, and keep it properly stocked.
"She hopes each community fridge will have a 'P' magnet so people will know Penn is trying to address food deserts," Filkin says. 
At Central High School, Larabi founded a chapter of the teen volunteer group Spark the Wave to make peanut butter and jelly sandwiches for homeless shelters, which led her to research food deserts and social determinants of health based on ZIP codes. 
"Being from Philly, it's my duty to use any privilege and power that I have as a Penn student, no matter how small, to alleviate someone's discomfort," says Larabi. 
The fellows program, Larabi says, has kept her motivated and improved the virtual college experience. "It provides purpose and efforts to work together and be around people with similar values and ambitions with their plans," she says. "I want to be part of a community to provide sustainable efforts on campus."
A guard on the Penn men's basketball team, Lucas Monroe, a sophomore from Abington, Pennsylvania, is studying political science and Africana studies in the College. Monroe helped create "Sport + Society Week" a week-long event in early April that coincided with National Student Athlete Day. The planning committee recruited other Penn athletes and alumni to participate in three virtual panels on ways athletes can shape culture around justice issues. 
This year the events were virtual and on social media, but he is planning to make the week an annual event with in-person activities in future years. "Lucas is using his passion and giftedness for sport to explore opportunities that will benefit the larger community," says Filkin.
All but the one graduating senior fellow have chosen to continue in the fellowships during the fall semester, and several, including Monroe, will also work during the summer.  While on campus training for basketball, he plans to address reinstalling basketball rims on public courts, removed during the pandemic. 
"We want students to learn to ask the right questions, see a need, and work to meet that need. We want it to develop into a community where students are supportive of one another," Filkin says, emphasizing the projects are being designed to be sustainable. "We see them passing the baton to others who will continue the long run to substantive change." 
Gutmann told the fellows that if they can't find a path to greater social equity and impact she anticipates they will be innovative and make that path. "Make no mistake, you are on the front lines of Penn's commitment to continuing to do more, to do everything we can," Gutmann said. "I'm happy for your ideas, your help, your teamwork, and also for the good that you will gain in your own lives thanks to our mutual mission."