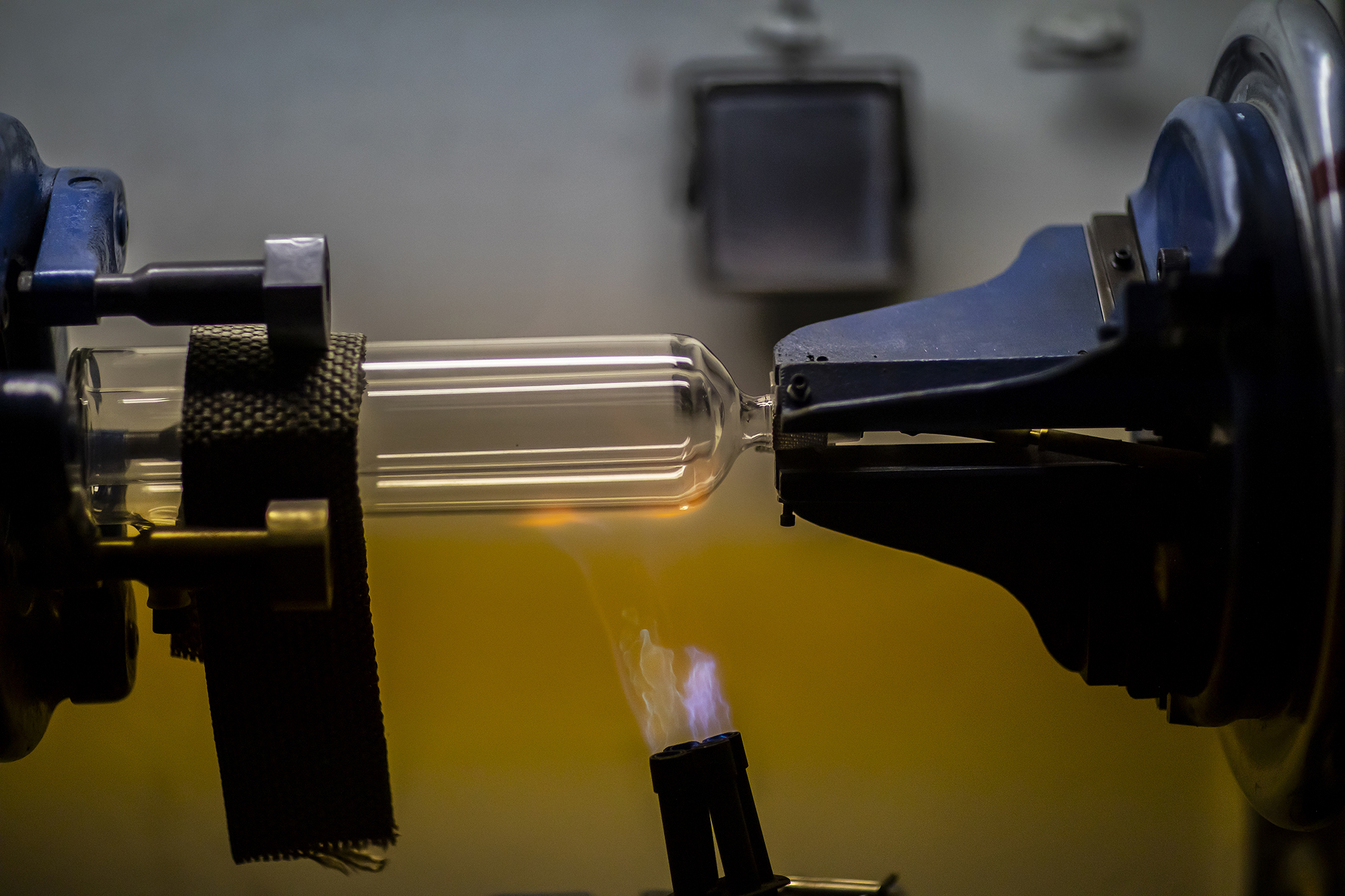 In the basement of the Chemistry 1973 building, past a hallway lined with blue lab coats and shelves of strangely shaped glass flasks and tubes, the seemingly disparate fields of scientific research and artistic creativity are forged together. 
As the facility manager of Penn's glass shop, Karen Carraro works as a research scientific glassblower and is responsible for maintaining, repairing, and creating custom scientific glassware for students, researchers, and faculty across campus.
"Scientific glassblowing is a unique field," says Carraro. "The [first] people that became scientific glassblowers were actually the chemists: They used glassware in their labs, and they created apparatuses for their research."
Carraro was first attracted to scientific glassblowing as a career thanks to family members who were involved in the trade. She began her career as an apprentice for her stepfather Tom Cachaza, the glassblower at Drexel, before taking over the glass shop facility at Penn, where she's been for the past 25 years.
Nowadays, people can buy glassware from a catalog, but as researchers look for creative approaches to scientific problems, there is often a need to create custom, one-of-a-kind apparatuses. "Glass is cheap compared to the analyses that are done, like the million dollar machines that measure the chemicals, but glassware is such an integral part of the work that they do to isolate those chemicals," she explains. "What the shop is able to do is to help researchers recycle, reuse, and repair the materials that are the crux of their work."
Carraro spends much of her day jumping back and forth between tasks: setting up a new piece on the lathe, putting finished work in the oven, ordering new glass components, and working with students who come to the studio with broken pieces or custom requests during her drop-in hours. Part of the day involves "diagnosis": identifying parts of an apparatus that needs to be replaced and figuring out whether or not it can be repaired. Glassware in need of repair is then cleaned and annealed before the broken area can be cut out and new glass welded in.
While most of her glassblowing work is focused and quiet, Carraro greatly enjoys the opportunities she has to interact with the students and faculty who come to the shop, where she tries to draw on their innate ability to think outside the box. "They tend to articulate what they want, and I have to transition them from that articulation to a drawing," Carraro explains. "What's different about research scientific glassblowing is that we need to have specifications of what apparatus they are looking to get made."
Members of the lab of Karen Goldberg know first-hand how Carraro and the glass shop helps make their research possible. Their group is working on "green" chemical transformations by finding ways to make and break bonds in ways that are more energy-efficient and environmentally friendly. But many of the chemicals they are working with can't be exposed to oxygen or water, so their experiments must be conducted either in a vacuum or under purified inert gases like nitrogen or argon.
Goldberg's students rely on specialized glassware known as Schlenk lines as an integral part of their research. The lab has twelve Schlenk lines that the group uses every day, and if a line becomes broken or damaged, it could mean a month's worth of work lost from having to disassemble, pack, and ship the lines off for repair. But with Carraro available to make speedy repairs on site, the time lost is less than a week. "This is a great resource that a lot of places don't have anymore," Goldberg says about the glass shop. "[Carraro] is critical to [our lab's] operation."
Carraro also helps researchers figure out what portions of broken glassware can be salvaged. "Any time any glassware is damaged, she's very approachable," says Drew Newman, a third year graduate student in the Goldberg lab. Newman goes down to the shop often to speak with Carraro about what can be repurposed if a store-bought piece isn't doing the job or how to save parts of large, expensive pieces when something becomes broken.
Back in the shop, Carraro stands at the helm of an imposing 55-year old Heathway lathe at the far end of the room. She places a round-bottom flask, a massive piece larger than a basketball, carefully between the two ends before turning on the flame. "This is how I normally work," she says, casually turning away from the lathe. "I let the piece sit and warm up while I do something else, like talking to students or working on another piece."
She returns to the flask, torch in hand, and begins to melt away the neck piece so she can add on a different sized connector. She pulls away the top of the flask in one smooth, clean motion. Because the research apparatuses must be more thermally resistant than artistic glassware, the borosilicate glass she works with require a much higher melting temperature—nearly 1500 °F.
A small number of students at Penn also have the opportunity to learn directly from Carraro about scientific glassblowing. She shares her expertise as part of a course that teaches them how to think about glass damage, how to look for stress, how to choose appropriate glassware, and how to stay safe while working with vacuum or high pressures. They then create an oil bubbler, a bulb that has a glass joint fused inside, for their final project.
Alex Phearman, a fourth year graduate student in the Goldberg lab, says taking the class helped him appreciate Carraro's work. "[The bubbler] is something that Karen could make in 15 minutes, and we spent a long amount of time and all of ours are crooked. It's nice to know what the glass shop is capable of and the skillset that is involved," he says.
Carraro enjoys teaching the course, but mentions that one of the challenges is coaxing the students through the process of being a beginner. Glassblowing is a repetitive, practiced skill that can only come with hours of practice and a few mistakes along the way.  
Carraro's years of experience, including 4,000 hours of training as an apprentice, are tapped into on a daily basis as she balances high-adrenaline moments with the repetitious nature of most of what she does. "There a period of time when the glass becomes liquid that everything is on. You need to be able to be monofocused at that point—distractions will actually affect your ability to stay with the piece," she says.
But far from being nervous while working with high heat and delicate materials, Carraro describes glassblowing as a sort of "meditative practice" that still requires sharp-minded focus. "You come into a zone where you basically let all the distractions go. I find it to be extremely meditative. But then, if the glass does not react in the way that you're anticipating, it's the ability to make the correction during the time of the repair."
Not every piece she works on goes perfectly: Shortly after adding a new neck onto the large round-bottom flask, the joint begins to crack. "Embrace the mistake and move on," she says before starting to fire the next piece of glassware. "Just like in the chemistry lab: The reaction doesn't go well, the repair doesn't go well. It's the ability to let that go so that you can get back into a productive mindset."
From embracing mistakes, a need to be curious, putting in hours of work, and having a "fire in the eyes," there's more than a few parallels between Carraro's work and the work done by the students and researchers she supports.
Carraro's shop is also a place where students can take a break from frustrations with their research to talk to Carraro. "Their ability to come down and have a moment outside the lab with me is really comforting, and I really enjoy being a big fan of theirs," she says.
Members of the Goldberg group agree, and they are enthusiastic about having Carraro as one of their colleagues. "Karen has been a very welcoming face, and she's always willing to help the students and help us make our research feasible and possible," says Phearman. "It's nice to be able to come here and talk to Karen, and she prioritizes high-need things, like a broken Schlenk line, so that we can get back as soon as possible."
With summer research projects in full force, Carraro says that this time of year is always busy for her, with lots of students around doing research (and breaking glass). But among the challenges of her specialized work of designing, envisioning, building, and fixing glassware and the fast-paced, ever-changing nature of her craft, she continues to love her work at the interface of art and science. Each apparatus she creates has its own individuality and impact brought to life through the creative process—much like the researchers, and the work they do, that she supports every day.