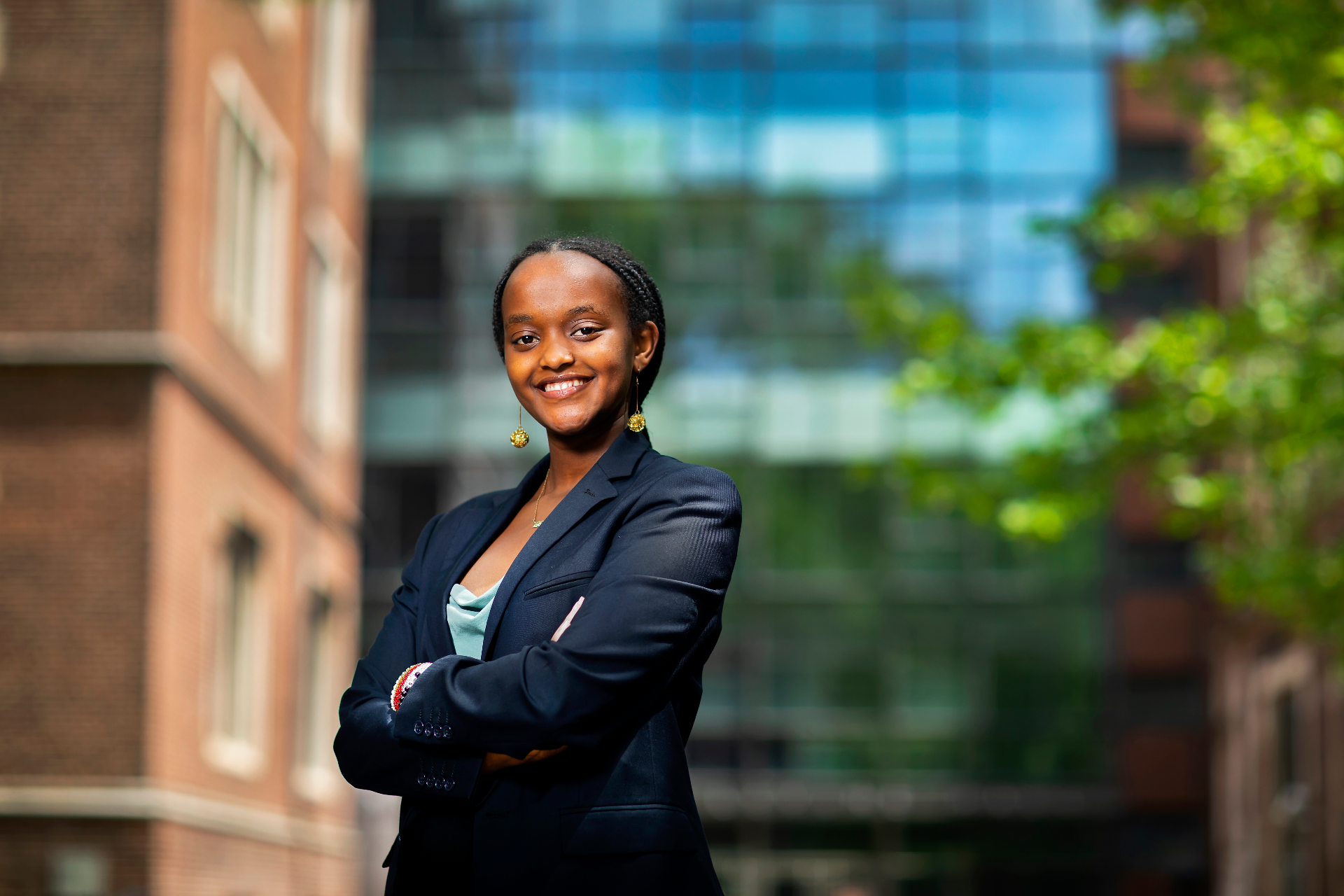 Reflecting on her time at Penn, senior Hyacinthe Uwizera admits that she does have one regret: not heading downtown after the Eagles won the Super Bowl. "I think it's the spirit of the people of Philadelphia," she says about the city she's called home for the past four years. "I love that energy and that spirit."
Now, as the senior from Kigali, Rwanda, graduates from the School of Engineering and Applied Science, she is ready to take the skills she's gained from her major in computer science and minor in Africana studies to the next stage of her career. She'll also carry forward a number of memorable experiences gained from "unending opportunities" available at Penn.  
Fostering an interest in engineering
Uwizera, who studied math, physics, and geography in high school, first became interested in engineering after working with Penn students on a solar-powered irrigation system in 2015. This project was part of the Rwanda Gashora program, a service learning initiative and collaborative program between her high school, the Gashora Girls Academy of Science and Technology, and Penn Engineering.
 
After initially enrolling into Penn's Electrical and Systems Engineering program, Uwizera later discovered a passion for computer science and decided to switch majors during her sophomore year. "When I got here and got the taste of different majors, I took CIS 110, intro to computer science, and I realized that was what I was more interested in," she says. "Math and critical thinking are few of the aspects of computer science that had me interested, and before you do a project you don't really have an idea of how to it. But as you start working on it, things start revealing themselves and you learn more as you work. Seeing the end product working is very rewarding."
While reflecting on her favorite computer science courses, Uwizera says that CIS 160 and CIS 121, taught by Rajiv Gandhi, were both memorable for her. "CIS 160 is one of the hardest intro CIS classes, but I think it's because of how he cared for every student that made me love the subject, stay focused, and do well," she says. "Having someone that I looked up to believe in me and push me towards seeing that I can do it, that I'm in the right place, helped me to know that I belonged in that field."
This past academic year, Uwizera was able to put all of her computer science skills to use as she completed her senior design project with a team of four students. Their app, Salon-IO, is designed to connect people who provide beauty services to new customers. "Some students on campus know how to do braids, eyelashes, or nails, and others need those services, so we wanted something that connects people who don't have physical salons but provide services to people who are interested in those services," she says. 
Expanded interests and extracurricular experiences
Outside of her computer science major, Uwizera also earned a minor in Africana studies. She initially took courses in this area because of her personal interest and says that completing a minor in this field has been "nice to balance out" her engineering coursework. 
Uwizera says that she's thoroughly enjoyed all of her six Africana studies courses, from learning more about history through the War and Peace in Africa class to understanding the connections between different African language families. This spring, she took Music of Africa and enjoyed learning more about the music and artists she listened to while growing up. "It's so interesting knowing where it comes from and how it influenced other places," she says. 
In terms of favorites from Africana studies, she says the Fall 2018 Penn Global Seminar Seeing, Hearing, and Encountering South Africa was a highlight. This course looked at post-apartheid South Africa through the lens of history, politics, environment, art, and culture, and Uwizera got to travel to South Africa with her classmates during winter break. "It's also the students in that class that made it an even better experience," she says. 
Currently, Uwizera is working as a teaching assistant (TA) for CIS 550, one of the courses in the Master of Computer and Information Technology  program. She says the experience rekindled her passion for teaching and tutoring and also helped her realize how much one can learn about a topic through teaching. "You get to learn more, to see people's different points of view, and there's the reward of knowing that you help someone," says Uwizera. 
In addition to her academic coursework and time spent as a TA, Uwizera was also a member of the New Spirit of Penn gospel choir, the Society for African Internationals at Penn, a Penn World Scholar, and a Benjamin Franklin Scholar. 
'People, Philadelphia, and unending opportunities'
Before leaving for San Diego to start a new job at Intuit, Uwizera hopes to reconnect with other international friends while they are all still on campus, adding that it's the people at Penn who have made these past four years memorable for her. 
Another big takeaway from her Penn experience was the opportunity to travel before the pandemic, from working in Australia and Argentina during her freshman year to visiting South Africa her sophomore year. "When I came to Penn it was my first time leaving my country, so in these past four years I realized how much I enjoy traveling and going to new places," she says. 
Uwizera says that coming to Penn and getting a scholarship to study here "completely turned my life 180" degrees from what she expected. And while there were certainly challenging parts of her University experience, there's one big positive that she will definitely take with her as she moves into the next stage of her career: "the people, Philadelphia, and the unending opportunities that I've gotten from Penn."