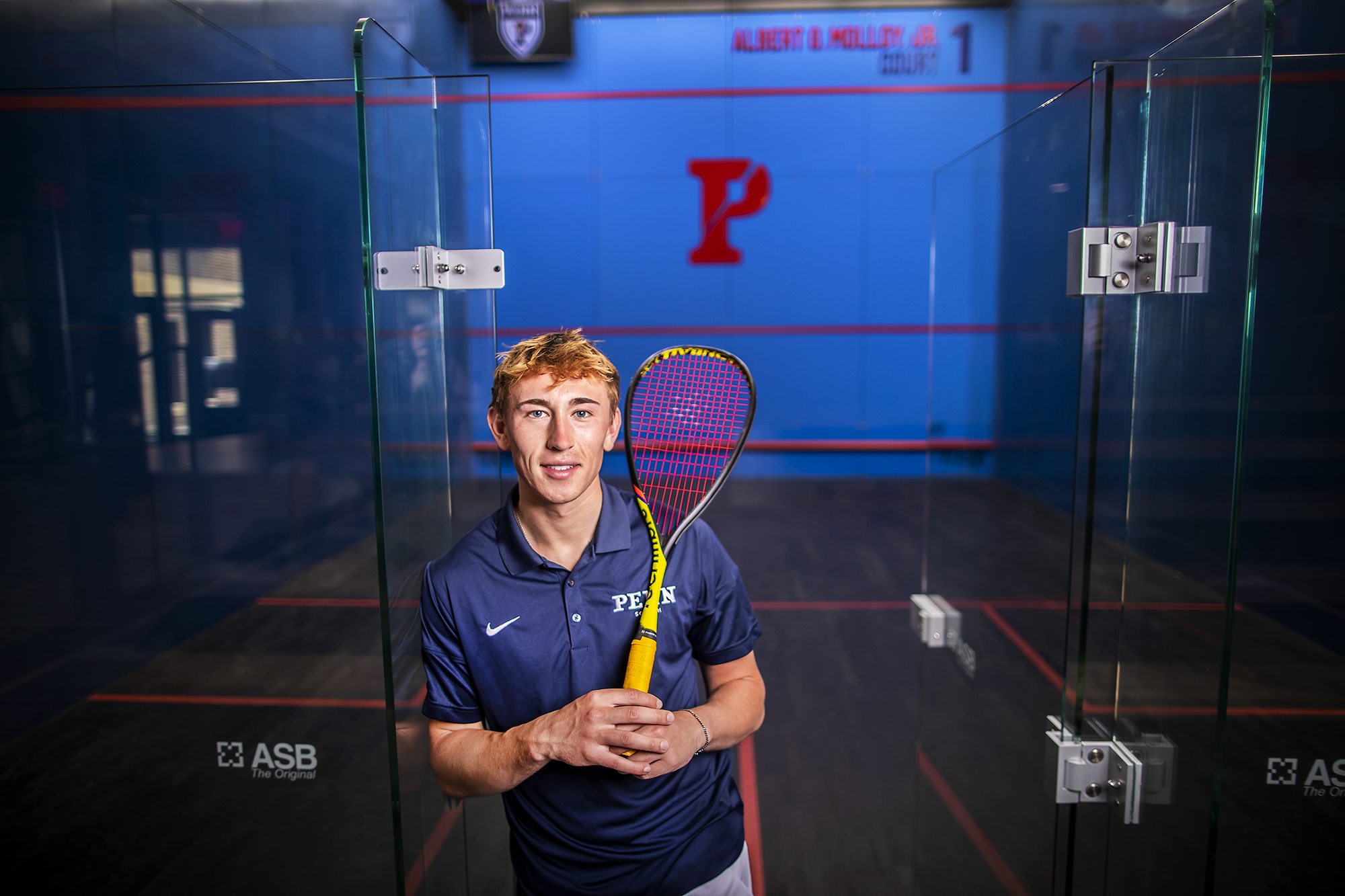 Gilly Lane, head coach of the men's squash team, knew Andrew Douglas was special since he was a freshman in high school.
A former professional squash player, Lane says his background enables him to spot specific players who have a supreme work ethic, determination, and will to improve and succeed—a trait in sports that is sometimes called "It." Douglas definitely had "It."
"You could just tell that he loved the game and he was passionate about improving," Lane says. "He wanted to be the best not only in the U.S., but the best in the world. That's a pretty special characteristic and not one that many people have."
As he and his staff were looking to build the program, they wanted to fashion it around players who aspired to be great, and who could come in and make an immediate impact and leave a legacy. Lane says Douglas struck the coaching staff as someone who could do just that. As luck would have it, Douglas, who had his pick of suitors, was equally intrigued by Penn.
The union has been a squash match made in heaven.
In each of his three years of play, Douglas, a senior on the men's squash team from Brooklyn, New York, has been named a First-Team All-American, making him the first three-time First-Team All-American in program history. (This past season was cancelled because of the coronavirus.)
During his freshman season in 2017-18, with Douglas playing in the No. 1 slot, the Quakers opened the season with an 8-1 record, their best start since 1985. In his sophomore campaign, the Red & Blue started the season 8-0, reached their first ever No. 1 ranking, and finished third in the Potter Cup—the college squash team national championships—the best finish in program history.
The Quakers were even more impressive during Douglas' junior season, when they finished second in the Potter Cup. Despite playing injured the entire season, Douglas was a unanimous First-Time All-Ivy selection and the Philadelphia Inquirer Academic Men's At-Large Co-Performer of the Year.
Penn Today chatted with Douglas, a political science major, about how the pain of losing ignited his squash career, what he enjoys about the sport, why he chose Penn, managing pressure, and his plans for next year.
You started playing squash at age 6, and focused on squash exclusively at age 13. How were you introduced to the sport? My dad grew up playing squash overseas in England and the Netherlands. It's a bigger sport there so he had some experience. He introduced me to the sport in [New York City]; there was a club close to my house. It was really convenient to go to the club and hit with him.
Why did you decide to focus on squash only at 13? Were you a pretty good player by that point? I actually wasn't a good player. I decided to focus on it because I wasn't as good as I wanted to be. I played a lot of other sports competitively, but I was the most upset when I lost in squash. It was the pain of losing that kind of pushed me to drop everything in my life and focus on squash.
When did you realize it was something you were good at? People always told me that I had potential and I had some skill, so that was always there. I don't know if I ever believed it, but when I was 15, I came in third at a pretty big international event. That was like my first good result. It made me think, 'OK, let's see where this can go, let's see where this can take me.'
You were recruited by a number of schools. Why did you choose Penn? It was definitely the people. It was Gilly, it was the team. I didn't actually do an overnight visit at Penn like I did at another school I was applying to. I didn't feel that I needed to spend any more time at Penn just because I knew a lot of the guys on the team at the time, I knew Gilly pretty well, having played for the U.S. and having been around him, and I just felt that it was going to be the best place for me to improve at squash and hopefully compete for a national title.
Did you feel a lot of pressure playing in the No. 1 slot as a freshman, or was it something you expected? I honestly didn't think about it too much. It was tough coming in as an 18-year-old, 19-year-old, playing against guys who were juniors and seniors, but I had a really good season. I definitely had high standards for myself. I expected a lot of myself and I expected to win every match. I think that's a good mentality to have, but I put a ton of pressure on myself and it ended up being difficult to manage that pressure. But I loved it. I loved having the support of those guys that were seniors at the time.
Have you gotten better at managing the pressure or putting less pressure on yourself over the years? I don't know. It hasn't really been until this year with COVID that I've seen how different it is taking a break. I think you get so caught up in the moment, you get so caught up in results, that I think when you take a step back, you are able to see that a lot of that stuff doesn't matter. You win an award and you wake up the next day and you're still the same person, so realizing that a lot of those external awards or rankings didn't actually change my life that much definitely helped. You go in thinking that winning and losing a match is going to make a mass difference in your life, but over the years I've realized it doesn't.
Can you talk about your junior year, when the team reached Potter Cup finals? That was actually a tough year for me. I hurt myself in October. I tore a tendon in my leg. It started out as a strain and ended as a tear in my quad tendon, so I was playing injured the whole season. I was really struggling and feeling a lot of pain, and just trying to push through that to make it through the season. But that last match made it all worth it. There were a lot of times when I thought about stopping for the year, and getting my tendon fixed, and being out for the next six months, but seeing that last day—especially the semifinals when we won, seeing everybody's faces and seeing all of my friends and the excitement that surrounded that match—made all of the pain that I went through personally just so worth it.
What kind of training is involved for squash? Squash is one of the weird sports where it's a mix of endurance, so you have to be aerobically fit, but you also have to be able to repeatedly lunge and constantly make these very difficult movements because the ball doesn't bounce that much so you have to be able to move in and out of tough positions. It's also a target sport so you have to hit the ball in the right place, and move around, and all these things. There are a lot of moving parts. We do a lot of on-court stuff, fitness drills, fitness exercises. I think one of the biggest additions to our training has been the addition of Coach [Jeremy] Weeks, who's our new strength and conditioning coach. He's been incredible over the past two years in finding ways to adapt his weight-room work to the squash court. I think we have one of the best, if not the best, strength and conditioning coach in college squash.
What do you enjoy about the sport? I love the physical side of it. I love being able to break down your opponent. There's nothing better than, after an hour-long match, realizing that you've broken your opponent physically, that you're fitter than they are and you've broken them down so much to the point that they can't continue any longer. I love that stuff. I love that you're both so close on the court and there's really no space, so you're battling for position. It's just very intense. There's no love lost on the court because there's so little space and you're both occupying the same space.
How it is playing in the new Penn Squash Center? Obviously, it's incredible. I've heard people comment on it that don't know what squash is, and that's really cool. I think we have one of the coolest facilities on campus. It's sad that we weren't able to host the national championship at Penn this year; I know we might be able to host it next year. It's going to be really cool to show people what it looks like. I think it's a really good poster for squash and it highlights the sport really well.
Am I correct that you are enrolling in the Fels Institute of Government next year and you have another year of eligibility? Yes, I'm enrolling in Fels for my master's next year and I'll get another year of playing. The team looks good and hopefully we'll be able to play on Sunday for a national championship.