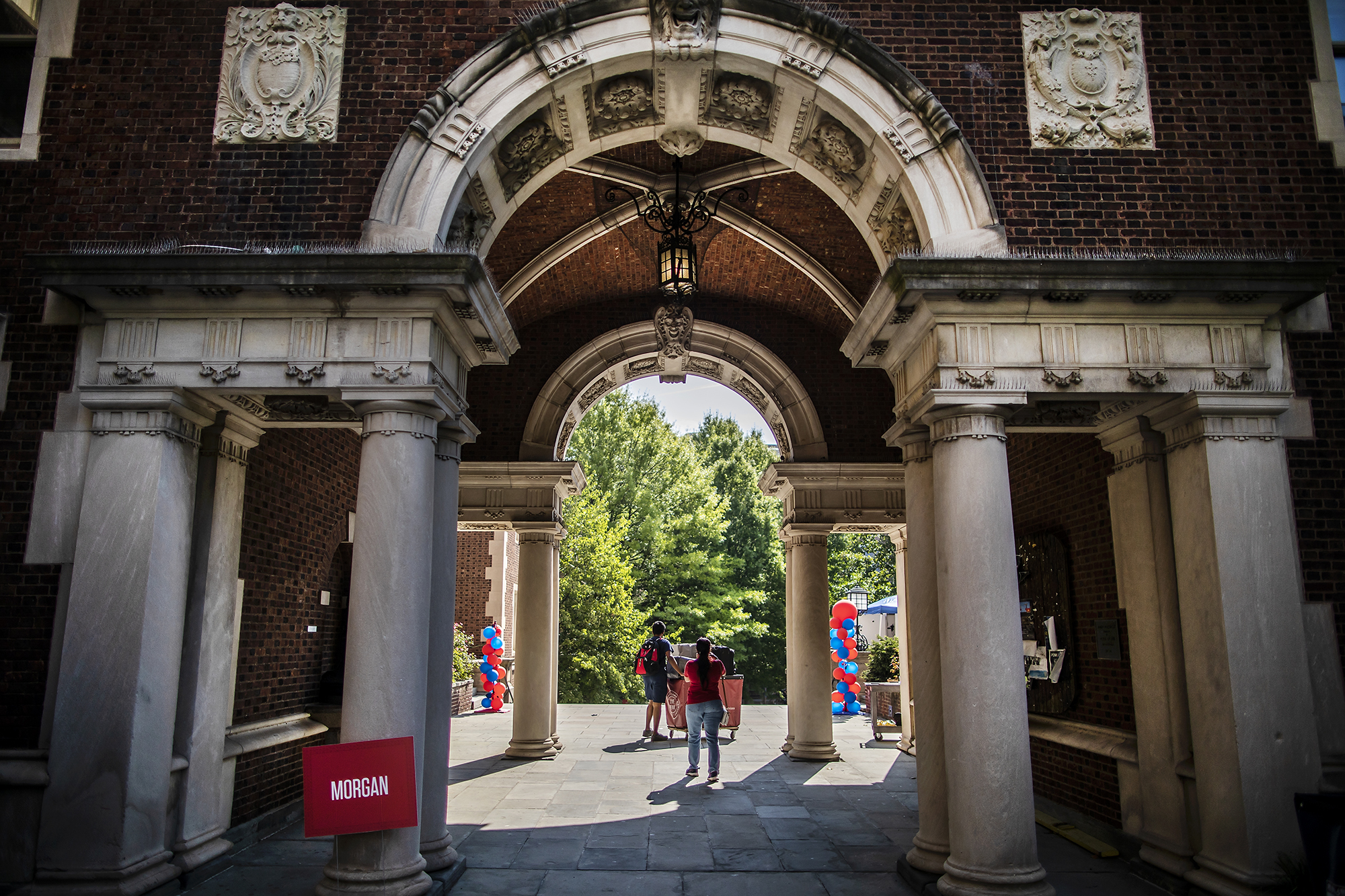 Dozens of Penn's freshman students, and their families and friends, gather outside of Lauder College House and Hill College House on Woodland Walk, breaking from a busy morning. To cool off from the summer sun, there's Italian water ice up for grabs, paired with none other than two Philadelphia staples: soft pretzels and Tastykakes. 
For as far as the eye can see, helpers in bright blue and bright red shirts stand ready and willing to lend a hand. Cherished belongings are loaded out of bursting car trunks and into moving carts along Walnut Street. Penn President Amy Gutmann arrives alongside the University's Quaker mascot, dancing and cheering for the Penn Band performing in the shade. 
It's Move-In day at Penn. And a joyous one at that.
"There is nothing like the energy that surrounds the week of Move-In at Penn," says Gutmann. "It's exciting to meet so many new students and their families and friends, and it means the world to me this semester to be able to safely welcome so many of our students to our now 13 wonderful college houses."
After a year of mostly virtual learning due to COVID-19, Move-In 2021 is extra-appreciated, says Cassandra Owei. A freshman moving into Lauder, Owei describes her new space as "modern" and "beautiful," and notes how much she already loves the suite style. Her parents, father Tony Owei and mother Ziggy Owei, who traveled with her all the way from their home in Cape Town, South Africa, were at her side, taking in each moment together. 
"The fact that everyone is able to come together and have that typical type of college experience is exciting," says Cassandra Owei, whose older sister is a Penn alumna. "Having an in-person first year is amazing."
Cassandra Owei is one of the 2,425 new students from 88 nations around the world and nearly all 50 states in the U.S., attending and living at Penn this year, and she's one of the almost 6,000 students moving into one of Penn's college houses throughout the next few days. Second-year students, who are now required to live on campus, and juniors and seniors who choose to live in college houses, move in later in the week, including at the recently completed, state-of-the-art New College House West. There is a COVID-19 vaccine mandate for all students, faculty, and staff, as well as Gateway COVID-19 testing and indoor masking requirements, in addition to other guidelines, which are in line with the University's comprehensive public health program.
"I am unbelievably proud of the leadership each member of our Penn community has demonstrated to make this moment—Move-In 2021—come to life," says Gutmann. "We wouldn't be here without the commitment we all have to keeping each other, and our West Philadelphia community, healthy and well."
Across campus along Spruce Street, freshman Priya Mehra takes a selfie with her parents Neeraj Mehra and Deepti Mehra. From central New Jersey, Priya Mehra says Move-In was "smooth," only taking about an hour to unload all her things into her new residence at Fisher Hassenfeld College House.  
With her brother away from home, too, Priya Mehra's parents will now be empty nesters. "It is bittersweet," says her father Neeraj Mehra, who got his MBA from Wharton in 1990. He says the "credit goes to Priya for all her effort in getting to Penn." The trio then set off to take a walk around campus together, making plans for a Target run later in the evening.
Inside the Quadrangle, freshman Asa Sam, from Harlem, New York, sits and chats on a bench, having just left her room at Foerderer in Fisher Hassenfeld. Her dad helped her move in the day before, and she was going out to explore. Talking about the year ahead, the neuroscience major says she can't wait to get started, "I am so excited to be part of different programs." 
Cherished belongings were carefully moved out of car trunks and into moving carts, which were unloaded at students' rooms. Most students and their parents described the Move-In process as "seamless."
Sam says, "I feel good." Then admitting she doesn't know where anything on campus is yet, she says with a laugh, "I don't like being lost," noting that she'll get the hang of things soon.
On the other side of the Upper Quad, Isabella Sanchez and her mother Lisa Sanchez take a moving cart up to her room at Franklin in Fisher Hassenfeld, while father Robert Sanchez parks the car. From New Rochelle, New York, the architecture major first visited Penn back when she was 16. 
"She came here for an architectural camp," says Lisa Sanchez. "When we left, I remember her saying, 'I want to go here.' I couldn't be happier that her dream came true."
At Penn, Isabella Sanchez says she is most looking forward to living on her own for the first time and meeting new people. She also notes how happy she is to be part of what she called a "normal" first year at Penn, especially after such an unpredictable senior year of high school. 
Alex Huang seconds Isabella Sanchez' statement. "It is definitely exciting, I am happy to be here," he says, with his mother Suzy Huang and brother Ryan Huang nearby. Only knowing of one other person from his hometown of Larchmont, New York, currently at Penn, he says he is looking forward to meeting his "new best friend for the next four years."
At the Lower Quad, just outside of Riepe College House, senior Josh Marks—a finance major at Wharton and proud older brother—smiles wide as he talks about having his youngest sister Julia Marks at Penn this year. That makes three Marks siblings at Penn in a matter of a few years.
"It's going to be a lot of fun," he says, noting how great it was to have his older sister Rachel Marks at Penn when he was a freshman.
More than 2,400 new students from 88 nations around the world, 48 states (except Montana and New Mexico), as well as the District of Columbia, Guam, Puerto Rico, and the Virgin Islands, are attending and living on campus this year. About 130 first-year students are from Philadelphia.
Julia Marks, having just moved into Warwick at Riepe, says she is very much looking forward to in-person classes this year. "It feels great and it's exciting to meet people in person, and get the campus experience," she says.
Her mother, Stephanie Marks, a 1990 Wharton alumna, holds back tears as she talks about her three children, now all Quakers. "They are each different in their own way and Penn is such a perfect place for each of them," she says. "And there are so many ways to be a Penn student, but it still feels like home for each one of them."
With Julia Marks being the youngest, and last, to leave their home in Chicago for college, her father, Jonathan Marks—echoing Neeraj Mehra—says how "bittersweet" the feeling can be. 
"But we are very excited for her to be going to a wonderful place that we've grown attached to over all the years," he says. "It's wonderful to be here, and we love being back."