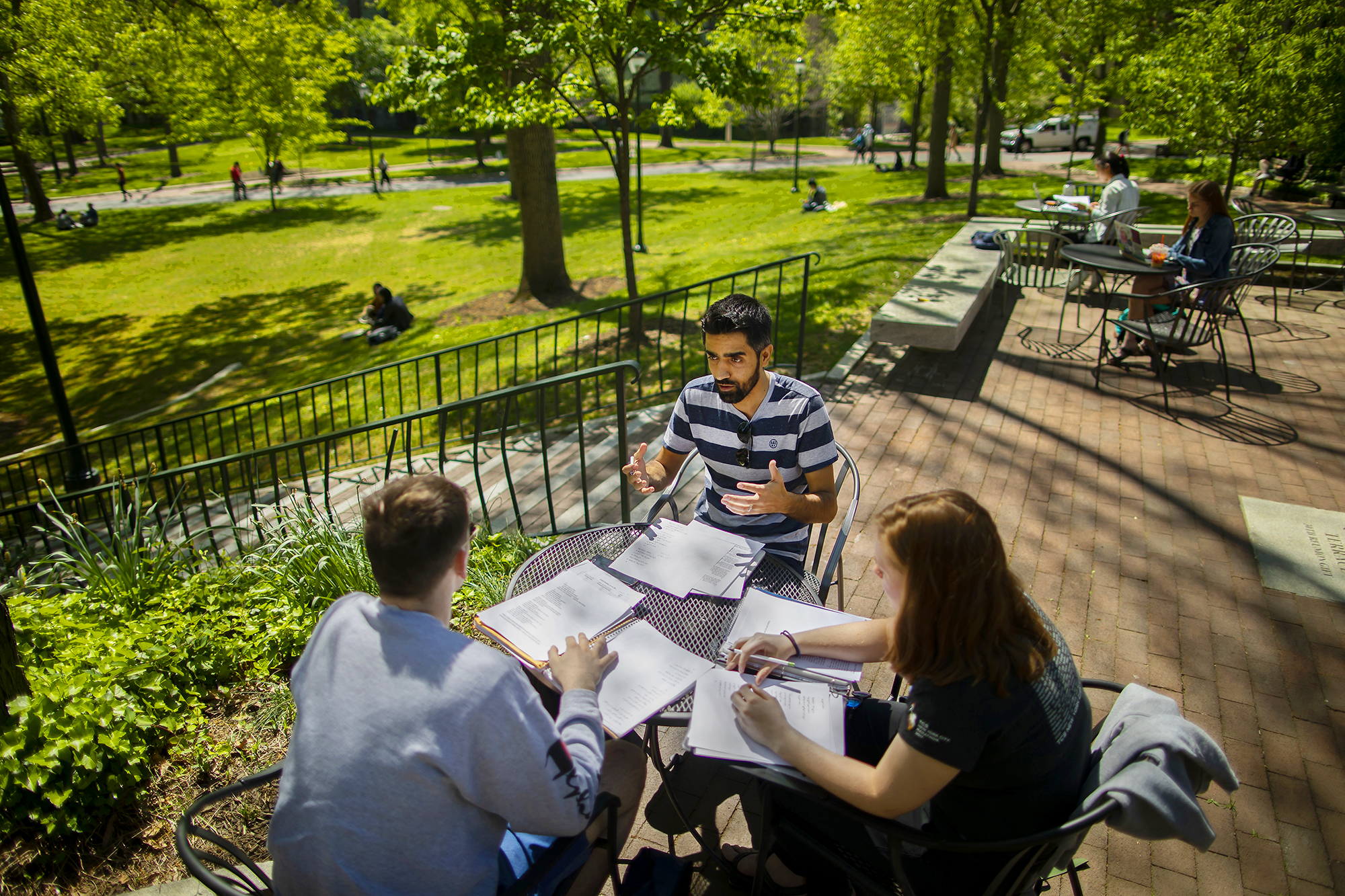 When Christy Perkins, a pediatric intensive care nurse, went to Iraq two years ago to work in an emergency field hospital outside of Mosul, it was challenging to communicate with those around her. Most of the patients and local staff spoke Arabic or Kurdish, languages that Perkins, now a first-year master's student in Penn's School of Nursing, couldn't converse in or understand. Though with translators she could transcend the communication barrier, Perkins left the war zone wishing she could speak the language. 
She's now a step closer, thanks to a Penn course created and taught by Mohammed Salih, a third-year doctoral student in the Annenberg School for Communication. Salih's first language was Sorani Kurdish, a dialect used mainly in Iraq and Iran that has an Arabic-based script. Last year, the Penn Language Center approached him about teaching a course in his native language, and now two students have completed Penn's first-ever Kurdish class, coming away with a basic vocabulary and grammar, and with a desire to learn more.   
"They've made great progress. The Arabic script was new to one of the students, but they can now both read it at a basic level," Salih says. "With many other languages, a class like this wouldn't be unusual. If you were to teach Spanish or German or French, the speakers of those languages would not react in any excited way because that's something that happens a lot. But that's not the case with Kurdish." 
About 30 million people worldwide speak the language, with the majority using either Kurmanji, a dialect using the Latin or Cyrillic alphabet depending on the region, or Sorani, the dialect Salih grew up speaking in Iran and Iraq. The history of Kurdish is long and complicated. At least one country recognizes it as an official language; others historically banned it or felt intolerant toward its use, seeing it as a security threat, fearful of Kurdish desires for independence. 
So, to have interest from Penn students like Perkins and Adam Green, who is studying political science and international relations, generates a positive ripple, Salih says. "This means a lot to me personally, and it means a lot to a lot of people to see the desire at the personal and institutional level to teach and learn Kurdish."
In the course itself, Salih started with the Arabic alphabet. From there he moved on to basic vocabulary and grammar, focusing on words and phrases like greetings, the weather, and ordering food. The students learned so quickly that by the end of the semester, he was able to move to intermediate-level material. 
"We've covered so much more than I thought we would in a beginner class," Perkins says. "I feel like I could definitely be conversational even after just a semester of Kurdish. It was a small group, so we were able to get into detail and ask a lot of questions about how the language is actually spoken." 
Salih is keen for this course to develop into an established tradition, so it can survive after he graduates from Penn. A university in Iraqi Kurdistan has expressed interest in developing an institutional relationship with Penn to establish a stable Kurdish language program, but nothing has yet been formalized. 
Until that happens, Salih can bask in the notion that, should Perkins ever return to Iraq, she'll be better able to communicate with colleagues and patients alike. "It was super helpful and kind of neat to be able to take Kurdish from someone who grew up speaking it and writing in it," she says. "The class has been really good."