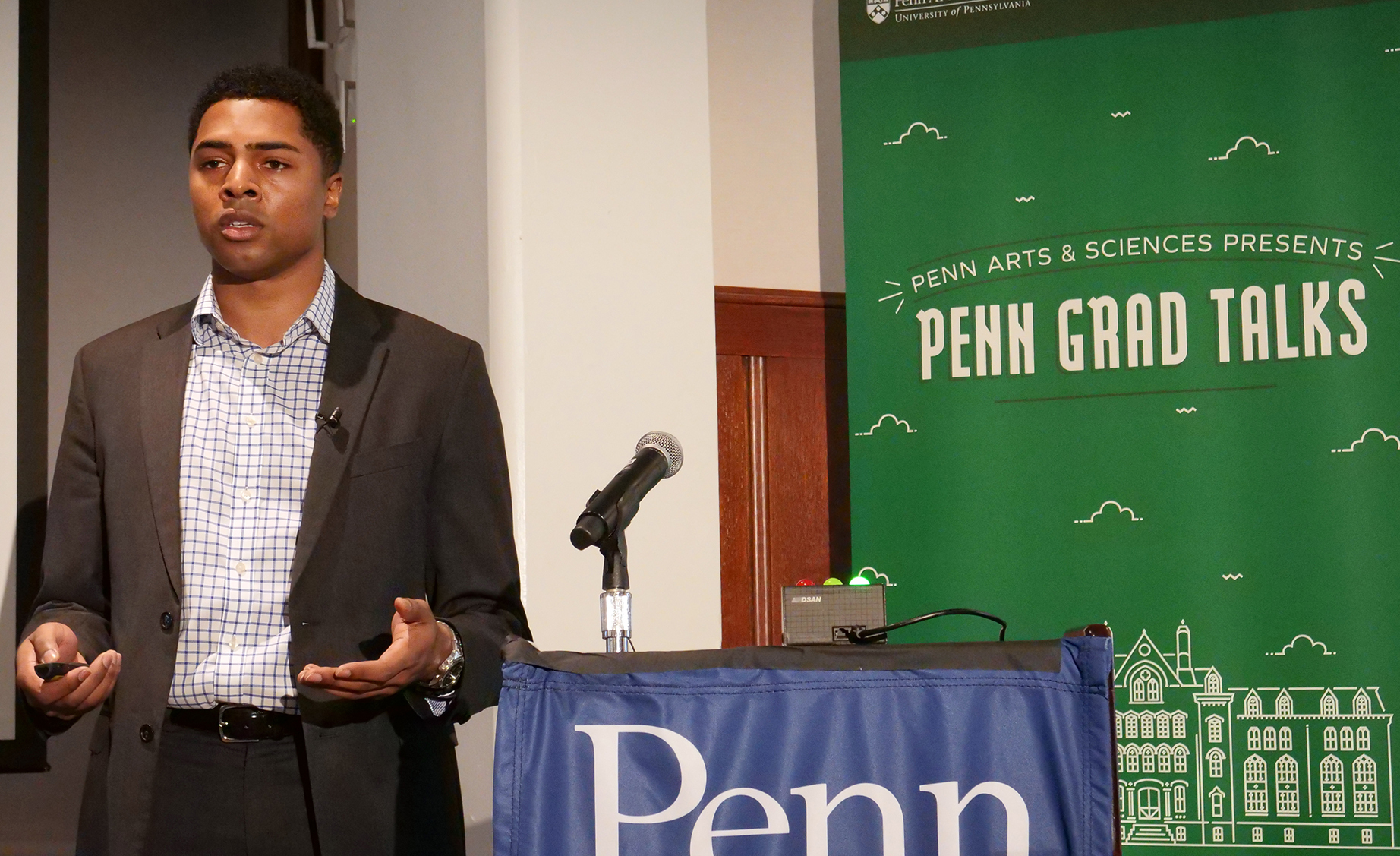 In March, second-year student in the Lauder Institute of Management & International Studies Chad Payne was awarded the Audience Choice Award for this year's Penn Grad Talks. The TED Talk-like presentation competition, organized by the School of Arts & Sciences, crowns five winning students who present research from the humanities, social sciences, natural sciences, and professional master's programs. 
Payne, a student in Lauder's Africa Program, delivered his presentation on the potential of the blockchain-based Web 3.0 in Africa, particularly related to banking, education, and infrastructure. 
Payne grew up in Vancouver, Canada, with his mother, younger brother, and younger sister. He was encouraged from a young age to experiment, he says, and so he did: He played sports, learned French, and dipped his toes in every extracurricular he could find. All, he adds, with an eye toward attending a university in the U.S.—preferably an Ivy League.
"I didn't know the gravity or seriousness of Wharton at the time, but in retrospect I'm really glad I had the chance to go there," Payne says of his undergraduate experience.
He says that he learned about the Lauder Institute during his time as an undergraduate and, when it came time to go to graduate school after five years of consulting, he knew Lauder would be a good fit. As a consultant post-graduation, he found himself in conversations with clients where he says he wished he could offer more international insights; though he's traveled to 27 states since graduating from Wharton, he says his collection of passport stamps is more limited. 
"The Lauder Program and its focus on international studies was a huge piece for me in my grad school experience," he explains. This past year, he visited India and, Egypt, and he intends to visit Thailand, and Nigeria with his Lauder classmates when he returns in the fall.
He chose the Africa Program because he visited Tunisia when he was 14 on a school trip and remembered being so surprised—and delighted—by everything he witnessed: Deserts, the Souk marketplace, and the set of a "Star Wars" film.
"It was so different from what one would stereotypically view a country in Africa," Payne says. "I was also someone who spoke French, and it was my first time speaking French outside of Canada. … I was the only French speaker in the group of 30, so any time we ran into trouble, I became the translator for the group."
"And that was only Northern [Africa] so I could only imagine what the rest of that continent looked like—and I've been fascinated ever since," he says. 
Here, Payne discusses his Penn Grad Talks presentation, how Web 3.0 could influence banking in Africa, and his experience with the Lauder Institute.