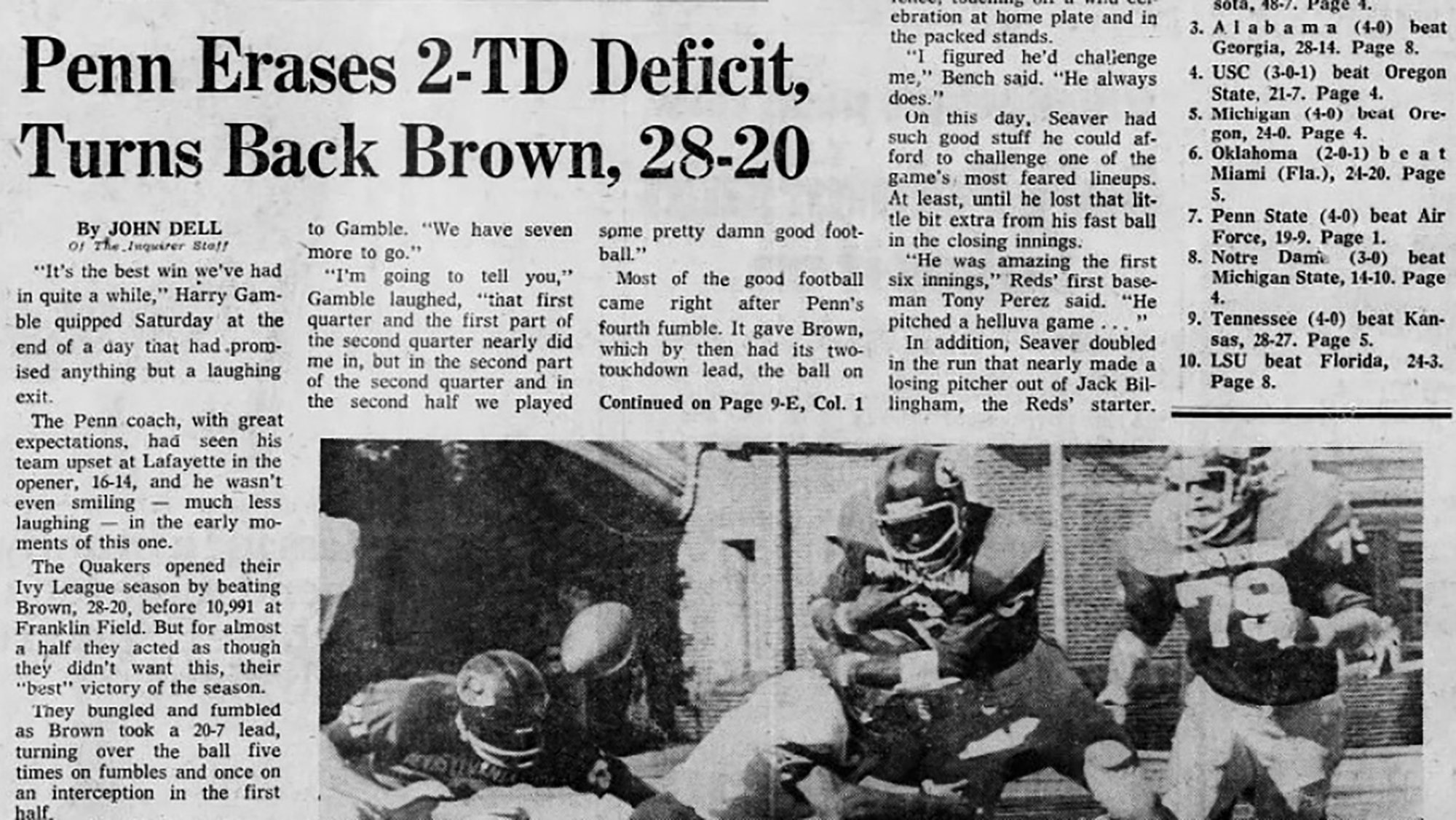 Tonight's Penn versus Brown football game at 7 p.m. at Franklin Field marks the 50th anniversary of a momentous Ancient 8 matchup. On Oct. 6, 1973, the Quakers and Bears faced off at Franklin Field in a contest that featured–for the first time in Ivy League history–two African American starting quarterbacks.
Under center for the Red & Blue was third-year Martin "Marty" Vaughn; third-year Dennis Coleman was Brown's signal-caller. Both men and their families and friends will be in attendance this evening to commemorate the landmark game.
Their historic clash is especially notable because it came at a time when African American quarterbacks were scarce, and several major college programs had only recently begun the process of integrating. Texas and Arkansas had all-white teams through 1969. BYU did not feature a Black player until 1970. The University of Alabama, LSU, and Georgia did not field Black players until 1971. The University of Mississippi (Ole Miss) did not have a Black player until 1972. (Penn integrated its football team in 1950.)
Vaughn and Coleman's 1973 showdown was even more remarkable because of the prevailing belief among football decisionmakers of the day, particularly NFL scouts and general managers, that Black people lacked the intellect or mental capacity to play quarterback, a notion that lasted through at least the late 1980s and early-to-mid 1990s, and still sometimes rears its ugly head today.
More than an athlete
Vaughn grew up in McKeesport, Pennsylvania, about 14 miles south of Pittsburgh. He played wide receiver in his little league football days before switching to quarterback during his first-year season at McKeesport Area High School. A talented baseball player with a good arm, Vaughn says he always wanted to play quarterback, so he decided to change positions.
He excelled under center, so much so that he was recruited by LSU, Texas, and several other programs. He also had an appointment to the U.S. Naval Academy.
But after a "great visit" to Penn's campus, where he bonded with future teammate Adolph "Beep Beep" Bellizeare, Vaughn turned them all down and enrolled at the University.
"Penn was in the heart of West Philadelphia, in a big city, but it was still a very vibrant campus life," he says. "You got a chance to kind of grow up. I was 17 years old when I came, so I had a lot of growing up to do, and we got a chance to grow up and mature."
Vaughn says his decision to decline scholarship offers from big-name schools was not a difficult one. Although he had NFL dreams like most high school football players, he says his parents had always instilled in him the importance of education, and he knew an Ivy League education was too good to pass up.
"My mother said, 'If you're good enough to play football, they will find you. But you will never be able to get an education like you can get at Penn,'" Vaughn says.
Coleman is from the Philadelphia area. He was raised in Darby, Pennsylvania, and graduated from Darby-Colwyn High School (now known as Penn Wood), where he threw for 52 touchdowns in three seasons and was an all-state quarterback. Coleman says he has been a quarterback since he first picked up a football.
"Whether we were in the sandlot playing or in the street playing between cars, I always played quarterback," he says.
He was recruited by USC, but they sent him to junior college first at Arizona Western, partly because, Coleman says, he was "149 pounds soaking wet with rocks in my pockets."
In two seasons at Arizona Western, Coleman led the Matadors to a 19-1 record and won the Junior College National Championship. His play and excellent academics caught the attention of Louis Farber, a Brown alumnus and legendary high school football coach in Arizona, who began recruiting him to the Bears.
"He was the first one that started talking to me about Brown," Coleman says. "The first thing he said to me was, 'I hear you're a pretty good student,' which was not something that college recruiters talked to you about or the first thing they mention when they are recruiting you to play a sport."
Iowa State, Pittsburgh, Kansas, and other prominent schools were also after him. Coleman, though, knew he wanted to be a lawyer, and knew his chances of being a lawyer would increase if he attended an Ivy League institution, so he chose Brown.
When he informed one recruiter that he was enrolling at Brown, Coleman says the recruiter screamed at him and said, "Brown? You gotta be crazy; you know how bad their football team is?"
Coming of age
Like all first-year football and basketball players of the era, Vaughn competed on what was called the freshman team in 1971. He was the starting quarterback. (The NCAA changed the rules and granted first-years eligibility on Jan. 8, 1972.)
As a second-year player, Vaughn was fourth on the depth chart behind Gary Shue, Tom Pinto, and Marc Mandel—two juniors (Pinto and Mandel) and one senior (Shue). He did not throw a single pass in a game all season long.
Confident in his abilities and his talent to be a starter, Vaughn says his lack of playing time was disappointing and difficult to stomach, but instead of complaining, he went to work.
Vaughn linked up with John Kennedy, a quarterback coach/personal trainer and McKeesport High alum, in the summer after his second-year season.
"We worked out in the morning, we worked out in the afternoon, and we worked out at night," he says, "and we did that every day all summer long."
He returned to campus for the fall semester a new man, ready to show the world what he could do.
His coaches and teammates immediately noticed a difference. During practice, teammates such as Bellizeare commented on his improvement and told him the starting job was his, all he had to do was take it.
Co-captain Glen Casey, in an interview with Phil Jasner of the Philadelphia Daily News in October of 1973, said Vaughn came back to campus "more confident, more assured," and showing more authority.
"Not that he didn't have pride before, but he seems to be doing more with it now," Casey said.
Head Coach Harry Gamble, in that same interview, said after players returned to campus from summer break, someone said something to Vaughn about being a backup. Gamble asked Vaughn about it and he responded, "I've backed up for the last time."
"Right there, I knew we had something," Gamble said.
Sky's the limit
The Penn football team had sky-high expectations entering the 1973 season. The Quakers were coming off a 6-3 record in 1972 and a third-place, 4-3 Ivy League finish. In the preseason, Gamble prognosticated to The Philadelphia Inquirer's John Dell that the Quakers would be one of the best, if not the best, team in the conference, and a rival coach predicted that Penn would have a "super Ivy team."
Vaughn and Mandel battled throughout training camp for the starting QB spot. Following practice on the evening of Friday, Sept. 28, Gamble posted his depth chart and Vaughn was listed at QB1.
"Obviously, I was very excited," Vaughn says, about learning he would start. "I had worked very hard that summer. It's one of those things that I've kind of taken and incorporated into my life, and that is wanting to do something, putting in the work, and then achieving that goal. It's something that a lot of people never experience."
Vaughn started the season opener the following day against Lafayette in Easton, Pennsylvania, making him the first Black starting quarterback in Penn football history.
Mandel and Vaughn split time during the game. Vaughn led the Quakers on a 15-play, 88-yard drive in the first quarter that resulted in a one-yard touchdown dive by running back Jack Wixted.
Vaughn pulled a Patrick Mahomes in the fourth quarter. With 3:59 left in the game and Penn trailing 13-6, he connected with star wide receiver Don Clune on a 69-yard touchdown pass, and then converted the two-point attempt (a pass from Vaughn to Glenn Gaetano) to Penn up 14-13.
Unfortunately for the Quakers, the Leopards marched right back down the field on their next drive and ended up at Penn's three-yard line. Kicker Eugene Thaw made a 20-yard field goal with 49 seconds on the clock, which gave Lafayette a 16-14 lead. The Quakers had a chance to win the game in the final minute, but Mandel threw an interception at the Leopards' 15-yard line.
Vaughn finished 5-9 for 156 yards and one touchdown and one interception. Mandell was 11-17 for 112 yards and one interception.
Gamble, highly displeased with his team's effort, said Lafayette wanted it more. But he must have liked what he saw from Vaughn because he called him into his office after the game and said, "You won the job, it's yours. Make it happen."
Vaughn started prepping for the following weekend's matchup against Ivy foe Brown.
Winning is a habit
Brown fans most likely did not have high expectations for the Bears entering the 1973 season. They may not have had any expectations at all. They were just looking for a return to respectability under new head coach John W. Anderson.
In the previous five seasons, Brown had gone 7-38, including an 0-9 mark in 1971 and a 1-8 record in 1972. (Their one win in 1972 was a 28-20 upset of Penn.) Their last winning season was in 1964.
Coleman, who enrolled at Brown as a second semester second-year in January of 1973, says he was oblivious to the Bears' past failings when he arrived on campus. He landed in Providence, Rhode Island, with a winning mindset ingrained across the previous four years, when all he did was win, win, win.
His Darby-Colwyn football team went 8-1 in both his junior and senior seasons, his Darby-Colwyn basketball team went 25-1, and he went 19-1 in his two seasons at Arizona Western.
"I had only lost four games in four years," he says. "I just figured we'd keep on winning and we'd keep on winning."
Brown opened the season at home against Rhode Island. They did not win.
Coleman did not start and split time with Pete Beatrice, the Ivy League's leading passer in 1972. Coleman completed one of two passes for 10 yards in the 20-20 tie. Brown was up 12-0 with nine minutes remaining, but fumbled three times inside the Rhode Island 25 and fell behind 20-12. They were able to snatch a draw from the jaws of defeat by scoring a touchdown with four seconds left in the game and a successful two-point conversion. (The NCAA did not adopt overtime for FCS schools until 1981 and FBS schools until 1996.)
On the eve of the Penn game, Anderson told the Philadelphia Daily News that there was a chance Coleman could start against the Quakers.
"I've been saying right along that either [Coleman or Beatrice] is capable of starting any Saturday," he said. "They could alternate, they could each play a quarter, they could each play a half or whatever."
Ultimately, Coleman got the start.
Showdown in West Philly
Neither Vaughn nor Coleman was aware that they were making history on Oct. 6, 1973. Both were laser focused on winning the game. Coleman, who used to sell hot dogs and hot chocolate at Philadelphia Eagles games at Franklin Field in his youth, says he was excited about playing in the celebrated stadium, and doubly excited about playing in front of family, above all his grandmother.
Gamble, sensing the urgency of avoiding an 0-2 start, told the Inquirer it was their "most important game of the year."
"Now we're going to be able to establish whether we have the potential to be the kind of football team we thought we were going to be," he said.
The beginning of the game was not a pretty sight for the 10,991 fans in attendance. The fumbleitis that had plagued Brown in the final nine minutes of the Rhode Island game seemingly carried over to the Penn game and infected both teams.
"We had some mistakes," Vaughn says. "Some mishaps."
"Gol-ly, there were a lot of fumbles," says Coleman.
The game saw 11 fumbles; five in the first half and six total for Penn (five lost) and five for Brown (four lost). (No, it was not raining. The weather forecast was "sunny and mild.")
The game actually turned on a few costly fumbles. Brown was leading 20-7 in the second quarter and the Quakers were receiving the kickoff after a Bears field goal. Penn's Ken Bald fielded the kick, but fumbled, and Brown recovered. But on the next play, Penn cornerback Rich Vaccari recovered a Bears fumble, regaining possession.
With around a minute left in the half, Vaughn connected with Clune for an 11-yard touchdown pass, which cut Brown's lead to 20-14. The Bears received the ensuing kickoff, but fumbled on their first play from scrimmage and the Red & Blue's Pete Sgro pounced on the ball.
Mere seconds remained in the half when Bellizeare scored on a one-yard run, putting Penn ahead 21-20. He added a four-yard touchdown run in the third quarter and the Quakers won 28-20.
Vaughn finished 12-21 for 200 yards with one touchdown run, one touchdown pass, and one interception.
Coleman was 5-15 for 57 yards and one touchdown, and rushed five times for 58 yards.
"It's the best win we've had in a while," Gamble told the Inquirer's John Dell after the game. "That first quarter and the first part of the second quarter nearly did me in, but in the second part of the second quarter and in the second half, we played some pretty damn good football."
Brown concluded the season with a respectable 4-3-1 record (Rhode Island was their only non-conference game). In Coleman's fourth-year season in 1974, the Bears had a 5-4 record (4-3 in Ivy play), the first time they had back-to-back winning seasons since 1957-1958.
Penn finished the 1973 season with a 6-3 record, including a 5-2 mark in the Ivy League, which tied for second. In Vaughn's fourth-year season a year later, the Quakers finished 6-2-1 and placed third with a 4-2-1 conference mark.
Correcting the record
The 1973 Penn vs. Brown football game has for years been described, in books and articles, in print and online, as the first game in major college football history to feature two African American starting quarterbacks.
Coleman, who is now senior counsel at Ropes & Gray, says he gets a call from a reporter every Black History Month asking him about the game. But Coleman recently learned that the record is incorrect; he and Vaughn were not the first two Black quarterbacks to start against each other in a major college football game.
In speaking with one of his clients, NFL Hall-of-Famer Tony Dungy, former head coach of the Tampa Bay Buccaneers and Indianapolis Colts, Coleman learned of a game from November of 1960 that featured Iowa's Wilburn Hollis against Minnesota's Sandy Stephens. An article in The Athletic about the game says it was "only the second Big Ten game featuring African American starting quarterbacks," so there is another undetermined first. (Outside of HBCUs, that is; the first HBCU football game was played in 1892).
Nonetheless, Vaughn and Coleman are gratified by their accomplishments and the paths they blazed for starting African American quarterbacks in the Ivy League.
"Somewhere along the way, Martin and I made it easier for some other African American kid to say, 'I can do that,'" Coleman says.
Vaughn, who earned his undergraduate degree and MBA from the Wharton School and now works as a broker, has a cousin who played quarterback in high school and college. He was talking to him a few years ago and his cousin told him, "I played quarterback because of you," which made him proud.
"I never knew that," Vaughn says. "I'd like to think that if nothing else, somebody of color saw me play and said, 'I want to be a quarterback, too. If he can do it, I can do it.'"