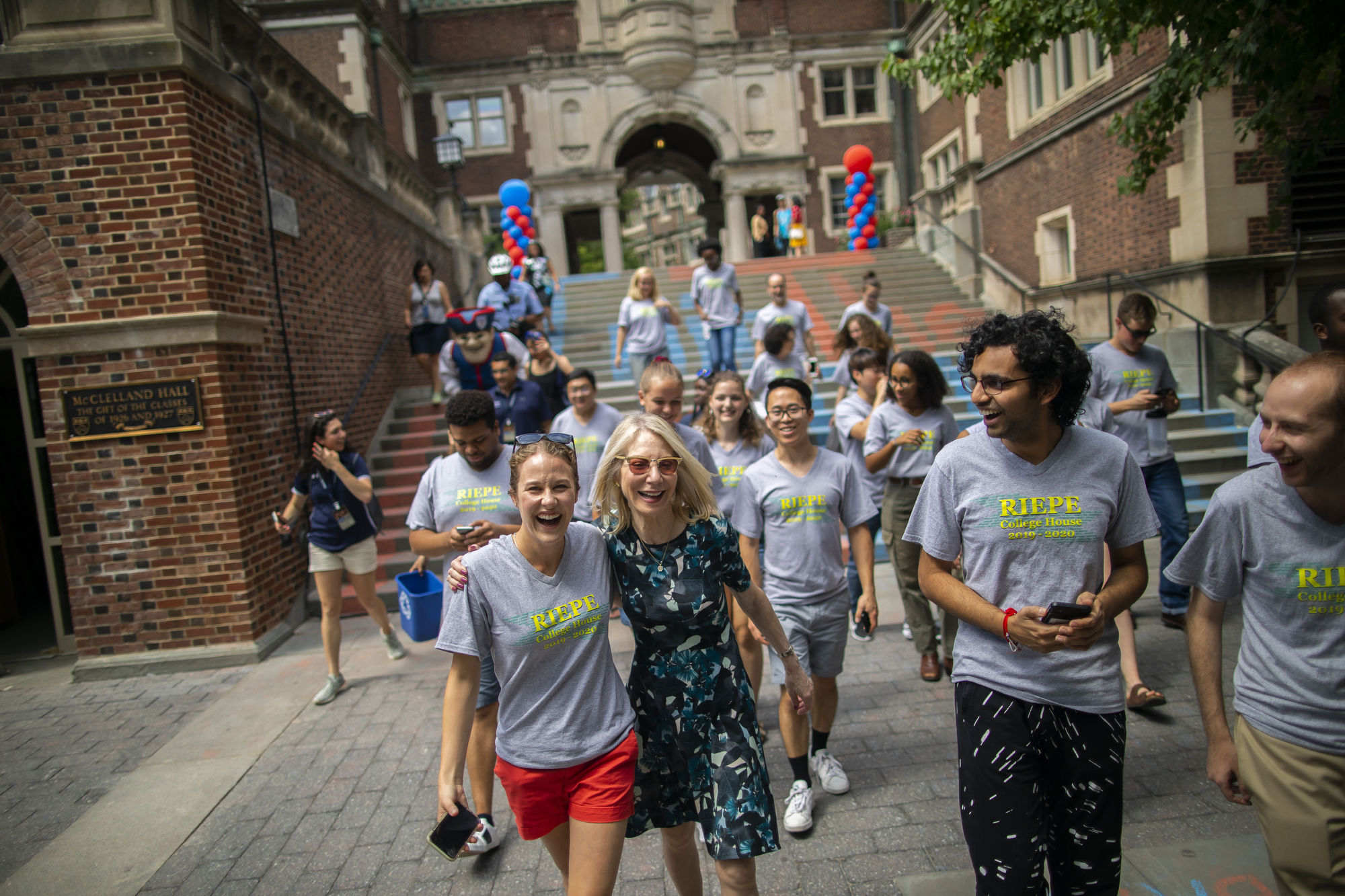 The newest cohort of Quakers has arrived.
On Wednesday, Aug. 21, nearly half of the Class of 2023 arrived on campus for Move-In day, joining international, transfer, and exchange students who moved in on the 20th. They were welcomed by student coordinators, 120 student volunteers, a host of upperclassmen from Penn Athletics, and President Amy Gutmann. Spirits were high despite the heat and humidity, and the Move-In team welcomed students and families to campus amidst traffic, construction, and the bustle of West Philly. For the 12 College Houses across Penn's campus, staff and volunteers have been preparing for months for Move-In—and their efforts showed.
The Class of 2023 is comprised of 2,400 students, with 143 hailing from Philadelphia. They come from 79 nations and all 50 states, plus Washington, D.C. Along Spruce Street at the entrance to the Quad, traffic was blocked to all vehicles but students and their families moving in. A queue of cars parked along the sidewalk and volunteers lined up with large wheeled carts. Once car trunks were opened, volunteer crews began unloading suitcases, pillows, boxes, lamps, and various tools of dorm room life, while students picked up their credentials at the Move-In welcome tent. The operation was efficient, and despite the mix of emotions from parents and new Penn students, the mood was positive as families maneuvered themselves and their belongings to various College Houses.
"I'm excited," said Amy Zhou, with her mom Lian Zhu, and father Yongquan. They arrived yesterday from Memphis, Tennessee. "Campus is bigger than I thought." Amy is entering the Jerome Fisher Management & Technology Program, a dual Wharton and School of Engineering and Applied Science (SEAS) degree. "I'm excited to join Wharton clubs and play tennis. I don't play for the team, but I played varsity tennis in high school," she said, adding, "we came in second in the state for singles." When asked when they will see their daughter again, Lian said she doesn't know yet whether Amy will come home for Thanksgiving. "It depends on her study schedule."
Amy Zhou from Memphis, Tennessee, navigates moving into Fisher Hassenfeld House with the help of her father, Yongquan.
Amy Zhou from Memphis, Tennessee, navigates moving into Fisher Hassenfeld House with the help of her father, Yongquan.
The Move-In team's mission is to make the process smooth and flexible, especially for parents who are seeing their first kids off to college. With many students arriving after flight delays and traffic jams, the volunteers work to make newcomers' first Penn impressions positive, assisting however they can. Still, an occasional "Where's my stuff?" rang out, and several students asked about elevators before parking their carts outside Ware, Fisher Hassenfeld, and Riepe college houses, and carrying armfuls of belongings up to their rooms.
Trupti Patel stepped out of her vehicle with her son, Ishaan Patel, from King of Prussia, while dad Gautam drove off in search of parking. Ishaan was an early decision student, and is familiar with Penn and its campus, having been an intern at the Wistar Institute for the last two years, commuting to campus by train. He will study computational biology. The two shepherded three carts toward Fisher Hassenfeld. His first look at his room was positive: "Nice light in here." Trupti Patel paused before admitting she was "sad, but excited" for her son. "He isn't far away." When asked if he was excited to be on his own, Ishaan responded with a confident smile—"Definitely."
Outside, Helena Wolk from Princeton, New Jersey, and her dad Jon were also in search of an elevator, but ended up carrying boxes and suitcases up three flights. When Helena opened the door to her room, her teammate on the crew team, Lucy Alter, was already inside, along with her mother, father, and mother's puppy. The two young women met on social media via the crew team, Lucy a rower and Helena a coxswain. "I don't row, I yell at people. I just met my coach earlier," said Helena. The youngest of four, Helena is the first at an Ivy League school. About their impending empty nest, Jon said he was "excited, happy, and proud."
Lucy, along with her parents Lynn and Craig, are from Abington, Pennsylvania. She is the youngest of three, and wore a New England Patriots shirt. Helena is a Jets fan. Will that cause tension? "Not really," said Helena. "The Jets aren't that good."
Lucy's puppy wasn't the only canine on campus. Near the Spruce Street gate, among the wheeled carts, was a baby stroller with two small dogs, Lulu and Scarlet. Claudia Alarcan was moving her daughter, Isabella, from Southport, Connecticut, onto campus. Lulu and Scarlet were unofficial emotional support dogs, as Claudia shed some tears and hugged her daughter, overwhelmed with saying goodbye to her only kid. "Follow your dreams," she said.
There were more tears at the Quad. Anita Khanna from Troy, Michigan was accompanying her son, Aashray. He came back outside, one of many trips from the cart to his room, and smiled and hugged his tearful mother.
As if on cue, to liven up any sadness or dips in momentum, the Phillie Phanatic bounded onto the Quad full of frenetic energy, waving and giving bear hugs.
Down at College Hall at noon, President Amy Gutmann walked out onto College Green to greet volunteers with New Student Orientation and Residential and Hospitality Services staff, before making her way down to Hill Square. She was greeted with cheers as the Penn Band played "Eye of the Tiger," and Gutmann danced briefly with the Phanatic and the Quaker, Penn's mascot. Inside New College House, freshman Jake Beckert from Medford, New Jersey and his mom Dayna took a photo with Gutmann. Dayna said it hasn't sunk in yet her only child is going to be away from home. "I didn't think I would get to meet Dr. Gutmann, but I heard she would be here," said Jake.
Shayla Sullivan, a first-year student from Atlanta, was moving into New College House with the help of her parents, Susan and Michael. Just outside the entrance, they crossed paths with Gutmann, who welcomed them and asked how they were doing. "You'll be exhausted through Move-In but then it will be wonderful," Gutmann said. "There's nothing more exciting than moving great young people up in the world. You're going to meet a lot of wonderful people here."
Up at the Quad, Gutmann met with various student volunteers. Each athletic team at Penn volunteered in two-hour increments to assist students moving in. Members of the women's basketball team and the men's wrestling team were on hand at the Quad, helping students get their bearings, and posed for photos with Gutmann and the Quaker. One freshman, Jesse Quatse, wore the official mascot costume of Ware House, the Ware Wolf.
Gutmann returned to College Green, as enthusiastic parents stopped her for selfies. In front of Ben Franklin's statue was a confluence of three families from abroad—Lebanon, Jordan, and Italy. "Hi, parents!" Gutmann called out. "We have first-year students from 79 countries arriving on campus, and you're three of them!" Mario Ferre was with his parents, Simone and Sergio, and his younger brother, Paolo, from Naples, Italy. Mario said he plans to study mechanical engineering at SEAS. When asked, "Why Penn?," he responded that he fell in love with the description of SEAS, and photos of Penn online. "It's really beautiful in person," he added, looking around. His dad agreed, and, in Italian, asked for a photo.
Late in the afternoon, Provost Wendell Pritchett and Gutmann addressed the incoming class and their families at the President and Provost's Welcome and Reception. "You hail from all 50 states and the District of Colombia, so that makes 51 different U.S. entities, and you hail from 79 countries from around the world," Gutmann said. "That shows how different you are, and that's part of what makes us great." Addressing the families, some who will board planes or drive hours away back to their homes, Gutmann offered this: "Your children's emotional and physical health, their successful adjustment to University life, the resources that they can depend upon here, when challenges and setbacks occur, these are among our highest priorities."
Finally, to the students, she welcomed them into the successful, challenging, and ambitious Penn family, and added, "nobody succeeds alone."