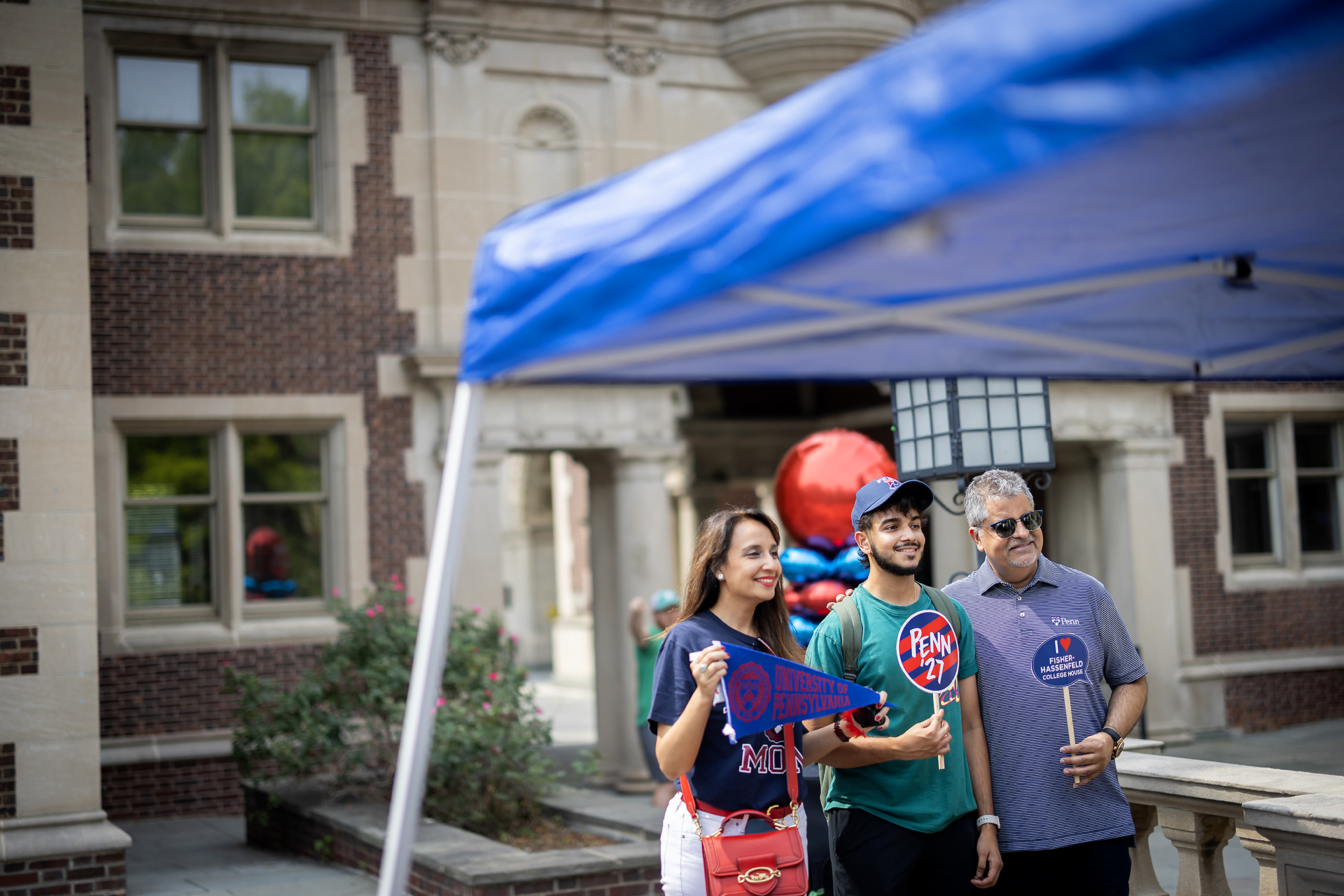 Crews unloaded car trunks and filled Penn-branded moving carts alongside Spruce Street late Tuesday morning, as Ella Tyrrell and her mom waited on the sidewalk—holding a table lamp and Swiffer—for her dad to park the car. The trio had driven about three hours from their home in Leesburg, Virginia, to move the youngest Tyrrell onto campus for the first time.
Tyrrell, who plans to study nursing, noted how excited she was to live in Philadelphia, and "to meet new people and have new experiences." To remind her of Leesburg, she brought along photos of her family and friends, as well as of her pets (her family has three cats and a dog).
President Liz Magill set out during Move-In to learn what students uniquely brought to Penn—to make campus "feel like home." In a short video for Penn Today, Magill names none other than her goldendoodle Olive, "who just spreads joy and happiness wherever she goes," she said.
Chatting inside The Quad, first-year Vikram Sundaram, who hopes to study Philosophy, Politics, and Economics, explained how he brought a "big Cleveland Cavaliers banner and poster" to hang in his space in Ware College House. His roommate—a Philadelphia sports fan—won't mind, as "he'll have his own stuff to display," said Sundaram, with a laugh. His mom, Jay Sundaram, who drove with him and his dad from Cleveland, Ohio, noted how thrilled she has been for her son, as well as how grateful she was for a relaxed Move-In Day at Penn.
"People have been really helpful with the unloading, it literally took about five minutes," she said. "Hats off to the team!"
A process fine-tuned for years, the University's Move-In staff have worked nearly all summer to prepare for this week's arrivals, which include 2,416 first-year students from 96 countries and 3,301 returning undergraduates, all entering Penn's 13 College Houses. In each of her stops across campus, Magill was sure to thank the hardworking teams, including the various College House and Residential Services staff members, and student and staff volunteers, for their efforts.
After meeting with and smiling for a photo with Magill, Kelsi Ford, a Penn Graduate School of Education student and Graduate Resident Advisor at Fisher Hassenfeld College House, headed back to the table at which she was working, engaging with new students and encouraging them to share, on sticky notes, what they were most looking forward to at Penn.
"I've met some first-generation students, I've met some students from Argentina, South Africa, France, some from right here in Pennsylvania, from all over," said Ford, who is from southern Mississippi. "It's been so great to meet them, and to meet many of their parents, to talk with them and get to know them." Ford, who has always wanted to be an RA, said she is eager to mentor a group of undergraduates at Fisher, and, most importantly, watch them grow.
Over on Woodland Walk, the Penn Band played music while the Quaker mascot and Swoop from the Philadelphia Eagles, along with the "Lauder dog" Hank, a basset hound from Lauder College House, joined in on the fun. Under a Class of 2027 balloon arch, Magill met first-year Dhruv Bhargava, who moved into Hill College House on Monday, and his parents and sister, who had all flown from their home in Delhi, India.
Bhargava, who is planning to study Networked and Social Systems Engineering, said he's been enjoying the time in Philadelphia with his family. This year on campus, he said he is most looking forward to joining some clubs and securing an internship, as well as his classes at Penn Engineering.
Next to an outdoor photo booth, Graci Davidson, who moved into Hill College House and is planning to study biology, was with her mom Amelia Davidson. A special item Graci Davidson said she brought to remind her of home in Charlotte, North Carolina, was a teddy bear she made just days ago with her friend. "They are wearing the same little shirt," she said of the two stuffed animals.
Amelia Davidson, smiling ear to ear, noted how excited she was for her daughter and this next life chapter. "I am just proud," she said. "Especially with how mature she is, how excited she is about being here, that makes me happy, even though I am, at the same time, a little sad."
Mahima Islam, a first-year student living at Hill, expressed a similar bittersweet feeling about leaving her home in Brooklyn for college. She brought with her to campus a box of meaningful letters "of encouragement and love and affection," she said, from friends and family.
"I know I am going to miss them, but I know they want the best for me," said Islam, who is planning to study neuroscience at Penn.
Also, lucky for Islam, she has her good friend since middle school, Angelie Rodriguez, as her roommate this year.
Like two peas in a pod, Islam and Rodriguez had some low-key plans for the rest of the day—a little work study job searching, some early studying for class, and a trip to Ikea in South Philadelphia for remaining room décor.
For more photos from Move-In 2023, visit the President's Website and Flickr.