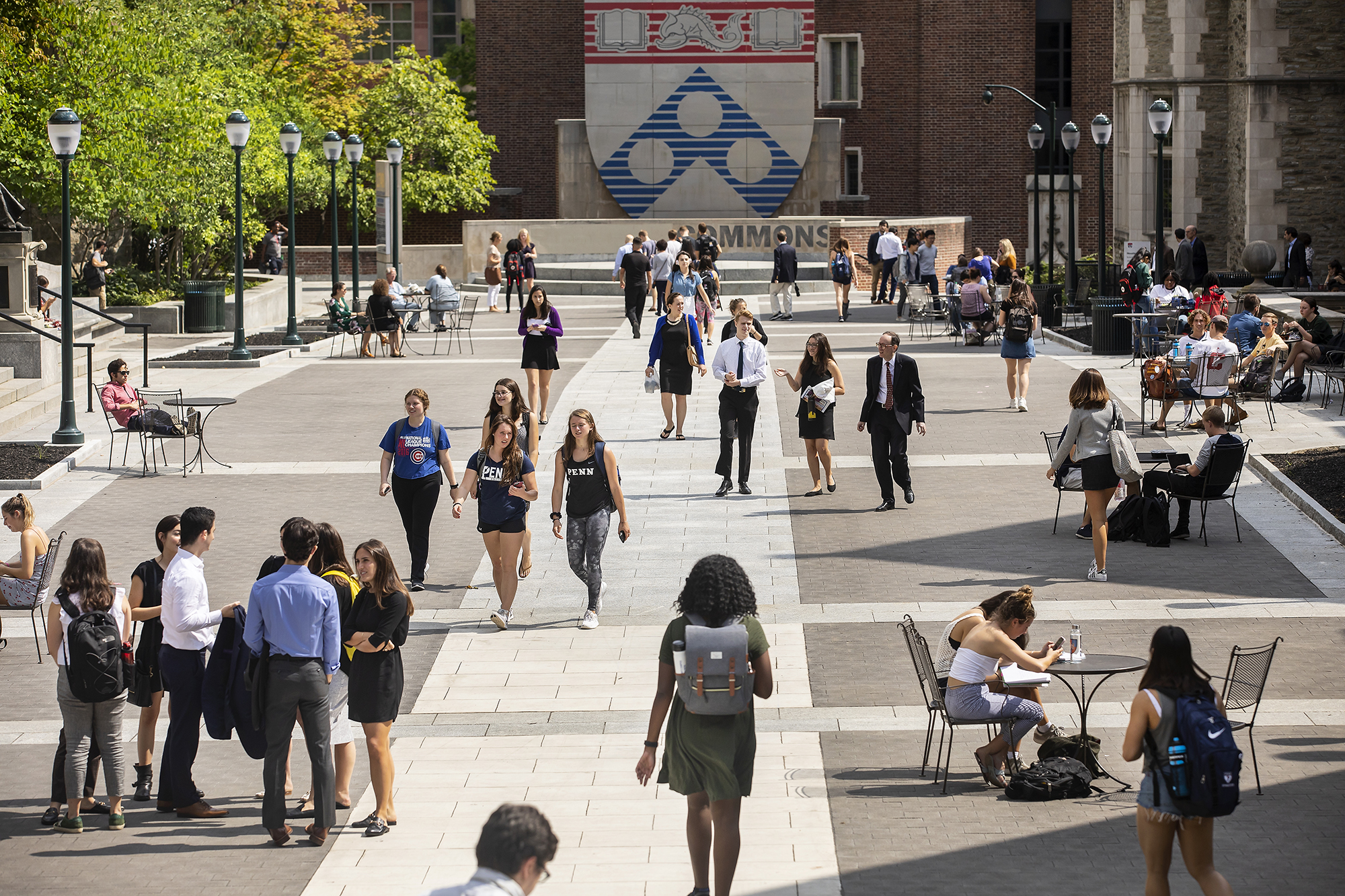 It's almost here—finally. Boxes and suitcases are packed with four seasons' worth of clothing, laptops and water bottles sporting new Penn-themed stickers, photos of high school friends, family pets, and silly siblings are framed and ready to transport. First-year students and their families are gearing up for Move-In, armed with everything they need for a successful start to college.
But a group of Penn student tour guides has something extra to offer these almost-first-years: some helpful advice. Introducing prospective and current students to Penn's campus is what these guides do best, so Penn Today has tapped a half dozen of them to take that expertise a step further and share a few things they wish they knew when they were just starting at Penn. From time management skills to tips on dorm life, here's some advice for incoming first-years to bring along to campus on their first day.
Joyce Davis
Rising fourth-year majoring in neuroscience in the School of Arts & Sciences, from Philadelphia
"Don't be afraid to explore the entire Philly area, because University City is completely different from Center City," Davis says. "So, if you want somewhere to eat, Reading Terminal Market is there. If you want somewhere to get away from the loudness of the city area, you can go behind the Museum of Art."
One thing Davis wished she knew when she started at Penn were the different ways to study abroad, because she thought her major was so credit-heavy she'd have to stay in Philadelphia. But she learned about Penn Global Seminars and is going to Chile in January, as part of the Health and the Healthcare System in Chile class.
Favorite places on campus to hang out: Wharton Academic Research Building, Huntsman Hall, and the sky lounges in the College Houses, which she says "are definitely the better places to just chill, because they have little comfy booth areas, to watch the Center City skyline if you want to."
Must-have in dorm room: "Emergency snacks," for late-night study sessions when the dining hall is closed.
Dom Ciccotelli
Rising second-year majoring in biochemistry in the School of Arts & Sciences, from Parsippany, New Jersey
Ciccotelli remembers that when he got to Penn, he was overwhelmed by all the resources and clubs and "different things I wanted to do, but they're all so spread out in many different areas," he says. He went in many different directions and ended up not doing half the clubs by the end of the semester. Ciccotelli's advice for incoming first-years is to—within their first few weeks here—take a breath, go over everything they've seen so far, and hone in on a few areas they're really passionate about or where they want to have an impact.
He remembers meeting a lot of new people at the Evening at the Philadelphia Museum of Art event, this year on Aug. 26, and recommends attending events hosted by Resident Advisors. Ciccotelli found community in joining a fraternity, and a lot of his friends made friends through the Ivy League Model United Nations Conference (ILMUNC).
Can't-miss events and activities: The Homecoming game, Spring Fling concerts featuring big-name acts, and celebrity guest speakers that students can see for free.
Favorite place to study: The Fisher Fine Arts Library, which Ciccotelli describes as "like a Hogwarts library."
Sarah Yi
Rising second-year majoring in psychology in the School of Arts & Sciences, from Birmingham, Alabama
Yi advises incoming students to "try to do too much. So, when you first come onto campus, there's a lot of things you can get involved in, so just taking advantage of all of those. And even if you're a little nervous—you might not know anyone—just step out of your comfort zone, finding comfort in the fact that nobody else knows anybody else either."
She also has some advice for roommate cohabitation and conflict resolution: "When you first move in, try to make some ground rules: anything that you know for sure will bother you, so like cleanliness-wise, or whether they invite a lot of people over, food in the room, things like that," she says. "If something's bothering you, tell them as soon as possible, because if you just hold onto it in secret, it's just going to pile up and it's going to become worse later."
Favorite place on campus: The BioPond in James G. Kaskey Memorial Park, which Yi calls an "escape from the city area. Overall, campus does have a lot of nature and green space, but the BioPond is really secluded. Just sitting there with the turtles and fish is very fun."
Off-campus recommendations: Thrift shops in Center City and Old City, the Clark Park Farmers Market, and KPOT, a Korean barbecue place in South Philly.
Megan Laubacher
Rising fourth-year majoring in nursing in the School of Nursing, from Rochester, New York
Laubacher urges incoming first-years not to put a lot of pressure on themselves to meet their best friend during the first week of school, thinking that the person must become their closest friend for life. "Though that happens for some people, it isn't the reality for most people," she says.
Some of her friends instantly became besties with a roommate or hallmate, but many others found their closest friends in their second or third years on campus, she says. "The best part about Penn is that although it is seemingly a large school, you can connect with so many and makes Penn feel small. I have friends from all different circles on campus—whether it is my dance group, Kite and Key, the School of Nursing, or even just random friends of friends who I got close with—and I wouldn't have it any other way."
She also encourages everyone to take every opportunity on campus but to also know their limits. 
"Don't be hard on yourself if you can't do everything—try every opportunity out, find what works for you, and learn how to say no when an opportunity is not the best fit for you."
Favorite spot on campus tour: "Locust Walk, especially in the summer when all the trees have bloomed and the sun is peeking through them perfectly."
Favorite class: "The ACA and Health Care Reform class with Ezekiel Emmanuel. I took it as a random class my freshman year but it was the best class I've ever taken … It even inspired me to minor in Health Services Management."
Peyton Akiba
Rising second-year majoring in economics in the School of Arts & Sciences from Reston, Virginia
Working on time management skills early on is key to a successful freshman year, Akiba says. 
"Time management is something that you're going to have to learn how to do, especially if it wasn't necessarily a skill that you'd had in high school," he says, noting that most high schoolers have very structured days. "In college, there's all this extra free time you need to learn how to balance." For him, joining the sprint football team has helped him organize his time and add structure to his week.
Akiba also encourages first-years to meet as many people as they can during the first few weeks on campus. "Leave your door open and knock on doors, because you truly never know who you might meet and what friendships might come out of it."
Favorite spot on campus tour: "Definitely athletics. I'm a student athlete and I love explaining to prospective students how they might be able to get involved. Penn Park is such a beautiful and serene place, but at the same time, you see the Amtrak flying by and the hustle and bustle that is downtown Philadelphia across the river. It's pretty cool."
Must-do when selecting classes: "Check out Penn Course Review."
Anika Tiwari
Rising senior majoring in biology in the School of Arts & Sciences from Saratoga, California
Tiwari says it's good to remind yourself that there's more to who you are than your academic achievements.
"A lot of times we get really caught up with being at school and we tie our academic achievements to our sense of self," she says. "I've come to realize that if I'm facing an academic setback, it means that I'm going through a lot of personal growth even when I'm experiencing failure or coming back from a failure," she says. "That's something that I wish I realized earlier."
She also encourages everyone to use this time in their lives to get out of their comfort zones and "do something that feels crazy."
"I auditioned for a sketch comedy troupe, and I had never done anything of the sort," she says. "What I took away from that was not that I'm the funniest person in the world, but it certainly has helped me become braver and more accepting of awkward or weird or funny situations."
Favorite place to hang out: "Wilcaf (Williams Cafe, the student-run cafe in Williams Hall). I love to get the matcha there."
Favorite spot on campus tour: "Talking about student government at Houston Hall. I talk about it so much that my tours are always the last ones there."