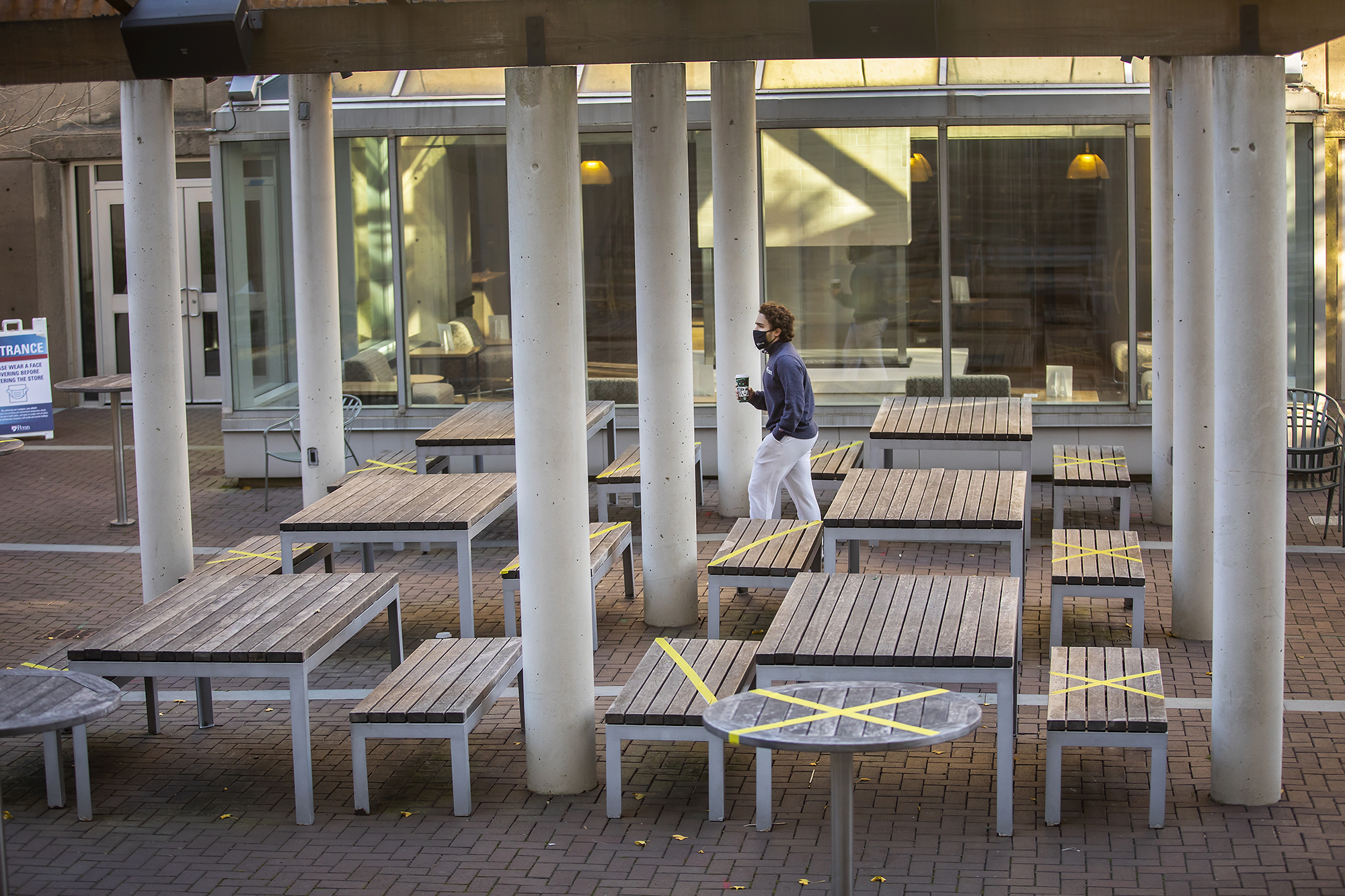 As the University of Pennsylvania makes final preparations for Spring 2021 Move-In, Penn Today lays out tips to help guide students and guests safely through the process, which runs Jan. 10-17 with two-hour move-in windows, testing, and safety protocols in place. There will also be up-to-the-minute information available on Facebook, Instagram, and Twitter.
Philadelphia has extended its Safer at Home restrictions through Jan. 15. Because of Penn's Quiet Period in place Jan. 10 until Feb. 1 limiting on campus activities to picking up contactless dining "grab and go" meals using the PennEats mobile app, packages, or prescriptions, as well as visiting testing sites, and with a robust test, trace, and isolate response, the University has been given permission to move forward with Move-In as scheduled.
Before arriving on campus, students must register for PennOpen Pass and review Penn's Student Campus Compact and the College Houses & Academic Services policies.
Students may have one guest to assist them during Move-In. This person needs to be registered via Guest Pass through the RHS portal before arriving on campus. The guest must have a photo ID and mobile guest pass in order to enter the College House with the student. Guests will also need to do a verbal attestation if entering a student's residence. The guest must remain with the student host throughout the move-in process and is required to leave campus after the two-hour move-in time slot.
Thirty minutes before arriving on campus, students should use mobile check in to begin the move-in process, which takes five minutes to complete. Mobile check-in will occur on the RHS Portal. The mobile check-in tool will ask students to login using their PennKey and password and answer simple verification questions. As soon as students check in via the mobile process, students will have officially taken residency of their room assignment and Penn's standard Terms & Conditions apply.
Plan ahead and be on time. Students must have secured a two-hour move-in time slot and should plan to arrive during their selected time slot. No early arrivals or extensions to the student's two-hour slot will be permitted. Any requests for changes to a move-in time must be made in advance up to your selected time via MyHomeAtPenn. As long as there is a slot available, students can select a new arrival date and time; however, every effort should be made to keep to the original assignment as alternative times cannot be guaranteed.
For those coming by car, free parking at the allocated move-in time and location and will be offered for as long as two hours—time to unload and move-in only. There is also overflow parking available in the parking garages; parking passes will be available from staff assisting with street parking.
Move-In drop-off locations will have staff available to assist and answer questions. Additional staff will be available at Information Centers inside residential buildings. In addition, questions may also be directed to living@upenn.edu or 215-898-3547. Students are also encouraged to reach out to their building residential services manager, as they will be an important point of contact for facilities and operational support during the spring semester.
Everyone involved in Move-In must be masked at all times and practice COVID-19 public safety guidelines. These precautions include masking, physical distancing, washing hands, and minimizing time spent around others to keep the campus community safe. Students will receive a welcome kit in their residence. This will include a welcome letter, two masks, a no-touch door opener, digital thermometer, and a bag from College House and Academic Services.
Students may bring no more than two suitcases with them for Move-In. Students are encouraged to keep what they move into their campus housing to residential essentials, such as clothing, personal-care products, bedding, and school supplies. Additional items may be shipped to campus; however, students are urged to limit the number of items they bring to campus for spring 2021. Shipping resources include Amazon@Penn and PersonalShip.
Students will have access to only one cart for Move-In (weather permitting). In-and-out trips from the student's residential building are strongly discouraged.
Upon arrival at the College House, residents must show security personnel a Green PennOpen Pass. Guests must have ID and a Guest Pass, if they plan to assist in Move-In.
Once the student has moved their possessions into the College House and has obtained their PennCard at the Information Center in their residence, they should then go directly for COVID-19 gateway (day of arrival) testing. Guests are not permitted into the testing sites. After the gateway test, students will need to sign in for the Penn Cares spring screening testing program. Undergraduate students and those living in College Houses will be required to test twice a week on pre-assigned day pairs throughout the Spring semester.
More information about Penn's COVID-19 spring screening testing program and public health guidance can be found on the COVID-19 Response page.
Once the gateway testing is complete, students should return to their residence. There are special limitations on activities in place from Jan. 10 until Feb. 1, referred to as the Quiet Period, students may refer to the Students & Families page on the University's COVID-19 Response website for details. Students are also encouraged to follow @COVIDPenn on Instagram and Twitter for updated public health guidance and information.
Given that this is a winter move-in, it is possible that weather may impact plans. Move-In activities will continue unless the University has to cease operations. If the University closes for weather-related reasons, Residential Services will contact those scheduled for move in during this event to make arrangements.
If a student is delayed for any reason, they should immediately email living@upenn.edu. If a student has questions about time slots, they should email living@upenn.edu with the subject line "time slots."