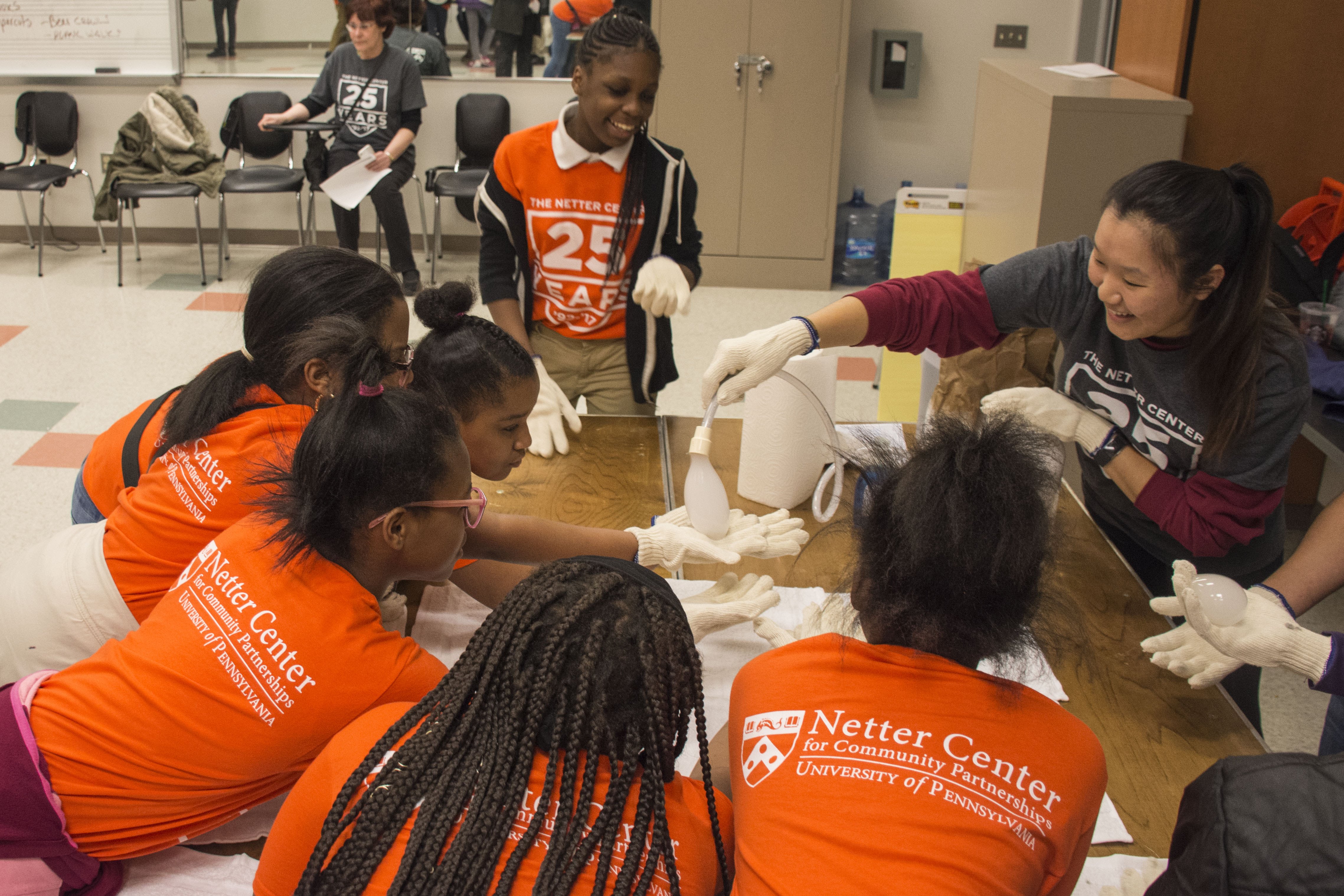 Showcasing the importance of the University of Pennsylvania's Netter Center for Community Partnerships' many collaborations in West Philadelphia, a Community Partnership Festival was held at West Philadelphia High School on April 19. The Festival, part of the Center's 25th anniversary celebrations, welcomed more than 500 people, including students from seven of its University-assisted community schools, their parents, and other friends from West Philadelphia, along with Penn students, faculty, and staff.
Students from Comegys, Hamilton, Mitchell, and Lea Elementary schools and Sayre and Robeson High schools traveled to West Philadelphia High School and rotated through hands-on science experiments, sports, games, and interactive lessons in basic first aid led largely by Penn undergraduate and graduate students. 
Sayre and Robeson garden crews, part of the Netter Center's Agatston Nutrition Initiative program, presented gardening activities, while staff from the University City Arts League offered button-making.

Parents and community members benefitted from a health and wellness resource fair, where they could sign up for a library card and membership at the Lucien E. Blackwell West Philadelphia Regional Library, and learn best practices for dental hygiene from Penn Dental School of Medicine. 
Dance teams from West Philadelphia and Sayre High schools performed in the auditorium, touting the importance of continuing education and the various programs at each school.
"The Community Partnership Festival is a wonderful example of the good and important things that can happen when Penn students and staff work together with West Philadelphia children, youth, and adults to make a difference in the community and on campus," says Ira Harkavy, associate vice president and founding director of the Netter Center. "This festival contributes to the Netter Center's goal of developing strong, mutually-beneficial, democratic partnerships between Penn and its school and community neighbors."
An awards program sponsored by TIAA honored students and after-school staff members from University-assisted community schools and student leaders from Penn for their service. City Councilwoman Jannie Blackwell, Netter Center Community Advisory Board Chair Jettie Newkirk, Mitchell Principal Stephanie Andrewlevich, and Robeson Principal Richard Gordon presented the awards. 
Before the night was over, the Center also teamed up with the West Philadelphia Cultural Alliance to present a concert honoring singer Paul Robeson on the 120th anniversary of his birth.
Photos by Tia Yang, academically based community service coordinator, Netter Center.