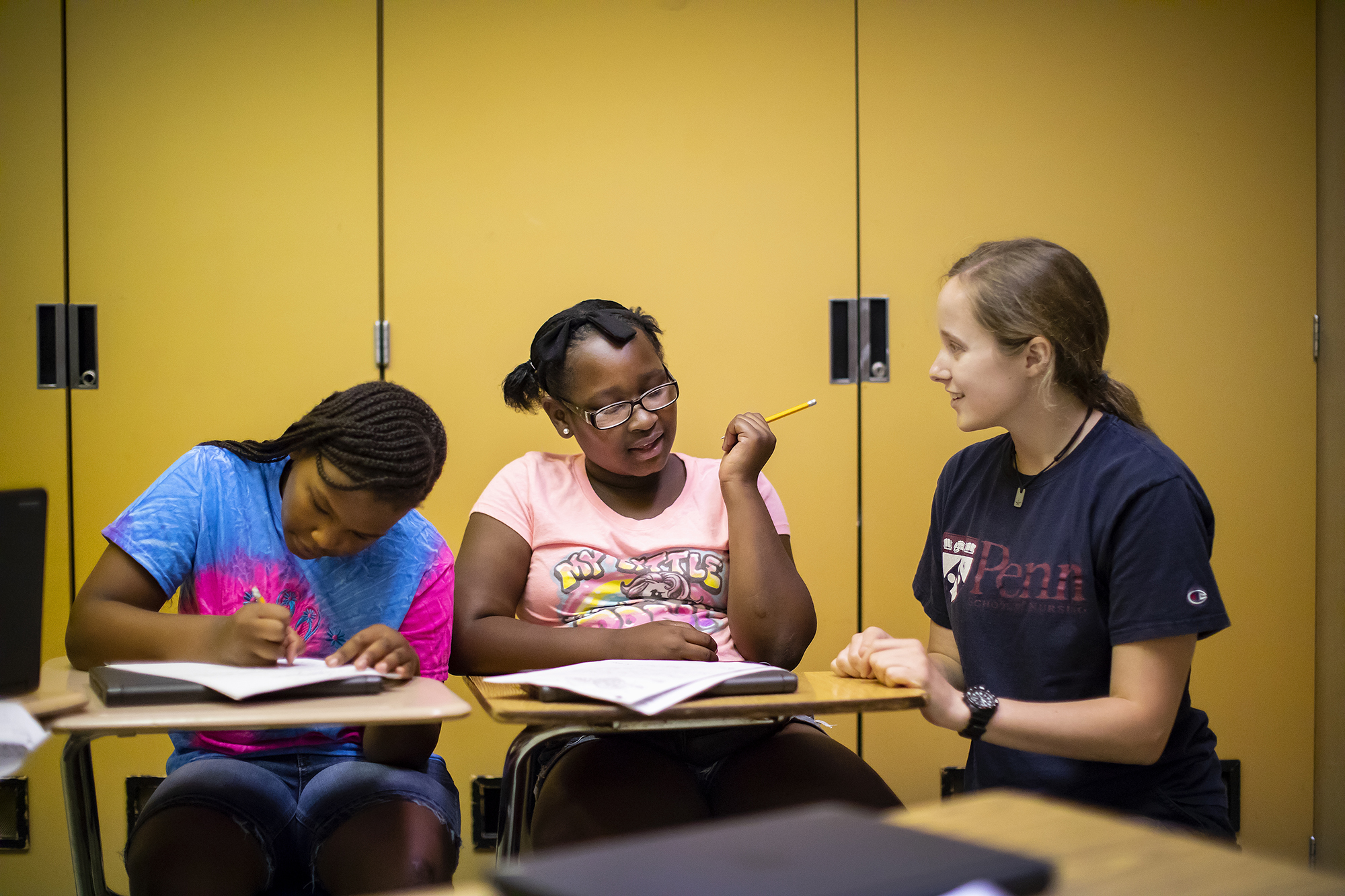 Hundreds of elementary, middle, and high school students in the city are supported each summer by academic and enrichment programming offered by the Netter Center for Community Partnerships at University-Assisted Community Schools.
For six weeks, from the middle of June through early August, this summer's program served around 400 K-8 students at Lea, Comegys, Mitchell, and Hamilton schools in West and Southwest Philadelphia, and close to 200 high school students primarily from Sayre, West Philadelphia, Robeson, and Mastery-Shoemaker Charter School.
Enrolled students attended camp, which was provided at no cost, Monday through Friday, 8 a.m. to 3 p.m. Most of the campers attend after-school programs operated by the Netter Center during the school year. Staff was composed of Netter Center full-time employees, teacher-partners, part-time workers, and around 60 Penn students and interns.
This is the first summer that the Netter Center provided programming at Hamilton, a K-8 school at 56th and Spruce streets. Around 100 students in grades two through eight participated from June 25 to Aug. 3.
"We work to prevent what we call the slippery summer slide, which is summer learning loss," said Bianca del Rio, director of University-Assisted Community Schools at the Netter Center. "We engage students in academic remediation and enrichment, as well as other recreational and service activities. Students swim once a week, and they also take a trip once a week."
On Mondays, students swam at the Mill Creek Recreation Center at 47th and Brown streets. Fridays were trip days, which included visits to the Elmwood Park Zoo, the Philadelphia Zoo, the Mann Center, Crayola Experience, and Penn Park.
Campers at Hamilton were divided into five groups: second and third graders; fourth graders; fifth and sixth graders; seventh and eighth graders; and the Career Exposure Program for rising eighth graders.
The second and third and fourth-grade groups were especially engaged in Cross Grade Literacy, a program in which high school students in the Netter Center's Leaders of Change Work Ready program came to Hamilton on Tuesdays and Thursdays to implement literacy activities with the younger students.
"The high school students are like reading buddies, mentoring and supporting skill development in the younger students," del Rio said.
Jamir Francis, 16, a student at Sayre High School, worked with younger schoolchildren during the academic year and said he jumped at the opportunity to continue to guide them over the summer at Hamilton.
"I enjoy interacting with them," Francis said. "They make it fun so I have fun."
Ebony Hollingsworth, a teacher at Sayre High School, served as a teacher-leader at Hamilton in a fourth-grade classroom. She said the camp is a wonderful opportunity to build future leaders.
"These are leaders of change, and so we're just trying to inspire our youth to inspire the younger generation to want to learn, to want to read, to want to explore different aspects of education and not just the traditional reading, writing, math, science," Hollingsworth said. "I think if the [high school students] tell [the younger students] that it's cool to read, it's cool to learn, it's cool to do these different things, they're more apt to take heed to it versus hearing it from older adults."
Fourth graders at Hamilton were also involved in a partnership between the Netter Center and the School of Veterinary Medicine called This is How We Role, a STEM program that brought campers to Penn Vet to learn about animal medicine, animal dentistry, animal skeletal systems, and what different animals need to survive.
Rising eighth graders in the Career Exposure Program (CEP) at Hamilton received a stipend to participate. The students did high school exploration, goal setting, and also service activities, such as helping with breakfast, lunch, and recess with the younger students. CEP students had to apply to be in the program through the Philadelphia Youth Network and the Netter Center.
CEP students Ariyon Green, 13, and Javon Mitchell, 12, attend Hamilton during the school year. Green said she wants to go to Central High School or Girls High; Mitchell is not yet sure what school he wants to attend.  
Sounding like true teenagers, both said their favorite part of the CEP is, "We get paid."
Marjorie Lorraine, 21, a rising senior in the School of Nursing, and Edward Stevens, 19, a rising sophomore majoring in sociology and urban planning, both worked at the Netter Center's Hamilton Camp. Lorraine assisted the middle school students; Stevens worked with second and third graders.
Lorraine said she was interested in working at Hamilton because she wanted to do something that wasn't hospital-centric.
"I feel like this is my last opportunity to do something outside of a hospital for a while," she said. "I always wanted to be a teacher when I was growing up, so this is kind of a fun way to get out of the hospital for a while and also do something I'd always wanted to do."
Stevens, a native of Virginia Beach, Va., said he was interested in working at Hamilton over the summer in order to get involved with the local community. During the school year, he worked at Robeson High School, helping students apply for financial aid, college, or a trade school.
"I've definitely learned a lot about working in urban schools, which is definitely not an experience that I've had before because I came from a suburb," he said. "I think it's been good to see what the teachers do. Urban education is something that's frequently mentioned in the media and it's good to actually see what goes on firsthand."
Ero Uthman-Olukokun, assistant principal at Hamilton, previously worked with the Netter Center's Leaders of Change program when he was employed by University City High School, and is an adjunct professor at the Graduate School of Education.
He said the summer camps at Hamilton was a great opportunity for students.
"It's just an extension of learning and an opportunity for them to continue learning throughout the summer," he said. "And then while they're learning, they also have an opportunity to engage with each other and go through different skill-building activities, which allow them to hone in on their likes and explore different things."
Homepage photo: This is the first summer that the Netter Center provided programming at Hamilton School, a K-8 school at 56th and Spruce streets. Around 100 students in grades two through eight participated from June 25 to Aug. 3.